Mystery of Unicorn Castle: The Beastmaster Collector's Edition
Exclusive
The Beastmaster, Lord of all Beasts, kidnapped a young girl by the name of Sophie. You must use your skills to emerge victorious in this battle and save the girl. Make your way past the ingenious traps of the Castle and overcome the beasts to restore the Unicorn for a victory over the forces of evil! Can you solve the Mystery of Unicorn Castle - The Beastmaster? Interesting location and unusual puzzles will keep you on the edge of your seat!

This is a special Collector's Edition release full of exclusive extras you won't find in the standard version. As a bonus, Collector's Edition purchases count toward three stamps on your Monthly Game Club Punch Card!

The Collector's Edition includes:
See how the mystery began in the bonus chapter!
Bonus gallery & music
Trophies and hidden collectibles
Integrated strategy guide
Game System Requirements:
OS:

Windows XP/Windows Vista/Windows 7/Windows 8

CPU:

1.0 GHz

RAM:

1024 MB

DirectX:

9.0

Hard Drive:

651 MB
Game Manager System Requirements:
Browser:

Internet Explorer 7 or later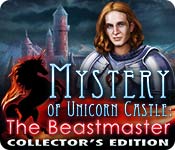 The Big Fish Guarantee:
Quality tested and virus free.
No ads, no adware, no spyware.

Reviews at a Glance

Mystery of Unicorn Castle: The Beastmaster Collector's Edition
0
out of
5 (
0
Reviews
Review
)
Customer Reviews
Mystery of Unicorn Castle: The Beastmaster Collector's Edition
53
53
Giant Rats vs Unicorns?
Admittedly this game has a few flaws, but it also has some really unique features and for that "out of the box" thinking, it deserves 5 stars! I was a wee bit disappointed with the graphics, the cinematic trailers were really well done but the game itself had so so graphics. This game does have a good, spooky story, with plenty of creepy crawly bugs and giant rodents with glowing red eyes that are capable of igniting fire balls! There are 45 extremely well hidden pumpkins to find and several achievements to earn and store in your trophy room. This is the part I liked: KARMIC CHOICE! You get to choose what you want to do and your decision will influence the subsequent course of events! You choose what inventory item to use, do you want to kill the scorpion with bug killer or simply don some gloves and gently move him out of the way? Do you want to help the ghosts move on in exchange for their help or simply do it alone? There aren't a bunch of HOS (in fact only a couple in the demo) but they are interactive list finds where you have to find a pot full of water and place it on a burner, then find an egg and put it in the pot to boil for a boiled egg. The mini games are fun such as lighting all the bulbs on a panel with the correct number of connections as shown on each bulb, the wires can connect vertically, horizontally or diagonally. You are a detective searching the abandoned Unicorn Castle for a young girl named Sophie. I'm still trying to figure out why this game revolves around a Unicorn, the castle is supposed to be grim and creepy, full of rats, roached and evil entities, and a beautiful white Unicorn kind of takes the edge off of creepy. It doesn't matter, this game has a ton of active areas, a good map, entertaining mini games and well done hidden object scenes, enjoy!
March 8, 2014
Worth The Wait!
BASED ON DEMO FIRST IMPRESSIONS This game is a sequel to the Mystery Of The Unicorn Castle, which was released 5 years ago. That sure is a long gestation period. But it may well have been worth the wait. While not an extraordinary game in terms of production values, it does have a unique approach to gameplay that I find very intriguing, and lots of nifty little ways in which it is made more appealing. SIGHTS & SOUNDS With a good and engaging intro, this game involves your emotions straightaway. The graphics are very good. Clear and well drawn. Nothing to complain about, but they are not outstanding either. I do love, though, the game interface. It is an almost iridescent almost-white blue against a dark background, with the bare minimum of clutter around the (lockable) inventory bar. The game itself is quite dark. Some may feel it is too much so. A neat trick is having you zoom into the close-ups rather than opening a window. And you can choose to turn off this feature if you wish. The game is narrated by our character, and for most part is very well done, although his intonation seems a bit off from time to time. There is quite a lot of talking involved, so many will be pleased to know that you have the option to switch this off as well. Special effects are good, and there is a variety of ambient sounds, including silence. The music is sinister, yet quiet rather than frightening, and includes vocals. WHAT?S HAPPENING? You do not need to have played the original Unicorn Castle game, which was, if I remember correctly, a lot of fun, with interesting gameplay, but not dazzling, and not relevant to this story. A young girl has been kidnapped under unusual circumstances and we have come in to investigate a nearby abandoned castle. We catch a glimpse of Sophie and her kidnapper, some kind of beast, going into it, and we are off in pursuit. Along the way we also meet a ghost who asks us for help, in return for assistance in the matter of the kidnapper. Oh yes, and let's not forget the giant, aggressive, almost human, rats! GAMEPLAY This game has some HOPs, interactive list, but really not many. There are slightly more puzzles. Nothing is actually difficult, and I didn?t even use the directional hint, or skip. You do have a choice of 4 difficulty levels and I was playing on the easiest, but I really don?t see it will make much difference. The interactive jump map gives you active HOP scenes as well as active tasks, visited and unvisited areas. There is a diary that holds your notes and replayable videos. What?s unusual about this game is that along the way, quite frequently, you will be asked to decide which way to behave. Help the ghost or not? Kill the scorpion or shoo him away? Allegedly it will alter the way the game progresses, and it certainly does change the achievements you win. CE BLING! There are both achievements and collectibles. The collectibles are Halloween pumpkins, and there are 50 to be found. They are not all easy to find, either. The other collectibles are wisps, which instantly recharge your hint meter when you catch them. They only come into existence if you need them. There are also 8 pages of historical notes to collect. The achievements have their own Trophy Room in the main menu and are given out for a mix of both story-related (and for once, you may fail to get a story one, depending on your choices), and performance-based. Your choices for good/evil are divided on either side, for a weighing up at the end, I guess. A panel pops up in the game when you receive a trophy, and again, you have to option to switch it off. I know many will like THAT feature! The usual SG, quite useful, and bonus chapter. There are inaccessible (in the demo) gallery items and music, replayable puzzles and HOPs. There is nothing here that excites me, but that weighing up of our ?karmic choices? is interesting. COMBINED IMPACT I really enjoyed this game. It was fun from the very beginning and kept my interest all through the demo. Maybe it isn?t a world class performance, but it is very good, and has that indefinable fun factor.
March 8, 2014
Path of Evil or Path of Good?
What an interesting game! Lots of fog and black smoke and giant rats in a truly creepy atmosphere. You are a detective whose been summoned to find the 5-year old orphan Sophie Smith, whose been abducted by a large creature with red eyes. While rushing to the site on your motorcycle, you crash into the beast and end up in a cemetery. As you solve your way out of the cemetery, you see the beast take Sophie into the Unicorn Castle. So of course, you follow them. What makes this game so different is, you are required to make decisions throughout the game, that affect your Karmic Path. If you look in the Trophy Room, you see achievements for following the Path of Good, or the Path of Evil. For example, I decided to help the ghost of the Blacksmith find out who sentenced him to die in his Smithy -- that put me on the path to Good. However, I decided to kill a poisonous scorpion instead of safely removing it -- that's part of the path to Evil. It will be fun to replay this and see if changing my choices changes the way the game is played. Anyway, you have a beautiful teleporting map with both activities and HOPs marked - another nice touch. The hint button shows you what object from your inventory to use where, plus if you click on the "wisps", it refills immediately. The HOS are all lists, but the mini-games have some unique twists and are "just right" in difficulty. One of them has you match spinning pointers with the objects they go with - after you find the missing arrow/pointer. Another one has you connect bulbs with varying numbers of wires in order to turn on the fan to clear the smoke from the kitchen. Plus, when putting out the fire, it will restart if you don't do it correctly. Besides the trophies, you have 45 pumpkins to find -- I am terrible at this, because I get too involved in the game and forget to look for the collectibles! There are four levels of difficulty, plus a strategy guide - not used - and a bonus scenario, along with a Gallery, the Music, the Puzzles to replay and the HOPs. The only complaint I have is, at times the scenes are too dark. An option for "brighten" would be most helpful. This is a great game, and just when you're about to save Sophie, the warlock appears with his black smoke, grabs her, and takes her through a portal. And the demo ends! Followed by a scenic tour of what comes next, you almost have to say "buy" to this game!
March 8, 2014
For me, just what the doctor ordered!!
GOOD game! Why? Well to start: 1)Does it fall in the category of the more updated games? No! 2)Will many members like the 'classic' feel/look of the game? No! However, for me, the look and feel of this game has a wonderful nostalgia to it that is on par with the way games were made back when I first joined Big Fish in '07. No, there are no fancy voice overs, overly vibrant rich colors, and definitely no furry helper friends. However, it's a nice LONG game with an 'original' storyline [it existed beFORE the newer games today, making it an 'original'] that draws you in through the music and background noises similar to that of an old black and white movie [the intensity was through shadow and music]. For me, it's where 'old' meets 'new': the new being updated features in the form of collectibles and achievements. It makes me absolutely no difference if the developer pulled it out of their vault and said, "Here's one for ya, Big Fish", as they're blowing the dust off of it. As far as I'm concerned, I'm getting the best of BOTH worlds, and as long as 'classic' games - such as this - are programmed to be able to play on the newer OS's without issue, the company gets both my vote and dollars. Would like, very much, to have more games like this. Thanks BF and Meridian!!
March 10, 2014
HUMUNGOUS RATS AND FOG KEEP APPEARING
An adventure game with plenty of objects to find and use. Only a few HOPs though. The graphics are crisp and special effects are outstanding. Hint works wonderfully and gives you clear direction. Wisps will flow through the air while the hint is recharging; catch them and immediately refill the hint. KARMIC: I really liked the karmic choices - you have two choices of dealing with a puzzle and whichever you chose has implications in future game play. So you have to think of what the consequences could be. Note that both objects which you can chose will disappear from inventory, even though you can use only one. There are a number of achievements to accomplish, but they have counterparts. So you have to think of how to accomplish all of them so that you can get the achievement for meeting all of them. For example: you get an achievement for helping the blacksmith and you get one for not helping him. So you have to figure out how to help and not help him. Find 45 hidden pumpkins, which are usually hidden in plain sight. Puzzles are easy to figure out - you just have to find what you need to finish them (and that may be several scenes away). HOS are mildly crowded, but detailed, so you can find things even when the hues are similar. An entertaining game.
March 8, 2014
The beastmaster is back
I loved this game. It's different from others that are churned out. I think the graphics and colors suit the mood of the game. I love the zoom in feature instead of opening and closing a box to examine an item. I love the narration by the "hero", and for those who don't enjoy this, you are able to turn it off. Not many HOS, which is a huge plus for me. Feels more of an adventure game with a purpose instead of constantly stopping at HOS. The puzzles were cute and I found them pretty easy which means they must be very easy The balls of fire or whatever they were that you find to recharge your energy faster were fun to find. There are also hidden pumpkins, some not easy to spot. Love the music and the creepiness of the game. I have no problems with rats. Had a really funny, domestic one as a pet for quite a few years. He'd reach his paw out every morning and shake my hand LOL. But I digress..... I enjoyed the choices you were able to make regarding karmic choice. Gives for good replay value also. I recommend this one. It gets the fifth star for the attempt at doing something different. Enjoy !!!!
March 8, 2014
Sold at the start of the first scene
My goodness. I was totally sold within the first couple of minutes. Can't really tell you anything about the sound, had it turned off so I could listen to the news. Yes, well, I had to replay the news because the game grabbed my focus. There's a lot to do, nearly as many tasks to remember as in Crooked Man/Crooked Cat. The interactive map is great, no delay in jumping from scene to scene. All the scene loads are instant. Can't say enough good stuff about this game. I'm buying it on the next paycheck, and that's only because I can't be late on the electric bill. :D
March 8, 2014
Absolutely One of the Best Games of 2014
Since I have left it so late to write my review, I don?t feel the need to reiterate all the bells and whistles and other information that others have already described. Suffice it to say that I am writing this only because I have finished that game and think that it is one of the best games to come our way since last year. I thoroughly enjoyed the adventure and found Mystery of Unicorn Castle the Beastmaster to be a very long game. The puzzles, though easy at first, became more difficult and required more time to solve as I progressed. My only complaint is that the HOS were a bit tedious with many objects being so obscure that I couldn?t complete the scenes without using a hint. In the entire game, I think that there were maybe two HOS scenes that I could complete without hitting that darned hint button. All in all, I highly recommend this The Mystery of Unicorn Castle the Beastmaster. IMHO, there were many things about the game that made it unique and a very interesting and challenging game to play. I give this game five-stars with no hesitation but I do recommend that you try the demo to see if you like that game as much as I did.
March 9, 2014
I'll Take the Unicorn!!!!
Wow, what a game! I was hooked from the get go...so much to do, and lots of action to keep you engrossed. Time seemed to fly by! The game came a long way from the first Unicorn Castle, hard to believe we played those games and actually enjoyed them, so boring in comparison! I loved the mystical balls that seemed to drift in to help speed up the hint button once you clicked on them. I also was impressed with how when you used the hint button that the arrow took you back to exactly where you needed to act, almost like a fast forward map! And speaking of maps, this one was easy to follow and simplistic in its usage. The introduction of the "Karmic Choice" was a wonderfully unusual but ingenious creation and with whatever you decided, could have an effect on the course of events, a very clever additive. Graphics were good and although not crispy clear added to the eeriness of the story. And speaking of spooky those wonderful creepy critters, especially the rats added so much fun! Good mini games and although few HOS there was challenge to the completion. So much to this game for great entertainment. Whatever flaws there may be certainly did not take away from a superb and fun game play. This ones a keeper!
March 8, 2014
Dark, Eerie and Creepy Hidden Object Adventure
Based on the Demo The graphics in this game are phenomenal. They are very different than other newer hidden object adventures which adds to the creep factor. The soundtrack is nice, creepy, and horrific with great voice overs. The game begins with a beast with glowing red eyes breaking the bedroom window of a small child holding her little toy. You as Detective are deployed to find the little child, presumably kidnapped by the beast and taken to an abandoned castle. You head out on your motorcyle, and crash when you are attacked by a rat the size of a sheep dog. You continue on foot. This is not for the fainthearted. There are rats the size of werewolves, scorpions and other assorted creepy crawlies. There are plenty of bells and whistles, smoke and mirrors, and twists and turns in this one. There are collectible pumpkin heads, papers, and statuettes and lots and lots of achievements. Mini games are somewhat simplistic, but a lot of fun. Hidden object scenes are list type and interactive, moderately hard. There is a diary, a strategy guide, and an interactive map to assist you. If you like dark, eerie, creepy, then this one is for you.
March 8, 2014
The Apple logo is a trademark of Apple Computer, Inc.