Mystery of Unicorn Castle: The Beastmaster Collector's Edition
Exclusive
The Beastmaster, Lord of all Beasts, kidnapped a young girl by the name of Sophie. You must use your skills to emerge victorious in this battle and save the girl. Make your way past the ingenious traps of the Castle and overcome the beasts to restore the Unicorn for a victory over the forces of evil! Can you solve the Mystery of Unicorn Castle - The Beastmaster? Interesting location and unusual puzzles will keep you on the edge of your seat!

This is a special Collector's Edition release full of exclusive extras you won't find in the standard version. As a bonus, Collector's Edition purchases count toward three stamps on your Monthly Game Club Punch Card!

The Collector's Edition includes:
See how the mystery began in the bonus chapter!
Bonus gallery & music
Trophies and hidden collectibles
Integrated strategy guide
Game System Requirements:
OS:

10.9/10.8/10.7/10.6

CPU:

1.0 GHz (INTEL ONLY)

RAM:

1024 MB

Hard Drive:

698 MB
Game Manager System Requirements:
Browser:

Safari 4.0 or later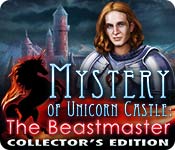 The Big Fish Guarantee:
Quality tested and virus free.
No ads, no adware, no spyware.

Reviews at a Glance

Mystery of Unicorn Castle: The Beastmaster Collector's Edition
0
out of
5 (
0
Reviews
Review
)
Customer Reviews
Mystery of Unicorn Castle: The Beastmaster Collector's Edition
53
53
Grate gemae!
Classic Hidden-Object game with very nice graphics and some nice Ideas. Storyline not really new, but thrilling.
September 20, 2014
Rats! I liked This Game
I really hate rats, their slimy bodies, the beady eyes and oily tail; I simple hate them almost to the point of suffering from a mild case of monophobia (which incidentally I had to look up the word in the dictionary). Wouldn?t you know that there are rats in this game, great big snarling teeth-gnashing rats that pop up in front of you growling and hissing? There are also bugs and scorpions and moving plants and other not so very nice creatures. Nevertheless as it is only a computer game, I decided to overlook my revulsion, play the demo and write this review. Mystery of Unicorn Castle: The Beastmaster Collector's Edition is truly an enigma. Despite the aversion I feel for some of the characters, it has proven to be a pleasant surprise. Upon initial glance, I found the graphics discerning, dark and blurred at times. Although the artwork does captivate the essence of the storyline, there could have been more sound and visual effects to really enhance the overall atmosphere. I feel that I am repeating myself when I say that this game looks old and dated which is due to the graphics. However once you get passed this, I think you will be pleasantly surprised at the overall game play. Our story begins rather abruptly; the abduction of a young orphan called Sophie by a red-eyed Beastmaster who is apparently the Lord of all beasts. You are asked to investigate and soon you find yourself surrounded by mysterious references to a Unicorn Castle and weird sciences projects that seem to have gone badly. The main menu offers optional settings which include four game modes to choose from and picking Hardcore will make the game ultimately more challenging. Your tools include a journal that holds clues and also video footages of cut scenes to review. There is a map that indicates if actions are needed and also allows you to jump. The SG is on the left side of the screen that indicates that there are 6 chapters along with a bonus chapter. The hint button on the right side merely points at a direction. Having started my adventure, I came across some elements of surprises that made this game rather unique. There are tasks that you come across and you are given a choice as to either complete the task or move on. There is also a Karmic option as well such; you either save a scorpion or kill it with pesticide and apparently your choice results in a Karmic effect that plays out later on in the game. When I looked at the list of achievements, I notice that there are two trophies for each task, one which is earned if you are a do-gooder and the other which probably indicates that you have a mean streak. This means I need to go back and re-play the game in order to earn all the trophies; a very clever maneuver by the developers if you ask me. There are Hidden object scenes to play and just be warned, random clicking is punished and I won?t spoil the surprise by revealing what happens when you click away. Mini-games are interesting and unfortunately some were a breeze to play. I really miss those long and complicated mini-games and puzzles that took time and effort to solve. There is a lot of running around from one scene to another with a multitude of tasks to fulfill. You also have collectables which involve finding 45 rather obscured images of pumpkins throughout the game and 10 pages that outline the story. Despite the disgusting rats that I need to fend off and the rather off putting graphics, I really enjoyed the game. It looks like there is a battle to be won, a child to be saved as well as a mystery to be solved. I give it four stars and applaud the ingenuity of the developers and look forward to seeing them progress with other games to come.
March 8, 2014
RATS!
Seriously RATS! Huge ones, big ones, fat hairy red-eyed rabid looking disgusting everything-eating RATS - EVERYWHERE! So if u have an aversion to rats as I do this game is not for you - although there were so many other aspects that appealed to me that I could overlook the, gulp, eewww, yuck creatures that I'm sure to hit the "buy" button any minute. From little Sophie being kidnapped by - what else - the rat king - to flitty floaty things in the air everywhere and ghosts that may or may not help you to karmic decisions YOU have to make. Sounding better, huh? There's more - a jump map that shows action needed, where you've been and much needed to get around this spooky mansion/cemetery that you need to make your around. Not for the feint of heart or the young of heart or those that prefer unicorns and butterflies and flowers and fairies - none of that here. You really are the destiny of your own fate in this game as well as that of young Sophie's. This Glam-ma says give it an hour than just go hit buy.
March 8, 2014
What a Sequel!
Mystery of Unicorn Castle was one of the first games I bought when I joined Big Fish Games. The difference is phenomenal. The story begins when you are contacted about the kidnapping of Sophie, a five year old orphan who was left by the orphanage and a unicorn was sighted in the vicinity where she was left. She is kidnapped by the beast who is going to ensure his quest to immortality. It is your job to save Sophie and end the quest. Through it you meet ghosts who you can or not help, depending on your decision can change the whole aspect of how you play the game. You decide what path you want to follow which makes this game unusual and keeps you on your toes. The HOS are your typical with several tasks to complete to get the item. The puzzles are not difficult but fit along with the story. There are 4 levels of difficulty and can be changed except for hardcore. Your bonus section includes additional puzzles, hos, a gallery and music. In the trophy room there are about 31 trophies and there are 45 collectible pumpkins and wizard notes to collect. There seems to be something else, but could not find out what it was. The directional hint is good, but needs to be refilled and can find sparkly areas to click on to refill it more quickly. The map is interactive, and the diary gives you some info that is not included in the cut scenes. The visual wasn't bad, but not fantastic and the music and sound effects were well done. Overall I really enjoyed this game and plan to make use of the sale this weekend to get it.
March 8, 2014
Interesting Game...
Hmmm, rats and bugs! If either creep you out, you don't want this game. They do add "creepy" to the game, but not scary #at least not for me#. Graphics weren't too bad, although a bit fuzzy. Game play was good, no problems there at all. Music was rather soothing, but did change with the action of the game and the sound FX. Jump map was very well put together, with areas nicely spaced apart and well identified. There is a lot of returning to the same areas multiple times, so you will use the jump map a lot. SG was the usual and standard and easy to follow. Hint system was different, in that you could wait for the meter to fill #very slowly#, or catch the little "spirit light" that floats around when you need to fill the hint. This is not difficult and fills instantly. The only time it shows up, so far, is when you need to fill the hint, which is very nice. HOGs are neat and clear and items are quite easy to find. I didn't come across very many either. Puzzles are a little different, but not difficult at all. They really didn't take any time to complete at all. I don't pay much attention to achievements, so good if I get them and okay if I don't, since they don't make a difference in the game play or outcome. The only collectible I found were the pumpkins. They really aren't difficult to find, but you do have to look for them, as they come in many different styles #and that's all I'm saying about that#. Others have said there is a click penalty, but I deliberately tried it and never got a penalty. This game is not especially challenging, and the story is not new, but I found it interesting. The story seemed to move a bit slowly. The best part of the game is the ability to choose how you want the game to play out. Of course, I think it probably would not matter what you chose. I'll have to test that theory out and replay with different answers to questions. Yes, I liked this one well enough to buy it and add it to my ever growing CE collection. As always, try it for yourself and see what you think. We all have different tastes in games and you may not care for this one at all. Thanks for the reviews.
March 8, 2014
Nice casual game
The storyline was not exactly my cup of tea, but it is a good casual game. The graphics while not beautiful were interesting and the sound effects and music were not jolting or annoying and went very well with the story. The game moved at a nice casual pace and I never had any questions about what to do next. Plenty to do, but not much of a challenge. I thought the game play was very relaxing and so I think this would be a great game for beginners or those of us that just play for fun.
March 20, 2014
A pretty good game overall
Anything with unicorn in the title is bound to catch my attention..lol..as I love the magical/fantasy games. This one isn't the best I have played but it was entertaining. Puzzles I liked and some of the HOs, although there were rather a lot of them and at times the objects were difficult to see. That brings me to the graphics...not the sharpest or the clearest I'm afraid to say which is a shame. Map was essential as a lot of backtracking and HOs appearing in areas which you had finished with. The bonus chapter did bring some new locations but I'm not sure what the point of it was? It didn't add anything to the story which we didn't already know, so was a bit of an add-on in my opinion. All that said, it did hold my attention and I did enjoy it. Glad I bought it on sale though otherwise I would have wished I had waited for the SE.
March 17, 2014
Fast paced, fun and lots to do
A really entertaing game, and I might just take advantage of to days sale. The story isn't that new - The detective has to rescue a kidnapped girl before she is sacrified by some sinister "goasty" knight that wants to steal her youth, but nevertheless ...I was so engaged in the story, that not even the huuuuge rats could disturb the pleasure. While running about trying to rescue the girl you meet several ghosts. They all want your help with something, and I bet they'll give you important items in return. Everything is beautifully drawn. and the HOS are worth giving an extra glanse There are features where you can choose how to solve a problem. Fx - kill the scorpion or move it away. I really like that touch to the game, and it is quite thrilling not to know yet, if it has a deeper meaning to how the story goes on. 7 chapters + bonus, an excellent jump-map, diary, collectibels and lots to do everywhere - I love it. As far as I remember there aren't any "hidden rooms" with replayable HOS and mini-games, but I could have missed it. There are probably also all the "who-cares-CE-stuff", like wallpapers and achievements, but I never pay any attention to that Minigames are easy, but the HOS took some time as the items were very well placed. HOS are from lists and have been added some interaction The hints are really, really helpful and takes you all the way to the best place, but maybe there is less handholding in a harder mode You can recharge the hints faster if you collect the "fireflies" that are situated in every scene. This could very well be a 5 star game, but as the mini-games "so far" are very easy and the demo ended after only 32 mins and therefore indicates that it could be on the shorter side - 4 stars is what I can "offer" I recommend this game and will look forward to a couple of hours of fun gameplay Dive in and try it yourself :)
March 8, 2014
An Enjoyable Game ...
Enjoyable Graphics, Sounds, Voice & Video Bits ... Not A Huge Game, But Nicely Done ... Wait For A Special Deal ...
March 14, 2014
Looks great but I'll NEVER play it! ... RATS!!!!!
I can usually tell a good game from the synopsis, the video, and the reviews. I've only been wrong once in all the years I've been a member at Big Fish. This looks like a really great game and I love the concept of Karmic choices that other reviewers have mentioned - but I'll NEVER play it! I can't stand rats. Just CAN"T STAND them. There's usually a rodent or two scampering across the floor in many of these games, but they're usually gone pretty quickly. That I can handle. But giant ones all over the place throughout the whole game?! NO WAY. Lol. So, I hope this developer comes up with a similar game very soon, but without the rats! Ugh! In the meantime, I'd recommend it to other players who don't have my issues with rodents. Enjoy! Looks like fun.
March 13, 2014
The Apple logo is a trademark of Apple Computer, Inc.
The Windows logo is a trademark of Microsoft, Inc.