Dark Dimensions: Somber Song Collector's Edition
Exclusive
From Daily Magic, makers of Dark Dimensions: City of Fog and Dark Dimensions: Wax Beauty, comes the next exciting chapter in the Dark Dimensions series!

You've traveled across the country, tracking down dark dimensions in search of your missing family, when you stumble upon a violent one that has taken over the city of Seven Oaks, North Dakota. The black smoke is chasing people and captured a young girl right in front of your eyes. What caused this dark dimension, and who is being controlled by its influences? You must investigate for the truth behind the town's recent tragedy if you want to save its future. A friendly spirit may help you, but can you trust him? Free the people and save the town in this exciting hidden-object puzzle adventure game!
Bonus chapter, featuring an exciting epilogue!
Find collectibles that unlock bonus Match-3 levels
Exclusive diary that chronicles the game's development!
Concept art gallery, soundtrack, and wallpapers
Game System Requirements:
OS:

Windows XP/Windows Vista/Windows 7/Windows 8

CPU:

2.5 GHz

RAM:

1024 MB

DirectX:

9.0

Hard Drive:

1552 MB
Game Manager System Requirements:
Browser:

Internet Explorer 7 or later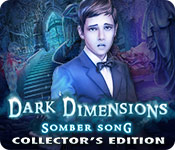 The Big Fish Guarantee:
Quality tested and virus free.
No ads, no adware, no spyware.

Reviews at a Glance

Dark Dimensions: Somber Song Collector's Edition
0
out of
5 (
0
Reviews
Review
)
Customer Reviews
Dark Dimensions: Somber Song Collector's Edition
56
56
Review of a finished game....
My overall experience with this game?? I was BLOWN AWAY!! A lot of game play, It payed attention to details, that kept your interest all the way to the fantastic ending.. It's in my top 5. You can not go wrong with this game . Plz post ur fav. game after u write ur review, so that others can chck. it out as I do. ty game on gamers....
March 30, 2014
Much better than reviews suggest
Here's what happened with the reviews for this game: it got a flurry of 5-star raves, which resulted in a backlash of 1 and 2-star reviews. The backlash happened because this game isn't worthy of all raves, but neither does it deserve to be trashed. Giving something a 1-star review because "it was fine, but nothing great" isn't fair. In my opinion, this is a solid 4-star game (I gave it 5 to offset some of the undeserved negative reviews.) The story is well-done and spooky. The music helps to set the mood. The game is long and there isn't a lot of running back-and-forth across the whole map (only a few scenes have active areas at any time). What I really liked was that there were a lot of mini puzzles. Many of them were ones I'd never seen before and some were really tricky (good thing there's a 'skip' button!) What I didn't like so much was that the HO scenes all involved finding an item, using it to get the next item and so on until I got my inventory item. That was great the first few times and then it got really old.
March 29, 2014
EXQUISITE!!!!!
I LOVED EVERY SEC OND OF IT!! I AM IN TOTAL AWE OF YOU YOUNG GENIUS IMAGINATIVE MINDS THE STORY THE BREATHTAKING COLORS THE HEART STIRING MUSIC JOBS WELLDONE!!! THANK YOU FOR APERS I CAN SET (ONLY MORE OF THEM PLEASE) I LOVE TO WAKE UP TO A SCENE ON MY COMP FROM A FAVE GAME LOVED THE DIARY OF YOU GUYS I LOOKED AT EVERY ONE AND IT LOOKS LIKE YOU LIVE AT THOSE COMPS LOL NEXT GAME PLEASE!!!
March 28, 2014
I LOVE, LOVE, LOVE THIS SERIES...
This is another delightful game in the Dark Dimension series...A lot of the developers fall into a rut after a few games in a series.. These developers have not done this with any of this series....The Dark Dimensions have been one of my all time favorites.....They never disappoint me....This is an exceptional game that will definitely be added to my collection....If you are not familiar with this series, Please, do yourself a favor and give it a try....I guarantee you that you too will not be disappointed...and if you are a big fan like me....then you know what to expect.....Happy Gaming....
March 13, 2014
Great Game
Another quality Dark Dimensions game! The story line in this one was particularly good with a long playing time in many different environments. The graphics, detail and music were excellent. A couple of scary unexpected surprises and a solid playing experience. I really like this game.
March 16, 2014
Perfect Storyline
After having played a lot of games with - how do i put this gentle - "strange" storylines, where one could reckon easily that the developers didn't pay as much attention to the story than to the gameplay - i almost adore this game. FINALLY one real good story. What a relief!!! Of course it also has great gameplay, but what i loved most and really made me utmost thankful was the interesting story, which unfolded perfectly in time and place. Thanks so much, dear developers, it is a pleasure to play a game, which is so sincerely built. I would say that ERS and Eipix found a new coplayer with this company!!!
March 16, 2014
Wonderful! Best Dark Dimensions Ever!
BASED ON DEMO Daily Magic has always been one of those developers that has produced good games, but not great ones... Until now. This has got to be their best yet. It was captivating and fun to play. I will definitely purchase the SE when it comes out. Daily Magic's stories are usually uneventful and boring, but this story is brilliant. It was full of action and got in to the game right from the word go. I was on the edge of my seat for the entire demo. The story just got better and better. I can't wait to see what happens next. The thing I love most about this story is that it's really creepy. A lot more creepy than normal. It's got evil stone statues, evil smoke, evil everything. It really was a delight. The story of the villain is sort of intriguing too. I think I've picked out why they're doing it, but there's still that element of mystery there. Why are they picking this girl? What does the girl have to do with it? All these questions will be answered as I continue the game, and I can't wait. Overall, I was really impressed with this story. It is hands down the best one from Daily Magic so far. Daily Magic has a habit of changing the style of the HOS with each game. Dark Dimensions 3 (the only other Daily Magic game I own) had really good HOS and this one does too. They are really fun to play and are quite challenging. I found myself having to use the hint a number of times. There were quite a few HOS in the demo, but I didn't mind as these were really fun. The puzzles, on the other hand, were a bit hard. Some I could solve, but most required me to use the skip. The puzzles were fun to attempt and were all ones we'd seen before, so that was nice. I just wish a couple of the puzzles had been easier. This is pretty much your standard HOPA. No fancy new features, no animal helpers, just plain old HOPA and I really enjoyed it. It's got most of the usual features (excluding the diary). I would definitely recommend this for beginners. One thing I was disappointed about, however, was that there was no diary. The diary was a great feature of Dark Dimensions 3 and I was quite sad to see it missing in this one. The diary would have made the story just that little bit more interesting. A note to the developers, the diary is great! Please put it in the next Dark Dimensions (if there is one!) To be honest, the graphics aren't the best I've seen, but they're still really good. The scenes are clear and the character designs are good. The drawings and art had some good detail in them. The voice-overs are standard. I have no comment. FEATURES 3 levels of difficulty: Casual, Advanced and Hard. Differences are the usual (hint, skip, sparkles, mis-click penalty, etc.) I played Casual. Hint/Skip- both recharge a little fast for their difficulty and the hint is very useful outside HOS. Map- the map is interactive and helpful. It tells you where you have tasks to complete. CE EXCLUSIVES Bonus Chapter- unsure if needed Built-in Strategy Guide- good for helping you solve puzzles (I used it a couple of times). Collectible music sheet scraps- (30) There are 10 music sheets and 3 scraps for each sheet. Apparently these unlock some Match 3 levels. Flashbacks- occur after collecting all 3 sheet scraps for the one page. Can be visited outside of the game as it has it's own little section. Wallpaper Music Developer Diary- photos of the developers making the game Concept Art Overall, based on the fact this is much better than DD3 and Daily Magic's best by far, I have to reward the game with 5 stars. That being said, I don't think the CE is worth it as it has minimal extras. I'm going to wait for the SE. I highly recommend you download the trial, even if you didn't like the other Dark Dimensions games. You'll love this!
March 15, 2014
great game
I am not a fan of hogs at all, I love the mini games but this game has very cool hogs. you fine one object and then all the rest connect to the first then second. very fun. I am still on the free hour but I know I will be buying this game... more games should have this kind of hogs... give it a try and see
March 27, 2014
Awesome classic game!
Loved the game and the atmosphere! It reminds me of my fav MCF: Dire Grove - attention to the details, challenging gameplay and the feeling of someone's presence everywhere. Game has few interesting twists, that I didn't see in other games before. It's lacking some modern features as combined inventory items etc, but overall it's very high quality game with intriguing story!
March 15, 2014
THAT'S MORE LIKE IT!
been looking for something like this !!! ... seriously interactive, great puzzles ... beautiful haunting artwork ... based on the demo only, i look forward to enjoying this one the whole way thru ... and no technical difficulties .... aaaaaaaaaaaHHHHHHH! ... thank you so much!
March 13, 2014
The Apple logo is a trademark of Apple Computer, Inc.