Dark Dimensions: Somber Song Collector's Edition
Exclusive
From Daily Magic, makers of Dark Dimensions: City of Fog and Dark Dimensions: Wax Beauty, comes the next exciting chapter in the Dark Dimensions series!

You've traveled across the country, tracking down dark dimensions in search of your missing family, when you stumble upon a violent one that has taken over the city of Seven Oaks, North Dakota. The black smoke is chasing people and captured a young girl right in front of your eyes. What caused this dark dimension, and who is being controlled by its influences? You must investigate for the truth behind the town's recent tragedy if you want to save its future. A friendly spirit may help you, but can you trust him? Free the people and save the town in this exciting hidden-object puzzle adventure game!
Bonus chapter, featuring an exciting epilogue!
Find collectibles that unlock bonus Match-3 levels
Exclusive diary that chronicles the game's development!
Concept art gallery, soundtrack, and wallpapers
Game System Requirements:
OS:

Windows XP/Windows Vista/Windows 7/Windows 8

CPU:

2.5 GHz

RAM:

1024 MB

DirectX:

9.0

Hard Drive:

1552 MB
Game Manager System Requirements:
Browser:

Internet Explorer 7 or later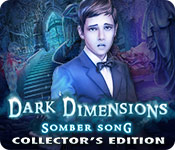 The Big Fish Guarantee:
Quality tested and virus free.
No ads, no adware, no spyware.

Reviews at a Glance

Dark Dimensions: Somber Song Collector's Edition
0
out of
5 (
0
Reviews
Review
)
Customer Reviews
Dark Dimensions: Somber Song Collector's Edition
56
56
Oh Dear
I never buy Collector's Editions but not sure if I can wait for the Standard Edition to come out. Simply said "Oh dear" what to do, what to do.
March 13, 2014
SOMBER SONG WORTH THE WAIT!!!!!
EXCELLENT ! LOVE THIS GAME! THE FIRST TWO WERE GOOD! THIS ONES AWESOME!
March 13, 2014
Fantastic HOs and Good Match 3
As much as I enjoyed the game I think I never got around to reviewing it. The match 3 is so challenging that I left the icon on my desktop so I could play it often. At first glance I thought it would be easy... not so ! love it! The HOs I absolutely ADORED.. not one single slightly intereactive list..... EVERY HOs was the progressive type with everything on the LIST interactive... very challenging! The puzzles.. I skipped the majority b/c I detest puzzles where one thing affects the other but the skip was fairly quick. While the bonus game wasn't needed except for some redemption, I thoroughly enjoyed the game
May 14, 2014
Solid 4.5 stars - highly recommended!
Hello all. Another addition to the Dark Dimensions series. This is one of the better story lines I have seen in a very long time. Drew me in almost from the very beginning. Graphics and game play are extremely well done, no problems at all. Colors are bright and clear. I even liked the music, which changes with the action in the game, with the just the right amount of urgency and spooky. Sound FX and voice overs are very well done. Although the SG only shows 2 chapters, the jump map shows a lot of areas to be visited, so it seems to be quite a long game. I have two of the first 3 DD games and this one might take over as my favorite over "Fog." Jump map is quite helpful, as you return to the same locations multiple times and repeat the HOGs as well. HOGs are well done, interactive, clean and clear and items not too difficult to find. Puzzles weren't bad, some not as easy as most and took some time and thought to complete. Hint system is also very helpful, but takes a while to recharge, as does the skip button. The black cloud, or ghost/spirit/bad guy is annoying and not necessary in most areas, but it is there. The only collectibles I found were sheets of music, which were not difficult to find either. Although I found this to be a very nice story and an excellent game, it still needed a little more in the way of challenges and/or collectibles, e.g. morphing objects or something to make it a little more exciting and this is the only reason I did not give this game 5 stars. That being said, I am going to purchase this game, as I have the need to see where it is going. I think this game would appeal to all levels of players and especially those who find "creepy" to be a bit of fun. This game has it. Here I go, adding another CE to my long list of CE games...okay, I have a long list of SE games too. As always, try it for yourself and see what you think. We all have different tastes in games and you may not care for this one at all. Thanks for the reviews.
March 13, 2014
Not five star, but much better than two or three
This review is based on a complete playthrough of the basic game and bonus content (even the Match-3). This is a great follow up to City of Ash. I beta'd it about six months ago and have been looking forward to it ever since. For those who haven't played a Dark Dimensions game, here's the recurring premise: a Very Bad Thing(tm) happened forming a 'Dark Dimension'. We go there to solve the problem and make the evil smoke stuff go away. Maybe we save people, maybe we don't. IOW don't expect a lot of peace, love, and happiness here. THE BONUS STUFF: (or "Why should I pay double for this game?"). The bonus game took me an hour and a half. The positive is that you get to wield more implements of destruction than I think I have in any other HOPA. The negative is the story is absolutely bizarre. Some good puzzles mixed in, and the usual swag (ten unlockable boring match-3 levels: pointless really if you have a match 3 game). THE GOOD: Great visuals, smooth motion in the FMV, and the voice overs were spot on. Your 'diary' this time is a collection of all the FMV scenes. It works in this game: you replay the scene, and the notes that would be in a normal journal show up underneath. I played on 'advanced' (the middle difficulty) and there were no sparkles, no glints, and no objectives marked on the map (still had the jump map - which you have to find, nice touch). The story is where it loses a star. But it follows the Dark Dimension paradigm. A lot of the negative reviews I think miss that point - you're not going to get a happy beginning. You're running out into the danger because that's why you're there. You don't get all the answers spelled out - they leave enough clues. You get a solid ending with all the loose threads tied up. The Bonus Game is a completely different arc involving someone from the Standard Game. The 'collectibles' form pages that give 'flashbacks' to what happened before you got there. They shed some light on a few things and gave a few more 'clues' to the situation. You still could figure it out without them, but you'd miss some of the details. Many puzzles of varying difficulty: from braindead easy to pretty darn hard. Only one (in the BG) didn't really have enough info. If I hadn't played that game before I would have been lost for a while. A noticeable shift from the easy end of the pool they've been placing themselves in. THE BAD: The story doesn't really pull you along. There's no sense of urgency. You know what you're doing and why, but you don't feel the pressure pushing you on. It does try; it just comes up short. There was one 'Chekov's gun' that was hanging the whole game and never got fired... I suppose you could call that 'misdirection'. All the HOS get repeated. You look for different stuff each time. They all are the long interactive chain (sometimes with minor choices of order) type. I like the idea of them, I don't like the repetition. They also took a lot of 'working backwards': click on an area "This could melt if I heated it up", then look for fire. Inventory: In the beginning it's find a thing, use a thing, but your inventory grows as the game goes on. At one point I had eighteen items and no clue what to do with most of them (and a bunch of "locks" I knew I needed keys for, but didn't have). Fine line here, but I'm putting it in the Bad - could've been handled better. THE UGLY: One absolutely game destroying bug near the end of the game (at least in mine): Near the very end, you will get 'teleported' somewhere. DO NOT under any circumstances, go back to the room you were teleported from (the game tries to repeat the event and fails). You don't need to, even if you've missed stuff. You can go anywhere else, but not that one room. BOTTOM LINE: This will be an absolutely stellar Standard Edition when it comes out. It's fair as a CE. The bonus game was just long enough and the puzzles good enough to warrant the CE title. Barely. If you can get this on a weekend sale, I'd say it's worth it. If you love the DD games, it's definitely worth it: they've left the debacle of Wax Beauty far behind them now.
March 18, 2014
Somber Is Not The Same Old Song
Setting: After a recent tragedy, a fire at a music school where several children were killed, a young girl who was the lone survivor of the fire comes running to you to help her escape the dark cloud pursuing her. What stands out in this game is the hidden object scenes. They are cleverly done in a manner where you progressively find one object and perform an action in order to reveal another. While we have seen these before, the ones in this game are particularly well done - you actually must think to complete them. The same cannot be said for the puzzles which are far easier and require little thought. The drawing is very nice, depicting a not-so-small town in the winter season. And it takes place in modern times (the fire is said to have occurred in 2011). Nevertheless, the artists could not resist drawing some ancient looking keys (sigh). But the keys do turn without the extra click, so that is a plus. Another nice touch is (SPOILER ALERT): The cat found under your car in the beginning you later see posted on a bulletin board as a Lost Kitty named "Mr. Snuggles". Cute. I hate to nitpick (or do I?), but during the demo, the teacher's name is spelled both as Mayer and Mayers in various places. A little quality control please. There are collectible sheets of music, or rather fragments of sheets. These required several clicks to collect, which became a little annoying after the first few. They are not really hidden either so not much of a challenge to find. I found the demo interesting to play until the end, mostly due to the hidden object scenes, although I hope the rest of the game is not just following around after a black cloud of smoke. That was starting to get old. Definitely a game that could get you "fired up."
March 13, 2014
The Newest Dimension Doesn't Disappoint!
It took me about ten minutes to decide to purchase this gem. The graphics are lovely and the hidden object scenes were wonderfully interactive, which is my idea of fun. Although the storyline is not unique, it is well done and still interesting. As a HOGamer, I give it rave reviews. Daily Magic has improved upon the older "Dimensions" programs: City of Ash, Wax and Fog, which I also purchased before the trial was over. The "Dimension Series", from Daily Magic, is aptly named - another magic adventure for beginners to experts. Not for youngsters because of the scary scenes. Stays true to the reasons that I enjoy this type of game: stunning and realistic graphics, lots of action and fun mini games. I will play the hidden object scenes and other extras again. I usually wait for the SE of a program, but I will not wait to own this gem. Definitely, a 2014 program of the year contender.
March 13, 2014
dark dimensions: somber song collector's edition
good once you actually get into it. Don't like that each time you open it you have go go thru the entire "opening" as you did the first time. Takes too much wasted time. Once you open to play should not have to go thru the entire opening again. Except for that, recommend it.
March 18, 2014
An Enjoyable Game ...
Great Graphics And So On ... I Expected More As The Series Has Grown, But Much The Same As Before ... The Extra Chapter Was A Nice Finish And Is Worth A Little More ... I Got Mine On Special. So I'm Happy With That ...
March 22, 2014
Nice, but could be better
Nice storyline and the visual quality is really good but I am a bit disappointed with it because I thought that it would be more thrilling game.
March 15, 2014
The Apple logo is a trademark of Apple Computer, Inc.