Dark Dimensions: Somber Song Collector's Edition
Exclusive
From Daily Magic, makers of Dark Dimensions: City of Fog and Dark Dimensions: Wax Beauty, comes the next exciting chapter in the Dark Dimensions series!

You've traveled across the country, tracking down dark dimensions in search of your missing family, when you stumble upon a violent one that has taken over the city of Seven Oaks, North Dakota. The black smoke is chasing people and captured a young girl right in front of your eyes. What caused this dark dimension, and who is being controlled by its influences? You must investigate for the truth behind the town's recent tragedy if you want to save its future. A friendly spirit may help you, but can you trust him? Free the people and save the town in this exciting hidden-object puzzle adventure game!
Bonus chapter, featuring an exciting epilogue!
Find collectibles that unlock bonus Match-3 levels
Exclusive diary that chronicles the game's development!
Concept art gallery, soundtrack, and wallpapers
Game System Requirements:
OS:

Windows XP/Windows Vista/Windows 7/Windows 8

CPU:

2.5 GHz

RAM:

1024 MB

DirectX:

9.0

Hard Drive:

1552 MB
Game Manager System Requirements:
Browser:

Internet Explorer 7 or later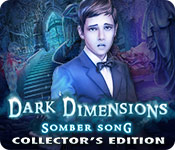 The Big Fish Guarantee:
Quality tested and virus free.
No ads, no adware, no spyware.

Reviews at a Glance

Dark Dimensions: Somber Song Collector's Edition
0
out of
5 (
0
Reviews
Review
)
Customer Reviews
Dark Dimensions: Somber Song Collector's Edition
56
56
Dark does better then Great
Wow this is a keeper of a game. Beautiful scenes very interactive HO's. Cut scenes were played out very nice. Had a little bit of critter action. Slight use of music in back ground but nice use of it during game play working around all the instruments. So did not miss the lack of music in back ground. This game could be a close runner up for game of the year award. No Journal but cut scenes can be played or and something similar. The game has a jump map. Plenty to do and very well thought out story line. Left me hanging and wanting more.
March 13, 2014
Not enough Bling for CE price.
Entertaining but will wait for a good sale.
March 14, 2014
Different Strokes.......
Reviews lately seem to be wildly divergent and I have a tendency to read the poor reviews first to see what someone didn't like. Particularly because there seems to be an awful lot of 4 and 5 star games that just don't cut it in my opinion. After giving a try, I agree with the 2 and 3 star ratings. It wasn't awful, but it's certainly not challenging enough to engage me. It was predictable and sort of a find it use it progression. I played about 30 minutes and won't be buying. Nowhere near the quality of MCF games and definitely not as challenging as the earliest Dark Dimensions games. I found the interactive HO games tedious rather than interesting. I actually play HO so I can play HO. I love the occasional interactive puzzle in an HO but not a completely interactive one, i.e. find a thing and use it to get next thing and use it to get next thing ad nauseam. Storyline is okay but not really compelling. Sequence of events is not logical in that you wouldn't do "x" if you were in the middle of "y". So, I won't buy. I might use a coupon if I couldn't find anything else but it's a game I would play once and probably delete for a few years before I tried again. Too many of those kind of games lately. I'm playing my old games and haven't bought one in a long long time; and I used to fill my punch card every month! What's happening to the developers. Games are getting trite and child like and way to easy.
March 14, 2014
Dark Dimensions Somber Song is nothing to sing about...
This story about a tragic fire that consumes a children's music school is an adult oriented HOPA not for kids. It involves 3 main characters; Elijah, Selina, and the Mother. Elijah helps you investigate the mystery and Selina needs your help. You definitely need the teleport map because you travel all over the town of 7 oaks. Find objects, unique ho's that are more like puzzles since every object needs an object to complete. This was difficult. The story shows a valium prescription and Lithium medicine is an inventory item, which I thought was a bit much. Then you must complete a cult ritual which threw me off the story. I found this difficult to review because it is a long game with great production values, but the story could have been better. I suggest demo before deciding. The bonus game wasn't all that so you may want to wait for the SE. I like the whole series, this one was not my favorite.
March 18, 2014
SONGS OF THE SPIRITS
A very easy game to play and a little bit sad. There are: * Casual, Advanced and Hard modes of play; * Interactive map; * Voiceovers; * Flashbacks to learn more about what happened. You also have to find: ~ All the music sheet fragments throughout the game to learn about the case; ~ Find the keys in the Bonus section to play Match 3. I played in Hard mode throughout the game and bonus. You can change your mode of play at any time during the game. The graphics were actually very good. There was no problem in finding the clues needed. There were no blurry or dark places either. The music was mostly very quiet in the background. The hidden object games were pretty hard. You had to find one item to locate another item and so on. There were no straightforward HOS. I came to dread these a bit as they sometimes took a while to do. However, some people love these types of HOS. There were quite a lot of them (or maybe it just seemed there were!). The mini-games were very easy to medium. The longer ones were turning lights on and that sort of thing. Sometimes I got it straight away and other times it took ages. I quite enjoyed most of the mini-games. If you get really stuck you can look in the interactive map to see what tasks need doing. Therefore, I didn't need to look in the Strategy Guide at all. The game took me quite a while to do - about 7 hours I think all up. The bonus took me about 90 minutes. However, I don't play fast. In the bonus section you have to find keys to play Match 3 games. They are easy to find. The Match 3 games are easy as well. So overall, not a bad game. I wished the developers had put in a 'Custom' mode of play where there was no 'hand' or 'pointer' to make it harder for experts. You can get this is some games. Definitely recommended for new or intermediate players who relish a challenge but maybe a bit too easy for experts.
March 27, 2014
Most of the game was good, but ...
The beginning was awesome, but then the ending became very confused and muddled - I would have been completely mystified without the guide and help button. I think a notebook or diary would have been useful in this game. The end was very unexpected - I thought the whole purpose of the game was to prevent what actually happened. Oh well, The smoke was scary at first, until it became expected and a bit funny sometimes. The interactive HO scenes were great until they became a bit tedious and irritating - some of the actions required were baffling, to be kind. As usually happens, the inventory ballooned at the end and moving about became tiresome without using the map. Still, the graphics and music were beautiful and the story pretty compelling, and most of the game was fun, so I'll recommend it.
March 14, 2014
Done to death
There is nothing remotely frightening about this game except its redundancy and the fact that anyone gave it 5 stars. Dead musical kids. Smoke monsters. Victorian era setting. Sound familiar? Same old art that looks like all the other art. The HOAs were the most original thing about this one as each found item needs to be used in order to find the next, but that is not all that original either. This review is based only on the demo because I would not buy another game just like those from years ago. But the demo is free so see for yourself.
March 14, 2014
Somber Song left me in the Dark!
I loved the previous games in this series and was very excited about this one. The first time I tried to play the game it has some bugs in it. The developers de-bugged the game. However, I found that the story was so disjointed that it was not enjoyable. There were references to the previous games but, I was still not able to grasp the storyline. I can't imagine trying to figure out this game if you haven't played the previous ones. I am really disappointed.
April 3, 2014
Dark Demensions
Based on one hour trial: Pros: jump map and quick fill hint button. Ok visuals but a bit underwhelming. Cons: way, way too easy for a CE. Really nothing special to work toward; guess I have been spoiled by some of the more highly developed games. Will wait for the SE..for sure would buy it..but a no go for investing in the CE.
March 14, 2014
Hard to review.!!!!!
I usually have a good review. This one not sure. Well here goes. I don't like when kids are played this way. Some time grown ups either. Fire involved in this one for sure. This Is only my report. Other than that a great game. The style is in the great developers list.
March 15, 2014
The Apple logo is a trademark of Apple Computer, Inc.