Dark Dimensions: Somber Song Collector's Edition
Exclusive
From Daily Magic, makers of Dark Dimensions: City of Fog and Dark Dimensions: Wax Beauty, comes the next exciting chapter in the Dark Dimensions series!

You've traveled across the country, tracking down dark dimensions in search of your missing family, when you stumble upon a violent one that has taken over the city of Seven Oaks, North Dakota. The black smoke is chasing people and captured a young girl right in front of your eyes. What caused this dark dimension, and who is being controlled by its influences? You must investigate for the truth behind the town's recent tragedy if you want to save its future. A friendly spirit may help you, but can you trust him? Free the people and save the town in this exciting hidden-object puzzle adventure game!
Bonus chapter, featuring an exciting epilogue!
Find collectibles that unlock bonus Match-3 levels
Exclusive diary that chronicles the game's development!
Concept art gallery, soundtrack, and wallpapers
Game System Requirements:
OS:

Windows XP/Windows Vista/Windows 7/Windows 8

CPU:

2.5 GHz

RAM:

1024 MB

DirectX:

9.0

Hard Drive:

1552 MB
Game Manager System Requirements:
Browser:

Internet Explorer 7 or later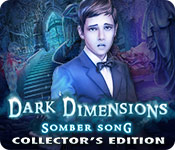 The Big Fish Guarantee:
Quality tested and virus free.
No ads, no adware, no spyware.

Reviews at a Glance

Dark Dimensions: Somber Song Collector's Edition
0
out of
5 (
0
Reviews
Review
)
Customer Reviews
Dark Dimensions: Somber Song Collector's Edition
55
55
Good but not exceptional
The fourth game in the Dark Dimensions series by Daily Magic Productions ----------------------------------------------------------------------------------------------- Their first game (City of Fog) is great, the 2nd one is a flop, the third one is terrible, and I was reluctant to play their fourth one, but I decided to give it a try. It sounds promising, however we are suddenly thrown into the scene, why are we there? There's no background story and we are suddenly there in the inn. The instructions are a bit corny, like: hey, there's someone on the door, I have to find the key to know who it is, or something like that.. and to grab wires directly barehanded from exploded TV? I don't think so. There are 3 levels of difficulties. The VO is actually pretty good, I think children voicing children character so it fits. The puzzles are mostly easy, and they are not new. HO are all combining objects, which is pretty hard for me. Map is useful and I use it all the time to move places. The game unfortunately progresses slowly, maybe because I lose interest along the way. The wintery scene is great as it is summer now, but I don't know why I feel less excited as more and more tasks along the way. The bonus content are the usual stuff, I like Developer's Diary, rather than Making Of, it's good to see some people behind the scene. I am sure they're putting lots of efforts in making this game, unfortunately it's not for me.. I have to pass..
June 23, 2014
Same Old Same Old--5 Star Reviews
I am more disappointed in the usual BFG reviewers who constantly love every game and hand out five stars. Now, I skip over their reviews where I once read and respected them. Waste of my time and money! The Dark Dimensions game series is typically awesome, however, this game is boring for sure. The artwork and graphics are fantastic but I am weary of paying for interactive cartoons with little else to satisfy the gamer in me. Will be selecting my games more carefully through BFG as a result and certainly skipping over the "routine" rave reviewers. Enjoy! -Mama Mia-
March 17, 2014
I don't get it
i'm just finished the game and i have only one question- about what this game was? I found evidense, try to figure out what happened that night when fire started. For what they include the storyline with fire in 1890? And about strange man at the cellar?in order to perform some kind of voodoo rite (which can be made properly only if you strongly rely on hints). A boy who magically came to life? We don't need such kinds of happy end.
March 17, 2014
Childish HOG with overdone graphics
I have to disagree with one reviewer who said this game resembles earlier MCF series. No it was not. MCF offered far more superior quality in terms of story telling and puzzles in their games. While this Dark Dimensions Somber Song only gave me first class graphics & artwork,complete with animations but childish storyline. Not to mention there's tons of objects you have to gather before you can move on, and the puzzles within HOS are nothing but frustration. Final words,if you are easily impressed with great graphics,artwork and useless collectible like other reviewers who often rated 5 stars for each every HOG on this site, well buy this. If you are like me who still in search for quality games like MCF series and other HOG by Team A,please move on don't waste your time on this.
March 14, 2014
was a let down, this game was rushed out of production.
I love dark dimension games and I was excited to see this one out , got it the same day. but the story seems like it would have been a good one but there is no way to tell whats going on and why things are happening, there is no diary to follow along so it is extremely choppy and then abrubtly ends and you go on to the bonus chapter and you still cant figure out what is happening. I hope that this is not what all the upcoming games are going to be like because I rather enjoy having the story along with the game to bring it all together, otherwise its just a random seek and find game.
March 22, 2014
5 Stars Again??? I Don't Think So!!!
The constant 5 star ratings for mediocre, trite, same old, same old games with awful graphics/colors, cartoon characters & so so music/sound effects is becoming most annoying & frustrating. There is nothing eerie/spooky/exceptional or haunting about this game. I found myself bored & yawning after only a short time of playing this game. There was the usual jump map & the HOG's were interactive. The couple of mini-games I played were not that challenging. Didn't get too the Match 3 option which was fine with me as I think it is a silly game with no rhyme or reason. It seems like a game for 4 yr olds & not players who want a real challenge. Cannot fathom why anyone would even remotely consider this a 5 star game.
March 13, 2014
Like the some of the other reviews......
I agree with the other reviews that I do not get the 5 star rating either. This game is way too easy. The first one of the series is more challenging and more interesting. I am tired of games being dumbed down. Even on advance everything is handed to you. I miss playing games where you actually have to think and remember where a inventory item goes or when you find a code it is not just handed to you. So, I have been playing games that I have purchased in the past where I can feel challenged again. Please stop making the games way too easy!
March 15, 2014
snooze fest !
Are you kidding ? Could not get into it at all....Bored... Not spooky, not creepy, could care less.... I am tossing it !
March 15, 2014
boring keep it
Don't know what others saw in this game, but nothing special to me just like all hidden games a lot of moving around, and not much to go on. I like hidden games but they have to be a little fun and this one isn't fun sorry you can keep it. hard to see some of the stuff that you are looking for
March 14, 2014
Dark Dimensions: Somber Song ~ The familiar dark serenade
....Somber song, indeed. Personally, I'm with some of the minority here and was amazed at so many high stars.... what a sad song being played in games that imitate each other continuously and gamers relish in participating in such horrific experiences as children being burnt to death in the guise of 'fun'. Granted, you are playing the supposed part of "rescue"!!?? Hmmm.. really?? That, is beyond dark and somber IMHO as it is beyond reason and, therefore, how does one immerse themselves in this setting, hmmm, I couldn't. The beginning was promising to me, despite the 'plot', which obviously, I didn't care for and was immediately taken aback... yet I gave it a try. Well, right from the beginning it irked me further. As just a few examples: Anyone that lives in the cold and snow would know that in such a condition, one does NOT, under any circumstances [emergency or not] leave doors and windows open or not have winter protection... it was SILLY! I was SO distracted by that, I had a hard time concentrating on the game immediately. THEN, after being told to stay INDOORS, you go OUT and witness others running for protection.... huh? So, anyway, right off the bat, I'm thinking.... geesh, the main character [which I am playing!] would have expired from exposure [and here I am hunting for a mitten, commenting on the kitty's fur coat, etc reaching for a doll for some inexplicable reason I have NO idea in the middle of this huge traumatic disaster in the making!?... etc etc]. Everything was just TOO OFF THE WALL, CRAZY MAKING REDICULOUS to feel like I wanted to actually participate in playing this game... so, anyway... no buy for me! :\ In addition to the above, besides that the whole premise of the game was just off for me, overall it truly offered nothing original.... I know I'm not the only one that is uninspired and tired of the old settings mixed with new, same type of puzzles, same dark foggy 'things', games that are muddled and all over the place because they're based on such loose and/or morbid plots [don't get me wrong, I play ALL types of games, yet the substance of this game was just not GOOD!] NOT WORTHY OF 5 STARS WHATSOEVER IMHO, sorry!! For those enjoying this 'dark dimension'... have fun[?]!
March 15, 2014
The Apple logo is a trademark of Apple Computer, Inc.