Dark Dimensions: Somber Song Collector's Edition
Exclusive
From Daily Magic, makers of Dark Dimensions: City of Fog and Dark Dimensions: Wax Beauty, comes the next exciting chapter in the Dark Dimensions series!

You've traveled across the country, tracking down dark dimensions in search of your missing family, when you stumble upon a violent one that has taken over the city of Seven Oaks, North Dakota. The black smoke is chasing people and captured a young girl right in front of your eyes. What caused this dark dimension, and who is being controlled by its influences? You must investigate for the truth behind the town's recent tragedy if you want to save its future. A friendly spirit may help you, but can you trust him? Free the people and save the town in this exciting hidden-object puzzle adventure game!
Bonus chapter, featuring an exciting epilogue!
Find collectibles that unlock bonus Match-3 levels
Exclusive diary that chronicles the game's development!
Concept art gallery, soundtrack, and wallpapers
Game System Requirements:
OS:

Windows XP/Windows Vista/Windows 7/Windows 8

CPU:

2.5 GHz

RAM:

1024 MB

DirectX:

9.0

Hard Drive:

1552 MB
Game Manager System Requirements:
Browser:

Internet Explorer 7 or later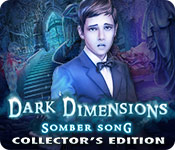 The Big Fish Guarantee:
Quality tested and virus free.
No ads, no adware, no spyware.

Reviews at a Glance

Dark Dimensions: Somber Song Collector's Edition
0
out of
5 (
0
Reviews
Review
)
Customer Reviews
Dark Dimensions: Somber Song Collector's Edition
56
56
Dark Dimensions: Somber Song ~ The familiar dark serenade
....Somber song, indeed. Personally, I'm with some of the minority here and was amazed at so many high stars.... what a sad song being played in games that imitate each other continuously and gamers relish in participating in such horrific experiences as children being burnt to death in the guise of 'fun'. Granted, you are playing the supposed part of "rescue"!!?? Hmmm.. really?? That, is beyond dark and somber IMHO as it is beyond reason and, therefore, how does one immerse themselves in this setting, hmmm, I couldn't. The beginning was promising to me, despite the 'plot', which obviously, I didn't care for and was immediately taken aback... yet I gave it a try. Well, right from the beginning it irked me further. As just a few examples: Anyone that lives in the cold and snow would know that in such a condition, one does NOT, under any circumstances [emergency or not] leave doors and windows open or not have winter protection... it was SILLY! I was SO distracted by that, I had a hard time concentrating on the game immediately. THEN, after being told to stay INDOORS, you go OUT and witness others running for protection.... huh? So, anyway, right off the bat, I'm thinking.... geesh, the main character [which I am playing!] would have expired from exposure [and here I am hunting for a mitten, commenting on the kitty's fur coat, etc reaching for a doll for some inexplicable reason I have NO idea in the middle of this huge traumatic disaster in the making!?... etc etc]. Everything was just TOO OFF THE WALL, CRAZY MAKING REDICULOUS to feel like I wanted to actually participate in playing this game... so, anyway... no buy for me! :\ In addition to the above, besides that the whole premise of the game was just off for me, overall it truly offered nothing original.... I know I'm not the only one that is uninspired and tired of the old settings mixed with new, same type of puzzles, same dark foggy 'things', games that are muddled and all over the place because they're based on such loose and/or morbid plots [don't get me wrong, I play ALL types of games, yet the substance of this game was just not GOOD!] NOT WORTHY OF 5 STARS WHATSOEVER IMHO, sorry!! For those enjoying this 'dark dimension'... have fun[?]!
March 15, 2014
Scary Bad!
I did not like this game. While the story line was good the ending ruined it, but I'll get to that later. The art work was very good and the music score was haunting and also very good. There was an interactive map that showed where there were tasks, and the hint button did not tell you exactly what to do next...thank goodness. There were collectibles that were pieces of music scores that fit together and told you some of the story. There was a fire at a school that killed children twice in different centuries. One of the victims mom was so grieved that she turned to evil and was part of the bad guy team, the other was this puff of smoke thing that was never fully explained. Your job is to save the remaining survivor from their clutches. Okay that's where the good ends. The HOS were all interactive. You have to find a piece of an item and then when it is back together you have to use it on another item, and so on. That is okay if it has some common sense involved. There was none. You have to run your cursor over the entire scene to find the gear turning icon to figure out what needed work on, BUT no clue for what actually needed to be used on the item and let me tell you that there were MANY times that I had to use the hint button to figure it out. It was very frustrating and to make it worse there were MANY HOS. Some of the puzzles had no instructions, some had vague instructions, and a few were good. SPOILER ALERT: The ending really pushed me over the cliff on this one. You cast out the demon smoke thing out of the little girl survivor, then the little boy ghost who has been helping you come against his evil mom magically comes back to life and the evil mom who has been wreaking havoc on the whole city snaps out of her evilness and says "I thought I had lost you forever." Really!!?? Not fall over in shock and have a heart attack!? I am with the other reviewers who scratch their heads and wonder why the same people give these raving 5 star reviews over and over again. I'm here to present a realistic view of the game so you can see its shortcomings and decide if you want it. As for me I won't be recommending this one
March 30, 2014
I can't believe I bought this CE game!
I always play the demo and read some of the reviews. I guess I wasn't paying attention because I bought this and hate it! I played this game in the casual or easy mode. I didn't complete the game. It has a interactive map which I liked. It has pretty scenery, well some of it is. I didn't pay much attention to the music. I was lost shortly after starting this game. Just not a good enough story to pull me along in the game. I love HOS, but I soon began to dread the sparkly area because I knew I was going to have to go to the Guide to help with the HOS. What? I pride myself in going down a list to find objects without using the hint button. (I'm OCD#. The hint button was of no use in these HOS -- I had to use the GUIDE! How embarrassing. I hated the HOS. Did I make myself clear - I HATED THE HOS! Another thing that irritated me was the collecting of torn music sheets of which I have no idea their use #I am not planning to complete this game#. First you pick it up, then you have to touch it a 2nd time before it goes into a stored area. What a useless thing to do. My advice is to play the demo for the full time #I have a feeling I didn't). I don't recommend this game and especially not for a beginner. I also plan to check out the forum. I have a feeling there is more information there.
March 18, 2014
Not for me, sorry
Ridiculously easy; unimaginative; awful cutscenes. I stopped playing and deleted it. I don't understand the 5 star ratings.
March 14, 2014
Its waste of money to buy for entertainer
Its waste of money to buy for entertainer especially for HOD. its difficult to find the object. the MAP is showing the active task to some where but actually there is not task is over there. totally i feel to irritation to play this game. i wont recommend to anyone to buy this game
March 15, 2014
no good
because it took me long time .
March 28, 2014
The Apple logo is a trademark of Apple Computer, Inc.