Dark Dimensions: Somber Song Collector's Edition
Exclusive
From Daily Magic, makers of Dark Dimensions: City of Fog and Dark Dimensions: Wax Beauty, comes the next exciting chapter in the Dark Dimensions series!

You've traveled across the country, tracking down dark dimensions in search of your missing family, when you stumble upon a violent one that has taken over the city of Seven Oaks, North Dakota. The black smoke is chasing people and captured a young girl right in front of your eyes. What caused this dark dimension, and who is being controlled by its influences? You must investigate for the truth behind the town's recent tragedy if you want to save its future. A friendly spirit may help you, but can you trust him? Free the people and save the town in this exciting hidden-object puzzle adventure game!
Bonus chapter, featuring an exciting epilogue!
Find collectibles that unlock bonus Match-3 levels
Exclusive diary that chronicles the game's development!
Concept art gallery, soundtrack, and wallpapers
Game System Requirements:
OS:

Windows XP/Windows Vista/Windows 7/Windows 8

CPU:

2.5 GHz

RAM:

1024 MB

DirectX:

9.0

Hard Drive:

1552 MB
Game Manager System Requirements:
Browser:

Internet Explorer 7 or later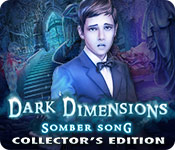 The Big Fish Guarantee:
Quality tested and virus free.
No ads, no adware, no spyware.

Reviews at a Glance

Dark Dimensions: Somber Song Collector's Edition
0
out of
5 (
0
Reviews
Review
)
Customer Reviews
Dark Dimensions: Somber Song Collector's Edition
56
56
Dark Dimensions=Definite Download Delight!
Dark Dimensions. Black evil smoke. Chaos, destruction, devastation, death, and dare I say I definitely love everything about this game? I even loved the Developers Diary that had 50 photos to scroll through showing all of the people involved in the development of this over the top fantastic game! There are several fragments of music sheets to find and when you find all of the pieces of a page you get to learn about the tragedy of the Dark Dimension, one musical page at a time. There are several mini games to play such as rotating tiles with one or more colored wire pieces to allow the wires to complete a path from top to bottom. Another puzzle I enjoyed was rotating rings in an effort to place tiles with their corresponding shaped slots. There are several different ring paths that can move so that one took me a few minutes to complete. The hidden object scenes are progressive interactive scenes where you find the first item and use that item somewhere in the scene to obtain the next item and so forth. This Collectors Edition has a bonus game, bonus match 3 games, wallpapers and music, so if those extras don't float your boat you might want to wait for the Standard Edition, either way you will definitely want to buy this Big Fish Keeper my friends, enjoy!
March 13, 2014
A Haunting Game and a Winner!
Is it me or does this game remind me a little of the classic MCF games? The graphics are spectacular as are the sound and special effects. It certainly is a beautifully put-together game that sent chills up my spine. The intro alone was an indication that this game is rather sophisticated and there is an element of the macabre to the story. Before I go any further, let us begin with the story. You have been hunting Dark Dimensions all around the country saving souls from its evil grasp. You come across an article in the paper reporting that a mysterious smoke has crept into the city of Seven Oaks and you decide to investigate. The history of Seven Oaks bears a terrible tragedy; many years ago the Music School burns down, claiming the lives of seven of its student. Now that you have arrived, you discover that the smoke has engulfed the city and a young girl is swept up before your eyes. The Dark Dimension has struck again and your adventure begins. Beautiful graphics and artwork enhanced by a well composed haunting musical score in the background along with great ambient and special effect sounds, all combined to give you an ominous atmosphere making for a very entertaining game play. I found myself totally engrossed from the get go. There are three game modes to choose from; casual, advance and hardcore. Fortunately there were absolutely no sparkles or glints the advance mode, unfortunately there was no map indicators as well. A tiny request to the developers, please add customized settings next time. Game features include a video diary, a jump map and the SG in located on the upper right side of the screen. Somber Song is an apt title for the very somber atmosphere created in the game offering us a standard HOPA game. The first thing that struck me was the details given to every scene. I found myself in a house and the constant knocking of the door made me rush to find the key which incidentally was not as easy as I predicted. Adventure game play requires a bit of thought which I absolutely loved. Although the black bar tips does offer you a guiding hand, I found that you also needed to use your own logic to make your way out of some puzzles. Hidden object scenes were spectacular; a series of actions are required to find your inventory item. I loved them and found it refreshing to play. Mini-games I came across during the demo were very well conceptualized and surprisingly, some even offered a fare amount of challenge. There are collectables which involve finding pieces of musical scores that when combined, offer a short video footage that reveal the story. Being spoilt by many other CE games, I really wished there were more such as morphing objects and a list of achievements. Sadly the developers decided not to add these features which would have made me even happier. I realize that many players don?t really care for these tiny extras; I personally think they add to a game experience and offer a bit more in way of a challenge. Nevertheless, I still was totally engrossed and also notice that the bonus sections offer you a Match 3 game which is accessed upon purchase. I absolutely love this paticular Dark Dimension story line; although creepy and tragic, it does offer that creep factor which I enjoy immensely. I cannot wait to play this tonight and definitely recommend it to all.
March 13, 2014
Musical Delight
BASED ON DEMO FIRST IMPRESSIONS Wonderful game. From the opening moments it is clear that this is going to be a first class sequel to the previously excellent 3 Dark Dimension games. There is drama and eeriness from the outset, and the intro looks so good! My only objection, it?s another freezing cold game! Hey devs, have pity on all those poor souls suffering an insufferable winter! I live in Australia, where we are having a drought, and even I?m sick of the sight of snow! SIGHTS & SOUNDS Gorgeous. The snow makes everything look so clean and bright! And the graphics are excellent. HOPs clear as a bell. What more can I say? The game is visually wonderful. The soundtracks are equally good. The voices in the cinematic cut-scenes are excellent. There are some great special effects (both sound and visual). The music ranges from ominous to scary. And there are a lot of frightening moments. WHAT?S HAPPENING? A fire in the town?s music school took the lives of 7 children last year. Now, on the anniversary of the tragedy, there appears some mystical and deadly smoke throughout the town. A little girl comes to your hotel room for help, but the smoke grabs her and drags her away, her body flying through the air on seemingly nothing but smoke. Yes, this is the evidence we need to accept that another Dark Dimension has formed, this time around the small, musically inclined town of Seven Oaks. GAMEPLAY As with the previous Dark Dimension games, many of the puzzles in this game are too difficult for me, an intermediate player whose weakest point is puzzles. Still, there is more adventure action than puzzles, and so I love the game anyway. There are not a lot of HOPs, and each is a progressive word list. So, you must find an item, use it to find another, and so on until you get the inventory item. Each of the HOP scenes are visited twice, using the same search method. There is a directional hint, and a video journal (no notes, just replayable videos from the game, some of which have useful information on them). The journal also has a tab for flashbacks. These are music sheet pages (10) that you must collect, in fragments (3 each), and they tell part of the backstory with simple cartoon drawings. The interactive jump map is good, and tells you where action is required. There are 3 levels of difficulty. CE BLING! The bling! doesn?t overly impress me so far. Just the ?flashbacks? and a few wallpapers and concept art. Music tracks (7) of course. There is also ?Developer?s Diary? which includes 50 shots of the team working on the game. There is also a Match 3 game with 10 levels, all of which can only be unlocked by playing the bonus chapter. That may be interesting. COMBINED IMPACT Excellent game. I played the beta for this and it is the first beta I have played where I had nothing to suggest for improvements. (Tough old bird, aren?t I?) It is really beautiful as well as fun.
March 13, 2014
Hauntingly Beautiful
Once again you have found another Dark Dimension and this time it is located in Seven Oaks, a once lovely town that is now being consumed by a menacing mass of swirling black smoke. You have arrived at a bed and breakfast inn in Seven Oaks and you open the door to a young girl who is frantically pleading for your help to save her from the smoke that has already taken her father. As the story unfolds you discover the tragedy of a horrific fire that killed seven young children at a local school. This is where the adventure begins and we must solve the mystery of who/what is causing this Dark Dimension and bring peace once again to Seven Oaks. The graphics are absolutely excellent and quite beautiful even though much of the game, at least in the demo, is set in a fire-ravaged school. We have lip-synced voiceovers that add that extra touch of realism and something I have come to expect with some of the newer HOPA games ? thank you devs! The musical score is memorable and truly adds to the ambience and enjoyment of the gameplay. Instead of the traditional diary we have a video journal, which quite frankly is not my preference. I like a written diary that I can go back and read when needed, although it is nice to be able to replay some of the scenes. Early in the game we find a transporter type map that shows areas of interest. The hint button is a piano that, IMHO, takes up a lot of space on the lower right of your screen. In fact, I accidentally hit it a couple of times thinking it was part of the actual scene ? lol. The HOS are progressive where we must find an item and then figure out where to use it to locate the next item. I enjoy the challenge of this type of HOS because it seems like another puzzle to be solved. Speaking of puzzles, I?ve only encountered a few in the demo but I really like them and feel that as I get further into the game they will become even more challenging. Where the game is sorely lacking is in the CE content. Because we have a limited SG in the demo of the game, which in all honesty will keep me from purchasing the CE, I have no idea how many extras we can expect. In the extras section I see that there is a match 3 type game that can be played after we complete the main game. As far as collectibles there are pieces of a musical score hidden in various locations and finding three pieces will allow us to view flashbacks (located in the video diary). Since the SG in the demo is limited, we don?t have a clear picture of what to expect in the way of game length, collectibles or achievements. So as I mentioned earlier, I will wait for the SE of this game unless there is an exceptional weekend sale. Dark Dimensions Somber Song is the fourth game in the Dark Dimensions series and, IMHO, this is most likely the best. The game is hauntingly beautiful in graphics and musical score. I found the storyline interesting and looked forward to finding more as the story unfolded. I know this is an excellent game and that it is a definite purchase for me when the SE is released. As always, I recommend that you at least try the demo to see if this is a game you will like.
March 13, 2014
Gorgeous game
This is an absolutely gorgeous game almost in the style of Mystery trackers. I love the snowy scenes which makes it so crispy, clean looking. I felt such a rush when someone was knocking at the door and I could not find the key fast enough. I love that. You almost live in the story. HOGs are very interactive and minigames are not too hard. Game has a good flow, many locations and lots to do. I only wish there were some kind of collectables, or morphs. You have to find sheet music pieces, which when all found tell you pieces of what happened in the beginning. Yes, I know, I'm a collectable junkie. But that's fine. I do like the story and enjoy playing this game. So now I need to buy it to find out what really happened. After finishing the game there is a match 3 game you can access. Can't wait for that. This is a truly beautiful game, good map, excellent graphics. So far I think this is the best Dark Dimensions yet
March 13, 2014
What happened at the music school?
This is the fourth game in the series, and I haven't played any of the others, so I feel at a slight disadvantage, because you are evidently a "Dark Dimension" hunter, but I don't know why or how. A short preview would have been good. Nevertheless, this is still quite an interesting game. You are at Seven Oaks Inn when a girl - Lydia? - knocks at your door and asks you to save her. Unfortunately, she is enveloped by smoke and carried off. It seems she is the survivor of a recent fire at the Music School that killed 7 students. You meet the ghost of a boy who says he saved Lydia from the fire, but not himself, and "it was not her fault." The HOS are all lists, but very interactive -- most objects require you to find another object and then act upon them. They are hard, but inventive. The mini-games are rather easy, but all are unique and follow the story line. You also keep finding fragments of music that supposedly will help you once you find them all, but it is not clear how many there are, or how you access them. There are three modes of play, and a nice teleporting map with activity areas marked. I used the hint button quite often in the HOS -- it does refill quickly in Casual Mode. The Bonus items include a bonus scenario, a Match-3 game, wallpaper, music, and a 50+ picure developers' diary. Make sure you scroll through the developers' diary. It is quite cool to see pictures of the developers working at their desks, eating Russian#?# snacks. Plus seeing the girl model for Lydia - wearing the same outfit as in the game - and the boy model also dressed as in the game is pretty interesting! I plan to buy this game, but I will have to go back and play the previous ones as well!
March 13, 2014
AWESOME
Special effects, music (suspenseful where appropriate) and sound effects are very good and fit the storyline in the correct place. Color palettes and graphics are awesome. Well developed storyline. Map has active objectives noted. Good balance of HOS to puzzles. Progressive interactive HOS are moderately crowded and objects are detailed sufficiently to find objects. You have to use each object found on another item to progress through the HOS. Puzzles are relatively easy to figure out for an experienced player, but may take a little thinking (okay, maybe a lot) for the novice. Loved the developer diary - interesting to see how models were used and developed for the scenery and characters in the game. Next time, they could put a little narrative in it to make it even more interesting. Very good production values. Nonlinear and a lot of fun to play.
March 13, 2014
Gorgeous Game
This is my favorite so far in the Dark Dimensions series. The art work and graphics are flawless and the snow makes the scenes appear so bright and lifelike. The storyline is very interesting and pulled me into the story immediately. The HOS are very interactive. The puzzles are fun and story related. I enjoyed the adventure part of this game because it's very non-linear. There are music sheets to collect, a bonus game, and a making of the game section which is really cool. The hint button works quickly if needed and you do get a transportable map if you need it. The map tells you area of interests. This developer puts out very well-done games and this is no exception. I highly recommend. Enjoy :)
March 13, 2014
worth a buy
This game varied slightly from the norm in the ho scenes which I found refreshing. Good story line, great art and challenging while not being impossible. Buy it!
March 19, 2014
Best Game I've Played!
I thoroughly enjoyed this game. I hope the developers come up with a sequel.
March 18, 2014
The Apple logo is a trademark of Apple Computer, Inc.