Fatal Passion: Art Prison
Exclusive
One man's art is another man's prison. An eccentric artist's creations have sprung to life, and they're terrorizing a small town. And it just happens to be the day the love of his life marries another man. Can you beat the painted traps and find the missing bride and groom in this exciting new hidden-object adventure story? Find out in Fatal Passion: Art Prison!
Game System Requirements:
OS:

Windows XP/Windows Vista/Windows 7/Windows 8

CPU:

1.0 GHz

RAM:

1280 MB

DirectX:

9.0

Hard Drive:

397 MB
Game Manager System Requirements:
Browser:

Internet Explorer 7 or later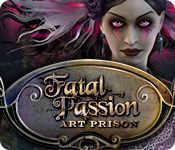 NEW299
The Big Fish Guarantee:
Quality tested and virus free.
No ads, no adware, no spyware.

Reviews at a Glance

Fatal Passion: Art Prison
0
out of
5 (
0
Reviews
Review
)
Customer Reviews
Fatal Passion: Art Prison
20
20
Paintings That Come To Life
An eccentric artist find a method of bringing his paintings to life to terrorize and trap the people of the town all in the name of love. When Edmond realizes that Adele is going to marry Richard it is more than he can bear, so he begins painting dragons and little shop of horrors plants that come to life! One of the reasons I'm not over the top thrilled with this game is the fact that it is predictable, extremely easy, and somewhat boring at times. You find random bottles of binder laying around town and use that binder along with different color agents to paint your own pictures to use to counterattack the paintings that Edmond brought to life. The HOS are a mixture of finding items that match the silhouetted shapes, putting items back into the scene and finding 12 of the same items such as crowbars. (which didn't make sense why there would be 12 crowbars hidden in a vase of flowers) The hidden object scenes are also repeated twice. The mini games weren't too bad such as trying to replace piano keys and completing the correct pattern. It's not a bad game by any means, it was just a story line that didn't interest me that much, perhaps it will you, enjoy!
March 2, 2014
Fun SE!
Afternoon all. Well, my CE review says it all and it still remains the same for the SE version. After playing again, I still feel that this is not CE worthy, but is a nice SE game instead. The only difference is that you don't have birds to collect, or at least I didn't see any. I am going to use a game credit to get this game today. Please see my full CE review below: "Story is a little different than most, even though you are saving the woman as always. Graphics are nice and fairly clear. Colors are pretty dark. So far, everything seems to be happening at night, hopefully that changes and it lightens up. Game play was good, no problems at all. Music was okay and tolerable. I liked how the paintings came to life, which added a bit more fun to the game. HOPs were nice, items fairly easy to find, not crowded and junky. You had standard HOP, silhouette and "place this where it belongs" type HOPs, which is fun and keeps a game from getting boring quickly. HOPs are repeated. Did not care for the location of the SG. It needs to be on the game page and not on the menu page. Hint system is quite helpful and fills quickly, so you don't really need the SG. Jump map was nice, but I didn't find the need to use it much. Some of the found items within the game were quite small and not easy to see. Most of the puzzles were different and took a bit of thought and time to complete. You do have birds to collect and believe me, some are very small and difficult to see, but if you look carefully, you will find them. Very disappointed in that this game would have been very nice if it had some sound FX and more voice overs. It was just too quiet. This game is not very challenging, but I did enjoy the puzzles and the story. I'm just not sure it is CE worthy. I will put this one in my puddle and think on it a bit. As I have said before, I sometimes change my mind when the SE comes out and I play it again...I don't usually purchase the CE version though. If I feel it is CE worthy, I will get it now. Not sure what is was, but it just didn't make me want to run out and buy it now." As always, try it for yourself and see what you think. We all have different tastes in games and you may find this one to be exactly what you are looking for today. Thanks for the reviews.
March 2, 2014
Fatal Passion Avoids Fatal Mistakes
The story of unrequited, secret love is nothing really new (actually quite old), but it was still holding my interest through the trial time. There may be a little too much "help" for some, as the on-screen hints pretty much tell you what type of object you'll need to find in order to complete an action. Painting an object and it comes to life - not a new idea, Drawn, anyone? - but this game manages to pull it off well. Developers can sometimes overly rely on one "trick" but here it does not seem to be over-used. Also in this game, you have to actually make your paint before you can use it. The bird collectibles are fantastic. Beautifully drawn and looking almost real. I love birds, and at least some of them appeared to be actual species. However, I could not find any way to view the birds once they were collected - which is a shame. Suggestion for developer: it would have been a WOW to be able to see the collected birds in a separate viewing area, together with their names. The artwork is done is a semi-realistic style which should be familiar to most fishes. Puzzles and mini games showed some inventiveness, or at least a twist on the usual ones. There was one painting/drawing puzzle during the trial #hate those# but I found the others interesting and somewhat more challenging than usual, but not too difficult. Hidden object scenes had several twists thrown in, but were still fairly easy. I do like the game, and if my suggestion above was part of the CE I would consider making this one of the few CE's I own. As it stands, I'll direct my "passions" toward the SE release.
March 2, 2014
"This close" to 5 stars
This review is based on the completed SE game. Really liked the artwork; some of it was different and fun, some of it was more what I've seen in other games, but still very nice the whole way through. The HOS are appropriate to the settings; by that, I mean that there aren't a bunch of things in them that don't belong. Also, the items aren't impossible to find; the hint function refills fairly quickly. The music, sound effects, and voice overs are all good. I usually play with the volume set fairly low, but I still think the audio adds to the game when it's good. It's disappointing to mute it entirely. There was a clever "cartoon drawing" feature for some of the voice overs, instead of just looking at a character talking at the player. The mini-games are fun. Some of them seemed pretty easy. Most of them were challenging enough to be interesting. There were a couple that just did not make sense to me, even after making progress; I used the skip function even through I really don't like to. There's a map available that shows where active areas are and where current objectives are. I really like this feature in games with a lot of locations; it saves a lot of needless running around because I can't remember where I'm at and how to get to where I need to be. (I'm very good at reading maps, but I'm not so good at creating a map inside my head.) I think there's some replay value to the game, although maybe not as much as some others. That, along with the few mini-games that didn't make sense, is probably what keeps me from giving it a full 5 stars. Definitely 4 1/2 though. Enjoy!
May 27, 2014
Its okay
The puzzles are pretty easy, like paint by number etc. It was ho-hum, the story is an artist in love with a woman who is getting married to another and she just thought they were friends but he feels spurned so he's going on a rampage of making everyone suffer. Its your job to defeat his painted monsters-come to life and rescue the bride and others who've fallen into the artist's line of fire. The art work of the scenes is drawn looking/flat and it was easy to beat the game. It was one of those that as a lover of HOG type games I won't replay and I removed it after I completed the game. But it filled some time and I did complete the game. I purchased the 'collectors edition' and wished I'd only paid for this version.
March 2, 2014
It was somewhat of a challenge
I liked it to a point. It got to simple sometimes and to taxing at others. I am saying play it. You never know if it is for you or not.
March 7, 2014
Art
It was a good game. Not the best I have played. Interesting having to paint and make colors to kill things. Not one I would buy
March 3, 2014
ANOTHER HO HUM
Review based on about 2 hours game play. Another I couldn't sink my teeth into. Animation/VO - Characters did not move. Cartoonish in style. Vos were okay but not for player. Some text was so small I had to lean close to the screen. IHOS - Silhouettes, find x # of same items, put objects back in scene. Small objects. Fairly clear. Misclick Penalty - None Hint - Fast charge. Gives clues and directions. Puzzles/Mini-Games - Chose to try at least twice then skipped. Moderate skip charge. This game did not capture my attention.
May 17, 2014
Another Demo fools you
Once again, as soon as the demo time is over so is the fun. The game is way too short and the mouse can be picky. The HOS become more frequent and the story drops flat just to get the game over with. It took less than an hour after the demo for me to finish, now I feel like demanding my money back. Total waste.
March 4, 2014
Just ok for me
The visual quality in this game seemed outdated to me. I really expected a more exciting storyline as well. The puzzles were o.k. not extremely easy but not very challenging either. I felt it was fairly boring overall. It did not keep me interested and I did not purchase this game
March 26, 2014
The Apple logo is a trademark of Apple Computer, Inc.