Viking Saga: New World
Several years have passed since Ingolf became the king of Iceland. Since taking the throne, the king has married his beloved wife, Dalla, and welcomed two beautiful children into a growing and prosperous kingdom. But when a terrible disease begins to sweep over his lands, Ingolf must travel to the far west to find a cure that will save his family and his people! Join Ingolf on an unforgettable journey to the wondrous corners of the ancient world and meet new characters along the way in Viking Saga: New World!
Absorbing storyline
Renewed gameplay and mini-games
Find a cure and save your kingdom
Meet new and intriguing characters
Play the original Viking Saga
Game System Requirements:
OS:

Windows XP/Windows Vista/Windows 7/Windows 8

CPU:

1.2 GHz

RAM:

512 MB

DirectX:

9.0

Hard Drive:

271 MB
Game Manager System Requirements:
Browser:

Internet Explorer 7 or later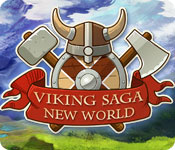 NEW299
The Big Fish Guarantee:
Quality tested and virus free.
No ads, no adware, no spyware.

Reviews at a Glance

Viking Saga: New World
0
out of
5 (
0
Reviews
Review
)
Customer Reviews
Viking Saga: New World
37
37
Super Time Management Game
Challenging tasks, sometimes require a certain order to proceed, really makes you think. Great Fun, best Ive had in a while
April 6, 2014
an excellent sequel
I wish I sent the review before another game arrived, as they have done even better sequel then this one. However this is a very good sequel, I loved the first game and I love this one. I played it to the end and there is only one level that I still can't get 3 stars, never mind I will manage one day. Graphics are lovely, the challenge is good, some levels are harder then others, some not. Hope they'll have more.
March 24, 2014
Excellent game
Perfect! Everything I like in a game. Challenging and fun. But why do they put horns on the viking helmets? The vikings never used that!
March 19, 2014
Excellent Sequal To the First Saga
Enjoyed the first one. This one picks up where it left off while adding nice new levels and challenges. As before, good game play, graphics and difficulty level is decent. Both both versions. Great if you like Northern Tale and looking for something new (similar but different enough).
March 19, 2014
Great Sequel BUT..... for bravehearts!!!
People who loved the first Viking Saga will be satisfied in terms of fun and graphics BUT..... but...... this sequel is much much harder! Very very difficult to get 3 stars. Also if you play in untimed mode. Full of hazards - maybe too many - that kept returning and full of obstacles. Baloons, airships, boats, fricking snow drifts slow the Vikings down. Have you the heart to accept the Viking Saga 2 Challenge :) ?
March 4, 2014
TM game series I will stick with
If you haven't played the first game in the series, it's a game where one builds supply buildings and one has to get rid of obstacle to meet the goals displayed at the bottom of the screen. One has four buildings to work with; Various houses with upgrade potential, 2 different food suppliers, 2 different wood suppliers, 2 different stone supplies and a Druid hut. The supply building options become available as you progress through the levels. That is, as with most games, one has only 1 option until one progresses to higher levels. You can click ahead on this game and if you clicked something and change your mind, you can right click to deselect it. There is one level where you have an option of choosing to be amicable or aggressive. I believe many would appreciate that as it gives one 2 options to play that level, extending the game play by concurring each option. Keeping in mind I played the first in the series; I was able to get 3 of 3 gold stars on at least half of the levels on the first try. There were 2 levels that I had to cheat and go on YT to see what I was doing wrong so that I could get 3 stars. I'm always embarrassed to admit that but I'm the first to admit my brain gets stuck in a pattern and I can't think outside that pattern. There are 40 standard levels. Those 40 are divided into 3 sections and if one gets 3 gold stars in that section, there is a bonus level unlocked for a total of 3 bonus levels. As with the first Viking Saga, there is one level that make me want to swear a lot an throw my computer about. It's the first bonus level. If you hate that one as much as I do, don't let that cause you not to play the other bonus levels. They are different and worth playing. I am 1 of 5 people on the planet that doesn't care about storyline so I can not comment on it. I am also 1 of 5 people on the planet that doesn't care about image quality. I'm not putting anyone down here, I'm just pointing out I'm weird and it's hard for me to report on these topics. I believe the visual quality is great for such a frugally priced game. Note that if the time runs out, one can continue to play that level which is nice for those of us who are physically challenged. Thank you VS for that. I wish we could amend our reviews as I'm sure I'm forgetting something.
March 8, 2014
Viking Saga: New World... not all that 'new' yet lots of fun
I enjoyed playing this new version of Viking Saga... "New World"... it played almost exactly as the original yet the story takes place with a new generation growing into their prime. Other reviews and the Demo can give you an in depth view of the story. I'd like to make a few comments based on purchased and played game [both episodes]. The settings were excellent and the gameplay terrific.... one new addition is the hot air balloons, which are well presented graphically and a nice feature. One thing I find very difficult to tolerate is the Richard Dryfus-y sound-alike [?] voice that continually shouts out during the entire game even with "voice off" setting checked. :\ It's very annoying and obtrusive, sound inappropriately angry and/or annoyed at times, too. I could see if it were used in the tutorial and/or an option, otherwise.... errr! My only other complaint is the hyper-active manner of the characters. I would love to see more TM of this type utilizing the lower keyed yet highly efficient manner of the recent TM game with Dwarves. : ) Most importantly, again... I would highly recommend if [and I hope we do] we are offered a third episode of Viking Saga, the devs lose the voice prompts throughout the game... and if so, I'd definitely give it a 5 star plus rating! So, bottom line on the positives, "Viking Saga: New World" is a cleverly designed, fun game with lots to do offering multiple and varied levels... a must try for all TM lovers.
March 8, 2014
Loved it, but I do wish it would shut up.
I loved the first Viking Saga, and the second one is even better. However, while this version offers the option to make the cute little Vikings stop repeating the same 4-5 phrases over and over 'til you want to choke the cute little Vikings into unconsciousness, the option doesn't actually work. You can click "Disable voices" 'til the cows come home, but those darn little guys are just going to ignore that check mark & keep on yammering. Please, please, Big Fish, upload a fix for this glitch. I can't turn the sound off without missing other little cues like the fish bell ringing or rocks falling.
April 4, 2014
Fun but some frustrations
I bought the first game and loved it. One thing I love is that there is an untimed mode. I was happy to see that in this sequel, but frustrated when 2 of the levels, including the last one are actually timed, even when playing in untimed mode. I like to play in relaxed mode first and then challenge myself on each subsequent level. If you really enjoy time challenges and/or you have a good gaming mouse, this is a great game. Right now I can't even finish the first level - disappointing.
March 14, 2014
Good Game
It was mostly the same as the last..but it was still good.
March 6, 2014