Emberwing: Lost Legacy Collector's Edition
Exclusive
Dragons have not been seen for hundreds of years and were just a bedtime story for your young son Tevin. Suddenly, a real dragon attacks your house in the dead of night and takes Tevin, believing he has a special power that will help their kind. But elves and other magical races, hidden in the unexplored Dark Forest, are after him as well. Can you save your son from the dragon's clutches before it's too late?

This is a special Collector's Edition release full of exclusive extras you won't find in the standard version. As a bonus, Collector's Edition purchases count toward three stamps on your Monthly Game Club Punch Card!

The Collector's Edition includes:
Strategy Guide
Hidden dragon collectibles
Achievements and awards to earn
Wallpaper and concept art
Bonus chapter: The fate of an unborn dragon is in your hands!
Game System Requirements:
OS:

Windows XP/Windows Vista/Windows 7/Windows 8

CPU:

1.0 GHz

RAM:

1024 MB

DirectX:

9.0

Hard Drive:

621 MB
Game Manager System Requirements:
Browser:

Internet Explorer 7 or later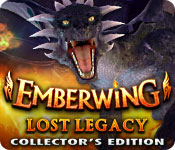 The Big Fish Guarantee:
Quality tested and virus free.
No ads, no adware, no spyware.

Reviews at a Glance

Emberwing: Lost Legacy Collector's Edition
0
out of
5 (
0
Reviews
Review
)
Customer Reviews
Emberwing: Lost Legacy Collector's Edition
48
48
The Dragon Whisperer
Dragon's Bane! After 100 years of slumber a fire breathing dragon has destroyed your house and grabbed Tevin in his large scaly talons! You barely escape the burning house as you head toward the Dark Forest, disregarding the magical barriers and desperately trying to reach your son before it's too late. The Dark Forest is home to the Elves and Eridan agrees to help you find and defeat this fire breathing dragon, if you can communicate with the King's spirit. Naturally you find the kings crown and learn that long ago, Dragons and Elves were allies until the greedy Dragons took the Elves treasures. Legend predicts that a special child will come to the forest, an Emberwing, with the ability to speak to dragons! You know Tevin is safe for now so you have plenty of time to scour the forest for 50 hidden collectible dragon medals and earn some achievements while solving complex puzzles and finding much needed inventory items. This Collectors Edition contains wallpapers, soundtracks, cut scenes, concept art, epilogues, a strategy guide and of course a bonus scene (awe, baby dragons) There aren't a lot of hidden object games which seems to be a trend lately, I only wish there was a happy medium, they are interactive list finds requiring you to open doors and drawers or pull levers to rotate shelves. The mini games are really entertaining such as finding several gems by interacting with a stage play of the tale of Elves vs. Dragons. Another game reads a sentence of the same tale and you have to zoom into one picture at a time to find several of the same items as in the sentence like dragons, crowns and stars. There are also puzzles to complete and games with several buttons that control different rings and you push different buttons until all of the rings align to complete a picture. I love the entire package, beautiful fantasy themed graphics, well detailed Elvin characters, a very fluid gameplay, entertaining puzzles and of course....Fire Breathing Dragons!!! I'm still waiting on an apocalyptic zombie hidden object adventure game, but this game ranks among my favorites, enjoy!
March 15, 2014
From someone who has NOT always loved Boomzap Games!
I rarely buy CE editions, but I'm doing it for this one because I simply do not want to stop playing! I get bored easily with some of the fluffy fairytales with no "drive" to the story or depth to the characters #e.g., like some of Boomzap's previous games#, but I feel like this is one of the exceptions. Yes, it is absolutely a fairytale, but it is very much about the story and not too silly. What made me decide to purchase it when I rarely purchase CEs?: 1# The devs do a good job of drawing you into the story and making you care about the outcome; it feels more personal than the average HOPA, which is important to me. 2) Attention to DETAIL! For example, I tried using a screwdriver in instances where I was unsure if it might work, and instead of just saying "that didn't work", it would say things like "no, it will break if I try to pry it out with a screwdriver" or something else that indicates that they foresaw that you might try that #which for some reason makes me feel less stupid about trying it, haha#. 3) They don't hand-feed everything!!! Without making it overly difficult, the game also has nicely SUBTLE HINTS. For instance, when speaking with someone, it won't necessarily be obvious that you should "bring them something" like most HOPA games. I have to think about what might please them or influence them to help me. In some cases, you won't realize it until you find whatever it is - then it hits you - "Oh, I bet they would like this!" This makes the gameplay feel so much more interactive and realistic, like you actually came up with the idea yourself. :) It's a very nice touch that is much-appreciated by those of us who prefer less hand-holding #without wanting excessive frustration#. You can tell that the DEVs put a lot more work and thought into this than some of the "bigger name" DEVs who produce more games but with less attention to detail, or - importantly - respect for your powers of deduction.
March 16, 2014
Step Into a Fantasy World of Dragons and Elves
Although dragons used to dwell in the land it has been a hundred years since they have been seen in the Dark Forest but you soon come face to face with the reality of a mammoth-sized, fire-spewing beast of a dragon that plucks your son from your home before your very eyes, and this is where the adventure begins. You must rescue Tevin from the clutches of the dragon and find out why he was taken. Enter the Dark Forest and travel through a world of elves, dragons, and other mythical characters that you will meet on your journey in a beautiful fantasy land. The graphics are wonderful and beautiful - just what I expect in a fantasy game. This developer has brought us some of the best fantasy games and always does a wonderful job creating beautiful environments for our enjoyment. The sound package in Emberwing is excellent with music that evokes a wide range of emotions, sometimes being very soothing and at others creating tension and suspense. The one area where the game is lacking is that there are no lip-synced voiceovers (sigh). I didn?t notice a journal but there is an interactive transporter map that indicates where there are areas of interest or tasks to complete. During the demo there was only one interactive list type HOP scene with the others being the type where we need to find a certain number of a specific item, and for good measure the developer included the diorama type HOPs that I quite frankly can live without. Since there are a lot of puzzles to be solved I think of Emberwing as more of a puzzle type game, and since I really like puzzles this is fine with me. Unfortunately, although there are a lot of puzzles they are very simple with very little challenge and can be easily solved, but the recent trend has been towards fairly easy puzzles that appeal to a broader audience (sigh). Recent CEs have been very ?light? on extras or what I consider to be CE worthy content, and it doesn?t surprise me that many gamers are waiting for the SE versions to be released. In Emberwing we have fifty collectible medals to find and a smattering of game-based achievements to be earned. Aside from a bonus chapter and the SG there is not much else. My above comments regarding CE content aside, Emberwing Lost Legacy is a game designed just for me. I have been enamored with dragons since the 70s when I fell in love with the Dragon Rider books and always wished that I could have my own personal dragon. As I played this demo I was able to get lost in the fantasy story and knew that Emberwing would be a definite purchase. For me this is the perfect game with the perfect story but as always, I recommend that try the demo to see if this is a game you will like.
March 15, 2014
Marvellous Fantasy Puzzle Adventure
BASED ON DEMO FIRST IMPRESSIONS This is a truly gorgeous game to look at from the first moments. But that is hardly surprising, if you know the Awakening series, made by the same developer. The location scenes are ?realistic? fantasy in style, while the close ups have a more ?painterly? look about them. Both are beautiful. The cut-scenes are wonderful, cinematic and engrossing. And I didn?t even mind that there were a lot of them early up, giving us a lot of back story via interaction with other characters. All of whom spoke well. For those of you who?d rather skip these interactions, there is a brief summary of the conversation that flashes up instead. Fabulous idea! Another subtle touch I liked was having the centre of the cursor change colour, rather than a complete change of cursor, to indicate something of interest. From the beginning sound is an integral part of the atmosphere. It is so sweet in the opening sequences, and the ambient noises are lovely. Then it is exciting and dramatic in the next series of cut-scenes, somehow turning the same music ominous. WHAT?S HAPPENING? Our son has always been fascinated by stories of dragons, but until now, they?ve never shown any interest in him, and stayed safely in their story books *grin*. Now one has stolen the boy and is taking heaven knows where, and you are desperate to follow. That is immediately fraught with difficulty. From the fire he started in your home, to the long drop down from the balcony, there are obstacles both magical and mundane in your way. You meet an uncertain ally, the Dark Elf Eridan, who is also hunting the dragon, and you take up his offer of help. Together, you must find out what the dragon wants with your son, rescue him and defeat the dragon, who is a threat to the whole Dark Elvin kingdom and other kind who live in the Dark Forest. GAMEPLAY There are NO STANDARD HOPs in this game ? at least none in the demo. There is one mini-game where you must find a multiple number of a single item, spread across a half a dozen different paintings on the wall. So far, that?s it. This is, I therefore conclude, is a Puzzle Adventure, so HOP players, this may not be for you. The puzzles so far have been interesting and different, and not so difficult I couldn?t figure them out with enough time. Some are quite charming. There is a diorama I enjoyed in part because it is so quirky. In adventure terms, it had its tricky moments, but overall, I did not find it overly difficult. Getting around and finding the tools you need is helped by an excellent map that gives you your current objective as well as where tasks are immediately available, at least, on the lowest of the three levels of difficulty. There is no journal. The hint is directional. And there is no animal companion or special gadget to use. Of course, there is Eridan. He might be... entertaining. I finished the demo in about 45 minutes, and it is 2 chapters of an 8 chapter main game. CE BLING! The gallery items include wallpapers (14) of the kind where some effort has been made to make these interesting. I feel I represent a minority of one here. I like wallpapers, and will be swayed by good ones, like these, into going with a CE, if I am kinda leaning that way. Concept art (29), cut scenes, and music (12) ? good sign for variety in the sound! The achievements include collectibles ? 50 gold medallions. Both performance and story based awards. *SPOILER ALERT* There is also an achievement for spotting the company logo. *END ALERT* COMBINED IMPACT I am impressed. This is shaping up to be a really nice story, a bit different from the rest. And likewise, while this is another gorgeous fantasy game, it is again a bit different from all the others, being a bit darker and being basically a puzzle game. Even though, as I said, I love my HOPs, I will be giving this one a go.
March 15, 2014
Best game I have played
I played the trial version & immediately bought the full version when it ended. I left on the music which I usually mute. The graphics are fairy tale excellent. The puzzles & HOGs are very different from a lot of others. Challenging but, in a way that makes you want to do them. You can mute the voices & read or just listen. The storyline is good. Your son has been kidnapped by a dragon. You must save him. Is the dragon good or bad? Why was he taken? How are the elves involved? Can you get to him in time? Dark Parables: Jack & the Sky Kingdom is my fav, but this game is so different that Jack has been replaced. The map is a "take me there" kind. I used the strategy guide a couple of times as well as the hint. There are collectables & achievements. I am about 1/3 of the way through& I don't want to stop. This is a surprisingly GREAT game. Enjoy!
March 15, 2014
Kings, Dragons and Elves, oh my!
And that is just the start of this enjoyable Hidden Object (HO) Adventure Game. Engaging story, graphics and music. I feel it's the best of this year for this, always impressive, game software company. As a fan of "Game of Thrones, Fire and Ice Trilogy", I was not disappointed with this, HOG Fantasy Adventure game. I Rated it: PG 13 for Violence. (in the Demo Available). Many thanks to those who left Reviews. I enjoy reading them.
March 15, 2014
WOW! I give this game six stars
Others have already reviewed this game in detail: therefore, I will not repeat. I absolutely agree with posters who judged this game as deserving six stars. The HO's for me were somewhat difficult. Not because of a problem with the scenes being clutter, but due to the fact locating particular items required "thinking". I'm not used to having to do that very often for HO's. <G> This game, in my opinion was wonderful and I highly recommend it.
March 15, 2014
Dragons and Dark Elves and Elven Kings, oh my!
A fascinating game from top-notch developers! The mood of the game - music, voiceovers, graphics - reminds me of Lord of the Rings, complete with a Dark Elf that looks and sounds like Legolas. When the elf Eridan said "Dragon's Bane", I actually laughed out loud! Right after you fix his toy dragon, your son Tevin is taken away by Grimtooth the dragon, and dragons haven't been seen in 100 years or so. He even sets your home on fire. So off you go to rescue your son. You quickly meet Eridan, who takes you to Silverleaf, the home of the Dark Elves. He tells you to speak to the spirit of King Horith, who will tell you what Grimtooth wants with your son. Turns out your son is an "Emberwing", who has the gift of being able to speak in dragon tongue, and to find your son you must locate Grimtooth's lair. Great story so far? Everything about this game is atmospheric. There are three modes of play, a teleporting map, and a hint button that is actually Tevin's toy dragon and points you to an object or a place to jump to, The HOS are lists, with clever touches such as rotating shelves, drawers to open, and cupboard doors. The mini-games are everywhere, even to unlock the map. You must put together a diorama of the dragon/elven battle, then move the pieces to find 8 gems, plus put together a flag puzzle in the middle of it. Another one fills in the backstory of why the dragon/elf alliance turned sour -- the dragons stole the elves' treasure. But as part of the story, you must find items hidden within pictures hanging on the wall -- kind of a HOS within a mini-game. The achievements are kind of fun -- pet the goat 5 times, chase the cat 6 times, find the Boomzap developer's logo -- in addition the the normal ones for speed and not using hints. You have 50 round collectible items -- looks like a crest -- and fairly easy to find. I wish there was an icon that showed you if you found the collectible in that scene or not, because I always forget to look. The other CE bling is a Bonus Game, the Strategy Guide, sound, art, wallpaper, and cut scenes. I even played the game with the sound on, because it adds to the atmosphere. You've got to try it!
March 15, 2014
Wonderful Fantasy Game
I played the one hour demo and enjoyed this game very much. The graphics are very pretty and sound were very nice. The music was nice and non-intrusive. It is not a difficult game, not real challenging but fun and relaxing. I liked the story line and it was maintained through out the game. The map transports and is set up nice. Even though it is a child like fantasy game I think everyone will enjoy it. Great to have a nice relaxing game. A buy for me.
March 16, 2014
Amazing fantasy game
This is game about little boy, who can speak with dragons. And I like this fresh story from the fantastic world. It's like an adventure book. The art is great. Especially I like beautiful landscapes. The introdution movie don't shows full beauty of this game. The are lot of different locations such as elf village, caverns, waterfalls, goblin city, it's a big amazing fantasy world! Other things are usual - hidden object scenes, puzzles, all is fine with that.
March 16, 2014
The Apple logo is a trademark of Apple Computer, Inc.