Dark Tales: Edgar Allan Poe's The Fall of the House of Usher Collector's Edition
Exclusive
You and your colleague, Detective Dupin, have accepted an odd case at the ancient House of Usher – to find the twin sister of Roderick, who has vanished without a trace. As you delve deeper into the mystery, the connection between the twin's malady and the old estate appears even more entwined. Why are townspeople disappearing? What secret is locked in the forbidden library? And can you and Dupin find the answers before more innocent victims are claimed?

This is a special Collector's Edition release full of exclusive extras you won't find in the standard version. As a bonus, Collector's Edition purchases count toward three stamps on your Monthly Game Club Punch Card!

The Collector's Edition includes:
Play the bonus game to uncover more mysteries
Use the available Strategy Guide
Earn Achievements
Purchase collectible items for your exam room
Get wallpapers, soundtracks, and concept art
Game System Requirements:
OS:

Windows XP/Windows Vista/Windows 7/Windows 8

CPU:

1.6 GHz

RAM:

1024 MB

DirectX:

9.0

Hard Drive:

682 MB
Game Manager System Requirements:
Browser:

Internet Explorer 7 or later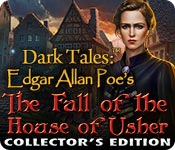 The Big Fish Guarantee:
Quality tested and virus free.
No ads, no adware, no spyware.

Reviews at a Glance

Dark Tales: Edgar Allan Poe's The Fall of the House of Usher Collector's Edition
0
out of
5 (
0
Reviews
Review
)
Customer Reviews
Dark Tales: Edgar Allan Poe's The Fall of the House of Usher Collector's Edition
65
65
House of Usher Is Definitely A Fixer-Upper
You and Detective Dupin have been summoned by Dr. Morris to the House of Usher to investigate the disappearance of Madeleine. Madeleine and her brother Roderick are twins who share a special bond in which they experience each others painful experiences. Dr. Morris had been treating them until Madeleine disappeared. A quick check in my inventory revealed that I?ve played five previous Dark Tales games, all of them either good or very good. The strength of this series has always been the stories. So how does this one measure up? As you would expect, the House is creepy looking and contains all sorts of weird objects, doors and locks. In fact, the exterior of the house bears an eerie resemblance to the house from the movie ?Psycho.? The drawing style is consistent with the others in the Dark Tales series, with very saturated colors and a slightly grainy and flat look. Game play is characterized by variety. The hidden object play varies from scene to scene, beginning with a riddle type, then find 12 of something, and so on. Objects are mostly correct for the period. There is a match-3 option not explored by this reviewer. Mini games were not too challenging, but were well animated. Along the way, you also collect a spirit who can bring certain objects to life, and a pet mouse to get to those hard-to-reach places. Voices are not up to the usual high standards. For starters, the developers re-used the same person?s voice for at least three characters. They just tweaked it a little to try to disguise it. I found the voice of Roderick to be the weakest, and his voice did not fit the look of the character either. Options are highly customizable for whichever level you choose to play, including a switch to simply turn off the sparkles. The Collector?s Edition includes a lab that you can purchase equipment for. Coins are found by searching model buildings throughout the game using an x-ray lens. The pseudo-extras include wallpapers (6), concept art (15), screen savers (5), hidden object (17), mini games (17), and movies (14). There are also the usual achievements. Other extras are a strategy guide and bonus chapter. There are no collectible items (other than the coins). Verdict: Unless there is a sale, the SE would seem to be the better value. The game will not ?usher? in a new era in gaming, but is still worth playing.
March 20, 2014
Excellent game, well worth 4.5 stars!
Well, another addition to the EAP series. Wasn't too sure about this one, since I had problems with the last one, but this seems to be working well. Graphics are very nice, clean and clear. Game play is good. Only "problem" I had was forgetting to use the pictures, which really wasn't a problem, just my memory. Voice overs were well done and you can click through the dialog for those of us who read faster than they speak. What's with the rat that sits in the corner and the camera you don't use? Those have me a bit confused. Maybe they get used later. Really like the HOGs, you have a choice between HOG and match 3. This match 3 is not like any other we have played and is not as easy as you may think. HOGs were a mixture of standard and riddles #which I really like#, and were fun. Items were clear and not difficult to find. SG is the standard, but really wasn't necessary. Hint system is quite helpful and I like that you can adjust to how quickly it refills. Same with the skip button...very nice. Did not care for the set up of the map. Yes, it is a jump map, but you have to go to a main area and then figure out where you go from there, plus the color is monochrome and boring to the eyes. Very disappointed in this map. The only collectibles I see are the coins, which are used to stock the lab. I sort of like this, but it was very simple and no challenge here. There are a lot of achievements in this one as well. The game as a whole is not really challenging, but the story and game play are very good. Yes, the story is a little different from the original, but still pretty good. Maybe I like it because I have been a Poe fan since middle school and the old Vincent Price movies. I don't give 5 stars easily and even though this is a top notch game, I do not feel it is worth 5 stars. I think because there really aren't any extras in the game, other than collecting coins, plus the boring jump map. All that being said, if you are a Poe fan, you will like this game. It is a definite buy for me and a very nice addition to my every growing collection of CE games. As always, try it for yourself and see what you think. We all have different tastes in games and you may not care for this one at all. Thanks for the reviews.
March 20, 2014
Very clever activities and a good game but it didn't wow me!
ERS' artwork is outstanding; I felt I could walk right into the scenes; good music but I've heard that melody so many times before; good VOS. The HOS were fun to play as there were a variety of things to do--interactive, collect 12 of these or 10 of those. Puzzles were challenging but not difficult at all; and I must say you really get a lot for you money. I just finished the main game and started the bonus game. There were numerous achievements, collecting coins to buy items for the crime shop to determine later who killed whom and how, just play the game, you'll see. You have to remember to collect the coins. And after you've completed the main game, it's there that you will find the bonus game. I liked the reborn one; in the beginning there is a cute, lil mouse who does help you out from time to time; but for the life of me there was a rat stationed by the journal and map area who was pretty much dormant except for his occasional flips, and eating nuts or whatever he was eating--which I found amusing. I kept clicking on him thinking he'd do something; he was there for show. At times I found the gameplay had no rhyme or reason, but all in all it was a pretty good game. I don't think it warrants a 5-star. Good hint button and a strategy guide if you need it. You know, to each his own. You may think it's the best game ever; but I've played better. I do recommend this game.
April 13, 2014
Another good one from the Dark Tales team
I love the Dark Tales series, so I was very excited to know that the series was going to continue. Dupin is one of my favorite characters to journey alongside in any game I've played. These games make Poe palatable to me; I'm not a huge fan of the original stories, but I enjoy them in game form. I won't rehash the plot too deeply, since many other reviewers have already stated what happens. Shortest form, Madeleine Usher is missing, and thanks to her strange bond with her twin brother Roderick, there's a good chance both twins could die if she isn't found quickly, so you and Dupin are on the case. The story is amazing. Absolutely chilling in places, especially when you play the bonus chapter and see just how deep the problem really goes. Full marks to the devs on that one. The puzzles are good as usual; I really liked the fact that we were given an alternative to the hidden object games. Don't want to hunt for the items on your list? Just switch over to a match-three style of puzzle and solve that instead to achieve the desired result. I hope that feature is here to stay! The graphics... honestly, I was disappointed. The scenes and backgrounds were fantastic, and deliciously creepy. But ever since The Premature Burial, the games in the Dark Tales series have featured some basic animation. Nothing overly fancy, but at least the characters turn their heads and move their mouths when they talk. For some reason, House of Usher was a return to the format of the original games, where all the characters were flat and motionless. They're still voiced, and the voices are still done reasonably well, but I hope that future Dark Tales will resume the animated characters that I've enjoyed. I was also kind of disappointed by Dupin this time around. He's normally such a suave, genteel fellow, who has words of praise for his friend/assistant and handles difficult things with grace. In this game, he offers the player character no courtesies whatsoever, not even the usual comment about how glad he is to see you. And he grumbles about his favorite walking stick getting broken - sure, it's a reason to be annoyed, but coming from the guy who remained stoic and patient during a certain event in the bonus chapter of Masque of the Red Death, it just felt really out of character. I'd like the charming and ever so slightly flirtatious Dupin of the previous games to come back, please. I did catch a factual error in the bonus chapter. When a certain character is talking to you near the end of things, he mentions that he thought a particular item would "bring prosperity to my ancestors." The word he should have used is descendants. It's a minor error, but it shook my suspension of disbelief. Having said all that, though, I thought it was a great game. I think Premature Burial remains my favorite in the series, but this is a worthy installment and I'm really glad I treated myself to it. I can't wait to see what they come up with for number seven! Pros: Excellent story, challenging puzzles, lots of extras Cons: Characters no longer animated, Dupin's personality isn't as much fun
April 2, 2014
Definitely the Fall of Usher
The story start with you and Dupin receiving a letter from a doctor who has been treating the Usher twins who have a curse (?) or disease that where one of them suffers an injury, the other ends up with the same injury. Unfortunately, Madelaine has gone missing and it's up to you and Dupin to find her. There is Estelle who has taken care of the twins since they were small but she seems to be close to there age. There is also a spirit who makes things alive who were once stone. There is a lot to follow and a lot to do. There are miniature dollhouses that you need to find and using a magnifying glass, collect the gold coins from inside each house to use to buy supplies for the lab. There are a number of achievements, standard ones but also those that are specifically associated with the story. There are four levels of difficulty which include casual, advanced, hard and custom. The extras are the normals and there are no surprises there. The strategy guide only had three chapters, so not exactly sure how long the game actually is. Also, the hos can be switched to a chain match 3 where you can collect items by putting the tiles into triangles. Also, there are pictures that you find and need to use in the game by matching where they belong. All in all this was an enjoyable game and plan to buy as soon as I can afford..
March 22, 2014
What the heck is with those voices?
What happened to the voices? Dupin sounds like a hick instead of a cultured Frenchman! The game is good other than that.
March 22, 2014
Intriguing Game!
This game is truly incredible. Up until today, I had not heard of the series-- but now I anticipate playing all of them! I think the storyline is fairly great, besides the ending. To be brief, it was just a bit abrupt; no spoilers! The graphics are nothing short of amazing, though I do wish the lips would move while the person was talking. But that's just me, I suppose. :) And don't get me started on the music! Honestly, if it wasn't for an overlook of the extras section I would ask where I could buy the soundtrack. Beautifully done, great job! Overall, I think this is a great game to play if you want something dark and engaging!
April 6, 2014
He's back!
gotta love detective Dupin! if you don't know him, you got to try these games, if you do know him then you are as glad to see him as I am. wonderful game, has the eye candy, a must have for me, this is about the only type of graphics I buy, hand drawn rules. not a ton of HOs [varied] good puzzles and mini games, and lots of running around but there's a jump map. coins to collect to buy equipment so you can check blood ,prints and ballistics at the end of the game. The cons- the voice overs were not good! they are now American, and that includes Dupins voice. Mr. Vallejo I was surprised to see your name at the top of the ERS cast, but please put the detective back to prime order, and what is with the lips not moving anymore? ERS is the best with beautiful drawn people whose lips move in sync with the dialogue, correction, was the best, please fix this. I had to take away 1 star for that.
April 2, 2014
GOOD SERIES FIZZLING OUT.
The game was predictably good-looking and some puzzles were quite good. The HOs were interesting and attractive. But, why the silly coin search? Let the Poe series RIP. Just one person's opinion. Check it out.
March 24, 2014
It's a good game.
I like this game; it's interesting. The story is good, the clues are good. But, I will wait until it "goes on sale."
March 20, 2014
The Apple logo is a trademark of Apple Computer, Inc.