Dark Tales: Edgar Allan Poe's The Fall of the House of Usher Collector's Edition
Exclusive
You and your colleague, Detective Dupin, have accepted an odd case at the ancient House of Usher – to find the twin sister of Roderick, who has vanished without a trace. As you delve deeper into the mystery, the connection between the twin's malady and the old estate appears even more entwined. Why are townspeople disappearing? What secret is locked in the forbidden library? And can you and Dupin find the answers before more innocent victims are claimed?

This is a special Collector's Edition release full of exclusive extras you won't find in the standard version. As a bonus, Collector's Edition purchases count toward three stamps on your Monthly Game Club Punch Card!

The Collector's Edition includes:
Play the bonus game to uncover more mysteries
Use the available Strategy Guide
Earn Achievements
Purchase collectible items for your exam room
Get wallpapers, soundtracks, and concept art
Game System Requirements:
OS:

Windows XP/Windows Vista/Windows 7/Windows 8

CPU:

1.6 GHz

RAM:

1024 MB

DirectX:

9.0

Hard Drive:

682 MB
Game Manager System Requirements:
Browser:

Internet Explorer 7 or later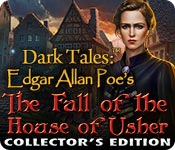 The Big Fish Guarantee:
Quality tested and virus free.
No ads, no adware, no spyware.

Reviews at a Glance

Dark Tales: Edgar Allan Poe's The Fall of the House of Usher Collector's Edition
0
out of
5 (
0
Reviews
Review
)
Customer Reviews
Dark Tales: Edgar Allan Poe's The Fall of the House of Usher Collector's Edition
65
65
Not once of the best...
But I'm still loyal to the series... It was a lot of fun, still. But I prefer Black Cat.
December 3, 2014
DUPIN IS STILL A TOTAL BABE! :-D
Review based on completed game in casual mode. Did not play bonus chapter. Animation/VOS - Good but not as much as I would have liked through the entire game. Characters were beautifully drawn. IHOS - Clear with the usual small to larger objects. Repeated scenes. Lists, find x # of same item. Hint - Fast charge for directions but slower charge after finding clues. Map - Does transport but I'm a huge fan of the hint. :-D Journal - Contains story, photos and notes. Collect and place photos to activate scenes. Puzzles/Mini-Games - Assembling and painting items, find parts and sketches. Slow skip charge. Collect gold coins in miniature houses. Great deal of backtracking so get a good pair of shoes. That circular stone puzzle really had me stumped. Glad for the SG and forum tips. Thanks for the help, guys.
May 27, 2014
Dark Tales
I was fascinated by Hound of Baskervilles, played it several times. This one was not as creative, didn't care for stocking the lab. Good enough, but not outstanding like the Hounds game.
April 18, 2014
Good, fun but something was missing
This game has a lot of fun inside it but I think that storyline is kind of unfinished. And this is the biggest issue in this game.
March 30, 2014
Based on the CE
I have enjoyed all of the Dark Tales games, mainly because I always enjoyed Poe. It is no secret that this developer is not one of my favorites. Each game is cut from the same cloth, so to speak. However, I give exception to this game because of the story line which, to me, is a big factor in deciding to purchase a game or not. We have the usual ERS standard faded colors and sounds. The HOS are interesting and varied. Some are riddles, others are list, others are use one object to get another. The puzzles were of medium difficulty for me. There are all kinds of "extra" things going on in the game. You are finding little houses and examining them with your magic magnifying glass to find coins to outfit your lab. You have a stone changer (I forget his name) that changes items made of stone back to human or lifelike form. There is a mouse that you can train. There is a rat sitting on the left of the screen jumping around... not quite sure why he is there. There is a camera to take photos of evidence. You collect other photos to match up to scenes in the game to help you move along. Some may call all this "stuff" bells and whistles. I find it annoying and interrupting to the game play. There is a journal which stores your information. There is a jump map that, in my opinion, is horrendously done. It is difficult to discern anything from that map. The voice of Dupin does sound different than the voice from past games. The voice of Roderick is flat and monotone. The game play is fairly linear, although if you do need a hint, it is helpful. I did not look at the SG. Based on this being a supposedly "loaded" CE with bling galore, I beg to differ. Besides for the bonus chapter, of which I know nothing about, I find nothing that makes this game CE material. The one saving grace about the game in any form, for me, is that it is a Dark Tales game. Otherwise, it would be a total pass. I do not recommend this as a CE. The SE would be a far better choice.
March 20, 2014
Perfectly Passable
If you liked the other EAP stories, you'll like this one too. Not much new or different to see here. Graphics are good, VOs not so much. Gameplay is smooth, no major problems anywhere. Overall, a solid, no frills game. The main story concludes abruptly (as usual for the EAP series), but there is an ending. The bonus adds another hour or so of play (of equivalent quality) and a second ending, but isn't required to complete the story. The coin-shop bonus mystery can be solved in under 5 mins and wasn't worth all the coin collecting. Bottom line, unless you really like wallpapers and random achievement awards, I'd recommend getting this game as a SE.
March 23, 2014
Why So Shy, Monsieur?
BONUS CONTENT REVIEW! POSSIBLE SPOILERS! BASED ON COMPLETED GAME BONUS CHAPTER A bit of a frustration, actually, for all that it was well put together and intriguing. The story is loosely connected to the main game, but in a confusing way that never becomes truly coherent. Mostly, I just plodded through doing whatever was next, without any real motivation, because I never quite got the hang of how this fit with the main story. This drove me nuts, and spoiled this chapter for me. It took a fair bit more than an hour, and was possibly closer to two, to complete the chapter. The English is a little less polished, and the graphics were occasionally off. This is true of several other ERS bonus chapters. They get sloppy near the end. STRATEGY GUIDE Easy to use, easy to find. Clear enough screenshots and pointers. GALLERY Videos x 14, Wallpapers x 6, Concept Art x 15, Screensavers x 5, Music x 4. So far, uninspiring. But there is also the PHOTO ALBUM. This is a collection of photos you took with your CAMERA within the game. Great idea, letting us create our own wallpaper, but they are all screenshots of the location, and do NOT include the most important ingredient, M. Dupin himself. Why, I ask, oh why, can I not have likeness of my favourite detective on my desktop? Come, Monsieur, be not coy! Let me commission a portrait from ERS! COLLECTIBLES These are gold coins that you find only in the dollhouses scattered about the game. Yes, I said dollhouses *grin*. And, yes, they are inside them. Being reasonable sized dwellings, the dollhouses are not too hard to find, and once you use your special magnifier to see inside them, the coins are very obvious. It?s an odd arrangement, but original. It would have been nice, seeing they were there, for them all to have been different (the dollhouses), and collected somewhere for display. LABORATORY This, too, is frustrating. Having found all the coins needed to equip your laboratory, you proceed with a couple of very mini mini-games to discover the guilty suspect. That done, there is no follow through. We don?t pass the information on to Dupin, we don?t catch the culprit. No closure. ACHIEVEMENTS Many achievements, both performance and story based. They are displayed in our office, where we also have our photo album. REPLAYABLES Mini-games x 17, HOPs x 15. No fancy further puzzles to gain access to these games. COMBINED IMPACT I should remember to stop doing this to myself. ERS just don?t put all they?ve got into their bonus content, and I am usually less than happy with my purchase. I recommend the SE game.
April 14, 2014
Dark Tales Fall of Usher CE
I just completed thw main game and bonus game! It was certainly an interesting game. But I am not sure why it rates 5 stars? Not sure the reason for collecting all those 150 coins? Use of the back to back HOS and find pairs mini games.Seem to make the game drag on! Lately the big fish 'standard editions were more interesting than the collectors editions! Depending on the game? Might be more beneficial to just buy the standard version of the game. Rather than pay the extra for the CE and be disappointed! (o:
March 22, 2014
With so much talent, can we gamers have something new?
If you like the previous Dark Tales as I have, this Detective Dupin sequel is basically more of the same with nothing new. Yes, there's lots of bells and whistles in the CE. Nothing really new to hold this gamer's interest. A pass for me. Can't wait to read the rave reviews! Enjoy! -Mama Mia-
March 20, 2014
Worth playing, but flawed
I've completed the main game, and enjoyed it. It's suspenseful enough to keep me going. But I have a couple of problems with it. First, I do not understand why it was in the villain's interest to make the sister disappear from the house. I don't hold these games to a high standard of plotting - I'm there for the game play, not literature. But unless the bonus chapter clears things up, this just seems bizarre. Second, while the thing that changed stone into living beings was an interesting twist, it seemed to be used in such trivial ways. I'd have preferred it if the newly-alive creature became your ally in some more meaningful way.
March 26, 2014
The Apple logo is a trademark of Apple Computer, Inc.