Dark Tales: Edgar Allan Poe's The Fall of the House of Usher Collector's Edition
Exclusive
You and your colleague, Detective Dupin, have accepted an odd case at the ancient House of Usher – to find the twin sister of Roderick, who has vanished without a trace. As you delve deeper into the mystery, the connection between the twin's malady and the old estate appears even more entwined. Why are townspeople disappearing? What secret is locked in the forbidden library? And can you and Dupin find the answers before more innocent victims are claimed?

This is a special Collector's Edition release full of exclusive extras you won't find in the standard version. As a bonus, Collector's Edition purchases count toward three stamps on your Monthly Game Club Punch Card!

The Collector's Edition includes:
Play the bonus game to uncover more mysteries
Use the available Strategy Guide
Earn Achievements
Purchase collectible items for your exam room
Get wallpapers, soundtracks, and concept art
Game System Requirements:
OS:

Windows XP/Windows Vista/Windows 7/Windows 8

CPU:

1.6 GHz

RAM:

1024 MB

DirectX:

9.0

Hard Drive:

682 MB
Game Manager System Requirements:
Browser:

Internet Explorer 7 or later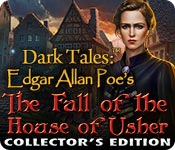 The Big Fish Guarantee:
Quality tested and virus free.
No ads, no adware, no spyware.

Reviews at a Glance

Dark Tales: Edgar Allan Poe's The Fall of the House of Usher Collector's Edition
0
out of
5 (
0
Reviews
Review
)
Customer Reviews
Dark Tales: Edgar Allan Poe's The Fall of the House of Usher Collector's Edition
64
64
Dark Tales Edgar Allen Poe Fall of the House of Usher
Game would not run on my main computer (windows8) It would not run for more than 5 seconds before dropping out. I was able to get it running on my old puter (Vista) But could only get halfway through. Throughout the game the hint system would keep directing me to the gate, but you were actually required to go elsewhere. When I managed to get the four gnomes I could not put them on the gate and could not go further. Obviously some glitches in the game that need fixing.
March 23, 2014
Mixed feelings
The sixth game in the Dark Tales: Edgar Allen Poe series by ERS ----------------------------------------------------------------------------------------------- Leave it to ERS, the game dev. famous for making weird and bizarre game storyline and I had high hopes for this series, being about EAP story and all, but this latest installment is the weirdest of all... if not with the whole genie, Frankenstein lookalike and blobbers thing going on, I don't even quite get the story. There are 3 levels of difficulties. HOG are not many, but some are not the usual finding objects in the list type, puzzles are the usual ERS mini games. you can switch to Match-3 game if you don't like finding objects. In this game you also will collect coins in doll houses. This does seem to distract the gameplay itself, especially since collecting the coins won't affect the game; it's only for collectibles. Finding exact spots on the photographs which can reveal secret places are quite old already, Mystery Case Files had done it in several of their games already. The only difference is that there's a clue behind each photograph. It was pretty creepy at first but then the music effects seem to pop out suddenly and also disappear suddenly, which makes me go, "huh?" I remember vividly that Dupin doesn't sound like the one here, so maybe they change the voice actors. The VO are actually quite good, but the effects aren't. Extras are the usual with replayable puzzles and HOG and story tab with original EAP story of the same name. I am unsure with this game, although seem promising, I found the effects a bit too much. I hope they can just make it a good creepy game without any monsters.
June 23, 2014
If the House of Usher didn't fall then, it certainly has now :[
I own all the other Dark Tales... and having trialed Edgar Allan Poe's: The Fall of the House of Usher I am left with a huge question.... yikes, what happened!? Detective Dupin is his 'usual' handsome self #with his understated yet distinctly slender and exotic look# and the graphics are great, yet there were aspects that were just not coherent to the theme/era/style of the storyline.... for example.... why the huge Asian art statues thrown in [and out of proportion at that!?] in the garden. This otherwise would have been a great part of the intro, with the male's singing seemingly luring us in and then, WAM... those statues [huh!?]. So, though the graphics are good, it's the content of the graphics that are not complimentary to the game IMO. As far as the storyline itself: Whaaat?! As soon as I enter into the mansion there is a tree growing in the entry way [a glowing tree at that?!]... it immediately becomes a metaphoric obstacle not allowing the storyline to become immersive. Not much further along we are presented with, [huh!?] the 'life giver or reinstate-er' or whatever-er! OMGosh, at that point, I was still trying to figure out WHY there was a rat on on the inventory bar?! WHAT does that have to do with ANYTHING going on as we are being introduced to the game, let alone with Edgar Allan Poe's great work or the story at hand. It appears to have become a trend [a bad one at that] for developers to spin off wildly nilly tilly into such ridiculously unbelievable/playable #for me# themes. Poe's writings and the Fall of the House of Usher in itself #the true novel# would have been a great basis for a game... why mess with perfection?! Sorry.... it will not be a purchase even as a SE... I simply could not get immersed in this crazy, mixed up schematically incoherent game. Ever the optimist, my fingers will be crossed for the next game.
March 30, 2014
Another debacle of a game from ERS
What has happened to ERS? The games they have been coming out with have been awful and disappointing. I love this series with the exception of "The Golden Bug", which I did not like, but it was better than this one. Get rid of the pet mouse, the rat just sitting there, the magnifying glass to find coins in different toy houses and finally the thing to make stone to turn into life once again. Why are the games coming out geared towards kids!???? All my favorite series are being ruined by ERS. Please stop the madness! "True Fear" is the last game that came out that I actually enjoyed playing. I am really getting close to cancelling my account due to the lack of good games coming out lately and ruining series that once were great. I regret paying for this game. I thought how bad could it be, because it is EAP game, but boy was I wrong!
March 24, 2014
Ho hum.
Delighted that so many people like the game. Graphics are quite good! Story line (at least in the demo) I thought a bit boring. The coin search is totally juvenile - game needs some tweaking....some excitement.
March 22, 2014
Dark and Tiring
I did not enjoy this one. It started out okay and turned south pretty quickly. First things first. As usual you are a detective who is helping solve a mystery with Detective Dupin. This time you are to find the missing Usher twin. The twins are linked somehow and when one hurts the other does too..so forth and so on. Even though they look like adults they still have a nanny?? The music was nice but repetitive, the graphics were okay, a little dark, and the voices sounded like the same person...same guy for guys and same woman for the women. The collectables were a joke, no challenge at all. you see a dollhouse, you click on the dollhouse and get the magnifying glass and find the coins in the house. The map started out okay but as it got bigger and bigger it was TERRIBLE. It became a big map that showed a city, the house, and the graveyard. It was supposed to show you where you had tasks and it did but you had to click on EACH individual house to find where. It was easier to just use the hint button. Some of the HOS were mind boggling frustrating. The run of the mill ones were okay, but the others...yikes! They had HOS that you had to answer riddles by picking the right thing and it was pretty vague. Ones where you had to make an item like a shovel that was broken down into about twenty pieces...and TINY pieces...and quite a few of those kind...and a few others, you get the idea. Most of the puzzles were very easy and a few were a challenge. By the way what is with the rat on the bar that is totally for nothing. It flips and spins and is distracting. SPOILER ALERT: It turns out this house is being fed people by the nanny who gets to stay young in return. So she doesn't want the twins to die so she just gets enough to keep them sick. The "heart"of this house is this REALLY stupid looking smaller house with crazy eyeballs for windows and not threatening at all, but tries to threaten you all the same. At the end the nanny, twins, and doctor all show up before you destroy this thing and when you do the twins blow up into dust and the house falls in on the nanny. REALLY??!! Doesn't do it for me. If some of you read my profile you see that I have a lot of reviews not liking games. You all have a multitude of people on the the 5 star bandwagon, who want to be the first review so they can get the likes. You can get all of the info about what everybody liked from them. I'm the one along with others who will let you know about the bad...if there is. Please give us more like True Fear!!
April 6, 2014
Wait for the SE
The bonus chapter was so boring it was hard to get through. As for the game in general, I really liked the other Dark Tales but this one failed to interest me very much. I spent most of the game waiting for it to end. What on earth was up with those coins? That seemed to add no value to the game. The new voice overs did not bother me. I am happy the original Dupin passed on this turkey! If you want to play it, my advice is to wait for the SE. The Demo was clever as the best part of the game was in the first hour. What is happening at ERS?
April 3, 2014
Try Before You Buy
With all the long in depth rave reviews by other players, I thought this was going to be worth a try. I found it very easy and boring. Give the demo a try. I did not have any problems loading it and there were no glitches that I came across.
March 27, 2014
If it wasn't Dark Tales, i wouldn't buy
I do like the series, that is why i am going to buy also this one, but since the "Premature Burial" - the whole concept became with each game weaker and weaker... all this superficial bling-blings (collectable coins, camera etc.) just conceals the fact that the gamedevelopers don't do a good job with this serie's anymore... i also noticed the voice-change, which is an absolutely no-go with a game serie, i find. As said, i am quite disappointed and if this game wasn't from ERS i wouldn't buy it. I like that one knows what one gets with graphics and appearance of a game, but this bling-bling kills the story and the pleasure... the more bling-bling the less sincerity, unfortunately.
March 27, 2014
Love Hidden Object Games with great graphics
I have a great collection of this type of games and love all I have. I consider myself an expert at them. This games level of challenge is really low and the storyline is reallly poor dragging with no fun or excitement. Didn't buy it!!
April 6, 2014
The Apple logo is a trademark of Apple Computer, Inc.