Final Cut: Homage Collector's Edition
Exclusive
From the developers who brought you Hidden Expedition: Smithsonian® The Hope Diamond…

…Eipix's dramatic continuation of the Final Cut story line! A serial killer calling himself "the Director" has targeted your father's movie legacy for his magnum opus, and he's cast you in the starring role.

Your father's projector appears again as a game-play feature, allowing you to switch between real-life scenes and the Director's movie sets. Save your family from certain death as the Director tries to immortalize them as works of "art." Beat him at his game of cat-and-mouse. And uncover the Director's true identity before the final credits roll!

This is a special Collector's Edition release full of exclusive extras you won't find in the standard version. As a bonus, Collector's Edition purchases count toward three stamps on your Monthly Game Club Punch Card!

The Collector's Edition includes:
Play role-reversal as the detective in the bonus game!
Collect old-school clapperboards hidden throughout the game
Use the available Strategy Guide
Win cool achievements
Get wallpapers, concept art, and soundtracks
Game System Requirements:
OS:

Windows XP/Windows Vista/Windows 7/Windows 8

CPU:

2.0 GHz

RAM:

1024 MB

DirectX:

9.0

Hard Drive:

1394 MB
Game Manager System Requirements:
Browser:

Internet Explorer 7 or later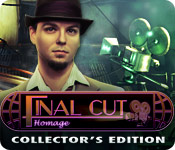 The Big Fish Guarantee:
Quality tested and virus free.
No ads, no adware, no spyware.

Reviews at a Glance

Final Cut: Homage Collector's Edition
0
out of
5 (
0
Reviews
Review
)
Customer Reviews
Final Cut: Homage Collector's Edition
51
51
The Star Of The Show
The drama never seems to end in the Wolf family. Daddy dies, illegitimate half sister tries to kill your brother, things are stirred up once again with the Lieutenant pulling the strings and now we have a deranged serial killer trying to pay homage to the late but great inventor of the movie projector that blurs the line between reality and fantasy. He calls himself the director and he taunts you with insane recordings of his intentions, to make his film a work of art, with you as the lead character! This Collectors Edition has so much to offer: Music, Movies, Pictures (taken with your camera) of course a Bonus Game, Mini games unlimited, HOP unlimited, Souvenirs, Clapperboards (49 hidden throughout the game) and one I'm actually looking forward to, The Making Of feature which is available after the bonus game. Not really sure why, but I love seeing how the game comes to light, the people responsible, it's geeky cool! There is one feature in this game that I wasn't crazy about, the Map. You have to click on the map, then click on the area you are in such as mansion, then click on the circled room to travel there, I know I'm being picky, but I could have computer generated walked to that area by the time I get done finding the area on the map that I want to travel to. At the beginning of the game, we meet up with a journalist who tags along to write the ultimate behind the scenes story of the "Director" as his homage unfolds. The journalist seems a bit fishy to me, he quickly disappears as soon as the Detective arrives, so we had better keep an eye on this enthusiastic sleuth. As I said before, there are 49 hidden clapperboards in each scene so don't forget to keep your other eye on the lookout for those, especially if you want to earn all of the Achievements available. Mini games are well done such as guiding a rabbit on a labyrinth maze box until he reaches the carrot, but some areas make sections of this box rotate as you are traveling along the maze paths to the side of the box, the maze will then rotate to the next side of the box and so forth. Now my favorite part...the Hidden Object Games, extremely well done. The HOS are a mixture of interactive list finds and finding the items that match the silhouetted shapes, but, each HOS has a place to zoom into for yet another window sized hidden object scene for even more finds! The Director has staged exact replicas of Mr. Wolfs most famous films, starting with your house, he is using the projector that makes reality into fantasy, making whoever looks at the projector believe they are indeed a pirate or whatever the projector is playing. You will need to switch back and forth from film to reality in order to find items in reality to use in the fantasy film and visa versa. This is an excellent ongoing saga, usually big hit games such as Final Cut, can't keep the momentum going for a second game so kudos for pulling off three great games, enjoy!
March 22, 2014
Standing Ovation For This One
Hidden Expedition: Smithsonian : The Hope Diamond is by far one of my favorite games and now one of my favorite developers has returned with the continuation of the Final Cut storyline. Once again your family is in peril, this time from a twisted serial killer who calls himself ?The Director? and is now targeting people connected to your Father, the famous film director, Morton Wolf. After a string of murders over the past six months, a reporter called Michael Harris contacts you with a mission, reveal the identity of the madman who is on a killing spree and stop him before he comes after you. ?The Director? has a mission, to pay homage to your father by creating a magnum opus that involves staging each murder to look like one of your father?s films. Your father?s projector appears again as a game-play feature, allowing you to switch between real-life scenes and the Director?s movie sets as the fun begins in this brilliant Hidden Object, Puzzle Adventure game. The game had me from the moment the intro began; stunning life like characters, sharp graphics and truly splendid artwork all coming to life with awesome special effects. Voice-overs are well acted and the music in the background offers the right amount of tension to the game. Main menu includes three modes of game play along with customized settings which deserves applause. Extras include replaying of HOPs and Puzzles along with film footages and a souvenir room which is accessible after the game is completed. This game has enough challenge to please even the most skeptical hard-core players. Without the use of black bar hints, sparkles, glints or skips, you really do need to use your brain cells, rely on your memory skills and apply logic in order to solve some of the puzzles. There is a journal along with a map and depending on your difficulty settings, you could either have assistance like map indicators or combining item indicators to make your quest easier. I personally prefer to sweat it out and go in totally blind which makes the game truly challenging. Hidden Object scenes vary and you have your standard list of objects, or silhouettes to locate and/or interactions within the scenes in the in order to collect your inventory item. There is also an item to collect from each scene that I do believe morphs but have not been able to come across this as yet. I noticed it mentioned in the list of achievements. Mini games are a blast to play, very well executed and just the right amount of challenge to prolong the playing time. I loved the rabbit and carrot game at the very beginning which had me stumped at first due to the vagueness of the directions, once having figured it out, I felt like an idiot. I love mini-games that are a bit more creative and require a bit more time solving them rather than just breezing through them. Naturally you have your collectables, clapper boards that are extremely well hidden within each scene and I do applaud the developers for this. Sometimes you have objects to collect that jump out at you and where is the challenge to that? You will love spending time just looking through each scene as they are beautifully designed and surprisingly enough, you will remember some of them from previous games we have played form these developers. There is also trophies to unlock and there is apparently a souvenir room where your special items are collected. I really do think that this time they deserve a standing ovation and applause for this latest chapter. Personally I thing this is one of their best after the first final cut game. The last one was a bit of a disappointment but they now have come up again with a gruesome storyline and terrific animation scenes. I have already pushed the buy button and now am waiting for the complete download. You have everything at your fingertips, offering a great game experience that is not only entertaining, but also challenging enough to make it a must buy. Have a great week-end solving this one!
March 22, 2014
Lights, Camera, Action ? An Awesome Final Cut and Well Worth the Wait
Final Cut Homage is the third game in the series and in this offering we are on the tail of a serial killer who is obsessed with our father and his films and who as such is after our family. As our suspect says in the beginning cutscene he is tired of being an extra and wants to ?star? in the drama of his creation. With the help of an ally in the person of a reporter, will we be able to stop this killer and save what is left of our family? The graphics are excellent with the same art deco design and scenery of the two previous games in the series. I love the voiceovers and the creepy voice of our serial killer who taunts us throughout our adventure. It is unique that this game uses a combination of live actors along with their animated likenesses. I really love the way this game has been presented both in graphics and sound. As with the other two games ?the projector? serves as our link between reality and the director?s creation. All I can say is that I am so impressed with the talent of this game developer who has presented some excellent games over the past year or two. We have a diary that contains our notes and objectives as well as a map that we find early in the game. The way we navigate in the game to various locales is with our car but I?m not going to mention how it works because part of the fun is figuring out how to navigate. There are various types of interactive HOPs, some are the standard list type and others are silhouette type. What is unique is that there are HOPs within HOPs and the types within each can vary. Although we have seen these types of HOPs before they are done so very well in Final Cut Homage and add a whole new dimension to HOPA games. Then we have the puzzles which are terrific. Although I didn?t find a lot of puzzles in the demo, the first one was such an excellent maze type puzzle that it had me doing my ?happy dance.? I just hope that the puzzles continue to be as much fun in the rest of the game. In this the CE version of Final Cut Homage, there are achievements to be earned as well as collectibles to find. Once we find all of the collectibles we can find out how to use them at the end of the game. The remainder of the CE content is standard fare with nothing exceptional in the package. That being said, this is a game that I feel is definitely CE quality by recent standards and one I don?t want to pass up. In the end, this is a spectacular game and the best of the series, IMHO. Although I enjoyed the first game, I wasn?t thrilled by the second one but this third offering has captured my interest, not only in the story but with the gameplay itself. Thumbs up and kudos to the team at EIPIX who has presented a wonderful new HOPA adventure for our enjoyment. As always, I recommend that you at least try the demo to see if this is a game you will like.
March 22, 2014
Final Cut 3 - The best game for 2014?
I love Eipix and their flagship series Final Cut, but this third installment is even better, than my highest expectations. There weren't much games beside the popular MCF franchise, that were that great! The storyline. You play Ms. Wolf again and this time a serial killer hunts your family. Every victim is sentenced to death in a place that looks like one of Morton Wolf's movies. The serial killer, called "The Director" plays a dirty game with you. He knows always what you do and follows you, while you try to save your family members in time, and talks some crazy nonsense about art makes immortal. I really love such mad personalities. While you are hard at work to save your family, the reporter Michael Harris is at your side to get the story of a lifetime, like ha sais. But can you trust him? Or the detective, which hasn't got the best name as detective. Find it out, I don't want to spoil who's behind the Directors mask. The graphics are wonderful. They are winter / christmas themed, which is not perfectly fitting for the beginning of spring, but for the game it's perfect, because you'll also find a ship within a foyer and a beach within a house and more crazy things, because of Morton Wolf's projector projections. Every scene is nice done, with lot's of details, like in every Eipix game. The music is wonderful, some classic tracks from the first games were combined with some new ones in a wonderful way. When the Director speaks, there is an adventure theme that makes me want to catch that wicked man. Very well done and the right music in the right situations. The characters are life actors, with drawn faces, there are voice overs, which fit to the persons character. There are many persons you've already seen in FC 1 and 2 back in this third part. The level of challenge is quite ok. It's not perfect, but in comparism to the other Eipix games it went up a bit. There are new puzzles, very different types of HO's. And sometimes two types of HO's combined in one. I've never seen that in a HOPA game before. Very creative! The gameplay is fastly going forward and could be a bit more challenging, with more running around and more things you have to keep in mind for some time until you find a useful item to do an action. But even that's better now if you compare it with the latest Eipix releases. There are 15 Morphing Objects in the HO's and 49 clapperboards to collect while playing. The MO's are hidden well and the clapperboards are hidden good too. The CE comes with 4 playing modes, replayable cutscenes, puzzles, HO's and much more. There are many extras, so it's a worthy CE game! Afterall an absolute Eipix winner and the best game in 2014 until today! Wonderful job Eipix team! Keep it going!
March 22, 2014
GOOD AS IT GETS
Since others have told the skillful story, I'll skip the details. Customizable. Creative. Fun to play. Non-linear. Flawless gameplay that is quite challenging. Silhouette progressive HOS as well as lists; objects are very well hidden but with good visibility. Good variety of puzzles with varying degrees of difficulty. Many require more than one step. Objects found to help you progress are used fairly close to where they were found. Many locations with a fast-travel map. Diary with pictures and notes. Clapboards are well-blended into their surroundings. Well-developed and carefully crafted environments - graphics are crisp, colorful and finely detailed. Good length.
March 22, 2014
Twisted
This is yet another superb sequel to the Final Cut series. May even be the best one yet. I applaud the imagination that these developers have. I love how this game throws in scenes from previous Eipix games. In some areas you are thrown back to a different surrounding yet still on the same screen. Fantastic. This game was developed with a twisted mind but , OH so good. Map is great and HOS are highly interactive. Minigames are new and fun to play. Amazing graphics and detail. This game makes you say: Huh? Oh wow. You have your collectables that are not so easy to spot. I love the cutscenes and the real actors. This is one of the best games I have played in a long time. Try it, I can think of a million reasons to play this, but instead of describing it all I need to get back to the game. A definite must have
March 22, 2014
What a Great Sequel
As I had no idea that there would be another Final Cut, I was thrilled to find it offered today. You are once again tormented by you father's camera which goes between reality and fantasy. This time "The Director" has the camera and you must figure out what is going on and why. You having an annoying journalist who is following you around trying to get the "story of a life time." The Director has taken over your father's house and he has made you the "star" of his movie. EIPIX has done a fantastic job. There are 49 clapperboards that must be found, about 19 achievements, and have no idea at this time what the souvenirs are supposed to be. I have not been able to see any morphing objects, but have been interrupted a lot while trying to do the demo. There are 4 levels of difficulty which include casual, expert, insane and custom difficulty that can be changed during the game. The extras include souvenir room, puzzles, hop, bonus game, movies, making of and music. All which are unavailable until you purchase the game, except the achievements. Loved the game, loved the art, loved the music which fit perfectly with the game. Need to finish this review so I can purchase, especially with the sale this weekend. EI
March 22, 2014
Morton Wolf's legacy lives/dies on!
This is the third in the Final Cut series, and each one seems to get harder! The cut scene in the beginning kind of sums up the first two adventures, with daddy dying and crazy half-sister trying to kill your brother Frederick. Your dad's invention, a projector that switches between reality and "movie mode", is almost a character in its own right. You play the normal daughter of Morton Wolf, who receives a package while meeting with a reporter who tells you about a serial murderer called "the Director". Golly gee, guess who your package is from? The Director plans to kill your friends and family if you don't go back home and be in his movie, using your father's projector, of course. So you figure out how to get the car to drive you home, and the nosy reporter comes along as well. When you arrive, your gardener is wrapped up in a scene from one of your father's movies - he thinks he's a pirate. One you repair the projector, you flip back and forth between the movie set and your foyer, trying to figure out how to save the gardener. You must concentrate here, or you'll get yourself confused! The pirate movie, I am sure, is only one of many where you'll have to save someone. There is so much to do here! You have a map -- the one poor feature of the game. You also have your hint button, and four modes to choose from, including custom. The HOS are interactive lists, or silhouette lists that require you to interact with almost every item to get the next item. And they are not easy -- I had to use the hint button a few times to figure out what I needed to find in order to get the silhouetted item. The mini-games are clever and fun. You have to move a rabblit through a maze that turns upside down and sideways until you get to the carrot. Another one makes you guide a phonograph needle through a maze on the record. Plus, there are 49 clapperboards well-hidden in each scene, but I love the fact that an icon shows if you've found the one in that scene yet or not. It helps me remember to look! There are also 15 morphing items that also have an icon that shows up -- I found one in a HOS. There is a souvenir room, that shows up after you finish the game and the bonus game. In previous games, there was one additional item to be collected in each room, that gave you a final picture of what you'd accomplished -- fun and easy to do. Additionally, there is the bonus game, the strategy guide -- useful for finding clapperboards and morphing objects, I suspect. There is also the "making of" feature which in previous EIPIX games was about 50 pictures of the developers at work - and play. All the other CE bling is present as well. I played the previous two adventures as SEs, but this one is so special I will have to purchase the CE.
March 22, 2014
Awesome
I was addicted to this game from the start, This is the best of the Final Cut series. Everything you want in a game and more. Intriguing story, wonderful new puzzles (Rabbit/carrot cube), silhouette and HOPA hidden object combined, regular HO games with morphing objects, 45 clapper boards to collect (some very well hidden) and achievements to earn. With the weekend special, it was a wonderful gift from BFG. So for those of you who got hypnotized and bought the game , enjoy enjoy!!
March 22, 2014
Can Not Believe it
I am surprised that so many games all ready that are great contenders for year of the award. I love HO's and this was the best ever. HO's inside of HO's and morphing objects inside HO's. The characters were slightly Corney but hey great story line and I was drawn into it all. I own the other Final cuts. This goes on my must buy list. One of the best game plays for final cut and my second favorite one of the year. Have to buy this one now.
March 23, 2014
The Apple logo is a trademark of Apple Computer, Inc.