Final Cut: Homage Collector's Edition
Exclusive
From the developers who brought you Hidden Expedition: Smithsonian® The Hope Diamond…

…Eipix's dramatic continuation of the Final Cut story line! A serial killer calling himself "the Director" has targeted your father's movie legacy for his magnum opus, and he's cast you in the starring role.

Your father's projector appears again as a game-play feature, allowing you to switch between real-life scenes and the Director's movie sets. Save your family from certain death as the Director tries to immortalize them as works of "art." Beat him at his game of cat-and-mouse. And uncover the Director's true identity before the final credits roll!

This is a special Collector's Edition release full of exclusive extras you won't find in the standard version. As a bonus, Collector's Edition purchases count toward three stamps on your Monthly Game Club Punch Card!

The Collector's Edition includes:
Play role-reversal as the detective in the bonus game!
Collect old-school clapperboards hidden throughout the game
Use the available Strategy Guide
Win cool achievements
Get wallpapers, concept art, and soundtracks
Game System Requirements:
OS:

10.9/10.8/10.7/10.6

CPU:

2.0 GHz (INTEL ONLY)

RAM:

1024 MB

Hard Drive:

1374 MB
Game Manager System Requirements:
Browser:

Safari 4.0 or later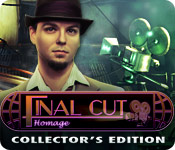 The Big Fish Guarantee:
Quality tested and virus free.
No ads, no adware, no spyware.

Reviews at a Glance

Final Cut: Homage Collector's Edition
0
out of
5 (
0
Reviews
Review
)
Customer Reviews
Final Cut: Homage Collector's Edition
49
49
Star of the Show!
This is a well made game with a very interesting, intriguing story line -- a mystery and you play the investigator! There is a detective as well who seems a bit shady as well! Great interesting, colorful graphics, various types of HOS games, and great voice overs - all aspects of the game tie in together well -- a very polished game! And one that is really fun and interesting to play!! It was very hard to stop with this game-- played almost all of it in one sitting because it was so good! Enjoy!!
April 26, 2014
Good, but not the best..
Another in the Final Cut series. I have the first two and liked them both. This one is similar, but still different. The graphics are well done, but movements are a little choppy. Game play was good, no problems at all. The colors are very well done and seem true to the time and setting of the game. Voice overs are very well done and fit the character. Of course, there is a locking inventory bar. Music isn't too bad. The HOGs were fun, a combo of interactive silhouettes and standard HOGs. Items were not difficult to find at all and HOGs were fairly clean and clear. If you prefer, you could switch to the match 3 game instead. Puzzles were way too simple, no challenge there at all. SG is the standard and is helpful if you need it. The hint system is very helpful and fills very quickly. I found that I really didn't use the SG except for a couple of times. There are a number of achievements, which again are the standard you find everywhere else. Collectibles, well, I accidentally found that there are morphing objects (won't say where, in case it is a spoiler#, and clapper boards #not that difficult to find if you look for them). I was not as kicked out about this game as I was the first two, but it was challenging enough to keep me interested during the demo. I'm just not sure it is CE worthy. Something was missing...can't tell you what, but something. I'm not in any hurry to buy this one, so I will put it in my puddle and think about it. As always, try it for yourself and see what you think. We all have different tastes in games and you may find this one to be exactly what you are looking for today. Thanks for the reviews.
March 22, 2014
Better but still NOT 5 Stars
Based on entire game. Have first two games & was happy to see another. While the story is basic & not a real grabber it was still better than the majority of the rehashed same old, same old games that have been coming out ad nauseum. How refreshing not to have ghost/dead spirits/demons/other worldly creatures etc. to contend with. Also, no filthy rooms with bugs crawling all over. HOG are good but wasn't all that thrilled with the mini-games. Some were fun but most were very tedious & boring. I especially do NOT like the ones where you have locks that have too be manipulated or the ones where you have to move bars to back & forth to get something from one side to the other. The colors/graphics/VO were especially good with this game. Even the music seemed to match the story. I'm even going to play this game again & this is something that I don't do very often!! I particularly want to pay attention to finding the clapboards/morphing objects in the scenes. I didn't do very well the first time through. I found a couple of things purely through PDL...Pure Dumb Luck. So I'm actually going to recommend this game. A first in a LONG time!!
March 23, 2014
Great HOG
I did this game in the casual mode. The characters were more life like and seemed to have a good story line. I only played the trial version but I do believe it is worth the cost. I plan on getting it soon. The HOG are a combination of shadow objects and words. There is a lot of interaction between the two. Objects sometimes have to be used to get to the next objects but these are the type of games I enjoy.
March 22, 2014
Previous versions were better but still good
The game was ok, the quality is very good yet the challenge of the the puzzles were intermediate. I was not satisfied with the CE version and would rather but the SE. It is still a good game but I would recommend you wait for the standard version to purchase it.
March 27, 2014
Another Good Sequel
I thoroughly enjoyed this game (at least what was presented in the demo). It was equally as consistent with the other 2 and although based on the same story line did a great job at mixing things up in the plot to keep up player interest. In this one it comes to light that there was someone who was a part of the Wolf cinema world yet was somehow on the sidelines and not given the credit they felt they were due and now that Morton has died wants to exact revenge on the rest of the Wolf family. Graphics were good, music fit the suspense, mini games fun and HOS great using silhouette objects to interact with, adding a nice change. All in all there was little to criticize, except I did find the detective a wee bit silly! His dialogue was rather corny and he indeed came across somewhat like a dim wit! Perhaps that was intentional and if so it put some humor into the seriousness of the story, but, if not deliberate then I can only wonder why add something that would take away from the overall effect? Anyhow, there is enough there to warrant a buy, but perhaps not a CE, I'm really not sure on that one & would need to play SE before deciding. Give this one a try and see what you think. Oh, and, as a suggestion, I think the Devs should stop at this one, anymore might just be too much!
March 22, 2014
well put together package
I quite liked this one. Unlike some others, I liked the effect with the projector and how you could switch between the locations. Made finding the collectibles harder. I was going to complain in this review that the first game had 4 collectibles including one that was a mystery.. turned out to be cats and they have become less and less with each additional game. But then I played all the add ons after the extra chapter. I liked how you could go back and find what you had missed including the collectibles and the morphing objects that were in some on HOP's. also helped to complete the achievements. Nice touch! I really appreciated that as I hate not completing a game and that really helped me feel like I had totally finished it. This one was well drawn with lots of beautiful locations, a decent though somewhat predictable storyline, good VO's and some darn good puzzles. I also appreciated that the "it's locked, it's missing" thing were not overly done. It was a fairly good length and had lots of extras like siihouette HO's that were progressive, some inventory objects that you had to build and the projector that would change each location. Very good. . I loved the first one and have liked the following two. A few tweaks to the storyline and an extra collectible or two and this would have been 5 star.
April 2, 2014
Really great game
I normally don't review games, but this is so great, that I had to rate this game. Try it !!!!!
November 14, 2014
Very disappointing
I was so excited to see another Final Cut game, but so disappointed with the game itself. Very choppy game play with a juvenile story line. The graphics and sound are great, but what good is that when the story and game play are less than stellar ? The bonus game was more fun than the entire regular game because at least you could move from scene to scene at will and not end up locked out of most of the areas. All in all, this game was not even close to the level of the first two. So sad :(
March 26, 2014
Story Is Brilliant, But The Gameplay Misses The Mark
BASED ON DEMO With the Final Cut games, it's always been that there's a great story, but the gameplay is just average. This is exactly the same. The story is brilliant, probably the best out of all three, but the gameplay is just missing something. It's not that great. I don't know if the story alone is enough to make me want to buy it. As I mentioned the story is amazing. Everyone knows I can't resist a serial killer and/or murder mystery storyline. This is that at its best. It had twists and turns at every corner; it kept me on the edge of my seat in anticipation for what was going to happen next. I especially liked the villain in this story, The Director. He almost fits the profile of a real serial killer. His motives and creepy voice on the recorder, it's almost as if he really is a serial killer and you really are in danger! Great job to the devs on this one. Having a villain like that makes the game slightly more realistic. The story had a couple of twists, but the rest of the game went on as I expected. That being said, the demo ended on a really good note and I'm itching to find out what happens next. Where this game goes wrong, and where the two previous Final Cut games went wrong, is the gameplay. What I specifically dislike about it is the projecter scenes. There are two different locations in every scene, and you're always having to rush here and there, you find one thing in one location that belongs in the other... I could go on. It's really confusing, annoying, boring and time consuming. I've always hated going between two different locations in the one scene, no matter how good the story, and this is no exception. It takes away from the enjoyment factor and is really turning me off buying. I get that it's movie themed, and I get that's what movies are, but that just really annoyed me with this game. Another thing I didn't like was the + objects. These were items that you had to interact with to complete. Normally, you just have to add one extra and you're done, but in this game it was about three or four things that had to be added on. It was really annoying. On the basics, I enjoyed the HOS. Yes, they were the same ones that we see over and over, but they were still fun and I enjoyed playing them. They are the same as usual from Eipix: A few extra step objects, a couple of silhouette mini-scenes, but they are nice. The HOS are a mixture of junkpile and silhouette. Both types of HOS were enjoyable. The way I see it, the amount of HOS in my sample were just right. Some will say too many, others will say not enough, but I think it was fine. Knowing Eipix, though, the frequency of the HOS will increase as you go along. The puzzles were the same, but a couple were really confusing. For example, that rabbit in the maze one really stumped me. I usually like to have a go at puzzles, but I just couldn't with that one. The others, though, were good. I could attempt them quite easily. I had fun trying. I had to skip one other I think, but it was okay. I don't mind having to skip puzzles if I can attempt them first. Other than the two locations thing, this is your standard HOPA. It's got all your standard features, CE Extras, nothing that deviates from the norm. But this game really did fall short on the gameplay. That two locations thing really has put me off buying. The graphics are good as always. Every scene is done with so much detail and is clear as anything. Character designs are great too. They look like they could almost be real people. Top notch graphics once again. Great job to the developers on this one. The voice-overs are standard and I don't have a problem with them. FEATURES 4 modes of difficulty: Casual, Advanced, Hard and Custom. Custom lets you set the game your way, other difficulties have the standard differences (hint/skip charge, sparkles, etc.). I played casual. Hint/Skip- Both recharge at a reasonable rate for the difficulty and the hint is very helpful outside HOS. Diary- keeps track of events. + objects- This was another terrible thing about the gameplay. These were objects you had to interact with to make them whole. Normally, I don't mind this, but there were just too many things you had to add. Another fail for the gameplay. Map- Interactive and helpful. CE EXCLUSIVES Bonus Chapter- unsure if needed. Knowing Eipix, probably not. Built in Strategy Guide- good for puzzles. Collectible clapboards- game lets you know if there is still one to collect in a scene. Achievements Replay HOS & Puzzles Concept Art Wallpaper Something called ?photo session? Replay movies Souvenir room Making of This game is getting a 3 for me.Normally, in a situation with a great story and off gameplay, I'd give a four, but I just can't with this one. I can still recommend the trial because of the great story, but the gameplay is just missing the enjoyment factor that I'm used to seeing from this developer time and time again. Sorry guys. This is a no buy for me. Not even the SE. And so, I (barely) recommend this game.
March 24, 2014
The Apple logo is a trademark of Apple Computer, Inc.
The Windows logo is a trademark of Microsoft, Inc.