Dark Romance: Vampire in Love
Exclusive
Emily and Enron love each other and want to be together. But Enron is hiding a terrible secret – he is the son of Dracula. And just as Enron wants to tell Emily the whole truth about himself, she is kidnapped. No one knows where she is. But there are all the signs that she was abducted from her apartment against her will.

Meanwhile, Emily wakes up in a gloomy room with numerous coffins and the ghost of a little girl tells her that Emily has to hurry in order to be rescued. So Emily and Enron must hurry to find each other. But can they do this? You will learn this from the game Dark Romance: Vampire In Love.
Find out who abducted Emily and where she is
You can play for both heroes Emily and Enron at once
For a more in depth experience, check out the Collector's Edition
Game System Requirements:
OS:

Windows XP/Windows Vista/Windows 7/Windows 8

CPU:

1.6 GHz

RAM:

1024 MB

DirectX:

9.0

Hard Drive:

688 MB
Game Manager System Requirements:
Browser:

Internet Explorer 7 or later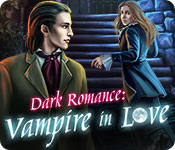 NEW299
The Big Fish Guarantee:
Quality tested and virus free.
No ads, no adware, no spyware.

Reviews at a Glance

Dark Romance: Vampire in Love
0
out of
5 (
0
Reviews
Review
)
Customer Reviews
Dark Romance: Vampire in Love
14
14
What Happens When Count Dracula Is Your Daddy?
Nobody is safe, including your beautiful mortal bride to be! Daddy Dracula cannot accept the fact that his son, Enron, has fallen in love with a mortal woman, he kidnaps Emily and vows to turn her into a vampire! Emily wakes to find herself in an unfamiliar castle room, next to two coffins, has she become a vampire? The thing I love the most about this game is the unusual concept of switching between characters, both Enron and Emily! Not only do you get to switch between characters but you interact with each other by sending messages via a carrier pigeon, and even sending useful objects through a crystal portal. The hidden object scenes are available in Enron's and Emily's locations,they are interactive list finds and some of the hidden object scenes are repeated in the same location but with different list items. You also have the option of switching to a match 3 game with skulls, blood drops, stakes, moons and garlic tiles. The mini games are fairly easy, some of the are a bit time consuming such as duplicating a black castle and a white castle made of different shaped blocks. There are two platforms, one black, one white, you slide them back and forth choosing which platform requires which shape and where on the platform that particular shape goes. Some of the mini games require you to refer to your journal for clues, for instance you come across the number 2413, each number is a different color, both the numbers and colors are significant, and when you figure out where to use this clue you have to refer to the journal to retrieve this information. I like the change of pace this game offers, and the Collector's Edition has all the bells and whistles to make this game even more entertaining, enjoy!
March 9, 2014
Dark and Eerie Hidden Object Thriller
The storyline is excellent. Count Dracula, the most evil and cruel vampire has a son named Enron, who decides to turn his back on his father and live among humans. He falls in love with Emily, a human woman. Dracula soon learns that Enron and Emily are to marry and kidnaps Emily to turn her into a vampire and bring Enron back into the fold. You play two characters, going back and forth between Enron and Emily; Emily trying to get out of the castle, and Enron trying to save her. You receive clues from each character. The soundtrack is great, full orchestra with music that is spooky, eerie, and ethereal. Narration is very well done as are the voice overs. The graphics are well done, beautiful illustrations, in full color. Hidden object scenes are interactive list type with objects very well drawn, crisp, and clear. Most mini puzzles are relatively easy. I had to skip two of them after spending ten minutes on one and eleven minutes on the other. There is a diary and an interactive map to assist you. This one is a keeper.
March 11, 2014
PLAY AS TWO CHARACTERS
You have to play as both characters - change characters by clicking on the other. Fun game to play, even without the collections. You can select the normal 3 modes of difficulty or customize your own level. Music and graphics are good. Scenes can be somewhat crowded and, since you frequently get a view of rooms from one point, the items in the rooms can be a little smaller than from a close-up. SUMMARY: Good production values and well executed gameplay. The CE seems to be the way to go with this game if you like achievements, collectibles, and collecting items to purchase decorations for your castle and panel.
March 9, 2014
fun hidden object game
Fun playing 2 characters that interact with the story line. Great Graphics
March 10, 2014
Nice as an SE, different game play...
I gave the CE demo a try when it came out and didn't particularly care for it as a CE. As I have said many times before, I often change my mind when the SE comes out and I have a chance to replay the game. However, I do not buy the CE. That said, I do like this game as an SE and I am going to use a credit to buy it. The graphics are fairly clear and game play is good, no problems at all. The music left a lot to be desired. It needed to be a little creepy and not so over-powering and annoying. You have a very helpful jump map. I especially like the way you get to play both of the main characters in this game. Their face will glow when you need to switch to that person. Very different and interesting way to play. HOGs are still cluttered and items difficult but not impossible to find. You can switch to a match 3 game...not my favorite thing. There are really a lot of puzzles, but they are simple to figure out. Hint system is very helpful and fills at a fairly fast rate. It also ties into the jump map, as when you need to go to a totally different location, it shows the map and where you need to go. Well done. There are voice overs, but very few. Mostly, you read a lot of dialog, which can be skipped or clicked through if you read faster than they do. Since this is not a CE, it does not have collectibles. Wouldn't it be nice to have another nice SE with collectibles? The name of the last one escapes me, but it was quite fun. As I said, I am going to get this one today. The story isn't new, but the game play is and I find it fun. As always, try it for yourself and see what you think. We all have different tastes in games and you may not care for this one at all. Thanks for the review.
March 9, 2014
Dark Romance: Vampire in Love
I like that you can play both the vampire and the girl. HOS are good. The game has a good story line. I gave it a good rating and 4 stars until I play the whole game and see how it all ends up.
March 9, 2014
Well, okay...
So, in this game you are two characters - Enron (the vampire) and Emily (the human), and you have been separated by Enron's father who happens to be Count Dracula. He has kidnapped Emily to turn her into a vampire, because you (as Enron# have decided NOT to be a vampire. I have some questions about the premise. I thought being a vampire was a matter of nature, not one of choice. Even if I desire to never eat again, it is unlikely that I can hold to that premise because hunger will surely take over. And so it would be with Enron. Next, why is he so angry at his father's activities as a vampire when he is one himself? Did he NEVER do any of the things we see that his father has done? And finally, what does he think is going to happen when he realizes that he wants to bite Emily? Or when she catches him chowing down on other people, male and female? Anyway, to the game play: The game is okay - I wouldn't rate it much higher than a 3 overall just because there are way too many HOG #Hidden Object Games#, the puzzles are either way too simple, or just take more effort than I want to expend, the artwork is good, not many real "actor" effects. The sound is fine and the music is good. I think I really liked the story line more than anything else, suspending all disbelief that a vampire and a human could truly have a "normal" relationship. It was also interesting to play the two characters, and have to send things between the two. There were some creepy areas, like the torture chamber, but I never got a shiver. Overall I guess I would recommend the game, but maybe the CE #Collector's Edition# would be better. I had a free game credit and used it for this..
March 10, 2014
Just ok
I love stories about vampires, and based on the demo and reviews, I expected to really love this game but I didn't. I thought it was very generic, and the artwork was rough and grainy. The music was on a loop which quickly got old fast even though it was pleasant. I thought the father of Enron could have been involved a lot more. I also didn't care for most of the mini games. The hos were nothing special. I did like the the switch factor as I was able to switch characters, essentially playing both parts. There is a jump map, and a journal. The hint system filled quickly, and was somewhat helpful. The ending was abrupt and seemed unfinished. Maybe the "Collector's Edition is better I don't know. I really can't recommend this game myself, but everyone is different. I thought, (based on the hour demo), that it would be much better.
March 28, 2014
Probably could be fun but...
Where is the skip function for the regular edition? is that just an incentive to buy the collector's edition? This game seems like it could be fun but I'm glad I tried it before I bought it...sheesh.
March 9, 2014
Decent Hidden Object Game
Had all the basics of a good game, but lacked good voice acting and interesting storyline.
March 11, 2014
The Apple logo is a trademark of Apple Computer, Inc.