Mind Snares: Alice's Journey
Alice Dahl has found herself stuck in an occupation that makes her very unhappy. She knows that her only shot at happiness is to leave her job behind, but past fears are holding her back. After rushing to meet a client, Alice's car careens into a river. She wakes to find herself in what looks like a hospital, but turns out to be a strange shadow world. Her only means of escape is to overcome her fears in Mind Snares: Alice's Journey.
Solve mini-games generated by Alice's subconscious
Help Alice overcome her fears
Explore a strange shadow world
Game System Requirements:
OS:

Windows XP/Windows Vista/Windows 7/Windows 8

CPU:

2.0 GHz

RAM:

1024 MB

DirectX:

9.0

Hard Drive:

735 MB
Game Manager System Requirements:
Browser:

Internet Explorer 7 or later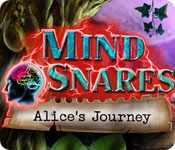 NEW299
The Big Fish Guarantee:
Quality tested and virus free.
No ads, no adware, no spyware.

Reviews at a Glance

Mind Snares: Alice's Journey
0
out of
5 (
0
Reviews
Review
)
Customer Reviews
Mind Snares: Alice's Journey
41
41
Wow! Fantastic!
BASED ON DEMO FIRST IMPRESSIONS One of the best stand alone SEs I have ever played, this game opens with a casual confidence, twists into mounting tension, builds on into creepy, suddenly becoming downright scary, and then that darn sinister laugh - nearly gave me goose bumps. You just don?t see many intros which are that wide-ranging in emotions. And everything about the game is just a little bit different. SIGHTS & SOUNDS The graphics are easily CE standard. The cut scenes are extremely well done, the HOP scenes are clear, detailed, and with just the lightest of surreal touches making them interesting. Lots of life and light, but with that colour palette that always lets me know this is a game that will have its gross moments. You know, the purples and greens, and oranges with pinks. Liked the interface, too. All that dangerous broken glass! The main character/narrator?s voiceover is excellent. She acts very well, with the right emphasis and intonation, as well as clear and flawless pronunciation. The other characters achieve a close approximation to lip synch. The music is multi-layered, often ominous, but also exciting & energetic at times. Great ambient sounds and effects. WHAT?S HAPPENING? This is a good somewhat original story, well structured, but little emphasis is really given it in the game. You used to be trapped in a dead end job with an over-demanding boss, but without the fortitude to get out. Then something terrible goes horribly wrong. An evil laugh follows you down into darkness, and you wake up trapped in a hospital room. But the story does not descend into another of the ?abandoned asylum? games, it is way more weird than that! Alice?s journey is an internal mental one, as most of you have probably already guessed, and so anything is possible. We find ourselves on a quest to find 4 totems, each from a different world, in order to escape back to reality. GAMEPLAY The adventure gameplay is fairly easy, and so too are the many HOPs and mini-games. There are, wait for it, 30 (!!) HOPs, but don?t panic, because there are 40(!!) mini-games. At least, it seems so according to the achievements list. Yes, there are also (many) achievements! No collectibles however. Again, some at least of the HOPs you can expect to be quirky, for example the one of Vitrupian Woman (hee hee), where all the items on the word list are silhouettes on a poster. So far the mini-games are easy and fun. The journal gives objectives and sub-objectives, as well as notes. Hint is directional, and you will eventually get an interactive jump map, which indicates task available, if you choose. There are choices of 3 levels of difficulty, volumes, widescreen, and aspect correction. COMBINED IMPACT It took me almost exactly the full hour to complete the demo, which was still in the first of 4 chapters, and a reasonably long way till its completion. These developers have spent their money wisely. There are only a few but very effective cut-scenes, which you can?t play later, and carefully distributed excellent voiceover, rather than endless chat. It just doesn?t have the glamour of many games. But it has good solid gameplay, attractive and interesting artwork, and a little quirkiness as a bonus. In all, a great SE game. If this is the quality of games we can expect for our PCCs in the future, I for one am happy to accommodate the recent changes!
March 11, 2014
Brilliant Story, Fascinating Game
I am totally in agreement with JustTheFact, this really is a spectacular game. Yes it is cartoonish, yes the first scenes are familiar; like we haven't had a car accident and woken up in an empty sanatorium or hospital? The story however is really fascinating, a theme most of us can relate too. Conquering one's fear and realizing what a paralyzing effect it has on our lives, inhibiting our actions and keeping us lock in our own prison filled with regrets and discontentment. In Mind Snares, we join Alice in her quest to fight the demon that has her trapped in her own mind which is manifested in an abandoned hospital. Her adventure begins in this classic HOPA game that takes me back to the days when you had to use a bit of your brain cells to decipher puzzles, collect inventory items and solve mini-games without the help of a strategy guide or a pet or a companion. I realized after having played the first hour of the demo that I really do miss the classics. Although visuals are somewhat dated, don?t let the cartoon graphics fool you. The voice-overs are very well acted and background music adds to the intensity of the game. There is enough tension that does build up and enhances the fear factor and makes the game even more interesting. By the end of the demo, I was totally engrossed with Alice and her quest to find the Totems that represent the hindrances in her life and when completed, will return her back to her reality a changed woman. There are three game modes to choose from and Expert mode offers penalty clicks as well. There is a diary that holds your clues and outlines objectives and a map that does indicate areas of interest and allows for travel. At first glance the game appears to be easy, but the challenge lies in the fact that there really isn?t too much hand holding. Although not too strenuous, you do need on occasion to use the little grey cells to decipher where use your inventory item which is what do prefer. The hidden object games are standard, junk-piled with slight interaction, classic and easy to do. I also came across finding silhouettes of items shown. I enjoyed the mini-games, very well conceptualized and some even require a bit more time and effort to solve. There are no Blings in this game but there is a list of achievements to earn which does make for some challenge. Game play is pretty straightforward, driven by a very interesting and thought provoking storyline. I applaud the developers for taking us back to the good old days when HOPA games were interesting and fun to play. A winner in standard game category and a must have on my list. I really think the story is interesting and may no doubt shed some light in our own personal journey in the need to conquer our own fears.
March 11, 2014
FUN to PLAY AND FOLLOW THE PATH TO NEW BEGINNINGS
Follow Alice as she goes down a different path from a job and boss she hates to her own successful business. Bright and cheery graphics; a "mind" monster who will put her on the right path (he seems sinister but this is going back in her mind to the events that turned her life around); and nicely-developed story. HOS are well-done (but items may occasionally be difficult to find). Puzzles are fairly easy for advanced players. Many more puzzles than HOS. Artwork is stylistic, which I personally like, but it may put others off if you're looking for an entire game with "real" characters and objects. A good production value and fun to play.
March 11, 2014
Alice's Boss Blows Her Mind!
After experiencing the opening scene, I had to step out for a moment and check to see if this game was a CE! The high quality visuals and voice acting caught my attention straight away and as the unique story line unfolded, I was hooked! Boy, I thought my boss was bad! (just joking, Boss, if you are reading this) The HO scenes are well done and not too difficult, with some tasks to complete and items to use together to reveal all objects. Some of the animation is really put together nicely! The puzzles are mostly the usual fare with lights to connect and matching characters, though still a bit tricky to complete. Some take quite a bit of thought. Other reviewers have talked about the plot and did so with great finesse, so I won't bother to rehash, except to say, this is something new, fresh, innovative, and definitely an exciting adventure! I just purchased Mind Snares: Alice's Journey and it has finished downloading. I have already received some nice Achievements, but I think I will start again with a new profile so as not to miss a single thing! Try the Demo folks. This SE will certainly surprise you!
March 11, 2014
Fantastic game, well priced and something for everyone
At first I wasn't sure about the game until I got about 30mins. into it and then it took on a different angle of play. There are still lots of hidden object scenes but also different mini puzzles too which is a real delight these days, I would highly recommend this game and feel it's every bit as good as lots of collectors editions that we get these days
March 11, 2014
Surprise!!!
Wow what a wonderful SE! Kept me occupied for hours, intriguing story and definitely matched my mood about MY job lol Challenging enough not be boring but not convoluted and confusing as some of the stand-alones I've tried. Kudos to the developers and I hope to see more from them! I recommend this
March 12, 2014
Psychological Thriller HOPA
Based on the Demo. As I have said before, if I get to the end of the demo without getting bored, I usually buy the game. Alice hates her job, but is afraid to follow her dreams, so is given the opportunity to face her fears in this psychological thriller of a HOPA. While similar to some recent games-you are facing your own fears rather than "saving" someone else. There is a journal, with story & objectives & an interactive map, Graphics are creepy & dream-like. HOS & puzzles are reasonably difficult without being frustrating-always a plus for me. A like & a buy for me
March 11, 2014
Fantastic Engrossing Game
A wonderful job was done with this game by the developers. You can tell it was well thought out. Very interesting and unique story line, once you get past the obligatory car crash. Alice has been "taken" by a spooky figure in a cape and wakes up in a decrepit hospital with no knowledge of why she's there. There are quite a few HOS in the game, but they are easily identified. Lighting is good. There are many puzzles. I found them medium to difficult, but I am not great at puzzles. You may find them easy. Music, graphics, voice overs are all done very very well. I highly recommend this game. I love games by new developers because usually we get to experience something new and different, which is exactly the case here. Enjoy :)
March 11, 2014
Fun HOPA Game!
Game play has been excellently reviewed by previous posters, so will not waste time. Review of demo. I wasn't sure I would like it at first but it picked up and was great fun with a nice creep factor. Cut scenes are excellently done, as are the voice overs. A strategy guide or walk-through isn't needed in this SE, as an interactive jump map will always keep you on the right path. Puzzles weren't overly difficult but fun. A journal will help you keep track of notes that hold clues and a list of tasks you need to perform. The game is mostly linear. If you need to backtrack, it won't be far. I found this to be a fun game. Try the demo and see for yourself but it's a definite purchase for me. Thanks developers for a great game!
March 11, 2014
Epic journey through your mind!
I love the game! We have thrilling story, plot twists, cool minigames and challenging villians. So many different characters which are more surprising than you can imagine! I really liked our main hero - Alice, who hasn't the same problem as her?
March 12, 2014