Mind Snares: Alice's Journey
Alice Dahl has found herself stuck in an occupation that makes her very unhappy. She knows that her only shot at happiness is to leave her job behind, but past fears are holding her back. After rushing to meet a client, Alice's car careens into a river. She wakes to find herself in what looks like a hospital, but turns out to be a strange shadow world. Her only means of escape is to overcome her fears in Mind Snares: Alice's Journey.
Solve mini-games generated by Alice's subconscious
Help Alice overcome her fears
Explore a strange shadow world
Game System Requirements:
OS:

Windows XP/Windows Vista/Windows 7/Windows 8

CPU:

2.0 GHz

RAM:

1024 MB

DirectX:

9.0

Hard Drive:

735 MB
Game Manager System Requirements:
Browser:

Internet Explorer 7 or later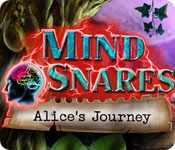 NEW299
The Big Fish Guarantee:
Quality tested and virus free.
No ads, no adware, no spyware.

Reviews at a Glance

Mind Snares: Alice's Journey
0
out of
5 (
0
Reviews
Review
)
Customer Reviews
Mind Snares: Alice's Journey
40
40
Very Nice SE...
Morning all. Well, a nice SE for a change. This game has the colors and graphics of a cartoon, but they are very well done. Cut scenes and game play are very good as well. I like the music. It has just the right amount of creepy and moves in tune with the actions of the characters and game play. Voice overs are well done and fit the characters. There is a jump map, but I wasn't too kicked out about how it was set up. Something about the color and layout. However, it did work well, but the game flowed so well that I really didn't have to use it much. There isn't a huge amount of running back and forth, but you do return to the same locations numerous times. A lot of items you find in one area are used in that area as soon as you find them, so you aren't running back and forth for only one item at a time. HOGs are very simple, fairly clear and items are easy to find. Puzzles are not difficult, but a couple have made me stop and think a bit in order to complete them. There are a number of achievements and there are actually collectibles in this one as well. You need to find what they call "totems," to put on the 4 boulders. Okay, so maybe they aren't considered collectibles, but they don't just jump off the page at you either. You are traveling between dimensions to find these items, so you don't get bored staying in the same area all the time. There are a lot of things to pick up and do along the way, and everything is useful within the game. Hint system is very helpful and fills very quickly...so does the skip button in the puzzles. This game is not especially challenging, but it is different and fun and a really nice SE. I think all levels of players will find this one to their liking. Definitely worth a game credit today. As always, try it for yourself and see what you think. We all have different tastes in games and you may not care for this one at all. Thanks for the reviews.
March 11, 2014
JOURNEY TO THE CENTER OF YOUR MIND
Wow, this is literally 'mind blowing'. Absolutely brilliant game. You have: * Casual, Advanced and Expert modes of play; * Voiceovers; * Diary; * Interactive map; * Achievements Board [18 of them]. Even though its not a collectors edition, we have all the benefits of one. Well done. The graphics are very vivid but still clear to see everything. The sound is very good. There are four chapters to this tale and each time you get a different piece of music. The HOS are easy to medium. There are plenty of them but not every step you take and they don't take too long to do. Everything was clear and not too junk piled. The mini-games were fun and I'm sure you will find your favourite ones in there. I enjoyed them all. Overall I really enjoyed playing this game and definitely recommend it for everyone. Well worth buying to add to your collection.
March 31, 2014
Been Waiting!
I have been checking off and on for the release of this game since I played the survey demo seems like ages ago. So, I guess I'm definitely going to buy it now that it is finally here. I was hooked on this one right after the car crash. It was some what different than any thing I had seen. Especially the art work. Real colorful but has it doe's have a dark side too. I will recommend it if you like this kind of game. I know I will be purchasing it today. I hope it is as good as the demo because it left me waiting all of this time and looking and doing searches for it's arrival. Finally! It's here! Time to see how it ends or how it doesn't as it may leave me waiting a long time for another one. We will see! We will see!
March 12, 2014
An very good SE
Graphics not bad. Quite a linear game with a bit of backtracking, but not a prob as the map allowed you to move around nicely.HOs were pretty standard but puzzles did require some thinking about. It was the storyline (as others have said) which made the game so compelling to play. It hooked me, so I had to see what came next, and help Alice to save herself of course..lol.
March 13, 2014
Excellent game, good moral!
Beautiful artwork, good animation and voice acting. I especially loved the message that you can change your life for the better. Drawbacks were that the story just end abruptly with no epilogue and that in the area with the hag, the English text at the top reflected bad grammar and spelling. I understand that the production team for the game may not be native English speakers, but most of the other text in the game is good. Editing is important!
March 16, 2014
Over so soon?
First, let me say this is a buy. I was intrigued with the story which was different than so many others. It took me hours and hours to advance to the next level but once I did the additional levels (there are 4) I completed each one in less than 15 to 30 minutes each.
April 2, 2014
Mind Journey!
This review is based on playing one-half of demo. If I like a game, I won't, usually, finish the demo because want to buy it and enjoy! This game has three choices of play; only encountered 1 HOS, which I like. Mostly requires common sense. If you like creepy, strange, mysterious games, you'll enjoy this one. It also has achievements, i.e., finish a mini game in less than a minute; don't skip, etc. The hint button is also very helpful. Most likely will buy this one. Seems to be a lot of fun.
March 11, 2014
Lots of twists
Fun game! I always enjoy the challenge of a decent game that isn't too hard and isn't too easy
March 27, 2014
Fun, quick game
This little game was fun, I used a credit and was glad I did. This game isn't for complex players though. It had pretty good graphics (for a little game). The layout reminded me of Redemption Cemetery games, I think that's why I liked it. If you have a free credit buy it. Also, there weren't a ton of HO's, which is awesome.
March 14, 2014
A Really Good Game ...
Nice Graphics, Sounds, Voice & Video Bits ... Nothing Too Fancy ... Nice & Neat Concept And Enjoyable Game Play ...
March 14, 2014