The Others
A local toymaker and all his factory workers mysteriously vanished on the same night. It's up to you, ace reporter Mary Bingham, to delve into the town's hidden mysteries to discover the truth. But first you'll need to understand the strange inhabitants to solve the riddle of the shuttered toy factory. Is the ominous figure in black trying to help you, or is he leading you into certain peril? What lies beyond the elaborate labyrinth? Uncover a new world of shocking secrets as you hunt for clues in this heart-stopping mystery-adventure!
Truly unique and challenging mini-games
An exciting out-of-this-world adventure
Novel inventory system enriches gameplay
Game System Requirements:
OS:

10.9/10.8/10.7/10.6

CPU:

2.0 GHz (INTEL ONLY)

RAM:

2048 MB

Hard Drive:

486 MB
Game Manager System Requirements:
Browser:

Safari 4.0 or later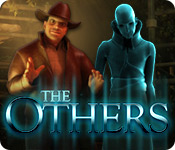 NEW299
The Big Fish Guarantee:
Quality tested and virus free.
No ads, no adware, no spyware.

Reviews at a Glance

The Others
0
out of
5 (
0
Reviews
Review
)
Customer Reviews
Aliens Stole The Town Toymaker!
Something in this small town isn't right, the first journalist became so paranoid, he fled the assignment and the town! The local Toy factory closed their doors, employees fled and the owner hasn't been seen since, the town is eerily quiet! Mary Bingham has taken over the investigative reporting after George abandoned his assignment full of fear because someone was staring at him through every window in the entire town, something "other" worldly! One of my favorite aspects of this game is something I haven't seen done before in a hidden object game. Some of the list items are in blue and can be clicked on to reveal other words and you have to figure out which word is the correct word of the item that is hidden. In OTHER words (couldn't resist the pun) the word in blue is fish for example, and there is no fish hidden in the scene. You click on the word fish and it changes to the word grater, again, no grater hidden so you click on the word a third time to the word footstool and viola there is indeed a footstool, kind of a cool feature in my opinion. Unfortunately, there aren't a lot of mini games but you get to visit the amusement park and play whack-a-mole and a game of claw and ride a scary boat where vampires, and skeletons jump out at you. There are a lot of HOS and the graphics are very clear and realistic. You even have to visit the ATM several times to get some cash so don't forget to retrieve your credit card after each use. I know that some people will hate this game but "others" will really love the alien theme and the hidden object scenes that make you put on your thinking cap. The fact that this is a standard edition will give you the opportunity to use a credit as well, enjoy!
March 12, 2014
Refreshing Change!
I wasn't sure when I started this game but the more I got into it the more intrigued I became. Without all the frills, bells and whistles there is something that compels you to keep going. Everything about the presentation is crisp, clear and straight forward. Mary is assigned to find out why the toy factory closed and where is the toymaker? Nothing fancy here and maybe that's what the appeal is, simple basic game play with no hidden surprises, well, except for the creepies that jump out and surprise you every now and then!! Graphics are super clear, HOS fun with a different aspect (change the items in blue to something you can find in the scene) which was a nice change. Mini games not too difficult but stress free making them fun. Hey, let's face it this game is nothing super exciting but in light of all the newer games that are riddled with collectibles, back & forth map, journals, same old same old story lines with only enough changes to hopefully fool the audience this is a refreshing change. Mary does a super job and is not boring with her dialogue, I did not miss the journal or the map (even tho' it meant lots of back and forth). Sometimes simple is good, try this one and see what you think...I loved it!
March 12, 2014
Love it!
I too am loving this game. I bought it because this one I want to see the end to. Like others said there is no journal or collectibles which I am glad of. I stopped with the collectibles because it just got irritating to look for them. And having no journal is awesome too as on some games they can really get annoying as the ones that write down every little detail and flashes. I don't mind in the least that Mary talks instead of reading the black bars. Her voice tickles me. The game is spooky which is a big plus in my book. Story: Pretty much everyone knows that Mary has to find out the reason why the toy factory closed. Of course you have your characters trying to stop you from your investigation. Graphics: Although I just bought a couple of days ago a brand new monitor, the graphics are clear as a bell even in H0G scenes even on my Acer which I had for over a year. I love the 3D affect. H0G Scenes: I loved the fact that on the blue words you click on them to find which one matches with the object in the scene. That's a first I seen of this. To me it's not H0G heavy in the least. Music: Fits perfectly with the game. Not obtrusive in the least. Mini Games: I only played two and they weren't hard at all just fun. All in all I give this game a ten for the story, fun factor and spookiness. The way they did that rat scene, yes my sitting down place left the seat a few inches. I had no lagging or cursor problems either. The game ran smooth as silk. Also it fit my widescreen just fine no problems. Had my widescreen for 4 days now and it's 22" HD. Have fun.
March 12, 2014
this game is something NEW and OUT OF THE BOX! LOVE IT!!
I am completly blown away by this game!! If you are looking for something new and out of the box, this is it!! I just finished it and I'm really overwhelmed. The storyline only SEEMS to be something we already know in the beginning. But as you go along in the game, the story changes into something completly new and very, very unexpected! The ending is really SPECTACULAR!! Sci-fi fans will also love this game, although it doesn't really look like it. The graphics are cristalclear and very well done. The music is good and fits the story, although gets a bit repetitive after a while. But the voiceovers are GREAT! And you meet a lot of different characters you have short conversations with. A nice change from all the games where you wander around alone. In the beginning of the game you might think you're alone, but you'll see.... The HOS are very, very clear with a cool new feature. Words written in blue you can click, and you get 3 different descriptions, one of them is in the scene, the others aren't. Really nicely done. The puzzles vary from easy to medium hard, I had to skip 2 where I really couldn't find the solution. And there is so much more to this game, you get a few really good scares that I asolutely did not see coming and made me jump out of my chair. A game in a maze that was really cool, and.... can't tell you more, I don't want to spoil the game for you! This is a GREAT SE! The game is fast paced and submerges you in the storyline. There is no map, but for me that was no problem at all, no diary either, but I didn't miss it for a second. The game is splitted up in different divisions, and once you finished one, it closes of and you don't need to go back there, which makes the to and fro bearable. I loved the 'oldfashioned' feel of a straight HOG + adventure game, no distractions of fluffy things and other frills to look for, but pure, concentrated gameplay that is really fascinating. I had the time of my life playing this game #about 4 hours for me# and HIGLY recommend this game! Have fun!
March 19, 2014
Aliens or just a good impression of them!
The intro gave no impact and did not leave you with any wow feeling. Don't worry, it gets better once into the game. The visuals were okay if somewhat a bit ordinary, no real wow about them and a bit dark in places. The sounds were good and the voice although not one of my favourites, she has the voice that did the Margrave and a few others, I always found she grated on my senses, however this time she has gone a lot softer and doesn't forever keep saying "I wonder what I should do here!!" etc., so was pleasant to hear The storyline is good, she is a detective, looking for the towns folk that worked at the local toy factory but when it closed they simply vanished. She has an annoying boss that leaves messages for her on her mobile, she is working alone although a work associate had been before her but left, is there something in this? another mystery! I loved it that she actually pulls out money from an ATM so isn't forever looking for some cash, really? how original. I found the first part to be easy which I don't mind when trying to find my feet and feel like I'm chasing my own tail. I played expert so don't know if the casual will do the same as it did for me in HOGS, which there are I think, a few too many. The shaded items where very difficult to find and I have to hold up my hand and say I ended up using the hint button for them, they then changed to something totally different which were easy to find. I think I must have clicked on nearly every item so have no idea where they were and there was no looking in a pot or moving an item to look for them. Once reaching another area in the game, another factor comes into being and I'm not sure but I think they were aliens, if not they were not of the present day or this world. She is still not sure what she is looking for to help her find the missing people! Warning! if you have a weak heart be prepared to get a twinge in one of the scenes, I nearly jumped out of my skin! This may not be one for the hard gamers but I found the fun factor darn good and this will be a buy #voucher# for me. I did not reach the end but then I can be somewhat slow.
March 12, 2014
A Winner!
There is absolutely nothing i dislike about this game...did not even wait to finish the demo before buying. the graphics are sensational. played it on mute after a while, but the music i heard was good. the storyline, although a bit of a rehash of other games, was still engaging. The puzzles were varied from easy (whacking gophers took a bit of time) to more challenging. the HOGS had a bit of a different twist enhancing my gameplay as someone who does not like HOGS :) not stressful to play and very enjoyable. for once, a standard game of quality. thank you BFG!
March 12, 2014
Gotta Love This One!
You are reporter Mary Bingham and you get to tear up the entire town looking for answers with lots of cool dialogue and sound effects. A mini-vacation for gamers between the seemingly endless cutesy and gory games! I just wish reviewers would STOP giving away surprises that gamers would like to discover on their own during gameplay! Should put a **SPOILER ALERT** alert on those types of reviews or discontinue giving away details! So disappointing! Definitely will have a good laugh. Enjoy! -Mama Mia-
March 13, 2014
Worth the Wait...
This game was enjoyable, easy to follow, kept you wanting to play until the end without stopping and generally, one of the best I have played in a LONG time. Well worth the $$$ and this is one that I WILL play again. Did not miss collecting items, animal helpers, blood and guts, vampires, etc. There are several moments that will startle you a bit (won't tell where in the game). Great game.
March 12, 2014
THIS GAME ACTUALLY HAD A MESSAGE
The Devs gave a nod to all the arts and sciences as well as presenting an almost childlike science-fiction. And there was a courageous message at the end. I felt the graphics fit the story somehow. They invite us into the game and keep us moving and curious. Very little handholding and no technical difficulties. A fun ride. Keep them coming. Keep them unique.
March 19, 2014
Fun & a little different HOG.
I really liked this game. You play Mary, an investigative reporter, sent to this small, abandoned town because the previous reporter has fled in fear, saying he could see someone watching him from every window in the town, something not of this world. You discover the toy maker's shop is closed, the owner and the employees gone, most everyone in the town have run away. Why? The graphics are really good, very clear & sharp & fun. The HOG's are not too difficult (but not too easy, either). A fun element is that a few of the words describing the objects to be found are in blue. Clicking on the blue word gives you a choice of three words, only one of which is the object that is hidden. For example, you see the word "gun" in blue, but there is no gun in the HO scene. Click on the word "gun" and it will change, for example, to "rabbit". But there is no rabbit in the scene. Click on the word "rabbit" and it will change, for example, to "skull" - and there IS a skull! Different - keeps things interesting. I like the mini-games, too. You get to play a "Whack-a-mole" type game, and a game like the "claw" game you find in arcades. You take a boat through a haunted ride with things jumping out at you, and you even have to use the ATM machine to get money out as they don't take credit cards! LOL! I found this game to be fun, different from the "horror", "demonic" or "fear" games that are so prevalent lately. Great game.
May 4, 2014
The Apple logo is a trademark of Apple Computer, Inc.
The Windows logo is a trademark of Microsoft, Inc.