The Others
A local toymaker and all his factory workers mysteriously vanished on the same night. It's up to you, ace reporter Mary Bingham, to delve into the town's hidden mysteries to discover the truth. But first you'll need to understand the strange inhabitants to solve the riddle of the shuttered toy factory. Is the ominous figure in black trying to help you, or is he leading you into certain peril? What lies beyond the elaborate labyrinth? Uncover a new world of shocking secrets as you hunt for clues in this heart-stopping mystery-adventure!
Truly unique and challenging mini-games
An exciting out-of-this-world adventure
Novel inventory system enriches gameplay
Game System Requirements:
OS:

Windows XP/Windows Vista/Windows 7/Windows 8

CPU:

2.0 GHz

RAM:

2048 MB

DirectX:

9.0

Hard Drive:

525 MB
Game Manager System Requirements:
Browser:

Internet Explorer 7 or later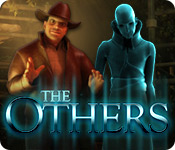 NEW299
The Big Fish Guarantee:
Quality tested and virus free.
No ads, no adware, no spyware.

Reviews at a Glance

The Others
0
out of
5 (
0
Reviews
Review
)
Customer Reviews
Fun Game,,
This review is based on completed game. It is an excellent game for everyone. Graphics were great and voices were awesome to the characters, no map nor diary but really didn't need it. No collectables and all that jazz which is a nice change for once. This game was just good old fashion fun. Loved the ending. So if you just want something fun to play this is it,
March 22, 2014
Excellent!!
Another great game by Big Fish. Great graphics. Hint button directs where to go next. Good story line. Loved it.
March 13, 2014
Backtrack to the Future...
This was a great game! I didn't see the ending coming, and those images were as real as it can get. I won't repeat the points (good or bad) to this game as other reviewers have done an excellent job of that. This is a definite buy. :o)
March 12, 2014
Deja-vu
The voice of the alien leader is that of the narrator for FATE Love that touch! This game is a 10 for sure , keep em coming Big Fish
March 15, 2014
beam me up
soo nice to see our ancestors portrayed in a game. it wasn't a wow game ,but I got involved in it and boom it was over. though others are saying it's old school looking ,i guess I needed that to play.i thought it could have used a bit of work but the characters made up for it. it was a nice challenge not having all that hand holding that a lot of games do lately. refreshing to have to figure things out on my own a bit..old school lol. will play again..
March 19, 2014
fun but puzzles are too short
I think this is a fun game and has different puzzles than usual but they are so short. if they would have more rounds they would be much better, you look for the object to start the puzzle for a long time and then is over in just a few seconds.
March 14, 2014
Fun & a little different HOG.
I really liked this game. You play Mary, an investigative reporter, sent to this small, abandoned town because the previous reporter has fled in fear, saying he could see someone watching him from every window in the town, something not of this world. You discover the toy maker's shop is closed, the owner and the employees gone, most everyone in the town have run away. Why? The graphics are really good, very clear & sharp & fun. The HOG's are not too difficult (but not too easy, either). A fun element is that a few of the words describing the objects to be found are in blue. Clicking on the blue word gives you a choice of three words, only one of which is the object that is hidden. For example, you see the word "gun" in blue, but there is no gun in the HO scene. Click on the word "gun" and it will change, for example, to "rabbit". But there is no rabbit in the scene. Click on the word "rabbit" and it will change, for example, to "skull" - and there IS a skull! Different - keeps things interesting. I like the mini-games, too. You get to play a "Whack-a-mole" type game, and a game like the "claw" game you find in arcades. You take a boat through a haunted ride with things jumping out at you, and you even have to use the ATM machine to get money out as they don't take credit cards! LOL! I found this game to be fun, different from the "horror", "demonic" or "fear" games that are so prevalent lately. Great game.
May 4, 2014
Not like the other games.....
I was a bit unsure at the beginning of this game, but it definitely got better as it went along. Whilst the graphics weren't the 'wow factor' of the CE games, they were still well done. What i liked most about it was that it wasn't the easy-breezy games you see a lot of. You did have to think on occasion. The storyline was a bit slow near the beginning, but then started to pick up pace. And was slightly different to the usual 'plots'. Only complaint i have is that just as it totally captured my interest, it was suddenly over. I really hope there will be a sequel. I would give this 3 1/2 stars if it were a CE, but as a SE it is definitely worth all 5.
April 16, 2014
UNIQUE HOS
Mary Bingham has solved the mystery of why all the workers at the toy factory have disappeared. Follow her steps. PROS: 3 modes of difficulty Good voice overs Fairly good hint system outside of HOS HOS are lists and crowded but detailed Click blue names in HOS list to change name of object you're looking for Good sound effects Relatively scary scenes suddenly appear without warning CONS: No journal No map Story is slowly developed Blah music doesn't change to suspenseful when appropriate
March 12, 2014
One Of These Things Is Not Like "The Others"
There is definitely an older feel to this, as the artwork is not nearly as detailed as what we see in newer games, and the result is somewhat "flat" looking objects. However, the cut scenes are fairly well done, while still in a 3-D style that is also reminiscent of a few years back. The game did fill my Windows screen completely although my monitor may have stretched it automatically. I did not experience any of the reported cursor sticking during the trial. Setting: You are a reporter following up on a story about the disappearance of all the workers and the owner of a toy factory in a small town. The hidden object scenes are easy, I think the first one took less than 30 seconds to complete. They do have a twist as the highlighted items may not be the ones to find. Click the highlighted item name and cycle through three possible items to choose from, only one of which can be found in the scene. This adds a small degree of difficulty. Puzzles are mosly simple as well and, as expected with the older feel, none are really new. This is not necessarily bad as it helps to keep the story moving without getting bogged down with one puzzle. During the demo, everything takes place at night and the palette is moslty browns, grays and reds. Navigation is another clue as to the age of the game as the arrows are not in consistent locations and navigation is not always intuitive. However this was really not too much of an issue. One of the locations is an amusement park fun house. This was the most fun part of the trial and very amusing. Without giving too much away, the "villians" reminded me of creatures from an original star trek pilot episode. Voices are well acted and appropriate, but every single word is voiced, including when clicking an area where something is needed. It does become annoying, but you can click out of the scene to cut it short. Despite the technical shortcomings, I would cautiously recommend this game because it seems to have an interesting story that is different than what we normally see. There is no map or journal so that dictates what the game play will be like. Then again, if you find you don't like this game, try one of The Others.
March 14, 2014
The Apple logo is a trademark of Apple Computer, Inc.