The Others
A local toymaker and all his factory workers mysteriously vanished on the same night. It's up to you, ace reporter Mary Bingham, to delve into the town's hidden mysteries to discover the truth. But first you'll need to understand the strange inhabitants to solve the riddle of the shuttered toy factory. Is the ominous figure in black trying to help you, or is he leading you into certain peril? What lies beyond the elaborate labyrinth? Uncover a new world of shocking secrets as you hunt for clues in this heart-stopping mystery-adventure!
Truly unique and challenging mini-games
An exciting out-of-this-world adventure
Novel inventory system enriches gameplay
Game System Requirements:
OS:

Windows XP/Windows Vista/Windows 7/Windows 8

CPU:

2.0 GHz

RAM:

2048 MB

DirectX:

9.0

Hard Drive:

525 MB
Game Manager System Requirements:
Browser:

Internet Explorer 7 or later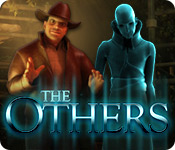 NEW299
The Big Fish Guarantee:
Quality tested and virus free.
No ads, no adware, no spyware.

Reviews at a Glance

The Others
0
out of
5 (
0
Reviews
Review
)
Customer Reviews
One Of These Things Is Not Like "The Others"
There is definitely an older feel to this, as the artwork is not nearly as detailed as what we see in newer games, and the result is somewhat "flat" looking objects. However, the cut scenes are fairly well done, while still in a 3-D style that is also reminiscent of a few years back. The game did fill my Windows screen completely although my monitor may have stretched it automatically. I did not experience any of the reported cursor sticking during the trial. Setting: You are a reporter following up on a story about the disappearance of all the workers and the owner of a toy factory in a small town. The hidden object scenes are easy, I think the first one took less than 30 seconds to complete. They do have a twist as the highlighted items may not be the ones to find. Click the highlighted item name and cycle through three possible items to choose from, only one of which can be found in the scene. This adds a small degree of difficulty. Puzzles are mosly simple as well and, as expected with the older feel, none are really new. This is not necessarily bad as it helps to keep the story moving without getting bogged down with one puzzle. During the demo, everything takes place at night and the palette is moslty browns, grays and reds. Navigation is another clue as to the age of the game as the arrows are not in consistent locations and navigation is not always intuitive. However this was really not too much of an issue. One of the locations is an amusement park fun house. This was the most fun part of the trial and very amusing. Without giving too much away, the "villians" reminded me of creatures from an original star trek pilot episode. Voices are well acted and appropriate, but every single word is voiced, including when clicking an area where something is needed. It does become annoying, but you can click out of the scene to cut it short. Despite the technical shortcomings, I would cautiously recommend this game because it seems to have an interesting story that is different than what we normally see. There is no map or journal so that dictates what the game play will be like. Then again, if you find you don't like this game, try one of The Others.
March 14, 2014
The Others.......fun,fun,fun !!
I really enjoyed this game, it was a change from the usual. I only played the demo but it's a buy for me, definitely. The H.O scenes were a bit different in that you had a choice in things to find ( I don't know if all the things were there though...you just had to click on the blue ones in the list and it gave you 3 choices of what to find ) Game play was smooth and the graphics were clear. The story seems good from what I saw.....it's one of those ' take your time ' games....you need to have a good look around as things aren't obvious sometimes. I played on the middle of 3 difficulty levels and HOS sparkled.....but nothing else. No map, no black band clues but the hint was good.
March 12, 2014
The Others is different from all the others :)
I applaud the developer for coming out with an SE that has a great story line and is different than the glut of the usual games we see released here. This is a nicely done game. No, it doesn't have any "bling" included (no map, no journal, nothing), but that is ok. The game ran fine on my computer. You are a reporter who is out to find out what happened to a toy factory that closed down and shut the town down with it. There are many locations to explore, however each location only has one or two things to complete in that area. The hint button is directional if you get lost. There is a lot of back and forth. There are quite a few HOS. Each scene has 3 "mystery" items written in blue. You must click on the blue writing which changes the description of the item to see which item is located in that particular scene. There were jump moments where things popped out of nowhere. I must admit I did jump when she was in the haunted amusement ride. The reporter speaks throughout the entire game. It did not bother me. I'm not sure how long this game is. The demo was fun. Yes, the game has an older feel to it, but I liked it, which surprised me because I usually do NOT like HO heavy games. I suggest you demo and see if it appeals to you. I recommend as long as you do not have technical difficulties with the game.
March 12, 2014
Different and Fun
Review of completed game: -pros hos cluttery but clear story was original :) cinamatics were wonderfully done hint system was very clear and good to have -cons no map no journal so write down what is pertinent ie: coffee clues in the room u need to give it too. you do things for ppl but some you do not get anything from. alot of back and forth. -personal thoughts- i really enjoyed playing the game my real only complaint is the game was a bit too short and the ending was a bit abrupt. alot of just getting one thing from one area then back to another area and so on.... very done all in all i gave it 4 stars because alot of thought went into making it original and not run of the mill ending..kudos for that :) p.s. the pros really out weigh the cons at least give it a try :)
March 12, 2014
Finally a Good Ending
This was a very solid game. No extras, maps (which would have been nice because at times there is too much back and forth), collectibles, etc. However a very solid and interesting story, a little sci fi action. A nice change of pace from the normal romance, fairy tale, detectives, period pieces, and so on. Other reviewers have provided the game details. I just wanted to say Bravo to the developers for finally providing an ending worth playing for. Much more than the typical "the end" after your final task.
March 21, 2014
The Others....are waiting for you!
I loved this game. You will really enjoy the characters you meet and the tasks you have to complete to discover the truth about Jones and the toy store. Shelly Callahan (I think that's her name) does a great job with the voice. I loved the secret entrance you access with a card. The conclusion is worth traveling all around town, searching for clues, ho's, and unique puzzles. I wish it was longer, but I still rate it 5 stars. It's rare to find a cool sci-fi game, so thanks Bigfish!
March 16, 2014
Different and Fun
This was enjoyable with the storyline and type of play. Different from Hidden Object and more like an adventure. This might have sequels to it as the ending made you believe there will be more coming.
March 15, 2014
Nice Game - Innovative
This is a fun game based on the 1 hour trial. I am impressed with one aspect in particular that I have not seen in other games. I love anything that deviates from the norm (is different.) When you hit the 'Hint' button during an HOS (when only a few items remain), you can click the inventory names and it will toggle to a couple alternatives - So for example 'whale' if clicked can become 'hat' and click again it may be 'can opener' - so sometimes things listed are really not in the scene and are hidden in a different way than usual. Nice game!
March 13, 2014
Who was that guy in the argyle snuggie?
Game seemed rather short, but graphics were good. The ending was a bit of, well, abrupt. Certain elements made little or no sense, such as the dinosaurs. The HOS were nice because of the ability to change certain items. That was a plus. I did get stuck at one point and had to resort to the tips on the forum.
March 23, 2014
Odd little gem
This was a very fun albeit short game. The HOG's were quite easy, the puzzles were a little challenging. There was one puzzle that was so much fun and done really well even though it was simple. But what drew me in was the unusual story line. There's a few wow moments where I was just not expecting the story to go a certain way which is really cool and hard to do with the glut of adventure games now (not that I am complaining). I also liked the unusual visual style, reminded me of film noir. It's a great game for a lazy afternoon.
March 21, 2014
The Apple logo is a trademark of Apple Computer, Inc.