The Others
A local toymaker and all his factory workers mysteriously vanished on the same night. It's up to you, ace reporter Mary Bingham, to delve into the town's hidden mysteries to discover the truth. But first you'll need to understand the strange inhabitants to solve the riddle of the shuttered toy factory. Is the ominous figure in black trying to help you, or is he leading you into certain peril? What lies beyond the elaborate labyrinth? Uncover a new world of shocking secrets as you hunt for clues in this heart-stopping mystery-adventure!
Truly unique and challenging mini-games
An exciting out-of-this-world adventure
Novel inventory system enriches gameplay
Game System Requirements:
OS:

Windows XP/Windows Vista/Windows 7/Windows 8

CPU:

2.0 GHz

RAM:

2048 MB

DirectX:

9.0

Hard Drive:

525 MB
Game Manager System Requirements:
Browser:

Internet Explorer 7 or later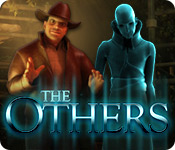 NEW299
The Big Fish Guarantee:
Quality tested and virus free.
No ads, no adware, no spyware.

Reviews at a Glance

The Others
0
out of
5 (
0
Reviews
Review
)
Customer Reviews
story line was horrible
I am so glad I used my game credit to get this game. The HOS are not hard and not too dark. The mini games however were down right simple. I would think this game is for children and quite safe for them as well. The story line was horrible and predictable. A journalist (what else is new) is hot on the trail of story about a missing "man". Will she find him? Will she discover the truth? Why did he go missing? most horrible of all though was the end of the plot where we find that the human race is just bad. If you really feel the need to download this game then I suggest you play the free trial first.
March 14, 2014
If only . . . .
This game had so much promise. With just a couple of tweaks I would have rated a 4 or 5. My number one issue is that there is no map included to help you navigate. With this game, as in several others, there is no way to know where to go without using a hint. There are just too many possibilities. And second, the puzzles were just way too hard, period. I do not like to give up on puzzles at all, but for many here I had no choice. One puzzle in particular, the one in the tree with the computer, was incredibly difficult. I did not want to skip it so I spent 15 or more minutes just typing in until I guessed the right answer. I definitely see there is room for a sequel and would love to play it, with those two changes.
March 16, 2014
Backtracking Galore!
Boring! The whole game consists of backtracking with no map.Puzzles are basically the same.Can't wait for it to end.Just wished I hadn't wasted a free coupon on it!
March 16, 2014
Why the Aliens ?
Before I discovered Big Fish I played a series of games called Mortimer Beckett on another site which are made by Paprikari, the maker of this game. Whilst I loved the game play the story line, for me, was silly. I'm not a lover of ghosts, aliens and the like and as I am hard of hearing I tend to play most games on silent so was disappointed by the story line. Mortimer Beckett was far gentler and I preferred the story lines. I'm still deciding whether to buy this game or not as the game play is really good but the story line, for me, spoils it.
March 14, 2014
hum is in my mind
there is a lot of elements missing, a map for 1 to many ho,s simplistic mini-games. so many places! sketchy instructions .tedious hos,every where you go is dark and foggy. most of the time the hint button was my only clue as to where to go next . well little fishies u decide
March 12, 2014
HO Delima
If you play this game be aware that you need to click on blue words in item list. Sometimes up to three click to find the right item that will be in the HO scene. It took me a bit to figure it out. The game is very interesting. A little slow. Great for beginners. I would buy it on a rainy day special. Boring music and no map.
March 12, 2014
Great Ideas, But Far Too Short
This is a little game you might otherwise overlook that has a really interesting story going for it. You play a reporter who heads into a small town to search for a missing toy manufacturer but gets roped into a story much bigger (and stranger) than that. While aliens in themselves aren't new to the hidden object genre, the direction this game chooses to take them in is interesting to say the least. The game itself is both relatively easy and pretty short, so experienced gamers will probably blow through it in an hour or two even at the highest difficulty. There are plenty of hidden object scenes, and they are very easy, with the small adjustment being some items that you have to scroll through some options before you can find one. Minigames are also very simple, and there are some repetitions, especially with the tile flipping kind. I would have appreciated a bit more variety in such a short game. There are plenty of characters you'll encounter, which is a bit of a rarity in games such as these, and the voice acting and graphics are not bad. I felt like this game had one of the best introductions I've seen in a while, but the protagonist is not taken aback even in the slightest when things get weird early on. The end of the game is puzzling but hints at something grander, sort of like the developers wanted to make a grand point and used an HO game to do it. Ultimately, it makes you think, which is good, and does have some unique looks going for it. If you're looking for a quick diversion that's distinctly different than what you've seen before (at least in terms of ideas), this will suit you just fine.
December 10, 2014
Three Reasons Why...
BASED ON DEMO I can?t play this game, let alone recommend it. FIRST REASON This game is old. As in not just old-fashioned, as in copyright in 2012 old. And it shows. The style is the HOG-heavy, realistic graphics, rudimentary story, type of older game. There is no widescreen and no aspect correction. The location graphics are flat, and/or fuzzy, the HOP scenes are grainy and static, no animation. Just slightly interactive word lists, and piled up junk. There is no map or journal, and only one puzzle so far. There ARE 3 levels of difficulty though. SECOND REASON The game has great voiceovers. A little overacted, but clear and well done. Unfortunately, every little black bar comment is spoken. And every conversation. It is harrowing after only a few minutes. Especially with that somewhat strident, over-precise tone. Normally I love well done voiceovers, this one, I couldn?t wait to shut off. But of course, you lose the special effects sounds that way. Still, both these reasons are not, on their own, enough to deter me normally. THIRD & ONLY NECESSARY REASON As the game progresses, the cursor gets more and more sticky. I found I could only play about 10 minutes at a time before the cursor would.stop.for.a.rest.after.each.click. Totally unplayable. If you want to exit every 10 minutes, it will reset to no lag, but it takes such a short time to freeze up again! WHY YOU MIGHT LIKE IT ANYWAY Obviously, I don?t like the game. But it is, excepting the above, fairly well done. The story involves some new elements as well as the standard ones. We are investigating the mysterious closure of a toy factory. Don?t remember seeing that before. You must work your way through a labyrinth to find answers ? not new, but usually entertaining. What has happened to a whole town of people? And remember, you may be watching on a smaller monitor than me. You CAN mute the voices. And for all I know, you won?t experience any lag at all on your machine. So if you like HOPs, and simplicity in design, and you?re lucky, you may like this game. But I can?t recommend it.
March 12, 2014
The Others..
Though this is an average game in all aspects I might still want to play it. The average games can be really frun very often. But this one is not fun for me because I am always irritated and distracted by the talking of the hero. One of the recently released games allows us to mute the hero's voice and I appreciate it very much. I hope it becomes a common application. Because of the constant voice of the heroine I skip this game.
March 12, 2014
Not for me
graphics horrible. i have sufficed on 20 min. definately not...
March 16, 2014
The Apple logo is a trademark of Apple Computer, Inc.