Nightmares from the Deep: Davy Jones Collector's Edition
Brought to you by Artifex Mundi, the creators of the Enigmatis series and Grim Legends: The Forsaken Bride.

Nightmares from the Deep: Davy Jones is the final chapter in the pirate trilogy Nightmares from the Deep, and tells the story of fearless museum custodian Sarah Black and her daughter, Cory.

After discovering mysterious notes confirming the truth of the Davy Jones legend, Sarah calls a press conference to reveal to the whole world that the old sea-devil and his mythical treasure are real, hidden away on a mysterious island.

Suddenly, the galleon of the infamous pirate appears on the horizon, and Davy Jones himself breaks into the museum to kidnap Sarah and her daughter.

Both Sarah and her daughter are thrown into the brig of Jones' ship. They manage to escape, and while searching for a way back to shore, they discover dark secrets about the ship's otherworldly origins. But before they can escape on one of the lifeboats, they are caught, and to save her mother, Cory agrees to a sign a dark pact with Davy Jones...

This is a special Collector's Edition release full of exclusive extras you won't find in the standard version. As a bonus, Collector's Edition purchases count toward three stamps on your Monthly Game Club Punch Card!

The Collector's Edition includes:
Bonus gameplay that expands the world of Davy Jones' island
Enhanced gameplay features
3 unique collectable sets to complete
Achievements, wallpapers, soundtracks, concept art, and more!
Game System Requirements:
OS:

Windows XP/Windows Vista/Windows 7/Windows 8

CPU:

2.0 GHz

RAM:

1024 MB

DirectX:

9.0

Hard Drive:

1939 MB
Game Manager System Requirements:
Browser:

Internet Explorer 7 or later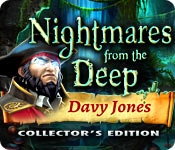 The Big Fish Guarantee:
Quality tested and virus free.
No ads, no adware, no spyware.

Reviews at a Glance

Nightmares from the Deep: Davy Jones Collector's Edition
0
out of
5 (
0
Reviews
Review
)
Customer Reviews
Nightmares from the Deep: Davy Jones Collector's Edition
66
66
Jolly good but play them all!
I don't automatically agree that this is the best in the series without stating that it is the best BECAUSE I've played the other two! This dev has really made a series that just becomes better but the first one is still fantastic, so you have to start with that one to really get the amazing power of this, the last one! I advise everyone to play all three and you will be in for quite an adventure, with lots of collectibles, lots of fantastic voiceovers and screenplay and some really marvellous pirate stories! The HOS are so full of variety and if you get fed up with them anyway you can always chose a game of mahjong instead:) The big plus in these stories will always be the interaction with the characters which I think is outstanding for any hidden object game!
March 30, 2014
DAVY JONES, AMAZING GAME
LOVE THIS SEQUEL! BEAUTIFULLY DONE!
March 30, 2014
Another Great Game In This Series ...
Great Graphics, Sounds, Effects, Voice & Video Bits ... A Great Follow On In This Series ... But Does This One Bring It All To An End ??? A Few Typo's Here And There, But Generally Very Well Polished ... The Game Seemed To Last Forever And The Bonus Chapter Was reasonably Long Too ... Excellent Value For Money Game On A Special Deal ...
March 29, 2014
awesome
because I LOVE NIGHTMARE FROM THE DEEP!!!!!!!!!!!!!!!!!!!!!!!!!!!!
March 28, 2014
Kitty's Thoughts: And the situation is the daughter? AGAIN???
As always, I returned again! After I finally finished the previous "Nightmares From the Deep", this game is far from perfection. One of the things I will salute to them is the fun in this game. I indeed had so much fun that I stayed glued to the game for a whole hour without even noticing it. Now, when you get me that hooked, I had to salute you. There's only a few games that fully grasped my attention for so long. And, I still want to play it.... However, again Collector Edition is debatable. Here's why? Now, one of my most disappointing issue is the story. If you are one of those who played the previous games, you were warned about your meddling with Davy Jones. However, I was expecting... no... I was hoping that it would only effect Ms. Black personally not her daughter again like the first one. Do I have a problem of the story going that way?? Yes and a little bit of a No. The story is indeed okay, but it would of been better if it had more direct effect with the character we play. Since her name was "Black", I was hoping more of a pirate direct line that Davy Jones would take advantage of and at least get a spoon full of fright. Which this game lacked too. I liked in the earlier two games that I felt scared even though I shouldn't be. Reason for that is the careful combination of creepy ambiance, music, and of course my personal favorite ghosts. Now, if feels kinda light hearted from the creepy, scary from the earlier games. The challenge and puzzles are pretty good, and the sound needs more to be desired. I can't say much because you had to play the previous game to know what I meant. I feel strongly like I recalled the music before. Overall, visuals are great, but it can be easily overlooked with reused music, okay story line. I feel like the first one was indeed the best regardless of no buff ups of looks or improvements. Sadly again, I don't feel like I would regret not buying the collector editions like the previous games. Overall, I will still recommend it if you want to go full fledged crazy with collecting. -Kitty Out!
March 27, 2014
ENTERTAINING
Follow the legend of Davy Jones in this visually-appealing production. Help free the signers of a Davy Jones past. Voice overs sound realistic with the proper amount of emotion. Graphics and use of color palettes are outstanding. Story and frequent cutscenes are well-developed. Good ratio of puzzles to HOS. Several types of interactive HOS. Puzzles are fun and interesting, but are relatively easy to complete; they could be more challenging. Objects are found close to where they will be used. Gameplay is straightforward. Although not strictly linear, it is a simple matter of logic to figure out what to do and where to go next. With all the attention to detail, it is an entertaining game. The CE has quite a few different types of collectibles and achievements, in addition to the usual bonus game and extras to make it worth the extra price.
March 27, 2014
The soft side of an old sea salt
Review is based on completion of collector's edition regular and bonus game. This game shows us another side of Davy Jones - his early life, and what caused him to become a tyrant. So, the storyline is relatively interesting and enjoyable. Here's a breakdown of what I found good (and some notsomuch). PROS: *Artwork pleasant and reasonably well drawn. *Good length of game play (@ 5-6 hours, w/regular + bonus) *Music/sound effects appropriate to theme & not intrusive *Decent storyline *Game play free of glitches *Option to play mah jongg instead of finding items in HO scenes *Interactive map *Guide available from game screen *Achievements viewable during gameplay *Ability to skip/click through cut scenes and voiceovers CONS: *Most puzzles/mini games not challenging *Some items in HO games quite difficult to find *No morphing objects Obviously, it's impossible to create a game that's perfect for different players of differing skill levels. I'm not an expert player, so if puzzles are too hard, that's a turn off, too, but most of these didn't seem to require much thinking. I ended up playing mah jongg a few times because I absolutely couldn't find the last item on a list (and usually have no problem with HO scenes). The morphing objects aren't a big deal just a feature I enjoy. I've played and enjoyed all three of the Nightmares From The Deep games. This one felt a easier, and as if there were maybe a little less attention to detail but overall quite enjoyable and well done.
March 31, 2014
Great Story! Will Be A Nice End to the Trilogy.
BASED ON ONE HOUR TRIAL This is the final game in the Nightmares from the Deep trilogy, and while it's not as good as the two before it, it promises to be an exciting finish! My trial ran out before I could finish the demo (I don't know how that happened), so I didn't get a full picture of the game, but I really enjoyed what I got! Like both other games, this one is most definitely about the story. The story is actually brilliant! It's totally different from the two before it, while still tying in with the ideas from the previous two games. The story takes a different turn than usual. You're trying to save your daughter, but you're also trying to save everyone else as well. What I really enjoyed about the story was the unexpected twists it had. I was expecting something similar to the previous two games, but it was nothing like it. You have to set around to find something that will void the pact signed by your daughter- something that's never happened before. This story also has an element of mystery to it. Who is the ghostly girl? This issue was not addressed in the one hour free trial. Something really appeals to me about the idea of voiding pacts and saving people. This story gripped me almost from the moment it started, and I can't wait to see how it ends. As well as the main story, there's also the backstory. This is a similar thing to the other two games in the series and I really enjoyed this one. It goes through Davy Jones' memories to tell you why he does what he does (or that's what I'm guessing anyway). There are 12 stages of the story, as in previous games. I got through three in one hour. I think this backstory will prove to be a great addition! What I found annoying about this game was that it relied 100% on the story to carry it through. For those who don't like the story, that's a buyer lost right there. There was nothing different about the gameplay and thus, nothing fun about it. There was nothing that made this game stand out from the others. I would have liked to have seen some unique element of gameplay. It would have made the game much more fun and much more enjoyable. But instead, we're left with the same basic gameplay as every other HOPA. This meant that the story had to be absolutely brilliant, so good that I would have to buy the game based on the story alone. Lucky that it was, but other times, the developer may not be so lucky. For their next game, I'd like to see a bit more effort put in to the gameplay; something unique, something fun. Something so awesome that's not in the other games. On the basics, the HOS were enjoyable, but again, they were exactly the same that we see time and time again. The HOS were a little bit more challenging than I was used to though. To the developer's credit, they have changed the HOS a bit. Instead of just one type, there are three. There is the classic junkpile, the silhouette scenes and fragmented object scenes. I think I found the fragmented scenes the hardest, but the other two were quite easy in comparison. That being said, I did enjoy playing them. I also enjoyed the fact that there was an alternative to HOS; it's good for those who don't like HOS or just want to try something different. In this case, it's mahjong, and you have to match tiles of a certain colour to remove an item from the list. Once all of these tiles are gone, the HOS is over. A nice feature. The puzzles were a little harder, but I still enjoyed attempting them. They had nice clear instructions. There were some new and some old and each varied in difficulty. There were some that were quite easy and others that were a little bit hard. It's good to see that the developers are accounting for every puzzler and not just making every puzzle easy or every puzzle hard. Good job. This is basically your standard HOPA. There's no helpers, no fancy features, nothing. It's exactly like the other two games. While I don't care much for animal helpers, I would have liked to see some new features or new styles of gameplay. The graphics are the Artifex usual- clear and with amazing detail. The character designs are especially good, but everything in the game was drawn brilliantly. I don't know how long it took to design the graphics, but they're amazing! Top class as usual. The voice-overs were standard. I have no issue. But what I loved about this game were the characters and the voices themselves, especially the character of the skull (found near the game). His lines were amusing and made the game a bit more enjoyable. The voice for this character is perfect. Great to see that Artifex are including humour in their games! FEATURES 3 modes of difficulty: Casual, Advanced, Hard. Same differences as usual. I played Casual. Hint/Skip- both recharge at a reasonable rate for the difficulty selected. Hint is useful outside of HOS. Diary- keeps track of events. Map- interactive and helpful. 12 doubloons- you need these to open up the new chapters to the Davy Jones backstory. CE EXCLUSIVES Bonus chapter- most likely not needed. Achievements- there are a lot of these. Great for those who like achievements. Collectibles- there are three types: puzzle pieces, seahorses and pirate cards. There are lots of collectibles in this game, so will be enjoyable for those who like collecting things. Built-in Strategy Guide- great for help with puzzles. Concept Art Wallpapers Music Replay HOS & Puzzles I think what's swayed me to buy this is that I have the other two games and this is a trilogy. I think I'm going to buy the SE. Artifex are working on it, but I still don't think the CE is worth it The only reason I'm buying is for the story and the fact it's a trilogy. I think the gameplay needs some serious working on. I like HOS and stuff, but I'm starting to tire of the same old gameplay each and every time. It's time leading developers like Artifex changed up their gameplay a little and added some stuff that was awesome and unique. That way, their games would be a lot more enjoyable. This is a four star game for me. I can't bring myself to give it a five.
March 28, 2014
Yo Ho Ho 3rd in the Sequel
They say the last of the Nightmares from the Deep sequel but who knows for sure. Graphics are well done as is usual for these games. Demo review only and I usually wait for a buy one/get one free sale on the Collectors games. Collectibles are 10 pirate cards and 12 sea horses along with the usual outstanding CE extras--bonus game, wallpaper, music, etc. Beginning scene mom and daughter are again presenting a show at the museum when the lights go out. Daughter passes mom her LV bag--which you know the zipper won't be broke on that purse--for a flash light. The usual beginning. Here comes Davy Jones. Dag pirates always crashing into the museum! No respect. Davy does not want his secrets revealed. The Cursed Heart was one of my favorites. I just don't see how it can be done any better. The Devs hit on a winner and are working it. Enjoy! -Mama Mia-
March 27, 2014
here comes Davy!!
The third game in the Nightmares from the Deep series by Artifex Mundi ---------------------------------------------------------------------------------------------- Another Nightmares from the Deep game!! you're once again the curator of the Caribbean Museum. This time you are dealing with Davy Jones. Action packed adventure game right from the very beginning! Different from the one on the Caribbean movie, this time we deal with Davy Jones mostly in dry land, and he's in human form :) There are 3 levels of difficulties. Characters and sceneries are beautifully drawn. VO is a bit off, not much expression there, sadly. HO and puzzles are not too many but a bit difficult. Skip button recharges very slowly. Map is pretty useful. Extras are the usual stuff. Nothing new. I recommend this game because the story is nice and unique. It keeps you wanting for more.
June 22, 2014
The Apple logo is a trademark of Apple Computer, Inc.