Bridge to Another World: Burnt Dreams Collector's Edition
Exclusive
You'll never forget the day the monstrous mist rose up and snatched away your little brother – while you watched helplessly from the bridge. But now, after twenty years, the mist has returned – and so has your determination to free him. But first you must confront the evil Countess, who keeps him painting creatures she has learned to burn into reality! Can you face your fears and help your brother finally escape the mysterious island where his dreams come to life - or will the whole world enter the mist? Enter a world where art and reality join hands, in this heart-stopping, hidden-object adventure!

This is a special Collector's Edition release full of exclusive extras you won't find in the standard version. As a bonus, Collector's Edition purchases count toward three stamps on your Monthly Game Club Punch Card!

The Collector's Edition includes:
Gripping bonus gameplay
Exciting new quests
Unlockable collectibles and achievements
Stunning wallpapers and concept art
Integrated strategy guide
Game System Requirements:
OS:

Windows XP/Windows Vista/Windows 7/Windows 8

CPU:

1.0 GHz

RAM:

1024 MB

DirectX:

8.1

Hard Drive:

934 MB
Game Manager System Requirements:
Browser:

Internet Explorer 7 or later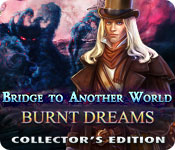 The Big Fish Guarantee:
Quality tested and virus free.
No ads, no adware, no spyware.

Reviews at a Glance

Bridge to Another World: Burnt Dreams Collector's Edition
0
out of
5 (
0
Reviews
Review
)
Customer Reviews
Bridge to Another World: Burnt Dreams Collector's Edition
43
43
An Enjoyable Game
I played the one hour demo and found the game very pleasing to my surprise. Others have pointed out the good qualities of the game so there is nothing else I can add, except; I really enjoyed the game. Loved those voice overs, the fairies and other animals. It is part fantasy and part adventure/drama. The CE is a buy for me, I am glad there is a special price running today.
March 29, 2014
A Very Enjoyable Game ...
Great Graphics, Sounds, Effects, Voice & Video Bits ... A Great Game, But Sadly I Found The Flow Of Things A Bit Too Linear ... I Often Found I Could Go No Further Unless I Returned Somewhere Else To Finish Other Puzzles To Reveal HOGS, So A Lot Of Back And Forth In This Game ... The Extra Game Was A Nice Finish To The Game, But To Be Honest Doesn't Merit A CE Price ...
April 5, 2014
Not bad!!!
Give these developers a break. I don't think most of us can do what they do. They are constantly working on games to please us. What they do is amazing. This game might not have all the others have it's worth a try.
March 29, 2014
would you wait that long to find your sibling
based on demo. I played the whole demo. will wait for the se game. Tinkerbelle from h I see. fairies should be cutesy no provocative. and this ones telepathic unless these old eyes couldn't see. lol. I didn't say oh wow got to get this one, interesting enough but will wait for se and probably not top ten I will buy from my list. also want to know where's elephant games..Easter break? enjoy as I know I eventually will.
March 29, 2014
I thought it would be better
I haven't reviewed any games for a couple of months because there hasn't been anything compelling enough for me to offer an opinion. Too many new entries are merely rehashes of previously introduced games. So when Burnt Dreams began, I was initially optimistic. Alas my hopes have been dashed. I don't mind HOPA's in the fantasy genre, primarily in that I often play them with a 7 year old grandson. Kids find cute and loveable creatures ( there is a little dragon and a fairy present here# a fun part of the game. Unfortunately the storyline offers nothing novel. The player's brother has been kidnapped for whatever reason and the player# a male for a change !! ) is tasked to find him. We come across obstacles along the way in the form of puzzles, HOG scenes, etc. until the villainess makes an appearance at the end of the demo. HO HUM !! I realize that with the thousands of such games now created that developers might be at somewhat at a loss for originality. I just wish that we would not constantly be getting rerun after rerun. Perhaps the game improves as it progresses, I certainly hope so. IMO, Burnt Dreams is not worth the price of a CE. Should I read other reviews that make the game compelling, I may give the SE a go but only for the enjoyment of the aforementioned grandkid. I have been convinced for quite a while that a new game everyday might not be a good thing since the devs seem to be under pressure to crank out game after game for the sake of having something " new " every day. This is a case of what's old is not necessarily new. For the time being, I will keep to replaying older games that keep my interest. Judge for yourself.
March 29, 2014
Kitty's Thoughts: Art Talent Not Included!
For a game about art, I am surprised by the lack of effort. Furthermost, one of the things I would like to point out was the sound and visuals. Out of honesty, I find the track of this game a tad too dreary. It's almost sleep like and boring. Unfortunately, the visuals don't help much as well. Even though the images look nice, I can't help that it feels blurry in some areas. Overall, I understand the mist part, but even in areas without mist has the same dull blur. The game is only fun at a point. However, regardless that I played a full hour, I kept feeling like I'm forcing myself to play to figure out why this game is a 5 star to most. In my opinion, it doesn't have the best visuals, sounds, nor story line to even get such a high rating. I liked the challenge in this game like the puzzles. and the number of things to do keeps increasing. However, you might find yourself holding on to junk for a long period of time before you see the purpose of use it. In the end, you're going to have to scroll through a list of stuff to get what you need. Finally, the story kinda kept me lightly interested. Again, a lack of consistency between making the characters 3d and 2d which I dislike the most. However, the main character's brother was kidnapped in the mist. And as the adult/older brother, you have to save him. It's a typical reused story line which you can probably predict the ending. However, the only mystery would be the various outcome of that ending.It has a decent value, but honestly I can only give this game 3 stars. For some reason, this game doesn't have enough charm, originality, and story variation to deserve a 4-5 stars. However, I require only a standard edition. It's an okay game. No recommendation for collectors. You're better off. Tiger OUT!
March 30, 2014
Been There. Done That
I don't have anything bad to say about this game. It works. There is a mix of hidden objects and a few easy puzzles. It may be of more interest for a child or early teen player. For an adult or later teen it is too easy and I have seen this all before: The fairy, the baby dragon companion. Ho hum.
March 29, 2014
Bridge to another World Burnt Dreams: I didn't buy, so my dreams weren't burnt
Oh my... how many ways can one spell 'bad', lol. Initially [based on the trailer video] I truly thought this game looked promising and was glad to see something other than in-your-face ghosts and demons, yet the anticipation for a good game didn't last long! Not only does this appear to be a repeat of most every other game [including another shadow 'thingy'], even some of the music is recycled from another series. The graphics were ok in a few areas, yet were quite bleak overall and generally not consistent. To my eye the characters were very odd and unappealing as they were presented us. Again, as did the music sound familiar, so too did the style of graphics and really.. we have had just too much of this era/style to last a lifetime of gaming. So, truthfully I didn't get very far with this game after all because around the time I got to the part with the the creepy little creature in a backpack [turns out to be a small dragon>?! ] that apparently has lost it's 'keychain' [!?], I had lost the will to continue playing!!! Oh my... I hadn't known that these creatures even needed keychains, lol. Hmmm, was that supposed to be CUTE?!!! I'm beginning to believe some developers must be laughing in jest behind the scenes when they write some of these recent games [tongue in cheek]!! The only positive aspects I thought were truly good and unique were in a few of the scenes with the baby fairies and I thought the light feature added to the paper drawings in the mini games were cool... other than that? Uh uh. Well suffice it to say another weekend I won't be buying a CE.
March 30, 2014
Just more of the same: same story, same gameplay
Bridge to Another World: Burnt Dreams Developed by 4 Friends Games Collector's Edition Review based on full demo PREFACE? I'm beginning to wonder about some of my fellow "key contributors" who give every single game 5 stars and paragraphs of gushing prose. To me, 5-star games are a rarity. This is not one?for many reasons. ONCE UPON A TIME... Twenty years ago, your brother was dragged into an eldritch mist, never to be heard from again. Once again, we have the exact same story elements in a slightly different iteration. Relative gone missing? Check. Supernatural element? Check. You in the role of savior? Check. Moving on... PLAY THE GAME... Here, too, this game follows the formulaic path. In adventure mode, you'll need tools to help you gather the items that have inexplicably dropped behind grates, been hidden in framed paintings, etc. You'll need to find medallions and such to open locks of certain shapes. HO scenes are either interactive lists or sequential silhouette. Puzzles are unoriginal and simple. SIGHTSEEING? The still graphics are painterly with a watercolor feel to them. Depth of field is well done; items in the foreground are crisp and clear, while the background fades into the mist. In-game animation is 3D rendered and extremely good, filled with saturated colors and realistic textures. Except for the opening scene, where your brother is mist-napped, the characters are more cartoonish. SOUND WAVES? I'm afraid the music was not memorable. I had the volume all the way up, but still can't comment on it. Environmental sounds were decent. Voiceovers lacked appropriate emotion to the scene, I felt. TOOLBOX? You find the map in fragments as you go along. The play area in the demo was not large enough to necessitate using it, but it does indicate available tasks. I believe there is a journal, although I'm not sure if it's necessary. Inventory was locked open. And, yes, you have an adorable animal helper. It's a large-eyed baby dragon who functions as a lighter. EXTRA, EXTRA? Extras include a bonus adventure, the SG, performance achievements, morphing objects, and the usual developer's portfolio of sights and sounds. (Note: The morphing objects don't really morph. One fades out and is replaced by the other, which does not resemble it at all. This makes them very easy to find.) THE LAST WORD? I did not find the gameplay "gripping" at all. Honestly, I was bored and only finished the demo so I could write an informed review. The graphics and music did not enchant me. And the rehashed storyline was sparsely presented with no exposition, the characters wooden. Developers, please hire some real writers! We're tired of the exact same relative-gone-missing, supernatural-events, save-two-worlds storyline. And make sure they know what exposition and denouement are, and how to create believable characters to whom we can relate. While you're at it, develop some new game ideas. Enough of the finding-shaped-objects-to-unlock-things. Seriously, if I never see a Towers of Hanoi, jigsaw puzzle (or slider or swap pieces), peg solitaire, or any other ages old puzzle again, I'll be happy. Innovate!
April 2, 2014
Farfetched storyline and minimally challenging
The story, the graphics, and the challenge of BtAW-BD(CE) were decidedly ?underwhelming?. I rarely pan a game and I won?t this one, but just barely. While it isn?t the worst I?ve encountered, it is a far cry from the best. Overall I?d give it a 2+/- because it does have some degree of challenge, the story is a fantasy of a fantasy (although a little weird and somewhat farfetched even for a fantasy), and I didn?t run into any significant problems playing the game although there was one annoying detail of the game. In a number of instances, even after an object was retrieved or a particular action was executed, the graphics display reverted to the original configuration or the dialog failed to change from the original dialog stating what needed to be done. Not a fatal flaw but somewhat of a nuisance. I played it at the Intermediate level, never used any hints, and only used the strategy guide once when I was really stuck. I liked the interactive HOPs with active progression of objects to get to the end as it increases the challenge of solving the puzzle. I disliked the directly obvious and sometimes sarcastic clues and the simplicity of a majority of the puzzles as it decreases the challenge of figuring it out and it detracted from the overall persona of the story. At times, the vocal dialog was appropriate for the story line and at other times, it was way ?off base? for the situation which detracted from any flow the game had. The extra bonus chapter was a real disappointment and not worth the extra money. There was little challenge and the story seemed like a poor afterthought appendage. The bonus chapter was short and was of little interest or fun. Additionally, the ending was short and abrupt leaving a bit of a hollow feeling. While I usually recommend a game unless it has significant flaws, I do so on this with caution to anyone who chooses to play as it will likely not meet most gamer?s expectations.
April 9, 2014
The Apple logo is a trademark of Apple Computer, Inc.