Bridge to Another World: Burnt Dreams Collector's Edition
Exclusive
You'll never forget the day the monstrous mist rose up and snatched away your little brother – while you watched helplessly from the bridge. But now, after twenty years, the mist has returned – and so has your determination to free him. But first you must confront the evil Countess, who keeps him painting creatures she has learned to burn into reality! Can you face your fears and help your brother finally escape the mysterious island where his dreams come to life - or will the whole world enter the mist? Enter a world where art and reality join hands, in this heart-stopping, hidden-object adventure!

This is a special Collector's Edition release full of exclusive extras you won't find in the standard version. As a bonus, Collector's Edition purchases count toward three stamps on your Monthly Game Club Punch Card!

The Collector's Edition includes:
Gripping bonus gameplay
Exciting new quests
Unlockable collectibles and achievements
Stunning wallpapers and concept art
Integrated strategy guide
Game System Requirements:
OS:

Windows XP/Windows Vista/Windows 7/Windows 8

CPU:

1.0 GHz

RAM:

1024 MB

DirectX:

8.1

Hard Drive:

934 MB
Game Manager System Requirements:
Browser:

Internet Explorer 7 or later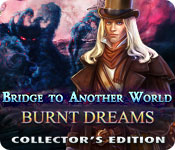 The Big Fish Guarantee:
Quality tested and virus free.
No ads, no adware, no spyware.

Reviews at a Glance

Bridge to Another World: Burnt Dreams Collector's Edition
0
out of
5 (
0
Reviews
Review
)
Customer Reviews
Bridge to Another World: Burnt Dreams Collector's Edition
45
45
Troubled Waters
Little brother's imagination was incredible, he wanted to show his big brother what would happen when he threw one of his drawings into the strange mist that was hovering over the bridge. Sure enough, his imaginative picture came to life in the mist, but grabbed little brother as well! You have dedicated your life to finding your brother and now's your chance as you cross over the bridge, into the mist....Admittedly the graphics aren't the best on this game, and it is a super easy game to play, but I actually enjoyed it! There are 21 creatures to find in the misty world and achievements to earn which are pretty generic stating only that you have earned an achievement. You capture one of the fairies that your brother created, and then learn that she needs the mist to survive. You grab a jar and fill it with some mist and the fairy is now your hint icon as she sits comfortably in a hot tub full of mist. The hidden object scenes are a mixture of interactive list finds as well as progressive interactive silhouetted shapes. You find the first item, use that item on the scene in order to find the next object and so forth. Some of the tasks required no effort at all, you had to put a crossbow together once you had all the parts and you just click on the parts and they assemble themselves. I enjoyed most of the mini games, my favorite ones were guiding the firefly to every flower, landing on the blue flower last. I also liked the butterfly pyramid where you had to place triangular shaped tiles with pictures of butterflies on the edges that had to match with other tiles and the border. If you want to play a game that is easy and relaxing with a fantasy based theme then I think you'll love this game, enjoy!
March 29, 2014
I Loved the Story, I Love This Game
How refreshing that we start off a game from a man?s point of view whose little brother was snatched away by a magical mist some twenty years ago. Now the mist has returned and with the help of Dr. Haig, we set off on a quest to find Dorian who is held hostage by an evil Countess on a mysterious island where his dreams come to life. Art and reality merge as you soon discover on the Island, Dorian?s creations come to life, and some are not the sweet little fairy that he once drew as a child. A beautifully drawn fairy tale with graphics that could have been a bit more sharper but nevertheless, voice-overs and the haunting music in the back-ground create a setting for an enchanting HOPA game that is age appropriate for the entire family. I loved the story and to my great surprise, enjoyed the game immensely during the demo trial. You have three modes of difficulty to choose from as well as customized settings. Your tools of the trade include a journal that will also give you objectives and a map that if desired, will indicate areas of action and allow you to travel from one scene to the next. There is an adorable road companion named Draco, a baby fire breathing dragon that will be useful with some of your tasks. Hidden object scenes are well designed and come are varied in style throughout the game. I especially enjoyed the mini-games, very well executed and some were challenging enough to make the game even more interesting. You have inventory items to pick, pieces of paintings to collect that when combines, are required to fight the forces that hinder your movements and a collection of morphing creatures to detect throughout the game. There is enough challenge to please hard core player with some of the puzzles, a lot of back-tracking to do but the map is of great use and at times, you require a good memory so I recommend you keep a pen and paper by your side. Although the game is a bit dark and hazy at times, I loved it; I loved the story as well as the game play. I look forward to venturing deeper into the land and saving my brother from the evil clutches of the Countess and I think that many who enjoy fantasy and fairy tale will do so as well.
March 29, 2014
Beware the Mist!
In Bridge to Another World Burnt Dreams we play the game as a man whose brother, Dorian, disappeared into a strange mist twenty years ago, and now our main purpose in life is to investigate strange phenomena in hopes of one day finding out what happened and hopefully to reunite with our brother. The graphics are terrific and I think very crisp, although sometimes they do appear less than sharp but that may have been intentional for some scenes. It has been a long time since I have heard such wonderful voice overs in a game. Not only are the voice overs excellent but they are lip-synced as well, which is something that all the top developers are now including in their games. The soundtrack is very good and creates just the right atmosphere for the game. There is a diary that contains objectives as well as notes that will help us as we travel through this mystical and entertaining adventure to find our missing brother. We also have an interactive transporter map that indicates where we tasks to accomplish. I love my dragon that I found shortly into the game and even though some hate their animal helpers, I think that little Drako is extremely cute and useful. As is the case with the more recent games, we have a variety of HOPs with some being the standard interactive list as well as the silhouette type. I am sure that as I get further into the game there will be other types of HOPs. One thing that is missing though is the option to switch to an alternate to locating the objects in the HOPs. I know that in more recent games we do have match 3 or other types of mini games included in the HOPs if we don't want to find objects. The puzzles are scattered throughout the game and seem to be what we would expect. After all, how many different types of puzzles can game developers think up to keep us entertained. I know there will be moans and groans from those who think games are always the same old, same old but my response to them is that they don?t have to play a game if they don?t like it! I happen to love the HOPA genre and always find something to entertain me even if it is the same old thing - lol. For the extras (or at least I think they are only in the CE version) we have achievements to earn and collectibles to find. There are 21 collectible creatures that are very difficult to find since they are not obvious. My only suggestion is to click on everything in a scene to see if you can locate a collectible item. The other extras are what we find in all CE games and although I don?t normally use the wallpapers, I might for this game. I also appreciate the ability to be able to replay the puzzles at the end of the game. Sometimes if I am looking for something to pass the time I will go back to my CE collection and replay the puzzles. Needless to say, I find Bridge to Another World a beautiful and entertaining game. I anticipate that I will have several hours ahead of me where I can be totally immersed in this visual feast. I am so enjoying the creativity of 4 Friends and commend them on their efforts. As always, I recommend that you at least try the demo to see if this is a game you will like.
March 29, 2014
Intriguing and original
Based on the demo, casual mode. What a great new take on the old "my brother has been kidnapped by a dark mist" story. I was drawn in from the very beginning and, although playing on casual, there was no hand holding and the sparkles were unobtrusive so plenty of challenge even at this level. Briefly (cos I hate it when reviews tell you the story) your brother has been drawn across the bridge by a strange mist and now, 20 years later, the mist has returned enabling you to follow and rescue him. Things I love: * graphics and music are excellent * voices etc are appropriate and no grown ups putting on children's voices * a helpful dragon * morphing mythical creatures to spot * challenging HOSs which really made me think * puzzles are doable but, again, require some thought/logic to solve * map to help with navigation Things I don't like: * just really our hero's voice which is a bit like the voice over for a film trailer This is a definite buy for me as I love this type of game. Don't be put off by the fairies, it is not a 'fluffy' game at all. Can't wait to get it and find out how the story develops. I have the feeling this will be a long game for me so long as I don't resort to the hint button and make myself work things out!
March 29, 2014
Fairy and dragon and snake, oh my!
This is a game that seems simple on the surface, but actually gets more complex and clever the longer you play. Twenty years ago, you watched your artist brother show you how his painting came to life in the mist. And you also watched him being swallowed up by the mist. Now the mist has returned, and you team up with Dr. Victor Haig to get through the mist and rescue your brother. Which might be a bit hard, because brother Dorian has been "adopted" by the evil Countess who seems to have lost her own son as well! First you must rescue a fairy, get her the mist she needs to survive, and she becomes your hint button. Then, you fix the collar of a small dragon who becomes your "burn buddy," providing the flames you need to bring paintings to life as well as melt things. Part of the game is to collect pieces of paintings, play a puzzle to sort them out, and then get the dragon to burn it to bring it to life to help you conquer some obstacle - like a snake! The teleporting map, while simple, is sufficient to guide you along, and is separated into parts of the countryside you travel. There are 21 creatures to collect -- I think I found two in the demo. The HOS are lists, or interactive silhouettes -- I had to use the hint button for help with the silhouettes. The mini-games are interesting -- some as simple as assembling a crossbow, and others a bit harder such as building a butterfly pyramid with matching triangle sides. The music and voiceovers and graphics are very good. The game has four modes, including custom. The CE bling includes wallpaper, screensavers, music, HOS, puzzles, movies, a strategy guide, and a bonus game. Try it for yourself -- it is a nice change from the death and destruction of many of the current games!
March 29, 2014
FRESH and UNIQUE
STORY: Fresh and unique story. 20 years ago, a mist captured your brother. Any pictures he draws are burned and become reality. Now you must try to retrieve him. GAMEPLAY: Somewhat linear, although there is some leeway. Mostly adventure. Many more puzzles and mini-games than HOS. The puzzles are unique and fun to play; many take trial and error. The HOS are quite crowded and interactive. Some may be list-based; others are silhouettes. The silhouettes may need you to gather clues within the scene to solve some of the inherent puzzles to gather all items. There is some back and forth as you need to gather components to solve puzzles in another location. OTHER STUFF: Graphics are a little on the hazy side, but the color palettes are very good indeed. Map shows where there are pending activities. Music is nothing to write home about. The CE has a lot to offer; morphing objects, lots of achievements, all the usual accoutrements. Very good production values.
March 29, 2014
This is one awesome game!
The VO's are amazing. I don't know who does the main character, but talk about serious meltdown on that VO. Kinda like when the girls swooned to wasn't it Frank Sinatra? He has one of the best VO's I've heard. And such a great sense of humor. And that little fairy is awesome. She will be very helpful. And that Dr. H would be the type women would fake illnesses just to go see. :D Anyhoo this I can tell is going to be one awesome game! Story: You and your little brother (who was totally adorable) is kidnapped by this evil mist and you have your mind set on saving him. Now it's twenty years later and the mist returned and you have to save your little brother from the countess who keeps him locked up on this island making him paint for her satisfaction. Will he recognize his brother after so long? Graphics: Truly awesome. So crisp and clear. Kudos to the art team. Mini Games: Not too hard or easy. Just right for me, (so far :D ) H0GS: The only one I have played so far was the one in the boat by the bridge and the purple words u have to do a couple extra steps to complete. Objects are very easy to see. Music: Perfect for this game. Kudos to the music team. Very pleasant to listen to. Map: It show yellow pawns as indications where to go to do things, and yes it's a jump map. All in all 4 Friends Games did a superior job with this game. Kudos to the whole team!
March 29, 2014
The magical 'another world' - enter
Just started. Wow, what can I say? 1] The graphics are excellent 2] The voiceovers as well 3] HOS interesting. But there is more [I sound like a Dentel man]: the story is very imaginative, it grasps you and you just have to go further and further into the mist. the paintings play important part in your journey and once you found your fairy and dragon - you are on your way to magic. Lovely game.
March 30, 2014
loved this when i did the beta test
I have been waiting for this game. didn't even do the trial just bought it as soon as it came out... I have only played a few hours but not a disappointment at all. some hog but not so many that its all you do. lots of things to discover on your own and fun puzzles very fun game.
April 1, 2014
Bridge to Another World Burnt Dreams
Loved this game and sad to say I spent a day playing it and finished the Bonus Chapter this morning. Great scenes and lots to keep one's interest through-out the game.
March 31, 2014
The Apple logo is a trademark of Apple Computer, Inc.