Doctor Life: Be a Doctor!
Experience a doctor's life firsthand as you save lives—and money—in this exciting simulation game! Visit a charming little city where you'll meet and diagnose wacky patients, administer medical treatments for combos and bonuses, and upgrade your small clinic into a multistory hospital. But Beware! There is an evil tycoon out to buy the land your hospital sits on. Earn awards for hospital excellence to save your hospital from his grubby hands!
Huge combo bonuses for successful treatments!
Attract VIP patients to boost your earnings!
Exciting features – emergencies, quests and more!
Game System Requirements:
OS:

Windows XP/Windows Vista/Windows 7/Windows 8

CPU:

1.0 GHz

RAM:

512 MB

DirectX:

9.0

Hard Drive:

194 MB
Game Manager System Requirements:
Browser:

Internet Explorer 7 or later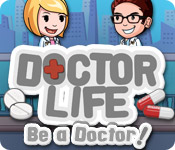 NEW299
The Big Fish Guarantee:
Quality tested and virus free.
No ads, no adware, no spyware.

Reviews at a Glance

Doctor Life: Be a Doctor!
0
out of
5 (
0
Reviews
Review
)
Customer Reviews
Doctor Life: Be a Doctor!
29
29
it was ok
cute little time management game the patient comes in and wants the doctor the only thing nice about it doesn't cost them an arm and a leg. My niece likes it so it's worth it to her for me after awhile it's bore just like ALL of the other game because it the same thing over and over
March 17, 2014
No way to lose, so no challenge
This is a click-happy, memory-on-the-fly sort of game. Oodles of injured and sick people come into your hospital each day - much more than you can treat or send away - and you have a multiple choice on how to diagnose and treat each one. Luckily, you can't lose by not treating them all. But then, that takes away all the challenge as you go at your own pace. You have to remember things like NSAIDS treat strep throat and heat packs for styes. I stopped playing when it got to stomach flu patients with little vomiting icons and diagnosing diseases with symptoms like pus in urine and things I really didn't need to read while playing this game early in the morning. They could have kept the ailments cute to match the graphics. You build unique rooms, but patients roam the entire hospital looking for treatment regardless of what the room is denoted for. It just wasn't as fun as it could have been!
March 17, 2014
Poor game in poor taste.
I think the first thing to say about this game is it's not fun. You start with a basic hospital and the ability to diagnose a sprained ankle. To do this you click on a "patient" this opens up their symptoms then you select the diagnosis from a pie chart. That opens up a screen were you select a treatment (in the case of a sprain an ice pack). As the game goes on you get extra facilities, treatments and diseases/injuries. The UI is poor, when selecting the diagnosis there is a lot of information that you have to read very quickly. The game keeps telling me to tap which leads me to believe this is a game originally designed for a touch screen. It's very repetitive and the additional upgrades just add more more things to click rather than more strategy. Despite the game using real life conditions there is no information about which you would diagnose. For instance patients come with typical cold symptoms and you have to choose among a cold or meningitis there is no indication of why you would chose one above the other and honestly I feel that having such serious diseases in a game of this nature is a little icky. When I have played medical sims in the past they tend to either make up silly conditions or stick with less serious real ones. Maybe I am being precious but the inclusion of more serious conditions really does put me off this game. Also the whole idea of getting rich from sick people doesn't sit well with me and the graphics and overall tone just aren't silly enough for me to have fun with the concept. The last thing is just a note for non-US players rather than a criticism. I am in the UK and we tend to use different terms when talking about medicine. This lead to extra confusion for me. Like I said that isn't a criticism I appreciate this is a game primarily made for the US market.
March 17, 2014
Not for me.
Usually I don't review games. However, I thought this game was worthy of a (not so good) review. It does not give enough time to even treat the patients and time is up. So you are lucky to treat 7 or 8 patients and then time is up. It could have been fun if it allowed you to check the patients in and take them to correct rooms. You can't really go up and down quick enough on the screen to find some of the patients. It could be a good game with adjustments for screen. I wouldn't buy after trying.
March 21, 2014
Not my cup of tea
It just wasn't appealing to me when I went to play it.
March 19, 2014
Time Management? Arcade? What???
Gets boring after 10 minutes..
March 17, 2014
Awful!
I could barely get this game started! I tried turning the music OFF, but it came on again. There was no way to pause the game, despite having a "pause" button, it wouldn't work. I just wanted to get rid of the music, as it was loud and distracting and there was no volume for it. I couldn't get to the menu, at all, as nothing would work, except clicking on characters. I tried ctrl/alt/delete, but the game just overrode it every time I tried. I actually ended up having to turn the lap top off by pressing the on/off button until it turned off to get the game to exit! I tried again, just in case it was something I'd done, but it was exactly the same. Couldn't turn the music off, as it came on again, couldn't pause the game at all, couldn't exit the game. So I actually never really got to play properly, as it was far too annoying before I'd even started. Extremely poor design. Horrible!!
March 17, 2014
Definitely Not Worth Paying For
Although the music was kind of fun to listen to, the game overall is completely lacking. There is no method to the madness. Patients just walk in off the street and wander aimlessly around the whole building. Creating more rooms plays no part in their treatment it just gives them more floor to wander around on. There is no level of skill involved at all as incorrect treatment barely effects the score. You click on a patient. and a pie chart comes up with their symptoms and possible diagnoses. You don't have time to read anyone's information as time still runs out as you try and make a slightly educated guess as to what the problem is and how it should be treated. It's just ridiculously thought out. You might as well hand it to a four year old and allow them to mindlessly click options. The results would be the same. Don't buy this game if you are looking for a time management game worth your time. This is not it.
March 17, 2014
Boring not challenging at all!
To those who love TM games this one will be disappointing!\ I wait everyday for a new TM game and this one I will not buy. I quit after about 10min. Kinder garden grade game.
March 17, 2014
OH, please release me ......!!
Oh my,my,my,my... what a horror! don't even consider this game for a trial!. I always turn off the music on my trials after the first few notes so I can fully concentrate on the game. I did the same with this, but oh no...not this game however! It just simply refused all attempts at silencing the sound. It just did not stop. Never have I had the sound come on so loud, it made me scream stop, stop, stop. Piano keys banging and clampering in the most unkind form to my ears! I never even got to play game, because there is no shutting of this head splitting noise nor can you exit out of the game. I found no exit and had to actually use the Ctr, Alt.Del, to get out of it, use it 4 times with no success it just ignored all attempts at stopping it from continuing. So before I lost my mind to the infernal noise, can't call this sound much less music, I forced a reboot. My heart is still pounding from the noise and my hands are trembling. Can you just imagine how this would end up if you gave this to your child to have fun with and play at doctor, and then he/she did not want to stop playing doctor? Unplug!! So, sorry, but I can't tell you anything about the game itself, sorry. But I had to get out and online to warn you all before you get the same experience and we all end up in a loony bin for Big Fish's dementia. So, no, I do not recommend this game to anyone.
March 17, 2014
The Apple logo is a trademark of Apple Computer, Inc.