Mysterious Oasis
A natural disaster has rained down on the planet and devoured the last sparkles of life. Loneliness and despair run rampant where life once flourished. You are one of the planet's only survivors, having lost count of the number of days since you sought refuge and shelter, the hours and weeks blurring together into a never-ending story that can only end in sorrow. But amid the chaos and devastation, an unexpected message from an old friend tells the legend of a Mysterious Oasis, and provides a glimmer of hope. Is it possible that among the charred rubble lives a single chance to rise from the ashes?
Advanced Mode option for challenging gameplay!
Use your inventory to interact with each scene
Find the legendary Mysterious Oasis!
Game System Requirements:
OS:

Windows XP/Windows Vista/Windows 7/Windows 8

CPU:

1.0 GHz

RAM:

1024 MB

DirectX:

7.0

Hard Drive:

178 MB
Game Manager System Requirements:
Browser:

Internet Explorer 7 or later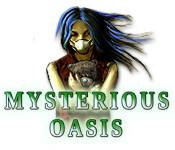 NEW299
The Big Fish Guarantee:
Quality tested and virus free.
No ads, no adware, no spyware.

Reviews at a Glance

Mysterious Oasis
0
out of
5 (
0
Reviews
Review
)
Customer Reviews
The End Of Mankind
Mankind has made the Spirit of the Earth angry (it's not wise to fool with Mother Nature) after depleting all energy sources. I just have one question: If mankind depleted all energy sources then why do all the lights work and I have to turn off the electricity before proceeding? (is that one question or two?) If you overlook that major flaw, then it's really not a bad game. I love the apocalyptic vibe of the game, a place where buildings were in ruins, trees and weeds have claimed what's rightfully theirs, survivors are far and few between and hunkering down in boarded up shelters. But there's the slightest glimpse of hope, (besides the street lights) the hope that survivors can make it to the promised land, The Oasis! I must admit that on a couple of occasions, I got stuck and didn't know what to do next because of the fact that you have to be very precise when trying to use an inventory item. For example, when I fixed the fountain I assumed I was to use the glass jar to fill up with fountain water, when that didn't work I tried the rag, that didn't work either so I went back several times trying to find something I missed. I kept trying to use the rag on the water and it was finally accepted when I clicked way to the left of the fountains jug. There are a lot of hidden object scenes, they are pretty well done, slightly interactive list finds, some items need clicked on to simply open up to reveal the item, or you might need to pick up a hammer to break the mirror. The mini games aren't bad either but most are pretty simple such as clicking on 4 levers in the correct order. The puzzle I liked the best was moving tiles on a board with the goal of getting the numbered discs 1-5 from the top to the bottom in their appropriate sequential places by moving the rest of the tiles one at a time to clear a path for the numbered tiles. I must say I rather enjoyed playing this Standard only Edition, enjoy!
March 19, 2014
BARE BONES BUT STILL TERRIFIC
This is a no frills game. No map or journal. Only 2 difficulty modes. But it does have a good storyline and very good sound effects and music. Play is logical. Puzzles are fairly easy, but I found them fun. The graphics look handdrawn and I like them for their simplicity. Hint system works well. For a bare bones game, I really like it and will buy it. It is better than many games with a little more to offer. Sometimes, it's nice to just get back to basics without the trappings to distract me.
March 19, 2014
Old Style Hidden Object Adventure Game
Mysterious Oasis takes place in the near future, after a catastrophic event devestates the earth. There are rumors of a mysterious oasis among the devestation. As one of the few survivors left on earth you have been hiding in your shelter until you are urged by another survivor to find the oasis, if it really exists. The game is well illustrated, with old style graphics. It has a great sound track, with piano music, sounds of thunder. Most of the music was hauntingly beautiful. The hidden object scenes are the interactive list type, very well illustrated. Some of the mini puzzles are cute, some very puzzling, but all a lot of fun. This is an old style game, without a lot of bells and whistles, but there is plenty to keep you entertained. There is not a lot of handholding in this one and you have to think outside the box most of the time. I really enjoyed this one.
March 23, 2014
Really liked the game.... way too short however.
A very basic HOPA game set in post-apolyptic times. I liked the abandoned houses, the look of desertion, the drab washed out colors. It matched the theme of what the story was about. There are quite a few HOS. Minimally interactive and easy on the eyes. The puzzles were easy but enjoyable because they were something different. You receive a letter from a friend telling you there is hope if you find the oasis. So you set off on your journey. There is not much sound in the game. No voice overs, no movie clips, just you and your inventory. I liked it and think with a bit more effort this could have been a great game if the developers built upon this story more. It's a pass for me due to the length. I was almost finished with the game when the demo ended. Way too short even for a coupon. I do recommend the game if you do not mind the brevity of it. I do feel it's a fun game.
March 19, 2014
Liked it But Too Short
This was a good casual HOPA game. HOS's & puzzles are fairly easy challenges-which for me is a nice change. I found that I didn't need an interactive map-although waiting for the hint to recharge between hints was a bit annoying. I liked the storyline & thought the graphics were fine. I did not find out until after I purchased it, luckily with a coupon code, just how short the game was. I finished the game in about an hour. I would not spend money on this game, and am not sure I would spend a credit or coupon code.
March 19, 2014
ALL GOOD
This game is a little short, however the concept is beautiful, and the graphics are quite clear and easy to find most objects, although some were quite smartly hidden. A couple of puzzles were not in my ability, so I bypassed them. On the whole this game was a good filler in type of game and I think that the devs could expand it to make it longer and therefore even more enjoyable.
April 26, 2014
So Much, But So Little
This game drove me crazy...it had so much potential but fell so short of the mark! No map, hint button had to recharge every time you used it, slow, difficult to figure out what to do, kinda tiny scenes, HOS rather boring etc. I wanted to like this game but all I felt was so much disappointment. I mean why put together a story (as others have already reviewed) if you offer such a low quality of presentation? Give this game wide screen, a map, and something in the story to grip your teeth into then you have a winner. We gamers have been commenting of late on the quality of SE versus CE and for the most part have been impressed...what happened to this one? Clarity was good, storyline had a message but oh my what took place after that turned out to be a disappointment. This is just my opinion but as I see these games progress into a sophisticated world why would a game like this be given such a disservice? I gave it more than it deserved and for that I feel bad!
March 20, 2014
Glad I didn't spend a credit or money on this one.
I generally don't write a lot of reviews but felt that perhaps I should after playing this one. I'm really glad I didn't spend anything but a free game coupon for this as it's really short and kind of a pain to play. I found it a bit difficult to figure out how to get some of the pieces like the stick to move the rock with or getting through the subway tunnels or finding the 'magic rocks' for the statue towards the end of the game. But even with that it only took about an hour to an hour and a half to play the game. The storyline was good as we do need to think about how we use our earth's resources but other than that, I wasn't overly impressed so just an OK rating on this one. If you want something quick to play this game would be it but if you're looking for something more challenging and longer then perhaps you should pass on this one.
March 19, 2014
Very short linear game
The game was very linear, and the storyline was very simple. I actually beat the game with 11 minutes left in the demo. Music was nice and non-intrusive. This would be a great game for a first time hidden object player.
March 19, 2014
Easy game
pros easy to see hos some r interactive do not need a map or journal cons finished whole game in under 1 hour no vos cannot comment on music i did not listen to it personal thoughts * do not waist your pc or gc or any money as i stated above you can complete the game in under 1 hour and you do get the whole hour no demo. i gave it 3 stars because it was just ok all around.
March 19, 2014