Rush for Gold: California
Travel to the Wild West and feel the legendary Gold Fever in Rush for Gold: California! Striking locations, funny characters, and exciting gameplay are all waiting for you in this sensational time-management adventure. Build your own town from the ground up, help its citizens prosper, and pave your way to fame and fortune. If you're not afraid of a little hard work, this game won't disappoint!
Two game modes to challenge or relax you
40 unique and striking locations to discover
Game System Requirements:
OS:

Windows XP/Windows Vista/Windows 7/Windows 8

CPU:

1.0 GHz

RAM:

512 MB

DirectX:

9.0

Hard Drive:

261 MB
Game Manager System Requirements:
Browser:

Internet Explorer 7 or later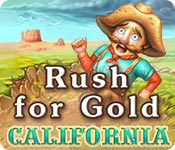 NEW299
The Big Fish Guarantee:
Quality tested and virus free.
No ads, no adware, no spyware.

Reviews at a Glance

Rush for Gold: California
0
out of
5 (
0
Reviews
Review
)
Customer Reviews
Rush for Gold: California
32
32
I've Got The Fever!
First of all this TM game has timed and untimed modes which I know will please a lot of people. You will earn 1-3 gold stars on each level and those stars are used to build the city. Each level has a different set of goals, you need to chop down trees for wood, clear paths, pick berries, fish, trade with the Indians etc. You have to mine gold and build different structures to pan for gold or put up fishing tents for food. You can hire new workers and there is a button to push when fully charged that makes the workers move faster (that button must be corporate) This is a fairly easy game to play, very entertaining, if I'm not mistaken, this game is also available in an Alaskan theme, enjoy!
March 18, 2014
Don't SHOOT the Dogs!
I was not expecting such a cute game. First and foremost, there is the ability to play in RELAXED MODE. The graphics were sharply drawn and the music was upbeat, went along with the storyline and it wasn't overly repetitive or irritating. The story was decent - thar's GOLD in them thar woods, so a town needs to be built up and you just join in the fun of helping do that. The game is a combination of Roads of Rome type play in order to gain enough stars to create buildings for your town. In every level they introduce something new to achieve such as level one is wood and food, then wood, food and gold, then wood, food, gold and coal. Eventually you get to build lumber mills and such to provide you with automatic necessities. You even get to trade with Indians. Okay now about those coyotes (dogs)... when there was a coyote blocking your path and your character came out with a gun, I almost shut down the game! I'll let you see what happens.
March 18, 2014
A really good time management game!
I was actually not expecting this to be quite as good as it was, though I'm not sure why that is. I was pleasantly surprised as I played it though, and bought the game as soon as my trial was over. It's a cute time management game along the lines of games like Roads of Rome, Northern Tale, My Kingdom for the Princess, etc. I never played Rush for Gold: Alaska (as I don't remember seeing it until now), so I'm not sure how it compares to that one, but if you like the sorts of time management games where you collect resources (in this game, food, wood, gold, and coal) and meet specific goals on each level (which vary - repair the sawmills, build a certain number of gold mines, collect a certain amount of gold, etc.) then you'll most likely enjoy this one. The graphics are nice, though there are a few oddities in things they've included the initial cut scenes when the game starts if you know anything about the California gold rush. I haven't encountered any while playing the actual game yet, though, and they're still well graphically-represented oddities if nothing else. The music doesn't stick much in my mind, which means it's not annoying, but you're unlikely to wander around wishing you had the soundtrack to listen to outside the game. The story is pretty straightforward - help a gentleman get a town started in California during the gold rush by finishing the levels, clearing land, and building structures in the town. The gameplay is very similar to the games I already mentioned, with most of your resources being obtained by using your workers to obtain them from the actual item (such as a tree, or collection of coal) like you might see in Roads of Rome as opposed to the piles you tend to see in My Kingdom for the Princess and Northern Tale. You also get resources from buildings you make by having a worker work at them, similar to the way it's done with some buildings in Royal Envoy. Unlike most of those games, though, you also have your special character (you choose from either a man or a woman at the beginning) who's basically the boss, and does certain tasks such as scaring away coyotes, negotiating with the Native Americans, etc. There's both a timed and an untimed mode to choose from, and as you complete levels you earn stars to clear areas of your town and build buildings. Ultimately, it's fun to play and a very nice addition to the time management genre of games. I'd definitely recommend it!
March 18, 2014
Excellent T.M. Game
I have only played the demo but that is enough to make me want to buy it. Yes, it's the usual collect food. chop down trees etc. but in this game you also dig for gold, build gold mines, go fishing and as a secondary item, build a town. To build a town you need stars. Stars are obtained based on how quick you complete a section that you are currently on. Maximum is 3 stars. I did find that on the untimed mode, upon completion I got 3 stars.(I don't know if that was because I completed within a set time, or if you get 3 stars no matter how long you take to complete) As the game progresses there is more and more to do, but providing you have sufficient gold, food can be purchased. One of your workers can spend his time fishing and further workers can be obtained again if you have sufficient food and gold. This is a fun game. The graphics are good, the music is not annoying. This game is good for all skill levels.
March 18, 2014
Gold Rush
I have just finished the game so my review is based on the whole game. I always play in timed mode, but the game has an untimed mode as well. Though I had to repeat a few levels to get three stars, I don't believe even untimed-mode fans would have too much trouble with the timed mode. I love the graphics on this game. The visuals are clear and easy to see. Overall, I spent a couple of pleasant evenings.
March 20, 2014
Join the California Gold rush!
Nice little time management game -- not too hard, with a little bit of variety. You get to be a male or female player, who joins forces with a developer to mine for gold and build the town. The best part is, you can play in timed or untimed mode. I LOVE untimed mode! You can win three stars every time, it seems. You use the stars to construct buildings in town -- a hotel, the saloon, housing -- after each level. The levels consist of the regular TM tasks -- get food, chop trees, collect gold, chase away the wolves, build bridges, build a gold mine, etc. Great fun!
March 18, 2014
Very entertaining and well thought out
At first I thought this would be one of the typical "Road to Rome"-type games. The basic principle is the same - you run around gathering recources and constructing or repairing buildings, but there are some nice little ideas that give a fresh touch to the genre. You can construct buildings which provide you with resources like wood or food regularly, but the supplies are limited and after a while, the buildings stop producing. So in some levels, there is some planning involved or you might find yourself without resources. The tasks are entertaining and in later levels, completement of tasks might lead to new tasks popping up, so don't be so sure that you have as much time left as you thought. There are some variations in how to reach your goals - do you buy food or wait for it to grow, do you build a production building or not. The game is (on times mode) sufficiently fast-paced, the trial hour went by really quickly. A very enjoyable TM.
March 19, 2014
Love This Series!!!!
I own the Alaska game of this series and really love it. This next one in the series is even better. I love the fact that there is a relaxed mode without timer and the graphics are very nicely done and clear. I like the added bonus of building a little town and upgrading the houses in it even tho there aren't a great deal of them or very much detail in what you can buy but it's still an incentive and is a nice extra at the end of each level. There are some improvements made in this one since the previous Alaska game which are much appreciated; for example, for places like the fishermans tent and gold diggings you don't have to continually click on them to get the resource, you can stick a worker there and he'll stay there until it's depleted. The previous Alaska you could not do that so that improvement is great. All in all, it's a very enjoyable game, cute characters, nice clear graphics and a little town to improve. Any game with a relaxed mode I usually instantly buy. So thank you devs!. I hope to see many more Rush for Gold games in this series. One of my top favorites definitely!
March 25, 2014
Relaxing and fun after a hard day
This is a time management / adventure game which has an untimed mode for simple relaxing fun after a day of work. I could play this type of game all day. Resources are limited, so one has to plan to some extent, but for the most part it is mostly easy fun. Sometime in the past I have played another game by this group and I found that the game play was very simple because of that past experience. There are some catastrophes, but they are far fewer that several recent games where the sudden, unexpected calamity destroys all of your planning. I like this far better. I recommend this game as relaxation in the untimed mode. I cannot say how hard the timed mode is, because I doubt I shall ever play it.
March 19, 2014
Sweet Little Game
I love TM games and this one is just adorable, the characters are so sweet they are big enough to see and just small moving pieces, the story is simple and flows, the game play and graphics are smooth. Yes it's not a difficult game and yes there are many TM games around but some are just bad but this one deserves a mention as it's easy to play and fab on the eye! Deffo recommend.
March 19, 2014
The Apple logo is a trademark of Apple Computer, Inc.