Deadly Puzzles: Toymaker
When a quiet town is shaken by a series of murders targeting young women, authorities are left running in circles trying to piece together the madman's devious games. Nicknamed "the Toymaker" by the local media, the only clue to his identity is a grim calling card – strange toys left with his victim's bodies. Just as any hope of catching the killer begins to dwindle, the lead investigator receives a package containing a disturbing video, sent by the Toymaker himself. To track down the psychopath, our heroine must scour over video frames of the crime scenes, search for clues left by the killer, and unravel the twisted plot connecting the Toymaker with each of his victims. Will she discover the killer's identity in time to stop him from taking another life, or has accepting the killer's challenge only put her in his sights?
Challenging puzzles and addictive mini-games
Interactive location map and journal
White-knuckled crime story with thrilling plot twists
Game System Requirements:
OS:

10.9/10.8/10.7/10.6

CPU:

2.0 GHz (INTEL ONLY)

RAM:

1024 MB

Hard Drive:

210 MB
Game Manager System Requirements:
Browser:

Safari 4.0 or later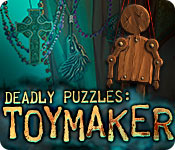 NEW299
The Big Fish Guarantee:
Quality tested and virus free.
No ads, no adware, no spyware.

Reviews at a Glance

Deadly Puzzles: Toymaker
0
out of
5 (
0
Reviews
Review
)
Customer Reviews
Deadly Puzzles: Toymaker
49
49
Would You Like To Play A Game Detective?
Nice! A serial killer is taunting you detective! Will you join the toymaker in a killer game of Who Am I, Catch Me If You Can? There are no frills in this game, the graphics are good and the hidden object scenes are really well done. What the game lacks, is clearly made up for with story substance. A sick twisted old man, calling himself the Toymaker, is murdering women and leaving behind clues in the form of puzzle boxes which contains arrogant tapes recorded by the Toymaker and directed solely to the detective in charge. You will travel to the victims houses, or suspects houses to search for clues in the form of a puzzle or mini game. You find a puzzle box at the scene of the murder and it is missing 4 pieces which you will find in the following 4 scenes. You solve this puzzle, all of which are fairly easy, such as turning blocks in chronological order, and the box opens to reveal more clues from our demented toymaker. This game reminded me of The Art Of Murder game, I liked that game as well, enjoy!
March 19, 2014
LOTS OF HOS WITH INTERESTING STORYLINE
Lots and lots of HOS in this HOG-adventure. "Play" games with the killer to get clues to his identity and stop the murders. Sound effects are superb. Voice overs are very good, especially the detective's. Graphics are detailed and use various color palettes. Puzzles are solved by collecting additional pieces to solve the puzzle at various locations with HOS. Hint system is good. This is a fun game for those who like a lot of HOS with an interesting storyline.
March 19, 2014
Excellent HOG!
BASED ON BETA & DEMO FIRST IMPRESSIONS It?s been a while since we had a truly exclusively Hidden Object game. It?s been worth the wait. This a marvellous whodunit with all the flavour and quality of a HOPA without the added stress and confusion associated with complex stories and quests. Here we follow the investigation from HOP to HOP with a smooth and easy transition that will delight true HOG players. SIGHTS & SOUNDS Sadly, this game is not made for wide-screen, but it does have an aspect correction option, and in any case looks quite good stretched. Good quality ?painted? graphics make items easy to see ? once you look at them the right way, of course! They are accompanied by fun ambient sounds and an excellent voiceover who keeps us up to date without too much waffling and stating of the obvious (yeah, sure, there is a little of that of course). The bad guy is fun, clear voiceover, and the way he hides his identity is a giggle. I love how subtle the music can be ? for instance, the ?Asia lover?s? apartment has ?Asian? music that is for once not overdone. One feature I first found in the beta (done eons ago, I thought this game was doomed), that really tickled me, I found the overhead fan?s steady whup, whup, whup, annoying. Out of pique I clicked on it as if that would shut it up, and it did!! But, in the demo, we aren?t tortured by that noise, but we can turn the fan on, if we want or need to (full realism here, it?s hot so we need to). What a wonderful touch! We are also expected to take a little care of that office of ours, so click around. *wink* WHAT?S HAPPENING? A serial killer calling himself the ?Toymaker? is playing games with us. He leaves clues and video recordings at the scenes of his crimes, taunting us. As the detective in charge of the case, we must follow his clues to various locations and find what he has left for us, solve his cryptic clues and track him down. GAMEPLAY This is suitably simple. We work in our office. And travel from there to the locations on the map. Each location has something the Toymaker has left us, which forms part of a puzzle we need to solve. Or sometimes the clues are brought to us from other sources, such as emergency phone calls. Either way, we always find more and more locations to investigate. So each chapter consists of us receiving an initial clue, pointing in the direction of one or more locations. In each we conduct a HOP to find another piece of the puzzle. Once all locations have been cleared, we must solve the puzzle to move on. There is a help button, that works in your office, but it has very little it can tell you there. It is sometimes useful in the HOP scenes, which contain objects that are cleverly disguised, although obvious once you see them. The game has a notebook, where details of the puzzles are kept, but not the dossier information on suspects that I would have liked to see recorded after they are displayed to us. While most HOG players aren?t much interested in story, this game has a great one, and a dossier on suspects or similar would have added to the fun. My one serious criticism is that the cursor is way too big. COMBINED IMPACT This is a neat game, both in design and production standards. I would absolutely have to own it were I a primarily HOG player. As it is, despite preferring HOPAs, it goes straight on to my wish list. I recommend this game!
March 19, 2014
Deadly Puzzles: Toymaker
Loved this game - was not so difficult that you needed to use the hint button but enjoyed the element of different style of game play - hidden object with a mix of puzzle challenges. I was disappointed when the trial ended so will definitly be buying this when it becomes available.
March 23, 2014
Loved and recommend this game
Very interesting. For those who like suspense and detective games this one is really very funny. The mini games are quite different. You are the detective and during your investigation you find boxes. Each one has a different puzzle. They are not difficult to solve but are interesting, and in each one you find another clue to go on in the case. I liked very much and recommend this game. I hope the developers give us another gift like this one. In spite of the story be about a serial killer there is no terror, blood or vampires... Another investigation would be welcome.
March 23, 2014
Great suspense in this one
I enjoyed this demo very much. The voice of the killer is perfect! He keeps leaving video messages at each map site and they tease the detective to search new places. The hidden object scenes are done well. The art is great and each item is named right. At the end of the demo the game makers invite you to try their other games. I found I already own ALL of their games and will buy this one too. Hope you enjoy this game as much as I did. Happy gaming.
March 19, 2014
Hidden Object Lovers Dream
The soundtrack in this game is excellent with a great narration by the Detective and voice overs by the killer. This is an eerie and creepy hidden object game that starts in the middle of a thunderstorm, with great sound effects in the background, as you witness the silhoutte of a woman being murdered ( 19 year old biology student Agnes Dawn) through her window. Visuals are great: beautiful, bright, clear scenes, some with the appropriate dark and eeriness for a murder mystery. The killer, Toymaker, sends a video, which you need to find each time there is a murder, to the Detective, saying he will leave clues at each scene. The hidden object scenes are interactive list type with creepy background music, most notably a xylophone. There are lots of hidden object scenes. Whenever you find a clue, you click on the map and are taken to the next hidden object scene. From the hidden object game you will find a clue needed to solve the next mini puzzle. If you are a fan of hidden object games, this one's for you.
March 22, 2014
Enjoyable and fun
I thought this game was cleverly done, simple, but not overly so, HO and puzzle fun, not brain-damaging or inventory mazing, but fun playful game if that is what you are looking for occasionally.
March 24, 2014
DEADLY TOYMAKER !!!!!
ARTIFEX MUNDY, UNDER STUDIES HAVE CREATED. A GOOD CREEPY HOG. I REALLY LIKED ALL THE SCENES AND PUZZLES. COULD YOU DO MORE OF THESE.I FOUND THIS GAME REFRESHING.
March 27, 2014
Fun HOG
This is one of those cases where I must rate the game for what it is: a straight-up HOG. This isn't an adventure game. I think the developers did a good job putting out this game which will appeal to those who prefer straight HOG. The graphics and colors were great. There isn't usually a story, per se, with these types of games. If searching HOS is your cup of tea, I recommend this game for you. Because this is a straight HOG, it doesn't mean it is archaic or pulled from the back of the closet. It simply is a straight hidden object game. The hint system is very good. It is a pass for me, but a good game nontheless.
March 19, 2014
The Apple logo is a trademark of Apple Computer, Inc.
The Windows logo is a trademark of Microsoft, Inc.