Danse Macabre: The Last Adagio
Exclusive
Your sister's invited you to attend the biggest performance of her life: she'll debut as Donatella di Fiore, every ballerina's dream role. She tells you to meet her after the dance but never shows up! What's happened to your sister on this fateful night?

Get into the theater and find a cast of ghosts all trying to tell you something. Some of them are better at playing music than talking, so this could take some digging on your part... Save your sister from a decades-old curse so this doesn't become her last encore.
Game System Requirements:
OS:

Windows XP/Windows Vista/Windows 7/Windows 8

CPU:

1.6 GHz

RAM:

1024 MB

DirectX:

9.0

Hard Drive:

838 MB
Game Manager System Requirements:
Browser:

Internet Explorer 7 or later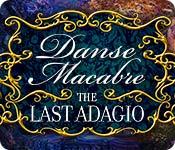 NEW299
The Big Fish Guarantee:
Quality tested and virus free.
No ads, no adware, no spyware.

Reviews at a Glance

Danse Macabre: The Last Adagio
0
out of
5 (
0
Reviews
Review
)
Customer Reviews
Danse Macabre: The Last Adagio
9
9
Donatella de Fiore
The ballet is over and you patiently wait outside for your sister, the star of the famous ballet that hasn't been performed in 30 years, not since the composer and several people perished in that horrible fire. What concerns you now is the whereabouts of your sister who specifically asked you to meet her after the ballet, where could she be? (apparently she didn't offer any tickets) This is a beautiful game centered around the theater and it's haunted tragedy, it's curse! The hidden object scenes are a mixture between interactive list finds such as putting a hammer head on the handle, and some are finding items that match the silhouetted shapes. There are several mini games and they aren't going to make you wish for the skip button to fill up. Some are matching two of the same numbers by flipping buttons two at a time, you also had to follow the directions for the safe combination and choose which direction to turn the dial. There are ghosts that will help you along the way, with the hope of breaking their curse so that they may move on, and you must help your sister from becoming part of this curse, part of the dance that never ends! Good luck, enjoy!
March 21, 2014
MORE FUN THE LONGER YOU PLAY
At first, I thought this game was just a middle-of-the-road production, but the longer I played, the more engrossed I became. The story and events became more interesting - love mysteries. Your sister who is the lead ballerina is not in front of the theater as you had planned after her performance. The mystery increases from there. BASICS: customize your level of difficulty; good voice overs; play bubble shoot instead of HOS; unintrusive music; diary; map with objectives and active areas shown and good sound effects. GAME PLAY: The special effects are good, though not abundant. For some locations, you need to use several pieces of inventory in succession (ex: a ribbon, then an empty doctor's bag to hand on it and finally bricks to put into the bag in order to crash a door open). You combine objects where they are used, not in the inventory tray. HOS are list or silhouette-based and puzzles are different and can be figured out with a little thought. Well thought out story and gameplay. Game is a lot of fun and full of entertainment, the deeper you get into it. The CE vs. SE: CE has morphing objects, making of, replay puzzles and HOS, play new HOS, movies, souvenir shop, pictures (wallpapers, context etc), collectibles and the bonus game.
March 21, 2014
Excellent game
Fun game keeps you interested, great graphics and there are no points that you are lost or wondering what to do next
March 25, 2014
GREAT !!!!
I really enjoyed this game.I also played the CE when it came out so I have been waiting impatiently for this version to come out.
March 21, 2014
A Danse to Remember, Maybe
This is posted after playing the complete game. When the CE came out, I was on pins and needles waiting for the SE. Although by playing the demo, I was a bit surprised at the lack of what I was expecting. Expectations, you know. However, I purchased the game and except for a few exceptions, I enjoyed playing. Although not a five star game, it kept me busy for a few hours and was fun. The graphics were really good. The hidden objects were in most cases very clear and the backgrounds were extremely nice. Now for the sound quality, I felt it came up lacking especially so far as the voice over scenes. The ghosts were almost impossible to understand. This is one time I am glad they had the captioning for the dialog. The music when well with the action in the game and wasn't one that I wanted to turn off. There was nothing really new in the game. The same types of hidden objects with a nice twist, but the mini games were about what you see in all the games.There are so many different kinds of hidden objects, which is fine, because that is why I play these games. There are the usual hidden object scenes and mini hidden objects. Those were difficult simple because it was hard to see what you needed. Some were a composite of a list and shadow objects. The shadow objects were a bit more difficult because they were drawn and not particularly a replica of that hidden. There are a ton of mini games and what the hidden objects offered in simplicity, they made up for in the mini games. Not a fan of mini games, but played most. Some are pretty long and I just quit and went on with the game. Some will challenge you. You have a journal which will come in handy occasionally, but Mr. Map will be your best friend. It does a good job getting you where you need to be. The hint likewise does a great job if you get stuck or can't find something. Recharge time is very short which bodes well for the designers. The story flowed. It was easy to follow and didn't jump around. It did have me guessing what was going to happen next and kept me going to see what that would be. All in all, it is a good game and something I enjoyed playing. You need to give it a shot. I did and don't regret it one minute.
March 24, 2014
JUST OKAY
BASED ON DEMO ONLY: The story is Phantom of the Opera retold in a ballet setting. but in this retelling, the "phantom" actually is a phantom -- a ghost, that is. There are several other ghosts to help you along the way to rescuing your sister. So far you, the theater manager, and she are the only living beings. Unfortunately, there's nothing truly macabre going on. There are four difficulty settings, including custom, which I always appreciate, but I was unable to find a combination that exactly suited me. I either got too much help or not enough. Everything here has been done before. I felt like I'd played the same game many times. You are looking for all the same items in the HOGs and solving all the same puzzles that you've solved before, and needing all the same items to open a door or look behind a painting. I guess there are only so many ways to create a HOPA before it becomes so entirely different and challenging that it turns people off. At least there's no helpful furry creature in this one. I would recommend this as a good game for beginners. If there had been a little more challenge and creativity, I would have liked it much better, but I'm going to have to pass.
March 21, 2014
Definetly NOT a 5 Star game!
Based on Demo. Here we go again with over the moon ratings for a mediocre, rehashed game at best!!! I just don't understand how this game deserved these ratings. Same old kidnapped mortal with ghost intervention story. Excuse me while I yawn. Color/graphics are good but the characters & their mouth movements are quite odd. Same old itsy, bitsy, teeny, weeny junk pile HOG's. Nothing new/exciting with the mini games. I found one collectable quite by accident. There doesn't seem to be a rhyme/reason to them. Scenes moved very slowly & the map could have been better. The devs need to take the "Pix" out of their "Ei" to see more clearly & develop new games & just not reconfigure old ones that have already been played to death. Give the demo a whirl. Who knows it just might float YOUR boat!
March 21, 2014
Ho Hum
I really wanted to like this game, but on balance, I'm glad I used a free coupon rather than having to pay for it, and I'm sorry I spent the time to complete the game. Others have commented on some of its positive qualities. I appreciated the option of using a bubble shooter in many of the HOS, as I'm more interested in strategy and mini games than hidden objects, which I find boring. Some of the expected actions seemed rather farfetched. And it's a good thing the map is interactive, because it would be almost impossible without it, and it was frustrating to continuously search through multiple layers of the map. After a bit I found the composer character really irritating. The game ended rather abruptly, but here again, no surprises. Some might enjoy Danse Macabre; I feel it was largely a waste of my time. So I'll recommend it, but with serious reservations.
April 1, 2014
not my cup of coffee
nothing same old boring game another hidden object just a new name whopping I swear this is the hidden object place. this game is boring not about it to make me want to buy it
March 22, 2014
The Apple logo is a trademark of Apple Computer, Inc.