Gardens Inc. 2: The Road to Fame
Jill & Mike's gardening business is booming! All this Sunnyvale duo needs now is to win a contest that will award them lucrative contracts all over the world! But when dastardly Cliff Gold escapes from prison, his thirst for revenge might just soak up any chance they have at winning. Help Jill & Mike uncover Cliff's evil scheme and win the contest!
50 dynamic & varying levels
Create beautiful gardens and predict your customers' desires
Countless achievements and high replayability
Game System Requirements:
OS:

Windows XP/Windows Vista/Windows 7/Windows 8

CPU:

1.0 GHz

RAM:

256 MB

DirectX:

9.0

Hard Drive:

399 MB
Game Manager System Requirements:
Browser:

Internet Explorer 7 or later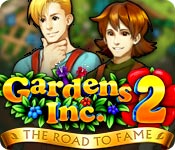 NEW299
The Big Fish Guarantee:
Quality tested and virus free.
No ads, no adware, no spyware.

Reviews at a Glance

Gardens Inc. 2: The Road to Fame
0
out of
5 (
0
Reviews
Review
)
Customer Reviews
Gardens Inc. 2: The Road to Fame
28
28
Brilliant Sequel
This game is great, its just as good as the first, with the great challenges and bonus challenges each level. I love the story line and the graphics. Well done!
March 26, 2014
Awesome Game!!
I LOVE this game. I really, really love it. Here's why. I like time management games, builder games, hidden object games etc but in most time management and builder games, it gets repetitive and you end up doing the same things over and over again. OR you can't get the gold medals no matter what strategy you use and have to resort to a walk through to figure out how exactly you do it. BUT then there's this game which is different every level because the flowers give this game a different perspective. Instead of just building houses to give you money or wood or rocks, you have to figure out a riddle on each level to plot the garden a certain way to get a medal. SO not only are you trying to get a gold time, but you are trying to manage the garden correctly and for a lot of levels, it took me awhile to figure out exactly what the game wanted. This game gave my brain a workout that I loved and instead of getting bored halfway through or at the very end and not going back to get gold on every level, I actually took the time to. I got all the medals except I am missing 2 of the really expensive decorations. I reckon I need to get more coins on the mini game levels which I tended to just skid by to get gold in most. I liked the variety this game offered and the uniqueness of planting the flowers. I mean who thought a gardening game could be so fun? I sure didn't especially since most of these farm & garden games are so badly done. This one was like a breath of fresh air. And then there is the plot which most TM games just fail at but this one was actually a good one. I will admit, I didn't read all the dialogue because I just wanted to keep playing the levels, immersing myself so deeply within this game. I mean there were nights I didn't go to bed until 3am because I literally could not rip myself away from this game. But I did find the plot line engaging and interesting and it set itself up for another one so I am soooooo excited! I played this one before the first one so I need to go play that one now but this game is worth every penny. I see on other sites, it was released as a platinum edition. I hope I didn't miss anymore levels because I would buy it if there were more. The only thing about this game that irked me was the police shacks as I kept wishing I could upgrade it to have more cops on patrol because sometimes there were sooo many robbers that ONE cop just didn't cut it. Also, some of the sound effects were soooo annoying like the birds cawing or the workers saying "I'm on it" every 2 seconds but I just would mute it and the game was still enjoyable. I consider myself an intermediate time management player, an expert hidden object player but TMs have just been interesting to me in the past couple years. Some builder games I find impossible to get all gold on like Royal Envoy, My Kingdom For the Princess but this one I found to be middle of the road. Some levels were impossible at first but with more play time they became better especially when you use the bonuses well. However, other TMs like the Roads of Rome series, I was able to get gold in every level of those. I find it fun when I can beat the entire game and I will probably find a way to get all the structures by getting more coins in the mini games. I wish all games could be this engaging and entertaining. I recommend this game to anyone who likes a challenge or likes a relaxing game. I really believe that this is a game most people will enjoy, just mute the cawwww and the Im on it and enjoy it! Kudos!
August 7, 2014
I LOVE, LOVE, LOVE this game!!
I think I'm addicted!! I play this game almost every day. It's the ONLY time management game I like and it's the very best. Everything about this game is great....the graphics, the cute little people running around working, the challenge of building shacks, collecting seeds, wood, rock....everything. The ONLY thing I think they may have messed up on is the "collect as many coins as you can" levels. They only give you a few minutes to collect them and it harrowing to try and make any time on these levels. If they do make a third one ( and I SO hope they do), they need to give us MUCH more time on these levels. Other than that there is absolutely nothing about this game not to love. Thanks for making such a great game!!!
June 24, 2014
Fun with possible intrigue...
This is a fun time management game involving upgrading and planting garden spaces. It is timed, but not in a frenzied fashion. Prioritizing the goals helps achieve gold status. It is a nice little game with a surprise opening gambit that keeps the intrigue level going. The music was pleasant I didn't catch any typos or language discrepancies the graphics are clear and fun if a little cutesy the challenge to finish the level with gold status increases with each level. Worth the money for a nice diversion.
March 24, 2014
Worth It
The second one is as good as the first. I like the challenge of these. The graphics are just gorgeous. This one is a brain teaser and can be quite a challenge - especially if you are trying to get all the bonuses.
April 18, 2014
Fun times for All!
I have to agree with those that have remarked upon the lagginess of the game. I am running Windows XP (STILL!) and I thought that was my problem but apparently others with better systems have the same problems. I did discover if I quit the game completely and relaunched it, it made it run a bit smoother for a short while. Even through the stops and starts, I played the game repeatedly for days. I love when they give you something to work for (in addition to your level goals) and in this game you made purchases to upgrade your Company at the Store. That is why I kept playing the levels from beginning to end over and over again to make enough money to purchase all the upgrades. And I kept doing better and better! So I finally purchased the last 25,000 coin upgrade tonight and I'm happy as a clam. I did enjoy the game although hopefully in the future the programmers will work out the issues that occurred in this game.
April 22, 2014
Love this one!
The game play is challenging but do-able with timed or un-timed play. Love this one and the first one Gardens Inc Road To Riches. There are a couple small glitches in the game but it's workable and since I already have it and there's no offer for replacement. I would still get it again even knowing the glitches since they are workable.
September 13, 2014
This One's Fun!
This second edition of Gardens Inc. is 1000 times better than the initial one. There are a total of 50 tries to build up your garden business facility and grounds. It's not easy, but also your "goal" is within reach--unlike the original Gardens Inc. This one's worth getting!!
August 27, 2014
Enjoyable and fun!
I loved the speed, colors, and storyline. What I didn't like was Jills personality. What a bully.
August 5, 2014
Meet the Challenge and Win a Million Dollars!
I think I may have been at a disadvantaged not having played the previous game in this series. I found this to be quite fun, delightful and innovative in that it was a garden cleaning, building, etc. with specific goals and not the usual let's just build a town, city, etc. I don't do well in time management games so this won't be a purchase for me but it was great fun during the free demo. I encourage everyone to give it a try. It really is a lot of fun. Happy Gaming!
August 3, 2014