Gardens Inc. 2: The Road to Fame
Jill & Mike's gardening business is booming! All this Sunnyvale duo needs now is to win a contest that will award them lucrative contracts all over the world! But when dastardly Cliff Gold escapes from prison, his thirst for revenge might just soak up any chance they have at winning. Help Jill & Mike uncover Cliff's evil scheme and win the contest!
50 dynamic & varying levels
Create beautiful gardens and predict your customers' desires
Countless achievements and high replayability
Game System Requirements:
OS:

Windows XP/Windows Vista/Windows 7/Windows 8

CPU:

1.0 GHz

RAM:

256 MB

DirectX:

9.0

Hard Drive:

399 MB
Game Manager System Requirements:
Browser:

Internet Explorer 7 or later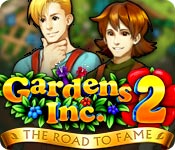 NEW299
The Big Fish Guarantee:
Quality tested and virus free.
No ads, no adware, no spyware.

Reviews at a Glance

Gardens Inc. 2: The Road to Fame
0
out of
5 (
0
Reviews
Review
)
Customer Reviews
Gardens Inc. 2: The Road to Fame
28
28
An excellent TM game, but for the fake difficulty
This is truly an excellent TM game - it provides a much-needed break from the usual "build a town" concepts and instead allows you to build massive, sprawling gardens. The graphics are pretty and consistent, it's easy to see which things are clickable and which ones are not, and the entire game seems tight. One really doesn't have any opportunities to sit still, but must constantly click about to keep the characters moving and the resources flowing. The timeframes also seem quite well-adapted to the tasks required in a level, and usually allows enough time to experiment and try to complete that level's optional challenge (groups of three; no repeated flower; mirror gardens). However, the game suffers from a lousy fake difficulty that hits about midway, wherein it starts introducing vandals. These... people will randomly wander into your paths and, upon reaching a building or flower, will kick it to pieces and force you to rebuild. You get exactly ONE guard to chase them off, providing you remember to click on the vandal. A chase-off that takes a few seconds (not including the time the guard takes to run to the vandal), and will leave any other vandals on-screen free to kick away to their heart's content. Later on, these are upgraded to ghosts - with the exception that they will only spawn one at a time (thankfully), but will, upon arrival, cause ALL characters to run screaming back to their post. And, as with the guard, you get a grand total of one ghostbuster to chase off these omnoiusly floating linens... In short, the game's difficulty is, in itself, not overwhelming. But be prepared for frustration once you meet vandals and ghosts. And for that alone, I would not recommend the game.
June 8, 2014
Okay
This game is just "okay". The graphics are not very good and can be hard to see at times. The game is a fast-paced time management game, so if you don't like those, you won't like this. In that aspect, it's very good. It challenges you, but you don't have to beat the clock to move on to the next level. Music is typical and gets old after the first few levels. My biggest complaint is that the "hints" are not understandable. It's obvious this game was not created by native English speakers and I find that annoying, to say the least. Several BF games lately have had that problem. Perhaps BFG could test their games and correct the grammar and spelling before they release them. This game is okay if you don't have anything else to do, but it's not cute, or exciting, or really even very fun.
March 28, 2014
Fun & Decent Time Management Game
This is a fairly standard resource and build time management game. It's very similar in game play to My Kingdom for the Princess. If you liked that game, you'll probably enjoy this. There are tasks on a game board and you must move your workers around, completing challenges. There are upgrades and the typical Gold/Silver time challenges if that's something you're into. The gameplay is very standard for this type of game but the screen does get VERY busy. If you have a hard time moving your eyes around the screen to as many 5-6 areas that need attention, this may not be your type of game. I think an upgrade of having a COLLECTOR of resources would make a nice addition so that you're focused on getting things built and planted...not picking up sticks. I realize collecting resources is a part of these types of games but it gets repetitive and I'd rather be focused on planing and building and getting rid of obstacles. There are standard upgrades throughout the game (workers, different resource buildings) but I think the developers should've put what was needed locked on screen. It wastes time to hover over something, scan your resources, and then pick something. And it does nothing to enhance game play, especially with a screen this cluttered. The graphics are OK (fairly typical) but the music is downright repetitive and gets old really fast. They could've at least changed the music from map to map. I enjoyed the Company upgrades, although they were a bit boring. I would've liked to have seen more variety in terms of colors and styles for the headquarters. Most of the options were already decided for you and they were repetitive (is it necessary to purchase the same tree 4x?). The Gold/Silver time challenges are always frustrating for me b/c I'm the type of player that finds it difficult to move on if I don't get the gold time. This isn't too bad but you'll start hitting that wall in the 2nd map, unless you're just super great at this type of game. Another level of frustration is the BONUS CLUE which is in the bottom right corner of the screen. They are so mind-numbingly vague and offer NO hint that you're left playing the levels over and over again to try and figure out what the clue means. I like the idea of it but I think this could've been better thought out so the clues weren't so vague. I will say this has an intriguing story line. The only reason I'd stop trying for the BONUS CLUE or GOLD time was b/c I was interested in seeing what was coming next. It's done in the comic style so there's no animation but I wasn't bothered by that. I also enjoyed the idea of locations, although that could've been fleshed out and made more apparent a bit more. Many players have complained about lagging w/ the cursor and some glitches in terms of moving around their players but I haven't encountered that (yet). I have, however, encountered a puzzling situation where the game pauses itself and I'm forced to click the icon back open to restart it. I don't lose anything but it's very annoying. Some players have also complained about the map system which only displays onscreen the current map you're in. You can get to a previous area by clicking on map but I think some prefer the widescreen shot (I don't care either way). Overall, it's a somewhat fun game but it's not as great as it could be. The glitches for a lot of players, the BONUS CLUE which is just another level of aggravation instead of being fun, the cluttered screen, the lack of customization in the Company/Shop area, and the repetitive music keep it from being a great game. I'm hoping as I get into the higher levels I don't experience some of the technical issues that others have but Big Fish is fairly decent about trying to fix it. If you just want to click around and don't worry too much about time, this might be decent game to kill time. 3 out 4 stars--It was OK.
April 27, 2014
it was ok
a good game to play and you can try to relaxed the only bad thing about this game is the timer goes faster then the people trying to fix up the place, and when you want to up graded the building it takes forever
March 25, 2014
Fun Game, But Money Problem Bug!
While the game definitely can stand on its own as a sequel to a great game, there is something wrong with the accumulation of money on my game: The money I earn does not accumulate, but rather, it resets with every new level I beat to the amount I earn for the new level (so say I had $1250 dollars leftover because I already upgraded something, I play a new level and I earn another $2000, I don't get $3250, I only get $2000). That means that, unless I spend after every level I play, I don't ever have enough to make the necessary repairs to the office.
November 20, 2014
REALLY Disappointing at the Higher Levels
Seriously. The high rating on this game must be due to the fact that the writers reviewed it prior to levels 30+. First - the whole "vandals" thing is annoying and pointless. I understand that they are trying to add some variety into the game itself; but when ALL YOU CAN DO is spend time clicking on vandal after vandal over and over again, it's too much. You literally don't get to do anything else for long stretches of time other than click on vandals, and it's annoying. Second - I have a new PC with a decent amount of memory and RAM that should EASILY be able to run this game. Yet the game - again, in the upper levels and more than halfway through a level itself when there are vandals and TNT and tons of items to pick up - winds up getting sluggish. So much so that it's difficult to even click on ANYTHING, let alone the relentless and pointless stream of vandals. I honeatly just stopped playing. Don't waste your $$.
March 29, 2014
More like road to frustration
Let me start with the good...the grapics are cute and the music is pleasant. However the voiceovers of the workers gets repetitive and annoying. The level layouts are well done with lots of different tasks and a great trophy system. That being said, while I do love a challenging game, I don't like frustrating ones. For one, I consider myself pretty seasoned at TM games and I enjoy all the Royal Envoys & Island Tribes for the same reasons I like this one - BUT RE & IT games are challenging and doable. When I find myself ready to pull my hair out at the fourth level, it's not worth playing to me. Finally, there is no untimed mode - which I often choose with TM games that are too inaccurate for timing but this game doesn't have them. And if you don't finish the level before the time is up, you have to redo it and can't progress til you do. Nice concept when it works, like with Royal Envoy - but those games are doable (even if you have to repeat a few levels). With TM games that require you to redo a level using a different strategy to pass it, I enjoy them. But with games that are frustrating no matter what strategy you use, it just ain't fun. Games are supposed to be fun and relaxing - even challenging - but not frustrating. My advice, try the demo - you may find yourself luckier than I. But for me, this garden just ain't producing good crops.
April 14, 2014
Far better than the original; almost average
The original Gardens Inc was horrible and not worth buying, but the sequel is far better. The original was a 1 star where this lands between 2 and 3 stars and gets my vote as being marginally worth buying. It is always timed, but should you choose to ignore the time limits, as I did, you should be about half way finished when the time runs out and nothing bad happens except that you get less cash. The cash can be used to buy ?improvements? to your headquarters in a hokey side area like the equally silly ?trophies? area. Despite finishing most levels 10 minutes past when time ?ran out?, I got a bunch of worthless trophies. This version has an improved game engine which did not run slower as you added additional people or else this laptop is faster than my last one. The graphics are quite nice and motion within the game is seamless. Again there are vandals and plenty of them to make the play less fun but not as worrisome as the initial game. Several times a ?shed? quit working and the level could not be completed because the resource was not available elsewhere. That was annoying but a replay always fixed it.
April 5, 2014