Gardens Inc. 2: The Road to Fame
Jill & Mike's gardening business is booming! All this Sunnyvale duo needs now is to win a contest that will award them lucrative contracts all over the world! But when dastardly Cliff Gold escapes from prison, his thirst for revenge might just soak up any chance they have at winning. Help Jill & Mike uncover Cliff's evil scheme and win the contest!
50 dynamic & varying levels
Create beautiful gardens and predict your customers' desires
Countless achievements and high replayability
Game System Requirements:
OS:

Windows XP/Windows Vista/Windows 7/Windows 8

CPU:

1.0 GHz

RAM:

256 MB

DirectX:

9.0

Hard Drive:

399 MB
Game Manager System Requirements:
Browser:

Internet Explorer 7 or later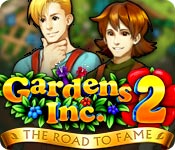 NEW299
The Big Fish Guarantee:
Quality tested and virus free.
No ads, no adware, no spyware.

Reviews at a Glance

Gardens Inc. 2: The Road to Fame
0
out of
5 (
0
Reviews
Review
)
Customer Reviews
Gardens Inc. 2: The Road to Fame
28
28
Jill & Mike Head To Hollywood!
One of the things I like the most in this garden Time Management game, are the vivid colors, beautiful flowers and the fact that there isn't a foot of snow everywhere because I for one have seen enough snow this winter to last a lifetime! Jill and Mike have been successful in Sunnyvale, but have set their sites on Hollywood. There are tasks to finish within a set amount of time and you need to cut grass, move debris out of the way, repair bridges and build sheds. Some of the buildings have switchable resources meaning you can switch between seeds or tools depending on what you need more of. Each level has a goal to achieve for more points such as planting flowers in pairs. Quite a fun game, enjoy!
March 24, 2014
A definite buy, especially if you liked the first one!
This is a very well done sequel to the first Gardens Inc. game, and is a good example of what a good sequel should do. It still retains a lot of the flavor of the first game, but has a few new additions which add to the game without ruining it. If you liked the first one, you're definitely going to enjoy this one as well. If you didn't play the first game, this is a sort of clear the roads style game like Roads of Rome, only with a twist of its own. You're fixing up gardens by clearing the paths, picking up resources (in this case, tools, seeds, rocks, and wood), planting flowers, and fixing up garden fixtures such as bridges, fountains, pools, etc. You'll also end up doing other non-gardening tasks that go with the story as well, such as disabling alarms and things along those lines. The graphics are nice, and are basically the same as the first game. The neat part with the visuals isn't so much the graphics as the sheer amount of things to see and look at. Each level has some neat decorating and arranging that's fun to check out as you're playing, and many of the gardens are quite nice once you've finished sprucing them up. The music is fine - nothing you'll want the soundtrack for, but nothing annoying either. The "Okay!" from Jill every time you have her do something might get old for some, as she doesn't change her phrase like Mike does, but it wasn't really an issue for me. I like the fact that they kept the neat features from the first game such as the bonus goal for each level while adding in extras such as the switching shed (you can switch what resource it dispenses). It is a timed game, which I like, but if you're not stuck on having to get gold you should still be able to complete levels with no issue, and it's a lot less frenzied than many timed games as well. I would totally recommend this game, though obviously give the demo a try first. I'm glad there's been several good time management games recently, and glad to see such a well done sequel to a game I enjoyed a lot!
March 24, 2014
the sequel how it should be
This is based on demo, however I bought the game as it is an outstanding sequel. Following few other games disappointing sequels, this is how a sequel should be. They kept all the essence of the old game and introduced some novelties that are good, putting together into a really good game. The first game is one of my favourites and I am so happy that they did not ruin the theme. I love the graphics, so many small details to look at, sometimes I play level again just to look those details. I don't want to talk about the game, and spoil those novelties. You should play demo and decide if it is for you. I love this game and I will have hours of fun
March 24, 2014
BLOOMING GREAT SEQUEL :) :)
This is a great sequel to the first Gardens Inc with a few new characters aka suspects of sabotage and theft. I bought this from another site, sorry BF couldn't wait. The earlier levels start off easy then BOOM!! the screen is jampacked with tasks which makes for great fun. The story line is good, actually EVERYTHING about this sequel is great. Play TIMED/UNTIMED and just enjoy yourself. Love the single tasks that Jill has to complete, running away from police in order to complete them :) The game had a good ending and am pleased to say that YES YIPPEE THERE WILL BE A SEQUEL !!!!!!!!! If you enjoyed the first Gardens Inc: you'll love this one, I've played it several times and no doubt will do so again and enjoy the bonus goal clues to see if I can achieve the right colour combinations for the plants. GREAT GAME :) LOVE IT :) and you will too. ENJOY :)
March 24, 2014
TM with a great challenge and exciting story
Finally the sequel and WorldLoom/Nitreal nailed it. After dissapointing sequels from other time management hits, Gardens Inc. 2 shows how it works: Get better with every game! Keeping the good stuff and introducing new features. Colorful graphics, thrilling story (with a surprising end) and and a gameplay that fits for every skill level. I was very excited, when I found out about the developer record... really hard and great challenge for all "Experts". I love the litte riddles as additional goal and renovating the company is fun.
March 25, 2014
Finally a Five Star Time Management
I loved the first one, I was not disappointed in the second one. In fact I feel the second one is much better then the first. The only thing that I did not like about it was the poor color choices you got when you where building there office. A must buy.
March 24, 2014
Awesome Game!!
I LOVE this game. I really, really love it. Here's why. I like time management games, builder games, hidden object games etc but in most time management and builder games, it gets repetitive and you end up doing the same things over and over again. OR you can't get the gold medals no matter what strategy you use and have to resort to a walk through to figure out how exactly you do it. BUT then there's this game which is different every level because the flowers give this game a different perspective. Instead of just building houses to give you money or wood or rocks, you have to figure out a riddle on each level to plot the garden a certain way to get a medal. SO not only are you trying to get a gold time, but you are trying to manage the garden correctly and for a lot of levels, it took me awhile to figure out exactly what the game wanted. This game gave my brain a workout that I loved and instead of getting bored halfway through or at the very end and not going back to get gold on every level, I actually took the time to. I got all the medals except I am missing 2 of the really expensive decorations. I reckon I need to get more coins on the mini game levels which I tended to just skid by to get gold in most. I liked the variety this game offered and the uniqueness of planting the flowers. I mean who thought a gardening game could be so fun? I sure didn't especially since most of these farm & garden games are so badly done. This one was like a breath of fresh air. And then there is the plot which most TM games just fail at but this one was actually a good one. I will admit, I didn't read all the dialogue because I just wanted to keep playing the levels, immersing myself so deeply within this game. I mean there were nights I didn't go to bed until 3am because I literally could not rip myself away from this game. But I did find the plot line engaging and interesting and it set itself up for another one so I am soooooo excited! I played this one before the first one so I need to go play that one now but this game is worth every penny. I see on other sites, it was released as a platinum edition. I hope I didn't miss anymore levels because I would buy it if there were more. The only thing about this game that irked me was the police shacks as I kept wishing I could upgrade it to have more cops on patrol because sometimes there were sooo many robbers that ONE cop just didn't cut it. Also, some of the sound effects were soooo annoying like the birds cawing or the workers saying "I'm on it" every 2 seconds but I just would mute it and the game was still enjoyable. I consider myself an intermediate time management player, an expert hidden object player but TMs have just been interesting to me in the past couple years. Some builder games I find impossible to get all gold on like Royal Envoy, My Kingdom For the Princess but this one I found to be middle of the road. Some levels were impossible at first but with more play time they became better especially when you use the bonuses well. However, other TMs like the Roads of Rome series, I was able to get gold in every level of those. I find it fun when I can beat the entire game and I will probably find a way to get all the structures by getting more coins in the mini games. I wish all games could be this engaging and entertaining. I recommend this game to anyone who likes a challenge or likes a relaxing game. I really believe that this is a game most people will enjoy, just mute the cawwww and the Im on it and enjoy it! Kudos!
August 7, 2014
I LOVE, LOVE, LOVE this game!!
I think I'm addicted!! I play this game almost every day. It's the ONLY time management game I like and it's the very best. Everything about this game is great....the graphics, the cute little people running around working, the challenge of building shacks, collecting seeds, wood, rock....everything. The ONLY thing I think they may have messed up on is the "collect as many coins as you can" levels. They only give you a few minutes to collect them and it harrowing to try and make any time on these levels. If they do make a third one ( and I SO hope they do), they need to give us MUCH more time on these levels. Other than that there is absolutely nothing about this game not to love. Thanks for making such a great game!!!
June 24, 2014
Fun Game
Really enjoyed this game. It provided some challenges (the flower puzzle, finding the treasure chests). Hope there is another sequel.
March 24, 2014
delightful for the entire family
Detailed, fun, well animated, cheerful colors and great game play, the little ghosts from the first game returned to our great delight! We were hooked after 30 mns and bought it right there and then. Although i am tired of those kind of games, time management and building, i make an exception for this one and Demigods which was terrific as well as they both offered new twists, pretty scenes and better and better animation. Thanks Big Fish!
March 25, 2014