The Adventures of Perseus
Journey back to the time of Gods and join Perseus on his exciting adventures through the mythical world of ancient Greece. Help Perseus defend his honor by mastering Match-3 puzzles as well as a variety of mini-games. Challenge yourself to different game modes and difficulty levels to make yourself part of the myth. Collect heroic gear along your way and help build an ancient city. Will you be able to win the favor of Gods and use their patronage to overcome the obstacles in front of you?
Experience a variety of challenges across 85 levels.
Play 3 different game modes and choose between 3 difficulty levels.
Construct an ancient city.
Find heroic gear and win the favor of the Gods of Olympus!
Game System Requirements:
OS:

Windows XP/Windows Vista/Windows 7/Windows 8

CPU:

1.0 GHz

RAM:

256 MB

DirectX:

9.0

Hard Drive:

127 MB
Game Manager System Requirements:
Browser:

Internet Explorer 7 or later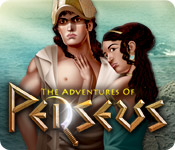 NEW299
The Big Fish Guarantee:
Quality tested and virus free.
No ads, no adware, no spyware.

Reviews at a Glance

The Adventures of Perseus
0
out of
5 (
0
Reviews
Review
)
Customer Reviews
The Adventures of Perseus
26
26
Intriguing and a bit different match 3
Based on the trial hour: A mix of swap, chain and block, but you can't choose, you're usually told at the start of each level which it will be (though once or twice it didn't seem to and I had to use trial and error - the instructions for the one mini game I've come to are also rather unclear). Tiles fall rather slowly, but you don't have to wait for them before making your next move, and there is no timer - at least in the easiest level which is the only one I've tried. There are 3 levels of difficulty. In the swap levels a match 5 creates a bomb which you can pick up and use anywhere on the board, something I've not seen before! Other levels have power ups which you can fill by just clicking on the appropriate tiles as they appear rather than having to make a match. The last grey tile to be removed can be difficult to spot, but a sparkle shows it after a while. The artwork on the boards is clear and attractive, and new designs appear at new stages of the game. The story is in rather crude black and ochre, presumably to resemble Greek pottery, and the village which you can build is also rather crude and you have no choice about what to buy or where to put it - it just appears. Not a game I'll rush to buy straight away, but definitely one to keep in Game Manager for when I want another match 3. .
March 25, 2014
Enjoyable Game
This game has 85 levels with different boards, building a city and the story of Perseus in ancient Greece. There are powerups to help you. You must use the powerups on a particular board as they are not saved for the next one. There are breaks for mini-puzzles and hidden objects.
April 4, 2014
Love Perseus
This is real adventure, very interesting game, the challenges are great. Graphics is very very good, i love Greek mythology. And the music, like somebody has already said, is like a movie theme. I'm impressed
April 4, 2014
Good basics, old school story work
This is a fun old school match three that tries to do too many things at once. It tries to be a city builder, story follow and combo game - but where it really succeeds is as a basic match 3 game. Pros: Good match 3, fun mini puzzles between games, soothing music, nice power-ups that truly help, good length. Cons: Biggest con - if you run out of matches you have to start the whole level over. Its very frustrating when you're two or three blocks from the end and have to do it all over again. The builder part is lackluster - there's no real motivation or joy - buildings just go up. The story wanders back and forth and eventually stops making sense. Skip the story, and just play screen to screen.
May 29, 2014
*Now* they tell me...
I liked this game yesterday when I tried it out. I bought it. Unfortunately, while I found it kind of interesting with a variety of different things to do, it lasts about 10 minutes longer than the trial. If it had more replay value, I might be OK with it. As it is, the only choices you have are difficulty. I suppose I could play it over in a harder mode, and maybe that would add some time to it, but really, BF, don't you have any clue as to how long a game is before you market it? This is about the third time I have run into this problem in a matter of weeks. If not for that, I could recommend it. As it is, I can't.
March 26, 2014
A fun game but...
I enjoyed playing the game except the it does not keep your scores or even tell you how fast you finished a level. Takes the fun out of mastering a game. It's good for M3 beginners. There are some puzzles and HOs that are fun.
April 10, 2014
Good game ruined by small game area.
Oh dear what a pity. I'm the proud owner of numerous BFG's, a lot of which are match 3 and I have no difficulty in seeing clearly what I'm doing. The tiles in this game are very small and I don't know why. There is loads of free space on the screen and it seems such a pity to have restricted the tiles to such a small area. I wear glasses, but I felt the need of a magnifying glass to play this game! Sorry guys but I'm not going to cause problems to my eyesight trying to play this game. I gave this game poor to OK ratings. Why? Well as explained above after 10 mins I had to give up!. Increase the size of the tiles and I'll buy it!!
March 25, 2014
Parts of game need changing
On the surface this looks like a good game, at the beginning I did enjoy it, BUT I would rather choose how I run the game not told I have to do the match 3 a certain way. I do not like doing chain or block, I like deciding which square to move, this should be the players choice. Second and very frustrating part is if you run out of movies instead of shuffling the board you must start the board all over again. I had one square to go and was forced to repeat the entire board. FRUSTRATING!!!
March 27, 2014
A big disappointment
i like match 3 games very much, but only when they are fun to play... all too often, M3 becomes boring very quickly, however, many developers have a sense of fun when designing a new game in an old mode... i have many M3 games that get played over and again. This, however, will not be one of them. First, the colors are dark and muddy... it is difficult to read the instructions, the mini games are not clearly defined and instructed, the music is also dark and muddy. i stayed with it for half the free time, and have now deleted it from my queue. Sorry, developers-- please try again... there IS potential here.
March 25, 2014
Too much flashing and strobing.
If you like playing games while your toddler uses a mirror to flash sunlight in your face, then this is the game for you. I like bling as much as the next person, but this game has so many flashing lights that nine minutes was more than enough to start a headache. Of particular annoyance was a swathe of light that washed across the page every few seconds. Sadly, this isn't some technical glitch, but something the developers are doing to you on purpose. It's obviously not bothering everyone the way it did me, but if you're at all sensitive to stobing lights, you may want to give this one a pass.
March 25, 2014