The Adventures of Perseus
Journey back to the time of Gods and join Perseus on his exciting adventures through the mythical world of ancient Greece. Help Perseus defend his honor by mastering Match-3 puzzles as well as a variety of mini-games. Challenge yourself to different game modes and difficulty levels to make yourself part of the myth. Collect heroic gear along your way and help build an ancient city. Will you be able to win the favor of Gods and use their patronage to overcome the obstacles in front of you?
Experience a variety of challenges across 85 levels.
Play 3 different game modes and choose between 3 difficulty levels.
Construct an ancient city.
Find heroic gear and win the favor of the Gods of Olympus!
Game System Requirements:
OS:

Windows XP/Windows Vista/Windows 7/Windows 8

CPU:

1.0 GHz

RAM:

256 MB

DirectX:

9.0

Hard Drive:

127 MB
Game Manager System Requirements:
Browser:

Internet Explorer 7 or later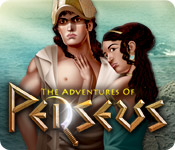 NEW299
The Big Fish Guarantee:
Quality tested and virus free.
No ads, no adware, no spyware.

Reviews at a Glance

The Adventures of Perseus
0
out of
5 (
0
Reviews
Review
)
Customer Reviews
The Adventures of Perseus
27
27
ADDICTING CLICKING
The challenges and varieties available in this game are excellent, reminding me a little of the Cradle Of Rome series of match 3 games. The future has been foretold, Acrisius will be killed by his grandson, therefor he locks his daughter into a tower with only a small window. Zeus feels sorry for this lovely woman, you get the picture.... There are 3 Modes of difficulty Mortal/easy which has no timer and puzzles can be skipped in 30 seconds. Hero/medium which has a timer and 60 seconds on skip and hint meters. Olympian/hard has no skip features and hints take 2 minutes to recharge. There are mini games such as repeating the same order of symbols shown in the fire, by matching the exact order on the symbols in the sand. Some levels require you to match a certain amount of keys and then use that key to open up a chest as well as the rest of the board. You have to do the same with feathers, and then use the feather on the parchment paper. There will eventually be sickles to collect which will destroy the creatures. There are different goals requiring different types of match 3 games, the classic 3 or more tile swapping ( if you make multiple matches you receive a bomb on the board) Click and Drag multiple tiles and Click on groups. There are the usual tiles in ropes, blocks and even fog, requiring you to make multiple matches in order to break the tiles. There are several bonuses, a single click on them will collect them and if they are on a gold tile it counts and turns it grey. -Lyres: Apollos Blessing destroys tiles in a snowflake formation. -Tridents: Poseidons Blessing destroys a row of tiles. -Owls: Athenas Blessing destroys tiles in a 2 range. -Caduceus: Hermes Blessing destroys tiles diagonally. -Cerberuses: Hades Blessing destroys tiles in a column. -Scallops: Aphrodites Blessing destroys tiles in 3 range.
March 25, 2014
Stunning variety in gameplay
I only played for hour or so, but I'm already impressed with how gameplay evolves as different levels come by and new elements are introduced. Game also has several variations of match 3 mechanic, so you don't get that usual feeling "oh, that's just same like previous three levels". And it's all put in ancient greek set up, which I love since my childhood age. There are nice story peaces with voice overs every few levels so I can't write any more here - I must solve few more levels to find out what happened [small spoiler!] with Perseus when he was thrown into the river with his mother! I must also compliment music, which is ambiental and atmospheric and doesn't get in the way when you're solving problems, but quite enjoyable when you deal with easier parts. Well done!
March 25, 2014
Fun - Choose your own skill level
Fun game with good story line. Like the different skill levels. Various mini games make it more interesting, as well as different ways to make matches. Good Match-3 game!
March 26, 2014
Beautiful Retelling of the Stories of Ancient Greece
Loved it! I bought it after 30min of play. Lots of variety in game play, levels of challenge, beautiful displays, wonderful music. I fell in love with the narrator. He tells the story of Perseus in lovely, velvety tones. The guy could probably read a grocery list and get paid for it!!
March 25, 2014
Cinematic atmosphere
A little less cartoonish than usual M3, The Adventures of Perseus offeres a large variety of gameplay. I'm always happy to see there is more to a game than just mechanics.
April 3, 2014
ONE OF MY FAVORITE MATCH 3 GAMES
In the last months I started playing Match 3 games. I love this one. The game play, music and voiced story line are really great. I wish it didn't end. I hope I can find another one like this to add to my games.
May 8, 2014
I like it!
Good graphics, backing music, effects ... My expectations were me
April 9, 2014
Another good 3 match game
I have a lot of fun and the graphic a very good.
March 25, 2014
Fun!
There is nothing overly challenging in this Match 3 game, so if you prefer the complex or difficult or time consuming (on one level) gameplay this is not for you. Also the story line is exactly the same as at least one other Match 3 on Big Fish. Having said that, it was a very enjoyable game with all varieties of Match 3 plus good graphics. Worth the price on sale.
May 26, 2014
Glad to see a new match three!
I like this game. It's not great, but it's a good one. After the demo I used a freebie and bought it. It can be played on easy, medium, and hard. I'm playing the easy because it's not timed. I don't like timed games, and I won't buy them. I like the option of timed or not. This game has quite a few differences, so it's not boring. Sometimes it's swap, then chain, then 1 click. There are also hidden object scenes between levels, and puzzles. I didn't listen to the music so I can't say how that is. There are objects to collect on the board play, and one click takes them; you collect them then you can use them to help you. You don't have to use them to make a swap, just one click on them and they're yours.After you get so many you use them to destroy areas; different ones destroy different directions. Each game has different ones to collect. I like that they aren't all the same. Same-ness is boring after awhile. You get a bomb on the playing field, and there are the usual blocks, locks, etc that you have to make a swap next to to destroy them. Each level has different colors/objects on the squares, and that's nice. There's also a town to build, but you don't choose which you want. They just do it for you, but it would have been nice if we could choose the houses, buildings, etc.The reason I gave it four stars instead of five was because sometimes the different backgrounds was a bit 'too busy' looking and that made it a bit harder to see the playing field, and it wouldn't hurt if the playing field was a little larger. I can see it ok, but it could be larger. All in all, I like this game, and I wish BF offered match-3's more often. #hint hint# lol Next to HOS, I like match-3's, especially like this one that has many different things to do, not just straight match-3 play. I see by the comments that they are not all favorable, but give the game a try and decide for yourself. Enjoy!
March 26, 2014