Style Quest
Run the most stylish shop in town! Stella's dream is to run a five-star luxury boutique. Join Stella and her friends as they help customers find their new look with a wash, style, spa treatment, and outfits built with two fun mini-games. Beat levels to earn Superstars and spend them to unlock 30 bonus features including new equipment, upgrades, and employees to help you around the shop! Can you transform this tiny shop on the edge of town to a luxurious seaside resort?
Five funky stores across 50 levels
Fun, quick-play minigames
Play in Endless Mode: how long can you last?
Unlock 30 shop upgrades, including employees!
Game System Requirements:
OS:

Windows XP/Windows Vista/Windows 7/Windows 8

CPU:

1.2 GHz

RAM:

1024 MB

DirectX:

9.0

Hard Drive:

34 MB
Game Manager System Requirements:
Browser:

Internet Explorer 7 or later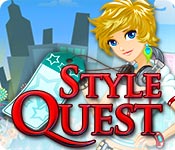 NEW299
The Big Fish Guarantee:
Quality tested and virus free.
No ads, no adware, no spyware.

Reviews at a Glance

Style Quest
0
out of
5 (
0
Reviews
Review
)
Customer Reviews
Cute Game
In the demo you can't upgrade everyone at first. You finally get to upgrade them as you move along. The hardest part of the game is getting all 5 stars on your clients. They come in with no stars and the faster you wait on them you get a star. If they wait to long the star doesn't go up for that station. By the end of the game you have 3 other helpers and it is easier to get the 5 stars. I like the game it is fun to play. The music and effects are good. Easily adjusted in the options.
April 3, 2014
Fun game, but needs better graphics.
So pretty much I only played the 1 hour free trial, but I can tell you that I love Time Management games and this one I do think it deserves about a 4 star no more, and no less than a 3 star. I wish the developers put more time into better graphics and I didn't like how I had to skip all the intros one sentence at a time there wasn't an option to "SKIP ALL" which was annoying when you have a time limit on the game. I recommend this game for sure it's a good game, but I didn't get very far # two salons #. Enjoy!
April 1, 2014
Average Salon Style TMG
This is a typical salon time management game - usher clientele around different stations and upgrade the shop. The plus side to this game is that there isn't a mini game for every single station, which can be very tedious in other salon games. The downside is that the main character is, in my opinion, very slow and you don't have an upgrade to make her faster. Also a little bothersome was a confusing instruction in the tutorial that you need 3 stars to complete a level. This is not true. It's also obscure on how you get those stars - you only earn them once you have reached silver or above on the timer and you also cash out a customer with 3 or more stars in her bar. It was an okay game. Not the best salon game, but not the worst either. I could take it or leave it.
March 25, 2014
Sally's Salon rip-off without the upgrades
I love Sally's Salon. I was hoping to love this one, too, since we don't get many time management games any more (and could use a break from all the dark and gloomy tales)... You can't make Stella move any faster, and there are too few upgrades. Customers walk in with no starts - it's up to you to build them. Unfortunately, it seems to be haphazard as to how to earn them, so some get 3 and others 5 and some 2,etc. Don't bother with this - get Sally's Salon!
March 27, 2014
Fine game. Needs some tweaks
Here is my main beef: i have had perfect 5 star checkouts for an entire level and somehow not earned enough to pass the level. Like, at all. So, there is something definitely screwy w/ the formula that decides whether or not you pass the level. For some levels that I did not pass or that I passed w/ a poor score (score of 1 out of 3) I will go back and play that level again, doing worse than I did originally, and pass w/ a perfect score. It is very frustrating to play a level well or even "perfectly" (an entire level of only 5 star checkouts) and be told at the end that you did not pass the level and need to retry. The other beef I have is that the most stars you can earn on a level is 3 which is too few at a time to purchase upgrades in a timely manner. I have played more than half the game and have earned a perfect 3 stars on every level (some I had to go back and play again in order to get that score). Even earning every star possible and playing way more than 1/2 the game I still have at least 7 upgrades that I need to purchase w/ it taking at least 2-3 levels to earn an upgrade, it will take me a minimum of 14 levels just to purchase the 7 upgrades I don't have that I currently know about and there is always a chance that more upgrades will be introduced. This really adds to the frustration of playing.
April 3, 2014
Stuck in the higher levels
I enjoyed this game, and ended up buying it. Stella is slow at first, but you have a chance to upgrade her speed later. If you are having trouble getting three stars, go back and redo the level after you get some helpful upgrades. My problem is that, I guess not enough clients come in, so even if I get each person checked out with full stars, I can't even get one star to move on to the next level! I've redone the same level four or five times, and it's just not possible to pass it. They need to fix this problem so people can finish the game!
March 30, 2014
It's an okay game
This is based off the demo. I like the visuals they are bright and appealing. You can adjust the volume of the music and the effects. It went straight into the game with no back-story which is fine since you can pretty much surmise from character interaction that you are building a chain of boutiques. I didn't get to play the full demo (had a toddler melt-down to deal with) so I hope the game play gets increasingly harder as you go along. As TM games goes it doesn't seem overly original. But I think it is cute and amusing enough to use a free game credit. I suggest playing the demo first to make up one's mind first.
March 25, 2014
it was ok
this game was ok seems like it took for ever for the bonuses to come up. It's like diner dash run around like a chicken with your head cut off
March 25, 2014
I think the main character is a turtle, not a human
I liked the concept of the game and the storyline, and as other reviewers have pointed out, BFG needs more of this type of TMG. I also like picking out the clothes and the shoes. However, Stella moves soooooooo slooooowly. It is incredibly frustrating and there is no way to speed her up like in Wedding Salon or the Sally games. Also, you can only earn 3 stars per level, no matter how many people you serve or how well you do. All of the upgrades are 5-6 stars so you have to complete two levels to buy anything. There is an unlimited mode where you can earn hundreds of stars but you can't buy anything with them so what's the point? If Stella the turtle's speed was fixed, you could buy a shoe stock clerk, and the number of stars earned reflected how well you did I would really like this game.
April 14, 2014
It was okay
Not even close to Sally's Salon.
April 5, 2014
The Apple logo is a trademark of Apple Computer, Inc.