Style Quest
Run the most stylish shop in town! Stella's dream is to run a five-star luxury boutique. Join Stella and her friends as they help customers find their new look with a wash, style, spa treatment, and outfits built with two fun mini-games. Beat levels to earn Superstars and spend them to unlock 30 bonus features including new equipment, upgrades, and employees to help you around the shop! Can you transform this tiny shop on the edge of town to a luxurious seaside resort?
Five funky stores across 50 levels
Fun, quick-play minigames
Play in Endless Mode: how long can you last?
Unlock 30 shop upgrades, including employees!
Game System Requirements:
OS:

Windows XP/Windows Vista/Windows 7/Windows 8

CPU:

1.2 GHz

RAM:

1024 MB

DirectX:

9.0

Hard Drive:

34 MB
Game Manager System Requirements:
Browser:

Internet Explorer 7 or later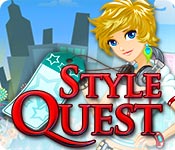 NEW299
The Big Fish Guarantee:
Quality tested and virus free.
No ads, no adware, no spyware.

Reviews at a Glance

Style Quest
0
out of
5 (
0
Reviews
Review
)
Customer Reviews
Just Alright
I have played better, the graphics were rather old, but it was ok and could possibly get addicting, but I think I will pass on buying it
April 5, 2014
Boring Game
Very much like Sally's Salon without the fun. Just an "ok" game. Kind of boring but tolerable.
April 1, 2014
A rather slow, and therefore boring, time management game
I've played a few of these salon/spa type games, though it's been awhile since the last one I tried. So I figured I'd give this one a try and see. After some initial trouble getting it to work, I got it started up and got into playing it. The graphics are okay, though very much in an anime-ish type style that you can see a lot in internet-based style games. (My 8 year old daughter has played many of those, so I've gotten a chance to see them over her shoulder.) The sound is a bit odd, though. The music is fine, if a bit boring at times, but a lot of the rest of the sound effects sound as though they were pulled from a phone. For instance, when a customer enters your salon/spa, it sounds like the dial tone noise you get when a business line is transferring you to another person in the States. There are a few other phone-like sounds for different things as well, too. There are also some none-phone sound effects, but the phone ones just seem really out of place. The game itself is pretty slow paced. I could see this being enjoyed by a pre-teen who's big into the fashion/styling type games I mentioned you can find on the internet. My 8 year old daughter would like this one. But with how long it takes to do anything (they walk so slowly!), I got bored after awhile. I kept playing to see if it would improve, but 10 levels into the game it was still just as slow as at the start. The mini games to pick out outfits and shoes are also a bit annoying. The shoe one pops up the minute you put someone on the station, so woe to any customer you might need to deal with right away, and if you're already standing at the dressing room the clothing one pops up right away as well. Despite being called mini games, all you really have to do with them is choose the correct outfit and the two shoes that match, so there isn't much challenge with them. Beyond clothing and shoes, you have to wash and style hair, and put them at the spa station. The spa station seems to break down an awful lot, which gets annoying if it breaks down while you're elsewhere in the spa and can't move the customer who was using it away, as it being broken causes them to get annoyed faster. You cannot cancel queued actions as far as I could figure out as well, so that leads to issues sometimes. However, even with extra things to annoy the customers such as broken stations, extremely slow service, and no ability to move people if they aren't swapping and the other station is full (you can't put them back in the waiting chairs), it's still not particularly hard. Ultimately, I wouldn't recommend this game unless you're buying it for a pre-teen who's really big into these types of games. It's just not very well done, and gets boring really quickly. Pass on it and find something else.
March 25, 2014
Disappointing on so many levels
I really wanted to like this game as there aren't too many traditional time management games on offer these days apart from the clickfest, resource collecting ones like "My Kingdom for the Princess". I got quite excited to see this was an old-school game with nothing dark or horrific; it also had a salon/fashion theme, which delighted the little girl in me. Unfortunately I found almost nothing to like about it. The gameplay is very reminiscent of Sally's Spa (move clients from chair to chair providing services at every station) but without any of the fun. The graphics are tired and just didn't feel polished enough for this sort of game; the music is mega annoying (I had to turn it off immediately); the gameplay itself feels very stilted and laborious. The difficulty level also seemed to sky-rocket very quickly (as in within the second level) and I found the tutorial just wasn't adequately informative enough to help you deal with the sudden spike. This just makes me feel as though the developers were too sloppy to properly control the game's development. The only thing I did like were some of the characters that popped up every once in a while as your friends - cute, almost manga-style. But to be honest I was desperate at that stage to find any redeeming feature. I like to give games a go and don't often turn them off before at least the end of the trial but after 15 mins I couldn't take it any more. What a shame - I'll have to wait another 6 months before I get to see another good, traditional time-management game.
March 25, 2014
Could Stella Move ANY Slower?!?
I love time management games. This is a (cheap) knock-off of the Sally's Salon games. Graphics are ho-hum. Had the sound off, so I can't address the music. My biggest complaint is how slowly Stella moves. This is a time management game--when the main actor in the game moves at a snail's pace, it affects your score! And there is absolutely no way to improve her pace, unlike with the Sally's Salon games. If you want a salon-style time management game, stick with Sally, and avoid this one.
March 26, 2014
Wanted to like this
I wanted to like this game. We need some new TMGs here at BF. However, the jerky, slow movement of the characters made me not even finish the demo. Plus the scoring seemed a little random without the typical heart or smiley face run down meters used on other TMGs so you could run to the characters you needed to serve first. Story line was okay, but the bad graphics make me recommend giving a pass on this one.
March 26, 2014
Disappointed
I was really hoping I would like this game and when I first started playing I thought I wouldn't be disappointed, however I have reached about 4th or 5th level and already the cost of upgrades or new equipment is more than I'm earning. You can earn up to 3 stars a level and buy equipment using those stars. I'm working as fast as the character's speed will allow but unfortunately I'm still just about making it to 1 star. I've lost the motivation to play the rest of the trial and won't be buying. I personally am not recommending this game, however there may be many who it may appeal to.
March 25, 2014
Bad style quest
I've played quite a few games of this type and I must say that this is quite bad compared to the others. The graphics are flat and the game gets boring after a very short time. If you enjoy games like Sally's Spa ... don't waste your time on this one!
March 29, 2014
There is all too slowly
Good idea, but if it was possible to play faster, all characters moves too slowly, that's made me so angry!
March 25, 2014
Maybe it's me
I found this game to be awful. People moved so slowly that it was impossible to achieve move than 3 stars in one hour. Very disappointed and would not recommend
March 28, 2014
The Apple logo is a trademark of Apple Computer, Inc.