True Fear: Forsaken Souls
Warning: True Fear: Forsaken Souls is an intense psychological thriller intended for mature audiences.
What if everything you knew about your life, everything your family ever told you, turned out to be a lie? A strange midnight visitor could change your life forever... Find out the truth about your past in
True Fear: Forsaken Souls
, a chillingly exciting Hidden Object Puzzle game!
Game System Requirements:
OS:

10.9/10.8/10.7

CPU:

1.2 GHz (INTEL ONLY)

RAM:

1024 MB

Hard Drive:

997 MB
Game Manager System Requirements:
Browser:

Safari 4.0 or later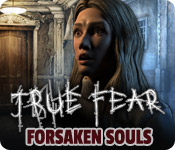 NEW299
The Big Fish Guarantee:
Quality tested and virus free.
No ads, no adware, no spyware.

Reviews at a Glance

True Fear: Forsaken Souls
0
out of
5 (
0
Reviews
Review
)
Customer Reviews
True Fear: Forsaken Souls
60
60
Mayzy's Review: True Fear: Forsaken Souls
I like to be scared. I'm constantly on the look-out for a game that will give me the chills and this game actually did! There were some really creepy scenes! The hidden object scenes were very nice but there weren't very many or very many puzzles. I don't feel the game suffered for it, but some people might be disappointed. Now I'm just dying for part 2 to come out!
April 26, 2014
Somewhat dissapointing
I feel a little mislead with this game. I was looking forward to being scared and it fell short. There were a few scary portions, but it ended badly.
April 5, 2014
Can't wait
Loved this game and would love some indication when the next chapter will be available
March 31, 2014
CREEPY CRAWLY FEELING ARISES
Very spooky - seeing the dead people being dragged away was really creepy. I was somewhat disappointed that the environment had a dismal appearance. Just because the topic is scary doesn't mean the localities have to be dull and drab. Otherwise, the graphics were okay - dreary makes it difficult to show crisp and detailed artwork because of the color palette. Long on adventure - short on HOS. Puzzles are not too difficult. I like this kind of game; I just think others have done a much better job of kick-starting interest in the story and keeping it at a rather high level. So about a low 3 1/2 stars even though I like creepy crawly stuff. But there's nothing really wrong with the game - just personal preference.
March 30, 2014
You'll have to wait until Fall 2014 to finish the game
I was disappointed when I got to the end of the Standard Version and found out that the makers didn't finish the game. There was a frame on the screen that said that the sequel is coming out in Fall 2014. Now it feels unfinished, and I feel cheated because I have to buy another game to figure out how it ends.
April 10, 2014
More "God Forsaken" than fear-inducing
I'm not entirely sure why this game is getting such high reviews. It has the same story line 90% of HOG have - oh no, a family member or loved one is missing/kidnapped/dead - you have to find them/solve the mystery! While there is a slight bit more "horror" element than most typical "dark" HOG (ominous build-up, jumping out at you), there was nothing about this that screamed (pun) terrifying by any means. Am I the only one that thought the story was all over the place?? Throughout the game you'd find bits and pieces of the story completely out of order, therefore making it pretty uninteresting and pretty irritating since you already knew what was coming. The graphics and quality are very good, however I do wish the main character/avatar had been made to blink - she looks like a creepy doll.
April 15, 2014
Not what I expected
Once I got involved in the game I started liking it better. However, I really don't like a game to leave me hanging with no conclusion. I don't feel I should have to buy another game to get some kind of resolution in the first game.
April 15, 2014
No End to the Story!
I'm very disappointed. The story line (is there one?) is all over the place and at the - pretty sudden - end of the game I had to find out, that I have to wait months so I can buy another game to find out what really happened. It feels like reading a book and the last 10 pages are missing! No, thank you!
April 28, 2014
same old same old
more of the hidden games WHAT A BUMMER not good at al quit in 15 minutes don't know what others saw in this game glad I didn't buy it story line what story line some objects are small you really really have to look for it
March 31, 2014
Feedback For Developer ONLY- Based On Demo
I'll start by telling you that all of my 4 and especially 5 star reviews are based on completed game. The only time I do demos is if I don't like a game which sorry just happens to be the case here. Actually the last couple of games I've reviewed have unfortunately been on the demo. FUN FACTOR: Sorry developer I honestly was really looking forward to this game. I'm really into psychological thriller type of games/story but at least for the demo time the so called "warning" on this game is purely all hype for me. I found absolutely nothing scary about this game. About the only thing I found in the way of creepy was the hint button which looks like the cross between Linda Blair from the Exorcist and a female version of the "Chucky" doll from the Child's Play movie. If the game does get to be more of a "thriller" past the demo time well sorry but you shouldn't put all of your best work past the demo as you should not only have my attention during the demo to get me to purchase but keep it throughout the game. I will say I sure appreciated no "cutesy" or not so "cutesy" animal helpers that I had to name/feed/dress up! VISUAL/SOUND QUALITY: I definitely get that this is suppose to be a "thriller" type of game and I don't even mind buildings that are a bit rundown in games but sorry I don't understand why not only you but other developers have to make things look so gross with the creepy crawlers, rats, cob webs in the fridge, etc. I do believe a game can still have the "thriller" eerie" feel to it without this. For me the graphics were just plain awful especially the cut scenes. They were grainy and blurry. In regards to the sound I found this to be a very quiet game and not much in the way of music which is where I think you could of worked on to get the creepy/eerie feeling. The voice overs what little there were I thought were really good. LEVEL OF CHALLENGE: Here you have 3 play modes I just checked out the harder two modes. I ended up on the middle of the road mode because I like to have hint/skip available just in case needed. The only difference I found is the hint/skip are disabled on the hardest mode. Neither have sparkles however both are overloaded with black bar tips. I don't understand this at all. Why have 3 levels if all are going to be overloaded with black bar tips? The HOS I like interactive word list and usually enjoy these but were Sanford & Son junkyard to me. I also found a bit confusing with several items opening up into more complex items but I did find that the HOS list helps with transparent, black and red items representing which items are visible at any time. The puzzles I'm not a fan. Less the better. Having said this: The same ones I've come across in many games. I found them rather simple. Nothing difficult here. The demo of this I didn't find much on the "adventure" side at all as it was basically the same 3 maybe 4 locations over and over again so not really much back/forth. STORYLINE: As I mentioned I'm definitely into this type of storyline but I found nothing "psychological thriller" about this game CE EXTRAS: Bonus Chapter: From my reading after I finished the demo as this is when I read for peoples' thoughts on the games that is when I'm "done" with the game. Be that the "demo" or after I have completed it. It was nice for a change to see some "honest" reviews and I don't think this is a spoiler since it's been mentioned in a few reviews in the forum and on the main page but this game here: The story does not completely end at the end of main game play or even after the bonus game play because it is part of a trilogy. I will also tell you and the Big Fish this is exactly why I don't do raving 5 stars or even 4 stars based on the demo I also have no problem with developers doing sequels (but your game here is a trilogy from my reading the more "honest" reviews) but the main game should have an ending and bonus chapter be just that a bonus chapter so now people have to spend more money for the other two parts to find out what happens in this game that is if they want a "complete game" of course. Oh and just who knows when those will be released. Achievements/Collectibles; No longer a fan of this "fluff." Wallpapers: Used a few from some games but not a must have. Strategy Guide: Have rarely used but nice to have with game just in case needed. Concept Art/Music; Never used this "fluff" in any game. Replay HOS/mini games/puzzles: I don't do this. Once again sorry but definitely a no go here! I just found this game downright boring with no challenge at all and then to top it off the main game and even playing the bonus still don't have a complete game. I must say I'm highly turned off by you. I'll be watching for your games more closely to try and avoid since I won't be getting a completed game even if I was to purchase the CE version! Sorry HUGE turn off! SHAME ON YOU!
March 31, 2014
The Apple logo is a trademark of Apple Computer, Inc.
The Windows logo is a trademark of Microsoft, Inc.