True Fear: Forsaken Souls
Warning: True Fear: Forsaken Souls is an intense psychological thriller intended for mature audiences.
What if everything you knew about your life, everything your family ever told you, turned out to be a lie? A strange midnight visitor could change your life forever... Find out the truth about your past in
True Fear: Forsaken Souls
, a chillingly exciting Hidden Object Puzzle game!
Game System Requirements:
OS:

10.9/10.8/10.7

CPU:

1.2 GHz (INTEL ONLY)

RAM:

1024 MB

Hard Drive:

997 MB
Game Manager System Requirements:
Browser:

Safari 4.0 or later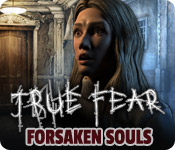 NEW299
The Big Fish Guarantee:
Quality tested and virus free.
No ads, no adware, no spyware.

Reviews at a Glance

True Fear: Forsaken Souls
0
out of
5 (
0
Reviews
Review
)
Customer Reviews
True Fear: Forsaken Souls
70
70
I'm Already Beginning To Feel Forsaken
The setting is in the year 1984 when you receive a cryptic letter from your sister Heather, with whom you have not been in contact with since your mother died ten years ago. Heather asks that you (Holly, a green-eyed beauty) come to a certain address to visit. The address turns out to be a boarded up, broken down, apparently abandoned home. But, all is not as it seems. This game does successfully create a creepy atmosphere and also delves into themes like mental illness and treatment of the mentally ill. However, while this may not be a game for young children, it certainly is not as scary as it suggests. Many of the game's "surprises" are telegraphed well in advance so you really expect them. The opening screen is of a security monitoring station at a mental asylum, and it is apparent that something has gone horribly wrong as the camera pans across (spoiler alert) dead bodies and trails of blood. As you would expect, the drawing style is not cheery and colorful, but instead deliberately drab using a palette of pale blues, greens and browns. There are also a lot of little critters all around, such as small crawling bugs, creeping spiders and skittering mice. Game play consists of more puzzles and locks than hidden object scenes. The hidden object scenes have a somewhat older feel, with small pop-up areas in them. Objects available in the pop-up areas are highlighted in your list, while the others are faded out. Speaking of pop-ups, there are tutorial screens that appear again and again, forcing you to turn off the tutorial multiple times. When passing between scenes, occasionally the opening scene appeared for a moment - the security station. This seemed odd. Along the way you collect pages from your sister's diary which begin to fill in the back story. For comparison, the CE includes collectable statues, 15 in all, extra play, and strategy guide, as well as other pseudo-extras like music, wallpaper, making of, achievements, deleted scenes, cut scenes (movies), and replay of puzzles and hidden object scenes. Maybe it's just that this type of asylum game has not been done in a while, but it does have a scary, creepy, haunting effect. It's not quite TRUE Fear, but it comes awfully close.
March 30, 2014
Genuinely Frightening!
I dont review games often, so you know when I do, it's a worthy game. I enjoy mildly scary games which are heavier on the adventure than the HOGs. I felt True Fear met that balance quite well (though, why cant ALL games give the option of match three OR HOG?) I definitely experienced "look away from the screen" scare moments, and felt challenged enough by the puzzles to be interested, though not enough to be frustrated. While the script and grammar could have been much better had a native English speaker given it the once-over for dialect cues, I think the overall plot and sensory experience more than made up for it.
April 2, 2014
Dark, But Look on the Bright Side
This is posted after playing the entire game. I really enjoyed playing this game. Oh, I've played better, but I have played a lot worse. It is a bit on the dark side, but nothing an adult or even a teenager can't handle. All in all, I enjoyed playing this. DO NOT judge this game by the demo. It was only 45 minutes long and that isn't long enough to judge it. The graphics were very good. We are all use to the sparkles to show the hidden object games, but this is different and goes right along with the theme of the game. The sound is extremely good. The voice overs are well done and the music is eerie, but so is the game. I liked the challenge. The hidden objects were very easy. I think I used the hint once and that was to see how long it takes it to recharge. The mini games were my kind of games. They weren't so simple that I got bored, yet it was hard enough I had to think some. I just don't have the patience for some of the mini games that come out. It was a good balance. I mentioned the hint which does a good job, but there is also a map, which shows where there are things to do and transports you wherever you want to go. The story is dark. The warning is true to what it says, but again, it isn't all that bad. Didn't have but two nightmares about it last night. No, just kidding it was a fun scary. You are lead up to what appears to be the conclusion, and then... AND THEN.... to be continued popped up for the fall of 2014. Not long to wait, but darn, I'll have to buy another game to see how it ends. This is a good game. I bought it and am not sorry I did.
April 17, 2014
WAITING FOR THE NEXT INSTALLMENT.
The flying birds in an overcast sky, waving grasses and all the creepy-crawlies one could hope for. Reminds me of the Sullivan River game. Jump map came in handy as I became bored at the last chapter. The story and art work kinda' fizzle out as the heroine discovers an underground vault decorated with the usual demon statues and puzzle locks.
April 7, 2014
Too Short
The Game over all is very good. The games do take some time to do. The story is pretty interesting but the game is way way to short.
April 6, 2014
Seriously Good but Disappointed
I loved this game but disappointed that we couldn't get to visit Dark Falls Asylum just yet :( Apparently we have to wait until autumn this year which is far too long for my liking. However, this game made me actually SOL - Scream Out Loud - and had some seriously creepy and shiver inducing moments. Enjoyed the HOS but the plot, the graphics, the creepiness is why I bought it and it did not fail to deliver on all those points. Looking forward to the next installment. Also I was pleased the game lasted a good few hours after the free demo unlike some where you only get an hour extra - not worth the money imo.
June 28, 2014
CAN'T WAIT FOR THE SEQUEL!!!
Review based on completed game in casual mode. Animation/VOS - Good but not as much as I had hoped for. Perhaps the sequel will be different. IHOS - Lists. Fairly clear considering the storyline. Repeated scenes. Hint - Fast charge. Gives directions and clues. Misclick Penalty - None Journal - Contains story, clues, notes and photos. Map - Does transport. Tried it a few times. Inventory - Locks in place. Objects seem to build up to at least 12 items. Puzzles/Mini-Games - Some sliders and rings. Slow skip. I believe the devs decided to play up the psychological point rather than the games and hos. Found it to be very suspenseful and spooky. I'll be looking forward to the sequel.
May 25, 2014
Decent Story & Pleasing Graphics, But Crashed!
First off, for those complaining the disclaimer is misleading or somehow wrong, think for a moment about WHY this warning is posted. Sure, the game may not be too frightening for most adults, but through the eyes of a child, it'd probably be pretty scary and nightmare-inducing. Think of these disclaimers on games as the equivalent to an R rating on a movie. In other words, it mostly serves as a warning for parents. Just saying. With that being said, yes, the game is not as terrifying as say, "Amnesia," but the animation is definitely a little more grotesque than other supernatural themed HO games. If you're prone to jumpiness and are playing with ear buds, you may get startled here and there. The creep factor is what stands out, and this game achieved it fairly nicely. The graphics are crisp; cut scenes blend well. The story is pretty typical, and I don't need to get into details on that given that other reviewers have already done so. As far as gameplay goes, I felt the challenge level (even at the highest level) was minimal and not overly difficult at all. This is the type of game I like when I'm not looking to really burn the midnight oil, but rather, while away an afternoon. My one complaint: I experienced an all-out crash in the first ten minutes of play. I can't stand it when a game crashes; I end up with this weird, paranoid feeling the rest of the way, just waiting for another one. This takes away points on ANY game. Recommended for those who like the supernatural genre, but want a little more oomph than some of the more "softer" supernatural themed HO games. Enjoy.
May 8, 2014
Good as far as it went...
...but, it didn't "went" far enough. If I had turned in a homework assignment like this, it would have been marked "I" for Incomplete. Nicely done, much better than most HOG, but kind of like half an ice cream cone...I'll recommend it, but with reservations.
April 5, 2014
Mom disappointed, three year old loved it
I was pleasantly surprised to see a new "horror" genre game out and sat down for some "Mom" time while the little one was asleep. Got through the Demo and decided to purchase it, since I was restricted to so little game play. After an hour, my little one decided she was going to help me and managed to solve many of the HO screens before I did. Then, she and I were both disappointed when the screen saying "To Be Continued" popped up. Really? I blew a game credit on the First Part of the game?
April 14, 2014
The Apple logo is a trademark of Apple Computer, Inc.
The Windows logo is a trademark of Microsoft, Inc.