DinerMania
The restaurant business is sizzling, but can you handle the heat? See if you have what it takes to run a smoldering hot new eatery without burning a hole in your wallet. Serve delicious dishes to your customers and watch your profits rise with the flames. Earn money to repair and upgrade your restaurant, and see if some trouble-making gangsters are as tough as they look by adding hot spices to their food! It's eat or be eaten in DinerMania!
Fun mini-games and over 100 upgrades!
Prepare 50+ dishes and four types of cuisine!
Virtually never-ending gameplay!
Game System Requirements:
OS:

Windows XP/Windows Vista/Windows 7/Windows 8

CPU:

1.0 GHz

RAM:

512 MB

DirectX:

9.0

Hard Drive:

70 MB
Game Manager System Requirements:
Browser:

Internet Explorer 7 or later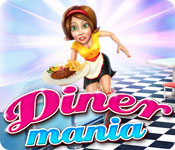 NEW299
The Big Fish Guarantee:
Quality tested and virus free.
No ads, no adware, no spyware.

Reviews at a Glance

DinerMania
0
out of
5 (
0
Reviews
Review
)
Customer Reviews
A biased and poorly programmed game.
It makes me wonder how this industry works when good companies with a history of great games release something as terrible as this. You can line up tasks, but there's no checkmarks or indication to tell you which tasks you've lined up. You also can't cancel a task, so don't line-up too much in advance! I made it to the second restaurant before I turned it off. There's no option to have more serving plates, which prevent you from playing faster if you're good at these restaurant TM games. You can't upgrade your one server to either move faster, or carry more than one item. Lastly, and perhaps most disturbingly, this game is biased against motorcycle groups. The goal is to serve the men in leather vests dishes with pepper so they leave without paying. If you don't, they just keep eating then also leave without paying. If you don't serve them at all - well, the poor excuse for a tutorial never made that clear, but apparently they get mad and kidnap one of your paying customers. A horrible generalization of "big burly men" on motorcycles with beards. Most certainly will not be buying this.
April 2, 2014
Confusing and tedious
Story line makes this game very confusing. Are you supposed to serve the "gangsters" or not? Hardly made it past the tutorial before I decided that this was not was I was hoping for (maybe a Diner Dashish game). No buy for me, which is disappointing since I get excited when I see anything other than another HO game on the menu.
April 2, 2014
Unpolished Game
A biker gang comes to your idealistic diner town and runs everyone nearly out of business. You have to save the diners. Seat good customers and "gangsters", have your chef prepare them dishes, garnish the dishes and serve. Serve the gangsters pepper garnish to get rid of them. Create special dishes with a match 3 puzzle. It's basic, a bit slow and not too imaginative.The tutorial was a series of thought bubbles and not that detailed. The largest disappointment was the size of everything - it's very small. I found myself getting a bit of a headache so I stopped playing. To me, this would be a game that could use a make-over to be a good game. There was potential, but it fell flat like its tiny pizzas.
April 2, 2014
Not buying it.
I really don't have anything nice to say. So I will keep this short. As TM games goes this was pretty lamesauce. You can't skip the tutorials, at least I couldn't find an option to let me do so... The Story-line seems to be Bikers bad (sorry, I refuse to call them gangsters as the game does. They are not the same... never mind that not all bikers are bad.) The music was putting me to sleep. The graphics were bright and easy to see. I personally would not recommend the game or the demo, but try it maybe it is something you will enjoy.
April 2, 2014
Looks good, but clunky controls
I got annoyed with this game very quickly - it's slow moving, the controls don't seem to flow very well and I had to click on things a few times before it would actually work. It's a shame its so unplayable as it looks quite good and has an interesting story. I particularly liked the idea of trying to annoy certain customers to drive them away.
April 2, 2014
Where's the heat?
Really? I bought this game for $3.99 because I am so withdrawing from NOT having any TMG to play. What a waste. Theres no sound effects, music is depressing, etc.... OMG come on Big Fish do better for us TMG customers.
April 5, 2014
Yawn....
I didn't like the graphics of the game to start with but decided to give it a try. It's very very slow moving, you have to click a couple of times to get your product, for example if you want a cup of coffee you have to click on the coffee machine then click the cup of coffee, when you bring the food to the table you can't click in front of the person or on the table, you have to click the circle above the persons head that shows what they ordered. I also wasn't sure about the bikers, I think you are supposed to serve the pepper on their food so they would leave but not sure. I couldn't figure out the "prepare special dishes" mini game, no matter what I tried I couldn't get it to work so all in all this game was a bust for me. Also thought the music was annoying.
April 2, 2014
Too short and boring
I totally regret for buying this game. It was my desire for TM that made me buy this one, although I thought it wasn't something special. After playing the whole game and finishing it IN A SINGLE DAY it only confirmed the first impression.
April 6, 2014
Pretty Disappointing.
It's the small things that matter in TM games like this. First gripe: The "hand" cursor is pretty inaccurate and large, and you have to finely click on some small items (comparatively) to complete the orders customers place. Second gripe: Is it so incredibly difficult to provide a checkmark for queued tasks? It's nearly impossible to tell, if you're queing up actions, to be certain that you have accurately clicked on a particular item. A checkmark would solve that problem. Third gripe: The high level overview of the diner itself is like watching a movie on a small screen in low definition from across the room. In other words, the lack of detail really causes the game to suffer. Fourth gripe: The better TM games recognize that when you're on your last customer you don't want to sit there endlessly waiting for them to finish what they're doing, and they speed that last customer process up. This game doesn't do that. General: It's pretty boring, terribly repetitive, and not very interesting. It's a shame - because in the sea of hidden object games, I wait for the TM games to be released. To have one be so very unsatisfying compounds the disappointment. I got through 20 minutes of the trial before removing the game from my system.
April 3, 2014
I was so excited by the graphics and food theme... initially
Yes, I was not happy about the stereotyping of bikers because my step-dad was a biker and he was the nicest man I've ever known--but, okay, in this world bikers are bad. Moving on. At first, I was quite in love with the graphics. They are very nice and what made me impulsively purchase. I usually never have sound turned on for games but I had to with this one as it was the only way I could tell I'd successfully clicked something. It still got confusing. I did like that it was less clicky and more thinky but then I realized (in the second restaurant) that it's all the same thing. I haven't finished it (I'm in the fourth restaurant) but it seems to be the same restaurant over and over with no apparent change in challenge, at all. No upswing in customer base, no re-arranging of anything, just the same restaurant as the first one with a different wrapping. Buying all the upgrades is easy and then you're stuck facing day after day of sameness. Ugh. It certainly is never-ending or endless or whatever the description said.
April 2, 2014