Dark Strokes: The Legend of the Snow Kingdom Collector's Edition
Exclusive
Inspired by the timeless tales of the Brothers Grimm, Dark Strokes: The Legend of the Snow Kingdom offers an experience rich with magic and wonder. From its breathtaking opening scene, in which a hunter saves a princess from an uncertain fate at the hands of a Snow Knight, to its stunning conclusion, Dark Strokes 2 will captivate you with a world abounding in beauty and detail, puzzles and mini-games unlike any you have solved, and a story of unprecedented depth.

This is a special Collector's Edition release full of exclusive extras you won't find in the standard version. As a bonus, Collector's Edition purchases count toward three stamps on your Monthly Game Club Punch Card!

The Collector's Edition includes:
Bonus chapter that expands the adventure
Hand-drawn fairytale locations
Challenging puzzles and mini-games
Captivating story about love and magic
Strategy guide, tutorial, and unlimited hints
Game System Requirements:
OS:

Windows XP/Windows Vista/Windows 7/Windows 8

CPU:

1.6 GHz

RAM:

512 MB

DirectX:

9.0

Hard Drive:

788 MB
Game Manager System Requirements:
Browser:

Internet Explorer 7 or later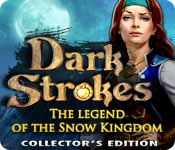 The Big Fish Guarantee:
Quality tested and virus free.
No ads, no adware, no spyware.

Reviews at a Glance

Dark Strokes: The Legend of the Snow Kingdom Collector's Edition
0
out of
5 (
0
Reviews
Review
)
Customer Reviews
Dark Strokes: The Legend of the Snow Kingdom Collector's Edition
56
56
We have a winner!
Now this game was worth waiting for! Excellent (slightly cartoonish but awesome!) graphics which I happen to love, wonderful story! Excellent mini-games (not seen many of these before) even awesome hidden object scenes - interactive and find multiples of objects. To the devs - Well done! This is excellent and surpasses all my expectations!
April 5, 2014
Golden Apple
This is a good fairy tale with a surprise ending (perhaps a sequel will be coming). There are 10 chapters, 3 bonus chapters, magic scrolls, snow flakes and morphing objects to find. You do go back to the hidden objects more than once but I didn't mind it in this game. The mini-puzzles for the most part are not hard and you can skip them. You have a map, strategy guide and hint button. I really liked the graphics, the town and atmosphere of the game were very well done.
May 2, 2014
A Must Buy
I wasn't sure of this game at first when playing the demo, but I wasn't long into it and really loved it!! The storyline is great and this game doesn't leave you hanging. The ending (Bonus Chapter) does not disappoint like I've had in some games. It was a good long game and well worth the money. The graphics are very well done. I also love games where you have to find all of a certain item in each scene. Most games only have one type of object to find. But in this one, you had to find so many snowflakes, magic scrolls and morphing objects. I give this game a big thumbs up!!
April 25, 2014
Beautify Game
I love to see these beautiful games. Visually outstanding!! The story line was compelling enough to keep my interest. Music was nice and soft. Puzzles were a mix, so did not get bored. I highly recommend this game!!
April 6, 2014
Great
I played this on beta and loved it, have been waiting for it to come out and bought it straight away
April 5, 2014
Great story
I found this to be a wonderful game. I recommend the game
April 6, 2014
Snowy Kingdom ?Hot Air Balloon ? Fruit ?
I have played this game twice now !! What a great family game and enjoyed the characters and the plot to the storyline. The Princess and the hero game. But the plot leads to some new news about the bad guy, which I found fun for the entire family, Nice visuals and HO'S were fun too, I can see us playing this game in our top ten when my grand kids arrives soon.Puzzles are not difficult but we enjoyed them. So storyline, puzzles, Ho's and the wonderful ending buy this game you wont be sorry if you love a good fairytale. Great job to the developers and please keep this type of game coming, a must buy in our household.
April 6, 2014
another great game
I totally enjoyed the demo and will buy this game but when it comes out as regular, great hint and map but I really don't care about extras so the collectors edition is not important to me but the game is great. a definite buy! I recommend this game.
April 6, 2014
Not Like The Last Dark Strokes
BASED ON DEMO FIRST IMPRESSIONS This game is not even remotely like the first Dark Strokes game. I am having a hard time imagining any excuse for releasing it under this series title. It is nevertheless a well-made and enjoyable game, which at least is that much it has in common with the first game. The opening is excellent; exciting, intriguing, and the graphics are fantastic. This is a somewhat dark fantasy, with enough of the unusual about it to make it stand out among lesser games. SIGHTS & SOUNDS The graphics are great. Clear and detailed, with strong colours and excellent artwork. It is fairly dark for much of the demo, perhaps a little too much so for some. The animated cut-scenes are a delight, and the little touches are fun. Clicking around at anything interesting provided me with lots of gratuitous fun, as owls turned their heads, butterflies flew away, and rabbits escaped down their holes. The story is told in many ways ? shadow plays, scrolls, and mini-games, all of which adds variety to the visual experience. The sounds are a bit loud, but after lowering them, the music was very relaxing and pleasant. I would have enjoyed more ambient sounds. The voiceovers vary. The narrator?s voice is wonderful. The girl?s I could really live without, and I am of two minds about the heavy Southern US (?) accent of one of the other characters. WHAT?S HAPPENING? You are a forester who rescues a beautiful young maiden from a seriously scary attacker with unknown intent, but black magic at his finger tips. She stays with you, brightening your life, until a hot air balloon drops a gift on the porch. Upon opening, the package freezes absolutely everything in your cabin, and assaults your girl ? I?ll leave you to find out the results of that. In any case, it is clear you must follow the balloon to the city to find out how to undo what has been done, and to discover the mystery of the young girl?s past. GAMEPLAY The gameplay is a little different than your standard HOPA. Although it is primarily puzzles and HOPs, both of them are unusual in style. The 3 HOPs in the demo are an interactive search for pieces of an item you must assemble, a multiples of (musical instruments), again interactive, and a more traditional interactive word list. The mini-games/puzzles are unusual too. They include more than one panorama-style game, each of a different nature, and a game in which you must choose the right path, on the go, to avoid obstacles. Another is one where you choose the way, hoping to avoid unseen obstacles. Many involve small amounts of easy assembly or construction work. As well, items in inventory can be combined, or changed by extra clicks. Sometimes they have other items inside them. The hint is directional. The interactive jump map indicates where actions are available, and you can choose from 3 difficulty levels. There is a shadow box that stays above hint and gives back story when the slides for it are found. And there are potions that stay with us and grant special powers. There is a helper, and it is cute, also very useful. As well, there is a fair amount of interaction with other animals along the way. I really had a hard time with the other 'help' we got from the girl we saved - her inane assistance was driving me batty! It all fits into this story, but seems strange to have so much cute in a Dark Strokes game. Many who enjoyed the first game will probably be very disappointed with this one. CE BLING! Achievements and collectibles ? 12 scrolls, 35 dreadfully easy to see snowflakes, and 10 ?magic? (morphing and hard to see) items found in the HOPs. The achievements are displayed with the pet in its room. There are both story and performance achievements. The demo covers the first 3 of 10 chapters, and the bonus play is a further 3 chapters. The strategy guide is pictorial only. I have never tried to use one like this, and I am intrigued about discovering how useful it really is. The gallery has the usual wallpapers, concept art, music, videos, and character dossiers. There are also replayable ?mini-games? and ?puzzles?. Seeing I couldn?t get a look at any of these extras without buying, I cannot tell you whether HOPs fall into either of these categories, or how many there is of anything. COMBINED IMPACT This is a fine game, and I really enjoyed playing it ? for what it is. Which is a darkish fantasy game with some unusual touches. Linking it with the first Dark Strokes, though, seems almost like false advertising.
April 5, 2014
Fun Game For Everyone
Although spring has finally arrived to my part of the world, winter still seems to be the underlining theme of our games. Our story begins with our handsome hunter, Alan Wood, who rescues a beautiful maiden from the clutches of an ice knight. We discover that Adele has been sent away from the Sky Kingdom by her Father and now seeks refuge at Alan?s cabin. Not long after, a mysterious package arrives at the door and before you can say Brothers Grimm, Adele is trapped inside a snow globe and the adventure begins as Alan needs to return to the Kingdom to find a way to set her free. A wonderful fairy tale filled with an assortment of characters, magical creatures and a lot of ice and snow making for a thrilling Hidden object, Puzzle and adventure game. At first the graphics were a bit discerning what with the cartoon artwork but once I began to play, I totally became immersed in the story as well as the game mechanics. With three difficulty modes to choose from, game tools include a diary, a map for travelling, a cute baby Lynx for retrieval of far away objects, and the infamous snow globe with Adele inside who occasionally pops up to let you know what needs to be done. Hidden object scenes are challenging enough and come in variations, mostly interactive and there is a fun factor to them. I loved the mini-games, some are arcade style with a level of difficulty that you can adjust and some are interesting enough which please me immensely. Puzzles involve a lot of back-tracking when applying your inventory items but then the map helps you with that. Extras are plenty as there are scrolls and snowflakes to collect throughout the game. You also have morphing objects within each hidden object scenes and a list of achievements to earn. Although the game seems to be more standard that a CE game, what with the graphics and sound effects, I did love the small details that the developers added like biting into fruits or tapping a creature and watching it scurry away. Somehow, they did manage to bring images alive which I do applaud. Still the extras do make it a collector?s edition and although I thought the graphics were substandard compared to many other recent games, I still enjoyed playing the demo and will take advantage of the April Shower sale today. We have a damsel in distress, a handsome woodsman and obviously some sinister enemy out to stop them. I also think it is age appropriate so the entire family can get into the fun. I just wish that voice-over was added to our Alan Wood which would have made the game more real.
April 5, 2014
The Apple logo is a trademark of Apple Computer, Inc.