Dark Strokes: The Legend of the Snow Kingdom Collector's Edition
Exclusive
Inspired by the timeless tales of the Brothers Grimm, Dark Strokes: The Legend of the Snow Kingdom offers an experience rich with magic and wonder. From its breathtaking opening scene, in which a hunter saves a princess from an uncertain fate at the hands of a Snow Knight, to its stunning conclusion, Dark Strokes 2 will captivate you with a world abounding in beauty and detail, puzzles and mini-games unlike any you have solved, and a story of unprecedented depth.

This is a special Collector's Edition release full of exclusive extras you won't find in the standard version. As a bonus, Collector's Edition purchases count toward three stamps on your Monthly Game Club Punch Card!

The Collector's Edition includes:
Bonus chapter that expands the adventure
Hand-drawn fairytale locations
Challenging puzzles and mini-games
Captivating story about love and magic
Strategy guide, tutorial, and unlimited hints
Game System Requirements:
OS:

Windows XP/Windows Vista/Windows 7/Windows 8

CPU:

1.6 GHz

RAM:

512 MB

DirectX:

9.0

Hard Drive:

788 MB
Game Manager System Requirements:
Browser:

Internet Explorer 7 or later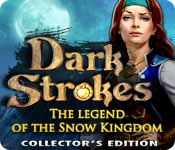 The Big Fish Guarantee:
Quality tested and virus free.
No ads, no adware, no spyware.

Reviews at a Glance

Dark Strokes: The Legend of the Snow Kingdom Collector's Edition
0
out of
5 (
0
Reviews
Review
)
Customer Reviews
Dark Strokes: The Legend of the Snow Kingdom Collector's Edition
57
57
Brilliant Gameplay + Average Story= Hard Decision!
BASED ON DEMO I really liked the first Dark Strokes by this developer, so naturally, my expectations were pretty high. I can say with 100% assurance that this is not as good as the first Dark Strokes, but I think this game did live up to my expectations! It's not all about the story, I think it's about the gameplay too. The story is good, but not great. It certainly has a slow start. It takes almost to the end of the demo to get in to. I thought this story was nothing but fantasy junk, then I got in to it and it was okay. It's true what they say, this story is nothing like the first Dark Strokes, so it probably shouldn't be under the name, but it was a good game all the same. The story coasted along as I expected, with only one major twist. The end of the demo left me on a cliffhanger, with one of the most exciting twists I've seen! I certainly didn't see that coming. It was a really nice twist to an otherwise lacking story. This game also includes a little backstory of how the events in the game came to be. This is done through a little machine thing. This was a really nice, unique addition to the story. What I didn't like about the story was the girl in the glass ball/snowglobe thing. She just kept popping up at random times and quickly became a pest. This was the worst part of the story. I don't think it was necessary. She popped up and told us things we already knew (like: ?Look! We're on the airship!?). It was really annoying and dragged down the story a bit. The gameplay... Oh my God, the gameplay! I have been crying out for new, fun stuff and this game has DELIVERED! The HOS were different, the puzzles were different, the gameplay was different, and it was a blast! The HOS were good. There were two types: there was the standard junkpile and a junkpile with a little alteration. The first HOS was the altered junkpile. You had to find certain items to make up one larger item. This was really fun and I enjoyed it. The second was a standard junkpile with a few extra step objects. The good thing about this was that some of the extra step objects needed more than one extra step to complete. Overall, both types of HOS were enjoyable. The puzzles were brilliant too. They were so fun and unique. I loved every one of them (and I could solve them too!). The first one was my favourite. You set up a saddle to ride the horse in to town and then you clicked the arrow to go there. Most developers would have made it just one long cutscene, but this one turned it in to a puzzle! You have 4 tries to get the horse in to town without hitting an obstacle. If you hit an obstacle, you lose a life. You have to switch paths to avoid the obstacles. This puzzle in particular was extremely fun and unique. It was a really good addition to the game. I hope to see puzzles like this in future games! The other two puzzles I came across were good too. They were very fun. They even had a difficulty setting, which was awesome, and a great addition to the gameplay. This game is packed with new, awesome features. I'm so glad at least one developers has listened to my pleas. To start with, this game has + objects. These are inventory items that you need to interact with to complete. This is not necessarily new, but is not used in many games, so was a great addition. We also have an animal helper in the form of a lynx, which you get to name. I must be going soft, because I love him/her! I named my lynx Fabian. The Lynx is a great help. It gets things in places you can't reach while staying within the laws of physics (ie: climbing tress, jumping on tables, etc.). Again, this is not necessarily new, but isn't used often, so it's a great feature. One more new feature that is actually relatively new is the potion. You have a set of potions (they are unlocked throughout the game, and I'm guessing it's a set due to the extra space) that can be used for different purposes. There is only one potion unlocked during the demo (towards the end). This is levitation. It is used a few times and is really awesome. And, of course, we have the little machine thing that can read the past of someone. This can be achieved by collecting various story slides. This is a great addition to the game. This is nothing like your standard HOPA. This is a really good change from the norm, and experienced players like me will love the new gameplay. I wouldn't recommend this to beginners though, because of all the extra stuff. Overall, this has really good gameplay. If I had to make one criticism, it would be that there aren't enough HOS. I only came across two in the demo. The graphics are pretty good. They are drawn with a good amount of detail. All scenes, character desings and everything else was clear. The voice-overs are standard. I have no issue. FEATURES 2 modes of difficulty: Casual and Advanced, Differences are sparkles, misclick penalty, hint charge times, etc. I played Casual. Hint/Skip- both recharged at a reasonable rate for the difficulty I chose. Hint is useful outside HOS. Diary- keeps track of events. Map- interactive and helpful. Animal Helper- a lynx which you get to name. Used quite often. Used to reach things in high or small places. Potions- Only one is unlocked through the demo. This is levitation, which is used often. + objects- inventory items that you need to interact with to complete. There are quite a few of them. Machine- this is for seeing in to people's pasts, which can be accessed by collecting story slides and placing them in to the machine. This is a backstory to the main game. CE EXCLUSIVES Achievements Collectible Snowflakes (35)- used to unlock ?trivia? section in bonus content. Collectible magic objects (10) Collectible magic scrolls Bonus Chapter Strategy Guide- picture only Concept Art Wallpaper Replay HOS & Puzzles Music Re-watch cutscenes Something called ?characters?. Unsure what this is. Overall, I'm undecided. This has absolutely AMAZING gameplay, but the story is average. I don't know what to do. Part of me is saying go for it, because of the awesome gameplay, but part of me is saying no, because of the average story. I think I might go for the SE. I would recommend the SE to you because I don't find the SE worth it. This earns four stars from me.
April 6, 2014
Don't diss the Lynx!
This review is based on a bit beyond the demo cutoff. First off- I need to comment on the animal haters. I understand the general sentiment that some games have become way too cutesy (I agree to an extent), but come on...your helper in this game is not some domestic puppy or ridiculous talking cat that doesn't even look like a cat - it's a LYNX! A real wild animal! How cool is that? Most lynx (minus bobcats, so 3 out of 4# are endangered, including the North American lynx. Our lynx helper looks like a cross between the North American #or Canada# lynx and the Eurasian lynx. I wish the DEVs had taken this opportunity to provide natural history info on Lynx in the bonus section...they really are so mysterious and elusive that most people have never even heard of them, let alone know much about them! OK, sorry, but my point was to choose your battles. I personally think it's great that this DEV decided to choose such a unique animal as a helper. Maybe it'll increase awareness for conservation? If nothing else, notice a deliberate choice to use a real wild animal, which is #in an oblique sense# a learning/exposure opportunity. Unless you really hate all animals - including endangered unique wildcats - then I don't really understand all the helper-hate I'm seeing for this particular game. Right, so, stepping off of my "use of wild animal helpers to promote conservation awareness" soapbox now. :# The graphics in this game are really lovely. The movement in cutscenes is really interesting; they play with perspective and try to have the "camera" move while panning something. This provides a cinematic feel that is quite new and enjoyable. A lot the story is still unanswered as of yet, but I like that - keep me guessing for awhile!! I wish I could comment on the whole thing when I'm done, but my job will preclude me from finishing for awhile #thus making my review less likely to be seen#. Anyway, the VISUALS are great. The music is actually quite lovely, although I hope there is more variation than I've seen thus far. Some of the minigames have been pretty challenging - but in a good way! And hey, being able to choose the difficulty of a minigame is a GREAT idea. I know it's been done before, but I don't encounter it often. Honestly, I have #almost# zero complaints thus far. I am bothered by the inability to customize the difficulty settings so that active areas on the map can be visible for any mode other than Casual. Heck, I don't need hint and skip at all if I have that "active area" map feature! Other than that, the gameplay has been smooth, appropriately paced, and with just enough questions to keep you going. Maybe this will be a five star and I just didn't know yet. The development and resolution of the storyline is what will elevate this game from a four to a five-star rating.
April 7, 2014
It was a good game
I enjoyed most of the gameplay. I will even say I enjoyed the bonus chapter if you exclude the horrible voiceovers in that section of the game. A Big Con for me was the Strategy Guide, it was simply awful.
July 27, 2014
Interesting fairytale HOG
This is probably going to appeal to people who have no objection to animal helpers and who appreciate fairytales. The game has good graphics, the story flows well and the HO scenes and mini games are well done. Having completed the game and bonus chapter, I note there isn't a feature whereby you can complete the sets of collectibles f you've missed any (which I did), so unless you want to go back and replay under a different profile, you will be left feeling a bit disgruntled. Four stars for this reason.
July 21, 2014
Hidden Object Game
I played the survey of this and could hardly wait for the game to come out. Been a while waiting, but well worth the wait. Thanks BF
April 5, 2014
Endearing storyline; loved the narrator's voice
I played the CE and just finished the bonus game. Lots of activities; too much dialect though. Visually it was stunning; good music--repetitive. Good story line, but in my opinion Dark Strokes: Sins of the Father still reigns king. One of my favorite activities was obtaining the tapes mainly because the actor who was narrating had a beautiful, deep voice and I could have listened to him over and over again. A couple of the VOS were too slow. The activities within the HOS were varied and very clever indeed. The puzzles were not difficult. I played in hard mode; the map was okay in the main game. No map in the bonus game. Hint button was good. I got most of the achievements not all. Sometimes the map would show no objects to be found even though some scenes still had things to accomplish. Other than that, the game was good. I would recommend it.
April 18, 2014
Very Nice Game. Very Little Challenge However.
They really need a half star rating system here :) I see so many reviewers constantly dishing out 5 star reviews on every game. I believe a 5 star review is for a "knock your socks off" game. As Just the Facts said, this is nothing like the first Dark Strokes game. However, I totally enjoyed it. This developer puts out vibrant games that draw the gamer in. The HOS are nice are varied, but simplistic. The puzzles are actually enjoyable for me You do have a map and a journal. The SG is pictorial, so if you are a user of SG's, you should check it out before you purchase the game. I don't use them, so no big deal for me. The hint button refills quickly and is directional. There are 3 modes of play, no custom however. The game ran flawlessly for me, no tech issues. The music is incredibly soothing and the game is just one of those relaxing games. It is suspenseful in its own way, however, I am not a big fan of fairy tales, but this game leans more toward a dark fairy tale. The voice overs are very good, except the princess does get annoying with her frequent suggestions. There are achievements to earn, collectibles (morphing objects in the HOS and snowflakes). There may be more, but I did not really pay attention to them. I did find the challenge level very low, even on the most difficult setting. There are many black bar tips. This would be a good game for beginning HOPA gamers. You do also get an animal helper, which you not only feed, but name. That took away some of my zeal for the game. I did like the story line, and I choose my games by how much I enjoy the story. All in all, this would probably get about 3.5 stars due to the fact that it takes no brain power at all to play this and because of the annoying helper.
April 5, 2014
Just what I needed
If you're looking for something pretty and light to destress with, this fits the bill. Yes, it is easy, but I found it to be the relaxing kind of easy rather than the boring kind. The only major complaint I had about it was that you can't turn off the VOs. Most of the VOs managed not to be too irritating, but I wish the option had been there.
December 30, 2014
Nice play out
Love the flow to this game. It is very well played out. Like the viewfinder slide and the Lynx. Puzzles were simple but enjoyable. Like the morphing objects inside of the HO's. On the romantic side and very fairy tale. Like the slight critter action at locations and I like the birds in the HO's. Very enjoyable game.
April 5, 2014
Nice hours of fun
I must say I enjoyed the game. The graphics was lovely for me as I like looking at pretty things. The story line was interesting , maybe a bit fairytaly but acceptable. I would welcome more mini games and more challange. On the whole I had a lot of fun playing it and I recommend that game
April 28, 2014
The Apple logo is a trademark of Apple Computer, Inc.