Dark Strokes: The Legend of the Snow Kingdom Collector's Edition
Exclusive
Inspired by the timeless tales of the Brothers Grimm, Dark Strokes: The Legend of the Snow Kingdom offers an experience rich with magic and wonder. From its breathtaking opening scene, in which a hunter saves a princess from an uncertain fate at the hands of a Snow Knight, to its stunning conclusion, Dark Strokes 2 will captivate you with a world abounding in beauty and detail, puzzles and mini-games unlike any you have solved, and a story of unprecedented depth.

This is a special Collector's Edition release full of exclusive extras you won't find in the standard version. As a bonus, Collector's Edition purchases count toward three stamps on your Monthly Game Club Punch Card!

The Collector's Edition includes:
Bonus chapter that expands the adventure
Hand-drawn fairytale locations
Challenging puzzles and mini-games
Captivating story about love and magic
Strategy guide, tutorial, and unlimited hints
Game System Requirements:
OS:

Windows XP/Windows Vista/Windows 7/Windows 8

CPU:

1.6 GHz

RAM:

512 MB

DirectX:

9.0

Hard Drive:

788 MB
Game Manager System Requirements:
Browser:

Internet Explorer 7 or later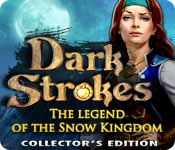 The Big Fish Guarantee:
Quality tested and virus free.
No ads, no adware, no spyware.

Reviews at a Glance

Dark Strokes: The Legend of the Snow Kingdom Collector's Edition
0
out of
5 (
0
Reviews
Review
)
Customer Reviews
Dark Strokes: The Legend of the Snow Kingdom Collector's Edition
56
56
Beautiful Colorful Exquisite Graphics!
I love the beauty of these Graphics, absolutely breathtaking! The Game was easy and relaxing, making it very enjoyable. The Storyline was a nothing special ~ kidnapped Princess which needs to be Saved, yada, yada, yada ~ which has been done to death. If the Storyline would have been better I would have given it a much higher score. Nothing else much to say about it ...
May 11, 2014
Not a bad game...
Hi all. I have the first Dark Strokes and really liked it. This one is a bit different. The colors are very bright and nice to look at , graphics are good for this type of game and game play was very nice, no problems at all. I do like a good fairy tale now and then and this story was right up there. Music was nice and easy to listen to, but a bit loud, so I turn it down. Voice overs are good and seem appropriate for time and setting. Didn't hear a lot in the way of sound FX, but what there was, was well done. Jump map works well, but is very bland. Did not care for the SG at all. I prefer written directions, not a step by step picture of what needs to be done. I don't need that much hand holding and I find that my eyes get tired faster looking at pictures. Hint system is helpful, except that it only shows you where to go, not what to use once you get there. You learn more of the story as you collect more items and "slides." HOGs are the usual and are fairly clean with items quite easy to see. Puzzles are a little different, but still no real challenge, just a little more thought. I think a beginner would find this one more challenging than an old gamer like me. However, if you just want a nice easy game, this one would be a good one. There are a number of achievements and lots of collectibles, e.g., 35 snowflakes, 12 magic scrolls and 10 morphing items that are actually found in the HOGs. None of these items are difficult to find either. This game is not CE worthy to me, so I will wait until the SE comes out and give it another try. I often like the SE version better, even without the extras, but this one is a no buy for me today. As always, try it for yourself and see what you think. We all have different tastes in games and you may find this one to be exactly what you are looking for today. Thanks for the reviews.
April 5, 2014
Sure is beautiful...
I wanted so much to love this one because I loved Sins of the Fathers. Like that one, the art is top notch, the wallpapers outstanding to behold. But aside from trying to get my horse to the castle I wasn't challenged very much in hardcore mode. I prefer to figure things out for myself everywhere possible, but I couldn't figure out before the 1-hour trial ended what a "magical" achievement item was supposed to be. Were they morphing? The shape of the fruit represented in the achievement window? I think I could have ignored what those who rated this lower than 3 stars complained about (the chatty princess can be skipped), provided I felt I was truly playing a dark themed, hardcore hidden object game instead of a fairy-tale adventure one.
August 3, 2014
Not much challenge
I have to agree with the two reviews above. I played the demo for about 30 minutes and felt like I was being lead around on a tether. Also, the art work is comic book-like, which some might enjoy but I don't. Finally, the princess looks like she should have chipmunks running around in her hair. If games such as this one are designed principally for younger players, they should be designated as such. I don't mean to be harsh and from the reviews above others really, really like the game. I just find it overly cute and childish.
April 6, 2014
Not Bad But NOT 4/5 Star Worthy
Based on demo. Not a great game or a must buy but a nice game with the usual handsome swain recuses princess in distress story line. BF synopsis describes it as a "captivating tale about love & magic". I'll go along with the love/magic part but captivating I guess is in the eye of the beholder! Graphics=old style, cartoonish VO/Music=adequate HOG/Mini-Games=simple/interactive without much challenge Collectibles=not easily visible & which I only seem to find with random clicking Cute pet lynx who I named "Lionel". He plays fetch for you. All in all not a bad game which I found good for adults who do not require much of a challenge or who like too play these games with small children.
April 5, 2014
Feedback For Developer - Review Based On Demo
Well I'll admit I didn't get very far into the game. I'm going against the 4 and 5 stars on this game which of course are only based on the demo as I'm writing my review here and I'm sure more of these "demo" reviews will be along shortly. While some may not agree with my opinion on the games but at least when I submit a 4 and especially 5 star review (5 star is suppose to be for best right?) I always complete the game before doing so. The only time I do demos is if I don't like a game which happens to be the case here. While I think it's important for you to know what I like/love about your games well I think it's just as important to let you know what kept me from purchasing a game and this is the reason for my demo review. VISUAL/SOUND QUALITY: I had no problem here. I think the graphics are just excellent especially the opening scene to this game which looked to be for a promising game. The characters and voice overs a very well done here. LEVEL OF CHALLENGE: Here we go again. There are 3 play modes and while there are no sparkles on the harder two modes however both are overloaded with black bar tips telling me what needs to be done in the game. While I never encountered it but there is also a click penalty in the harder two modes. Please make a custom mode for your next game offering. I prefer no sparkles/black bar tips and a quick hint/skip button charge up. Oh and drop the click penalty. I don't get that at all. The HOS I only did one and that was find pieces to assemble a case and no problem here. The graphics excellent and I'm a fan of the HOS. Puzzles/mini games I'm not a fan of this. Less the better. I prefer more on the adventure/HOS side. I only did one puzzle which was very easy. The horse mini game got on my last nerve. I skipped this. STORYLINE: I also definitely admit to not being much into 'fantasy" type of games but I have played a few that are on the darker side and quite enjoyed them with no "cutesy" animal helpers. This one started out this way but was quickly ruined for me by a "cutesy" animal helper that I not only needed to let it free from it's cage but feed it a bowl of milk and also NAME it! OH HECK NO! LOL! I absolutely LOATHE this in my games. FUN FACTOR: I must say I'm truly disappointed. This is nothing like the first Dark Strokes which I absolutely loved and received 5 stars from me. For me it takes more than great graphics and achievements, collectibles which I'm no longer a fan of this "fluff" for a great game. What could of been a great game absolutely ruined with "cutesy" animal helper and an overload of black bar tips which ruins the challenge. Sorry but a definite no go here for the CE and the SE version when that is released. I gave you 2 stars because of the graphics otherwise you'd be seeing a 1 star review from me since I encountered this "cutesy" animal helper shortly after the excellent cut scene. I do however look forward to your next game offering unless of course you are jumping on the band wagon of releasing "cutesy" animal helper games. I, along with some others have had quite enough of this. Oh and not just you but other developers as well seem to be on this "cutesy" animal helper overload! ENOUGH ALREADY!
April 5, 2014
not pleased
After trying and buying this game, I found out the strategy quide was awful. There were only pictures and I found it very confusing and kept having to use hints. On some of the mini games you got no instructions. I never used the guide with my 60 minutes of free play. I wish I had now.
April 14, 2014
This is NOT a Dark Strokes game; it's a fairy tale.
Dark Strokes: The Legend of the Snow Kingdom CE Review based on completed Demo PREFACE? The first Dark Strokes, Sins of the Fathers, had a dark theme with supernatural elements. And it was a really good game. I expected another game full of intrigue and surprising twists. What I got was lots of preteen fantasy, an overbearingly pushy princess, and voiceovers that nearly pushed me over the edge. Nothing dark about this Dark Strokes. ONCE UPON A TIME... The King made an unwise bargain with a wizard, which ended up with the Snow Knights taking his daughter, the princess. You play the role of a hunter who rescues her and keeps her safe until she opens an anonymous gift and magically gets sucked into a snow globe. Now, you're off to find the source of the gift and free her, as she'll continually tell you ad nauseum, in a voice free of inflection. Once you find the source, the leader of the Knights captures the snow globe from you through trickery. And you must rescue the princess, of course. PLAY THE GAME... The gameplay was the best part, but I just couldn't get past my disappointment to really enjoy it. Interactive HO scenes of varying types lend variety to the standard gameplay. In some, you find pieces of an item which you must assemble. Others require you to find multiples of a category of objects. Mini-games were unusual as well, with some we haven't seen before. SIGHTSEEING? Overly adorable graphics completely undermined the supposedly "dark" theme I was expecting. In another context, I'd say the graphics were well done, with lots of in-scene animation bringing life to each area. But cutesy fairy tale doesn't coincide with the name Dark Strokes. SOUND WAVES? The music was appropriate to the fairy tale theme. The voiceovers were downright dreadful. It was as if bad actors were reading from a script. There was no emotion in the voices at all. TOOLBOX? The map shows active areas and transports. There's a shadow box to relate the back story when you find slides for it. Potions give you special powers, like being able to lift heavy items. And, yes, you have a cute animal helper. It's a lynx. And, yes, you have to name it. EXTRA, EXTRA? Extras include collectible scrolls and snowflakes, morphing objects within the HO scenes, performance achievements, the bonus adventure, the SG, and the developer's portfolio. THE LAST WORD? If you don't mind that this really isn't a Dark Strokes game, if you like cutesy fairy tales, and if you can stand the insipid princess who never shuts up, then this game is worth it for the gameplay. It's not for me, however. My recommendation is to DL the demo and try it. Other games I've enjoyed from this dev include Eternal Journey: New Atlantis, the Stray Souls series, The Lake House: Children of Silence, and the Twisted Lands series.
July 19, 2014
Cutesiest "dark" game I've ever tried to play
Lynx's and phantoms and bears, oh my! Hmmm, where do I begin. Dark Strokes Legend of the Snow Kingdom is supposedly based on Grimm's Fairy Tales, yet even with close scrutiny, based on the Demo, I would say that is a VERY large stretch to any imagination [IMHO the said Grimm Bros may just be turning in their graves at the thought]. Anyway, the graphics were fine.... the game had a nice enough initial cut scene, yet, overall, the portrayals just did not appeal to me at all due to the strange mixture of way too cute-sy side to side with the premise of "dark" venturing. It COULD work, yet it was like oil and water the way it is presented and I just couldn't get 'into' the game at all without squirming just a bit. It made me feel like I was watching a very bad adaptation of Dysney [intentional mispell] but with no real plot or engrossing storyline. Also, though, it may seem a miniscule point, at the very beginning of the game, I didn't appreciate the main character's presumptuous nature in shooting the 'villain' to death with an arrow without any preempting or apparent knowledge of his status or motives other than assumptions based on the scenario [rescue the 'poor' little damsel in distress?]. The voice acting was not good at all to my ear, especially the first adult female character we encounter. WHY do they hire talent that sound as though they are reading from a script word by word while chewing on an olive? So, bottom line, there was very little that appealed to me or that inspired me to actually desire to continue playing this game, or purchase it as a CE or SE. This game, like the hot air balloon depicted in the first scenes, will have to float bye this gamer... ...for those happy with the game, enjoy! : )
April 5, 2014
This was Sad
This sequel was no where near as good as the first Dark Strokes. The storyline was a bit childish and no where near as exciting as the first. I was expecting big things for this game, but none of my expectations were met.
May 21, 2014
The Apple logo is a trademark of Apple Computer, Inc.