Dark Strokes: The Legend of the Snow Kingdom Collector's Edition
Exclusive
Inspired by the timeless tales of the Brothers Grimm, Dark Strokes: The Legend of the Snow Kingdom offers an experience rich with magic and wonder. From its breathtaking opening scene, in which a hunter saves a princess from an uncertain fate at the hands of a Snow Knight, to its stunning conclusion, Dark Strokes 2 will captivate you with a world abounding in beauty and detail, puzzles and mini-games unlike any you have solved, and a story of unprecedented depth.

This is a special Collector's Edition release full of exclusive extras you won't find in the standard version. As a bonus, Collector's Edition purchases count toward three stamps on your Monthly Game Club Punch Card!

The Collector's Edition includes:
Bonus chapter that expands the adventure
Hand-drawn fairytale locations
Challenging puzzles and mini-games
Captivating story about love and magic
Strategy guide, tutorial, and unlimited hints
Game System Requirements:
OS:

Windows XP/Windows Vista/Windows 7/Windows 8

CPU:

1.6 GHz

RAM:

512 MB

DirectX:

9.0

Hard Drive:

788 MB
Game Manager System Requirements:
Browser:

Internet Explorer 7 or later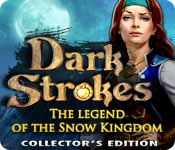 The Big Fish Guarantee:
Quality tested and virus free.
No ads, no adware, no spyware.

Reviews at a Glance

Dark Strokes: The Legend of the Snow Kingdom Collector's Edition
0
out of
5 (
0
Reviews
Review
)
Customer Reviews
Dark Strokes: The Legend of the Snow Kingdom Collector's Edition
57
57
The Golden Apple Of Opportunity
Concerned for the starving people of the Sky Kingdom, King Henry agrees to a golden deal with a mysterious cloaked man. The King must follow specific guidelines for planting and nurturing this Tree of golden leaves, and in exchange the Queen will pick a Golden apple that will appear in 18 years to give back to this Icy stranger (Don't eat that apple!). Fast forward to present day and rescue a damsel in distress, and fall in love with Adele the most beautiful woman in the Kingdom! Everything is going well until a strange gift arrives at your door, a gift with powerful magic. In an instance Adele is trapped inside this gift, a snow globe of the Sky Kingdom. What a treat we have with this Dark Strokes edition. There are 12 magical scrolls to collect, 35 hidden snowflakes, Achievements to earn and even 10 Magic objects to find in hidden object games! You will find and name a baby Lynx that will help you as you try to find someone to break the snow globe spell and free Adele (on the plus side she's much more portable that way) You will also find a Slideshow theater and as you come across slides you get bits and pieces of the Kings deal with the devil, it's really an interesting plot that makes you want to hear more! This game is a fantasy themed game, and I think the devs tried hard to reach demographics of both male and female gamers. I never really thought about the fact that most of these games are targeted for women until one of my favorite reviewers stated how excited he was that a recent game was from a male perspective! Now I feel guilty when I love the glitter, unicorns and Prince Charming:) The Hidden Object Scenes start out with finding missing outlined pieces by opening drawers etc. until the item is complete. then we move on to finding several musical instruments. Don't worry, there are still the classic list find objects, some requiring slight interactions such as picking up a key and using the key to open a lock. (don't forget to look for magic or beyond objects) The mini games are pretty easy in my opinion, my favorite game was riding the horse to the Kingdom. It's not a new game by any means but I could have ridden that path all day. The object was to guide the horse by zig zagging through debris on the 3 lane road as the horse moved faster and faster. Another game I enjoyed was throwing snowballs at warlocks that popped up on stage without hitting the Princess who also popped up. I can't think of anything negative with this game it seems they put in the kitchen sink as well, enjoy!
April 5, 2014
Nice Twist on Fairy Tales (finished game)
I have never enjoyed a game so much as this one; while I found the puzzles to be mostly easy (I usually have a problem with them) there were a couple that I did have to skip. The storyline was to me a mixture of fairy tales with some twists thrown in and what looks to be a hint of a sequel at the end of the bonus game which contains 3 chapters. The developers really came through with this game. It took me most of the day to finish the main game as well as the bonus chapter I was sorry to see it end, though to me the bonus was not as good as the main game and loved the twist at the end of the main game. 1--graphics, sound, cut scenes, voiceovers are excellent (especially the males) bright and colorful 2--hint is directional only 3--transporter map (beam me up Scotty) also tells you where you have tasks to do 4--interactive HOS; mostly lists; you need to put together some items, find several pieces of an item; sillohouetts(sp?) in bonus game; also there are morphing items in the HOS to find (some not so easy) 5--different modes of play and you can change the difficulty mode for the puzzles 6--magic scrolls to collect 7--animal helper 8--achievements to earn 9--snowflakes to collect 35 some are not so easy to spot I would say that this is equal to or better than the Dark Parables line of games (only not so dark). This is a game the whole family can enjoy (even the kids). It is not really a sequel to the first Dark Strokes (which I have) but a brand new story and if they do another I hope we do not have to wait 2 years for it.
April 6, 2014
A must buy game
A hero, a Princess trapped in a snow globe he must free, her father the King, Ice Knights blocking your path, hot air balloons deliver packages that when opened people disappear & you must restore the kingdom 10 minutes into the trial I knew I had to have this game. Graphics are great. Music is expected for the theme and I left it on as it was soothing & unobtrusive. I usually mute it HOGs are clear. Some need you to find an item to play it. Some are find one item to find the next item etc.. Some are straight forward. Play a mini game to reach your next destination. Find the snowflake in each scene collectable. There are achievements for not skipping mini games. The skip button charges quickly. There is a difficulty button to choose the level of casual or hard. Acquire your bobcat helper which you name. Collect the scrolls for storyline background as you go. I like the storyline. I had a problem not being able to play fast enough to find out what happens next. The hint button recharges quickly. The voice overs are ok, but only a very minor thing & I ignored it. I highly recommend this game.
April 5, 2014
Loved it!!!
This new Dark Strokes game is fantastic. There is so much to do and a storyline that pulls you in from the beginning of the story. Adele, the princess, is sent away from the her father's kingdom because of a pact made between the man in the dark cloak and the king. He has come back after many years and is after Adele. You rescue her from the ice knight and take her home with you where she opens a package dropped from an airship and she is sucked into the snow globe. Your goal is to get her out of the snowglobe and to find out what has happened to the kingdom where everyone who has opened a package has disappeared. There is so much to do and find. There are snowflakes to find, 12 magic scrolls, 10 magic objects (in the hos) and 15 achievements. You have 3 options for difficulty, casual, advanced and hard. The music is not annoying and rather soothing. The visual is really beautiful and really well done. And the level of challenge is not too hard, not too easy. This game is extremely well done and can't wait to own it.
April 6, 2014
Snow Kingdom Come
This game "packs" a lot of punch. You are Alan, a friend of the princess. Her father the king has ordered her to be taken out of the kingdom for her own protection from the "ice knights." However, through deception they manage to confine her to a crystal ball prison. You must rescue the princess, defeat the ice knights and their leader, and thereby save the kingdom. Airships and hot air balloons are also featured. I left out a little so as not to include any spoilers, so you'll have to trust me that it actually does make sense. The drawing is very colorful, almost #not quite# fairy tale-ish in style. Voices are very well done, except for the princess' whose voice is slightly annoying #sorry, princess!#. The princess also pops up a lot with "back-seat driver" style comments like We've got to do #this#," or We've got to go #somewhere#." It seemed to be a way to keep her involved in the story while trapped in the ball. There is a lot to read also, in the form of scrolls, books and other dialog to fill in the back story. Hidden object scenes were very well done, using different styles including logic and progression. This kept them very interesting. As for the puzzles and mini games #including a snowball game, of course#, it was evident that the developer put a lot of thought into them and, while not difficult, they fit perfectly into the story's setting and were a lot of fun to play. Music is also soothing and dreamy, not too intrusive. Sound effects are well done as well. A pet lynx provides assistance in hard to reach places, and potions help with otherwise impossible tasks. The Collector?s Edition includes 35 collectible snowflakes, achievements, strategy guide and a bonus chapter, as well as the usual array of pseudo-extras. While princess & save the kingdom games are usually not my style, I found this to be a very well thought out and executed game. Even though it's been a long winter, I can stand a little more snow.
April 5, 2014
One of the Best
This is one of the nicest games I've played. The graphics are absolutely splendid, the storyline is fantastical but good and the game play is very smooth. Most items are used quickly and several things are done per scene rather than just running back and forth collecting things. The puzzles are just challenging enough with the HO scenes nicely done rather than just junk piles. There is a jumpable Map and the Hint button is great too but you probably won't need it. Definitely worth buying.
April 7, 2014
Really Like this game!!
I have played hundreds of game so it is nice when one comes along that really grabs you. This is just such a game. Visually stunning, sound/music is excellent. The storyline is somewhat similar to some games but there is a twist to it. The HOG's are different and some have to be assembled. Lots of extra's in the CE version and with the special going on today buying it is a no brainer. As always, I say play the try me version but I bet you buy it in the first 10 minutes. Have fun!!
April 5, 2014
Spectacular story line
This is the most engaging story line. Well told and revealed in clever ways. The game has such a novel way of progressing the story. Beautiful art work, excellent cut scenes and voice overs. I had so much fun with this one.
April 5, 2014
Games just get better and better
What a beautiful and awesome game! Lots to click on, I noticed you can interact with many things in each scene. Even a little snail sliding along, a bunny that hopped away, ice sickles that fall, just very interactive. They are achievements to obtain, snowflakes to collect. Highly unique puzzles. Beautiful wallpapers and lots at that!! Tons of extras for this collectors edition. I knew I would buy this 2 minutes in. The scenery is breathtaking. Unique story line. Well done game developers!!! This is a 10 stars all the way!
April 5, 2014
you would think it was an ERS game
when other reviews said it wasn't like the original, I was glad and had to buy it, I didn't like the first it was a play and delete for me. I don't like when a game changes time period, like when they where dressed old England then end up in an American amusement park yeck. this game is not overly challenging but fun and relaxing, like I said it reminds me of an ERS game, which is the drawing and scenery I cant resist. I have to replay it cuz I didn't find all the collectibles and morphs. there are 35 snowflakes, 12 scrolls and 10 morphs. the morphs are only in the HOs and only in the main game same as all the collectibles which surprised me. nice voice overs and the lips move! yah story was well done, put a nice twist on old tales. so if you're a fan of you know who, you have to try this game.
April 9, 2014
The Apple logo is a trademark of Apple Computer, Inc.