Fear for Sale: Phantom Tide Collector's Edition
Exclusive
Paranormal journalist Emma Roberts is called in to help a grieving family being haunted by forces that can manipulate water, threatening to kick them out of their home. Emma will soon discover that ghosts aren't the only thing lurking around Greenville. There's something very suspicious about Julia White's death. Julia witnessed something at the hydro-electric plant – something someone would kill to keep a secret. Search the town, investigate suspects, and solve puzzles in Fear for Sale: Phantom Tide, a thrilling hidden-object puzzle adventure game!

This is a special Collector's Edition release full of exclusive extras you won't find in the standard version. As a bonus, Collector's Edition purchases count toward three stamps on your Monthly Game Club Punch Card!

The Collector's Edition includes:
Bonus game featuring Emma's continuing adventures
New locations, puzzles and challenges
Additional achievements
Wallpapers, concept art, screensavers, music and more
Game System Requirements:
OS:

Windows XP/Windows Vista/Windows 7/Windows 8

CPU:

1.6 GHz

RAM:

1024 MB

DirectX:

8.0

Hard Drive:

1292 MB
Game Manager System Requirements:
Browser:

Internet Explorer 7 or later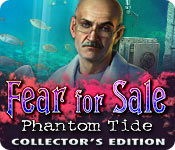 The Big Fish Guarantee:
Quality tested and virus free.
No ads, no adware, no spyware.

Reviews at a Glance

Fear for Sale: Phantom Tide Collector's Edition
0
out of
5 (
0
Reviews
Review
)
Customer Reviews
Fear for Sale: Phantom Tide Collector's Edition
45
45
Unique Story
Phantom Tide is a great story line. Something different, more or less. I enjoyed the previous Fear for Sale game, but not the first two. I found this game to be ok. The HOS were basically junk piles. The puzzles were fun and interesting. I found them difficult, but then, I'm not a huge puzzle person. The voice overs were great, although the characters were a bit "wooden". There are achievements and collectibles galore. I will replay this for a bit when it comes out as an SE as I'm not real big on all the morphine objects and collectibles. Half way through the demo, I was losing interest. However, could just be the mood of the day. I do recommend the game. The map does have a lot to be desired as does the SG. I never use the in-game SG, but did check it out and it was very rough. The map was vague. This is, however, a fairly linear game, so that shouldn't be a problem. I loved the water effects and the conch shell. Very well done. The sale offered today does nothing to make me want to purchase the CE, as I already own the other games. As a member of BFG, something different should be offered as most of us who play these games do own the more popular games already.
April 3, 2014
AN OVERALL GOOD TIME WITH WATER!
great concept ... hos were relatively fast ... the puzzles fun and the artwork was once again excellent ... i think this is the one where there was one glitch in the early in the game and i had to start over to compensate but i enjoyed the game thru the bonus gameplay ... i especially enjoyed the MUSIC during the hos ... and love the music at the end with the credits ... worth the purchase and the time!
April 8, 2014
Love Fear 4 Sale Series
I've purchased every game in the series and none have disappointed and this one is excellent. Puzzle Games may be slightly simple, but I don't care for the puzzles so this is a good thing for me. HOs were nothing special as they do not have a variety as other games coming out have and the reason I didn't give this one a 5 star rating. I love this one so much that I'm downloading my purchase as I speak. May have been best to wait for SE version, but I'm too impatient on this one and want to get back to it right now. WTG
April 3, 2014
Fear is fun
I thought this game was fun like the previous fear for sale games. It was a good game but it wasn't as fun as "Fear for sale: Nightmare Cinema". I wonder if any of the next fear for sale games will feel like that?
December 7, 2014
nice balance
For me at least, this game had the perfect balance of HO scenes, adventure play, puzzles and collectible stuff. It had lots of all of them. I loved the collections of collectibles and the morphing objects. Could have used a few more achievements but what was there I had fun with. There was also a conch that you use to control water. I liked the storyline.. a woman has been murdered.. or was she? The police only found parts of a blown up boat. Ever since this incident the family has been having water problems in their house and the child can hear her mother's voice in it. What is going on? Interesting storyline that flowed quite well. I also like it when the main character speaks throughout the game. Makes it more interesting and I never forgot why I was there or what I was doing. I found the VO's pretty good with the exception of the husband sometimes who's voice seemed a tad flat and emotionless considering the circumstances. The graphics were beautiful. I liked the skies in the beginning and the water by the dock in the bonus chapter was especially well done. There was one scene where the water takes a human form and conks the two bad guys out cold. I must say that made me lol. I like it when the search for collectibles and morphing objects are carried over into the bonus chapter and it was for sure necessary to the story. Thankfully no one went missing in this one and the whole thing was very well done. Overall I quite enjoyed this game.
August 14, 2014
Sorry Fear - NO Sale or 5 Stars
Based on Demo. Another game with undeserved 4/5 Star rating. When do the rose colored glasses come off & games are seen for what they really are? Also, I find retelling the story in the review REDUNDANT. I just read the synopsis that BF provides as that is all that is needed. The rest you find out when you play the game. Same old, same old rehashed story line. I didn't find this game scary at all just boring. Horrendous, itsy, bitsy, tween, weeny (no yellow polka dot bikini# junk pile to sort through. I prefer HOG so I don't do puzzles or Match 3. #I still have figured out the purpose for this childish game#. The graphics/characters/vo were actually not to bad. The music was not much of anything. Didn't seem to enhance a "scary" story. The hint filled nicely & I actually liked the map! The collectibles were a little annoying as there was no rhyme/reason to them. I like to click randomly every so often as I find things strictly through PDL. #pure dumb luck) It's just another game like so many others that have been coming out lately. I wish the devs could come up with some new, ORIGINAL ideas & stop relying on rehashing games over & over & over etc.
April 3, 2014
made me yawn
I absolutely could not get into this game. the story line was great, but it was so slow, too many collectibles, and just plain boring. I can see that everyone liked this so far, but me. With all the great games that are coming out, this just didn't make the list.
April 3, 2014
Phantom Tide Washes Little Ashore
You play a detective investigating the apparent death of a woman who saw something strange near a dam, but seems to die suspiciously before she can report it. Her family (husband and daughter) have since been tormented by strangely-acting water, which spews out of all sorts of places, like walls. They live in a house that is literally in the shadow of the dam. Other than the water, which is well-animated and seems to truly have a life of its own, there is really nothing else which stands out about this game. The voices are done well enough, but the drawing falls short. It is really not up to the highest standards. Everything appears almost flat, although colorful. It give the game an older feel, despite the cinematics of the water. Game play is also pretty standard with the exception that you get a special shell that is able to control the water's behavior at times. Other than that, there is the usual array of puzzles and hidden object scenes. This is an average, at best, game. I cannot fathom (heh# the good reviews for this game unless there is something I am not "sea-ing" #groan).
April 5, 2014
You're Getting There Elefun, But You Still Have A Lot Of Work To Do
BASED ON DEMO I've never really been fond of this series, or this developer for that matter, so I had low expectations for this game. I did enjoy the game, but I won't be buying it. There were some good elements, but others let the game down a little. The story was one of the good elements. The title definitely lives up to its name. The game is scary! It's a new kind of creepy that sounds like it should be in a Stephen King novel. The story is scarier than most out these days and the demo ends on a cliffhanger, with a really exciting moment. I'm not sure how I'd categorise this story; it's sort of murder mystery/fantasy/sci-fi. All three elements of that are done well. The story does have a couple of twists and turns. One of those was unexpected, but it was the only one that excited me. My only criticism of the story is its excitement level. It was good, but it wasn't great. A little more work and it could've been wonderful. The gameplay was just basic. The usual HOS, the usual puzzles, etc. I'm beginning to tire of the same old, same old. I want something new! That being said, even though the gameplay is old, it was still enjoyable. The HOS were good, and even had a little variation to them. They are the standard junkpile and include extra step objects, but some of the objects needed two extra steps to complete. This was a nice feature to an otherwise plain and simple HOS. There weren't many HOS in the demo. I think I counted about three in the forty-five minute period. For a hidden object game, there weren't many HOS! I would have loved to see a few more HOS in the game. The good news is, for those who don't like HOS, there is the alternative of a puzzle. I personally did not like this new feature, but that's only because I'm not very good at them. For those who prefer puzzles over HOS, this is the one for you! The puzzles were also nothing new. They were what we'd seen before. For once, the puzzles were actually pretty easy. I was able to solve all but one, I believe. Those who are expert players will be annoyed at how easy they are, but I enjoyed them. I think the ratio of HOS:Puzzles was good. There were a few more Puzzles than HOS. Those who like HOS a lot may be annoyed at this. There is one new feature in this game, which I was pleased about. This is the ?water shell? which has the power to control water. It can get rid of it, or create it, which saves a lot of time having to run around collecting buckets of water when trying to put a fire out (or whatever else you do with water). This is a really nice feature. It is not used often, which makes it better. There's nothing worse than a new feature being over-used! As well as this, there were some collectible tapes, which is not necessarily new, but it was still enjoyable. These tapes documented the time before Julia's death and were a great addition to the mystery. Other than that, this is your standard HOPA. It's got a custom difficulty (new for this developer, I believe), diary, map and all the other standard features. I really do want to see something new! I hope the developer takes this on board... New gampelay= happy Catbag! The graphics are good. Elefun uses real people instead of cartoon people in the game for the first time. This is limited to a couple of cutscenes, however. The scenes and HOS are all clear and drawn with some good detail. Overall, a good job from the developers. My main issue with the game is with the voices/music. The music was really, really annoying. It was just ruining my experience with the game. So much so, I turned it off about 20 minutes into the demo. The worst music was when you collected a collectible, and when you entered the bonus content section in the main menu. This rock music started playing. I love rock music, but here it was out of place and annoying. My next issue is with the voice-overs. Firstly, I found the voice of the girl (Katie) rather annoying and whiny. Secondly, I hated the voice of Mr. Taylor. The voice-over was emotionless and boring and almost put me to sleep. The voice-artist seemed bored when he did it. Bad voice-overs are small problems, but they do drag down the fun rating of a game. FEATURES 4 modes of difficulty: Casual, Advanced, Hard and Custom. Custom lets you set the game the way you want it, although this is limited. Differences in difficulties are the usual. I played Casual. Hint and Skip- both recharge at a reasonable speed for the difficulty. Hint is useful outside HOS. Diary- used to keep track of events. Used quite often. Collectible tapes- sort of like a backstory: documents the time before Julia's death. Water shell- Has the power to control water; can create or get rid of it. Very good feature. Not used often. Map- the map is interactive and helpful. It lets you know where available tasks are. CE EXCLUSIVES Achievements- these gave you ?points?, which was annoying and useless. These points seemed to have no value. Collectibles (35)- There are seven sets of five collectibles. This is a lot for a game. Again, these gave you ?points?, which I hated. Bonus Chapter- unsure if needed. Strategy Guide- helpful for puzzles Concept Art Wallpapers- a lot more than usual Screensavers Music Overall, I think this game is getting there. It's not overly terrible, but it's not fantastic either. It's one of those average games. A lot of work needs to be done in order to put this developer up there with some of the great ones. I'm not going to purchase this game, but I recommend that those who want to should wait for the SE. I did not care for any of the CE extras and do not see it as worth the extra money. Elefun are yet to blow me away. Here's hoping that'll change in the next game... The best I can do is three stars. I still recommend you download the trial though.
April 5, 2014
Three and a half Stars
This game bordered on being fantastic. It was fun and had plenty to do. I am glad I played in normal mode and not an easier mode. The music was great and the scenery was very nice. It is for me a easy breezy game. The HO's were good and you could switch to a puzzle if wanted. It has a jump map to help with the back and forth which was not too much of. Characters were ok. Puzzles fairly simple. I ran out of time on a puzzle that was promising to be more difficult. There were two types of collectables. I think one was morphing objects the other was a bit confusing to me, but I think associated with the dam or water. I will put this on my buy list.
April 3, 2014
The Apple logo is a trademark of Apple Computer, Inc.