Fear for Sale: Phantom Tide Collector's Edition
Exclusive
Paranormal journalist Emma Roberts is called in to help a grieving family being haunted by forces that can manipulate water, threatening to kick them out of their home. Emma will soon discover that ghosts aren't the only thing lurking around Greenville. There's something very suspicious about Julia White's death. Julia witnessed something at the hydro-electric plant – something someone would kill to keep a secret. Search the town, investigate suspects, and solve puzzles in Fear for Sale: Phantom Tide, a thrilling hidden-object puzzle adventure game!

This is a special Collector's Edition release full of exclusive extras you won't find in the standard version. As a bonus, Collector's Edition purchases count toward three stamps on your Monthly Game Club Punch Card!

The Collector's Edition includes:
Bonus game featuring Emma's continuing adventures
New locations, puzzles and challenges
Additional achievements
Wallpapers, concept art, screensavers, music and more
Game System Requirements:
OS:

Windows XP/Windows Vista/Windows 7/Windows 8

CPU:

1.6 GHz

RAM:

1024 MB

DirectX:

8.0

Hard Drive:

1292 MB
Game Manager System Requirements:
Browser:

Internet Explorer 7 or later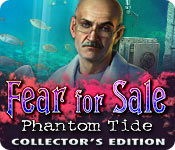 The Big Fish Guarantee:
Quality tested and virus free.
No ads, no adware, no spyware.

Reviews at a Glance

Fear for Sale: Phantom Tide Collector's Edition
0
out of
5 (
0
Reviews
Review
)
Customer Reviews
Fear for Sale: Phantom Tide Collector's Edition
45
45
FEAR FOR SALE.....One Drop At A Time!
Your skills as paranormal journalist will be put to the test on this case, for something, someone is able to manipulate the water. Julia White witnessed something at the hydro-electric plant but never made it back alive to report her findings! Now she is desperately trying to warn her family of the eminent danger from beyond, who or what killed Julia White and why is her entire family at risk?.......There are ton's of extra's on this Fear For Sale, 36 Beyond objects to find as well as a bunch of achievements available to earn. If you love games with collectibles you are in for a huge treat because there are 7 different types of collectibles, and there are several items available in each category. There are Spa Gift Basket items, Make Up Essentials, Heirloom jewelry, Afternoon Tea items, Greenville souvenirs, Conchologist (shells) and Antique Dolls to collect! The Hidden Object Scenes are interactive such as picking up bouquets of different colored flowers and placing them on top of the matching colored gnomes heads that are actually flower pots. If you don't like HOS, there is a jigsaw puzzle available instead. I haven't come across any difficult mini games yet, most are easy and most are fun. The game I liked the best was sliding tiles along a grid and using other tiles to block their paths until the tiles line up and into their correct slots. You will receive a Conch shell from the beyond that will allow you to manipulate water, removing water from some areas and even to put out fires. Every collectible you find and every beyond object gives you points so you can compete against friends but I can't see that happening, enjoy!
April 3, 2014
Pleasantly Surprised!
I must admit, I was skeptical when I first saw that this was about 'phantom water'. Even more skeptical of purchasing this game before trying however, I was bored and it was featured. When I first started playing I knew immediately that I was going to like it a lot. There are quite a few of those annoying HO scenes (no offense to anyone who enjoys HOS, just not my thing) but I really didn't mind them in this game. They were very clear, yet some things are cleverly hidden. The best part about the HO scenes in this game is that you can opt out and piece together jigsaw puzzles instead! I love jigsaw puzzles so this was right up my alley. When you find the bonus objects you get 'experience' points, which is something new and different. There are also different bonus object collections. Story progresses at a quick rate and that is a BIG plus for me. I hate to be stuck in the same spot for very long. I'm not going to say a whole lot more as I haven't finished the game yet. I just couldn't wait to review this game and that never happens with me. I had to force myself to stop playing a few minutes ago to go to bed. IMHO, definitely worth the $$. Get it!! PS- Graphics are beautiful. Some of the best I have seen lately.
April 4, 2014
Bring Your Galoshes, Its Fun in the Water!
As paranormal journalist, Emma Roberts, you are called upon to investigate a strange water-based paranormal activity that has plagued the town of Greenville and may have caused the death of Julia White. On arrival to the White?s home, you discover that there is indeed something suspicious about Julia?s death as her watery image seems to be haunting the family. There is also a mystery that involves the hydro-electric plant and somebody will stop at nothing to keep in under wraps. Your adventure begins as you tackle ghostly images and follow leads that hopefully will end the watery threat in Greenville. Once again the developers have brought us a new and exciting installment to this ever so popular series, Fear for Sale. The opening scenes with live actors and excellent animations had me hooked to the story and as I began to play the demo, I was not disappointed with the game so far. With three modes of difficulty to choose from, you also have customized settings to suit your own preferences. Phantom Tide is a standard HOPA game with extras that make it a collector?s edition. Sharp graphics and life-like images along with excellent special effects enhance the overall gaming experience. I really liked the life-like characters and thought that the voice-overs were very well done. Animation scenes are crisp and the music adds tension to the storyline. Game tools include a journal, a map that allows for travel and a conch shell that collects water traps throughout the game. There were standard Hidden objects scenes that were somewhat over crowded with a list of items to collect; some required interactions. You also have the option to switch over to a jig-saw puzzle which personally I enjoyed as I am a fan of jigsaws. Adventure game-play involves solving puzzles, collecting items and applying tools while visiting each scene. I especially enjoyed some of the mini-games, not especially difficult, but some were actually very well conceptualized and fun to play. I do however miss the more intricate puzzle and would like to see developers use a bit more imaginations when designing mini-games, making them more challenging; nevertheless, I thought that some of them were well executed. Extras include a series of collectable items which are scattered throughout the game. There are also morphing objects to locate, forcing you to look closer at the scene which also gives you the opportunity to really appreciate the artwork in the game. With every item that you find, you get a press pass card popping up at the side of the screen that gives you points for items found. I really enjoyed the demo and will definitely add this to my collection once I pay up my credit card. As always, games do take a toll on my wallet so I will probably take advantage of a CE sale. I do thing a round of applause to the developers is warranted for keeping this series going and making each game equally good as the predecessors. Well done and have a great week-end everyone.
April 3, 2014
Fear for Sale: Phantom Tide~ storyline FLOWS nicely! :}
Phantom Tide plays as a H0PA, somewhat heavy on the adventure I would say, partly due to the solid flow of the game [no pun intended this time] as well as the basis of unanswered questions the Demo leaves us with, lending itself to mystery as well. The H0G scenes were nice with an option to play a puzzle or other and speaking of puzzles, there were a few very unique ones to appreciate in this game. Despite that I initially believed 'paranormal water activity' as the premise of a spooky adventure game would be totally ridiculous and hokey [and held that thought through the first few scenes], I actually ended up enjoying the DEMO to the point of it ending before I did. Which, in of itself, is new for a change based on the recent track record of games offered us here. Overall, the graphics were excellent [!], the voice overs good and the storyline, [as mentioned] though quite far-fetched, actually held it's own and was very consistent in carrying the player along with intuitive gameplay. All this, plus there weren't any [of the usual] silly smog creatures or phantoms from the dark side maligning our every move, I actually enjoyed the time I spent with "Fear For Sale: Phantom Tide and will probably purchase it at some point if not immediately. I am thinking the plot has somewhat realistic connotations intertwined in the story [my assumption] at least in terms of the possibility that the victim/character's employer/mine owner perhaps has something to do with her demise. To what extent this comes into play and how it plays out will determine my final decision on how 'good' Fear for Sale: Phantom Tide actually is, of course. For the time being, based on both what I've played so far as well as the fact that I've thoroughly enjoyed most all the developer's other games, I am giving it a solid.... pretty darn good [!] 4.5 bumped up to 5 for good measure, based on the Demo play. As a side note, the game could have lost all the extras and been better for it; and IMHO I'm guessing developers are feeling pressed to add these things due to customer demand [unfortunately, some of us don't particularly care for these blingy additions]. For me, it just gets in the way of my following the story and they are a nuisance with the exception of inventory/other bar enhancers which I sort of enjoy! So, I have to think about this one a bit more and perhaps see reviews of the finalized game; my two credits are anxiously standing by to purchase; in the meantime, definitely check it out and... Have fun gaming. :)
April 4, 2014
Elefun made a sure fire hit!
Water water everywhere and not a drop to drink. Anyhoo this game looks extremely spooky and one original story. The VO's are awesome in this game and fit the characters well. Elefun did an awesome job with this game. Story: You are playing as Emma Roberts and you receive a phone call from Adrian White who is having a severe water problem. Adrian feels the paranormal is acting up and that's why he contacted Emma. Emma seems to think Julia's death and this water phenomenon is connected somehow. So she is going to see if she can end it. This story is truly original. Graphics: Awesome! If you have HD settings use them. My new monitor does and it makes the graphics more intense. So with HD and awesome artists we got a winner here. H0GS: Very clear and no problem spotting objects Hint System: Works for both in and out of H0GS. Won't have too much problem on the getting lost department. Map: Interactive and jump. Music: Superb. Fits the game well and adds to the spooky factor of the game. Mini Games: Not too hard or easy. Truly right up my alley. All in all I am having a blast with this one. Looking forward to seeing what is going to happen next. This game is like a good novel. Once you start you can't put it down. :)
April 3, 2014
Best Ever Fear For Sale!
This was absolutely the best of the series. From the beginning the opening scene was remarkably real looking and the voiceovers are very well done. Even the background music was appropriate. Storyline is great to follow along with. HOS are very clear and interactive. Mini games are very good as well. So much to collect with morphing objects and different categories of collectable items. Achievements to be earned as well. This is a great CE packed full of things to keep you busy and interested. A definite buy for me!
April 5, 2014
Another Excellent Fear for Sale Game
We play the game as Emma Roberts who investigates paranormal activity and now we have been called upon by Adrian White whose wife Julia was recently killed in a tragic boating accident to help him find out what is happening in and around his home. The water at Adrian?s home seems to have a life of its own and is out of control with water dripping from the walls and pictures in his home. He implores us to help him find out what is causing this terrifying activity. Shortly after we meet with Adrian he is swept away by a wall of water and locked in his basement, now this is where our investigation and the fun begin. Will we be able to solve the mystery of Julia?s death and discover what she is trying to tell us? The graphics are generally very good but appear slightly grainy and lack the crisp clarity of some other games by this developer. The previous Fear for Sale Nightmare Cinema was a game with excellent crisp graphics but unfortunately that graphics quality seems to be missing from the current game. In this installment of Fear for Sale, the game uses live actors as well as animated or computerized characters so there are lip-synced voice overs which I always like in a game. The sound package is excellent and I didn?t find the music to be intrusive or annoying except when I clicked on the Extras section and the music was horrible. Thank goodness that didn't carry over into the game. As far as tools we have a diary that contains our objectives as well as notes that will help us as we progress on our adventure. We also have an interactive transporter map that indicates where we have tasks to accomplish. Another unique tool is acquired shortly into the game and I have found it to be quite helpful when confronted by a soggy situation. I find the seashell adds a new dimension to what we usually do with our ?helpers?. All of the HOPs, during the demo at least, were the standard interactive list type and I must say that they were generally piles of junk and that made it difficult to discern the objects to find. If we choose not to look through the piles of stuff, we do have the option to complete a jigsaw puzzle instead ? one of my favorite options. As far as the puzzles in the game are concerned none of them are too difficult and some are downright simple. Alas, I guess the new trend in HOPA games is for overly simple puzzles so that the developer doesn?t frustrate those gamers who like easy and don?t want the challenge of solving a difficult puzzle. I wish the devs would include more challenging puzzles in their games because there is always the ?skip? option for those who just can?t handle the challenge. IMHO, we finally have a CE game that is really what I consider CE worthy and justifies the added cost. Fear for Sale Phantom Tide is a game that is fairly loaded with extras that almost borders on overload. We have morphing or beyond objects to find and several collections, each of which has five different objects to locate. Throw in the achievements that are earned during the course of gameplay and we have a CE game that is full of the things that are sure to keep us busy for several hours and challenge us as we make our way through the games. In conclusion, Fear for Sale Phantom Tide is a solid five-star game and so entertaining that when the demo ended I was surprised because I was so absorbed in the storyline. This is definitely a CE game that I look forward to adding to my game collection and I might add that it is one of those games that I can see myself replaying. As always, I recommend that you at least try the demo to see if this is a game you will like.
April 3, 2014
FUN ADVENTURE GAME
SUMMARY: Love the Fear for Sale games. I privately grade my games and they are always in the top 10%. They are fun to play, well thought-out, flow effortlessly, colorful and have excellent sound/special effects. STORY: You play Emma Roberts, called to investigate paranormal water-based anomalies in Greenville. Water is everywhere, even flowing up the walls in the White household. GAMEPLAY: Mostly adventure game. You have a shell which is used to manipulate the water; realistic sound effects; fantastic visual effects; pleasing bright color palettes; and music to help push you suspensefully along in the appropriate places. Good voice overs. You can customize your level of difficulty (4 total modes). HOS are fairly crowded, but colorful and distinct. Objects are easy to find and some are interactive, requiring more than one action. You can play a jigsaw puzzle if you don't want the HOS; but the HOS are so nice, I can't imagine not wanting to play them. Puzzles are plentiful as you try to figure out what to do and where to go. One improvement could be the hint system. It is just not very helpful. Example: fairly early in the game, you come across a raining door which needs 3 objects to open it. If you need help to find one of them, the hint will point out the door. Well duh! I already know I have to put something there - the question is what and how can I find it? CE has 12 collections of 5 pieces each, a number of achievements, and the usual extras. No morphs, but it has enough collections that I will buy the CE instead of the SE.
June 4, 2014
Very well done!
Someone has figured out how to manipulate water in graphics beautifully. WOW It's worth playing the demo just to see that. This one has all you are looking for in the way of a Collector's Edition game, the guide, lots of collectibles, bonus game and all the whoopdedoo freebies. The game itself has an interesting storyline, hidden objects, but not too many of them, jigsaw puzzle for those more inclined away from HOGS - leans more toward the adventure side, a navigatable map, customizable difficulty settings and an new feature to manipulate water. As much as you will be disappointed that I didn't find out any more about this game, to be honest, I was too busy playing it. This is one game that was over before I was ready for it to be. I was minding my own business playing the game when WHAM - it was over. I hate it when that happens... but that usually means I've got to get this game. Enjoy.
April 3, 2014
Water, water everywhere!
This is the fourth in the Fear for Sale series, and it is great fun! You are paranormal journalist Emma Roberts, who is summoned by Adrian White because water is pouring out of everywhere in his home. His wife Julie, a PHD researcher, was recently killed when a bomb exploded in her research boat. Right before she died, she noticed something amiss near the dam. You arrive at the White's, turn off the water, solve the puzzle and rescue Adrian from the basement full of water. You earn a special shell that can manipulate water. It drains the basement, puts out fires, does lots of water-related things. You also find a map to help you. The HOS are all lists, and the mini-games are not necessarily unique, except for the water theme. The voice-overs, especially daughter Katie, are great. There is a suspicious mine owner you find at Julie's lab, so I am sure he's involved in her death. There are achievements, plus 7 collections of 6 objects each -- afternoon tea, dolls, conch shells and more. And 36 morphing objects! Plus the normal CE Bling, bonus chapter and strategy guide. These games are all interesting and fun. Try it yourself and see!
April 3, 2014
The Apple logo is a trademark of Apple Computer, Inc.