Surface: Reel Life Collector's Edition
Exclusive
Elephant Games' genre-pushing Surface series continues... this time, in Reel Life!

Your sister and her daughter, Jane, were enjoying a screening of an old movie, when one of the actors literally stepped off the screen! Now Jane is missing, and the building is crawling with strange plants and animals from the movie. You solve all the puzzles in your way and rush to the theater to find a way into the world of the film to save your niece. But once you do… you realize that the mystery - and the danger - is much deeper than you could have imagined. Can you escape before your adventure becomes a tragedy? Find out in Surface: Reel Life, a thrilling Hidden Object Puzzle Adventure game!

This is a special Collector's Edition release full of exclusive extras you won't find in the standard version. As a bonus, Collector's Edition purchases count toward three stamps on your Monthly Game Club Punch Card!

The Collector's Edition includes:
Release Andrew Light from Cinecity in the bonus game.
Collect flowers to visit the secret room for extra prizes.
Win awards for your greatest achievements.
Use the available Strategy Guide.
Soundtracks, screen savers, wallpapers, and concept art.
Game System Requirements:
OS:

Windows XP/Windows Vista/Windows 7/Windows 8

CPU:

2.5 GHz

RAM:

1024 MB

DirectX:

9.0

Hard Drive:

1267 MB
Game Manager System Requirements:
Browser:

Internet Explorer 7 or later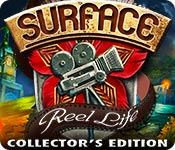 The Big Fish Guarantee:
Quality tested and virus free.
No ads, no adware, no spyware.

Reviews at a Glance

Surface: Reel Life Collector's Edition
0
out of
5 (
0
Reviews
Review
)
Customer Reviews
Surface: Reel Life Collector's Edition
50
50
OK for beginners
Found the entire game far too easy including puzzles, hidden objects were easy to find. The Bonus Chapter was far too short, think its one of the shortest ever if not the shortest. Despite the easiness for me, the game was somewhat fun. Would recommend this game for beginners.
April 18, 2014
Meh...
My review is based upon the completed full game, including the bonus chapter. Up to now, I've greatly enjoyed the Surface series, especially the first two (clever back-story with the first, not knowing exactly where the story would end up; the second--I'm a fan of steampunk and the concept of floating cities). Even the third and fourth games had enough to keep me fully engaged, despite not being QUITE as into the storylines. When I started this game, I was optimistic. I'm a huge classic-era Hollywood cinemaphile, to the point where I make my college students write about a classic movie as their first essay of the semester, and some of the minigames are true puzzlers. However, this particular game did not live up to its expectations. For one thing, the story ended before it had a chance to get fully interesting. I mean, a story in which the film world merges with reality? Lots of potential here! I, however, had finished the game within just over two hours--including the bonus chapter, less than three. On the whole, the plot jumped around a bit. I never felt much of an attachment to any of the characters, either--the story either jumped around too quickly in most areas, or in others, it lagged (especially the cutscenes--why on earth is there always such a slow pan when there's no narration or anything else to move the scene along?). I wanted to like this one so much, but I feel just... let down. The one redeeming part, for me, was the bonus chapter. Without it, the story seems to come to an abrupt, disappointing end, but the bonus chapter does allow the player (especially one like myself who is an idealist) a chance to "set things right." So, if you do buy the game, I would recommend buying it on sale when you can get a CE version for equal-to- or less-than-standard-edition prices. Without the CE and the challenged of finding collectors' items, it's really just a letdown. To the developers: You're better than this, and we both know it. I truly think you rushed this to get it out by a deadline, and as a result, it feels incomplete. Please, in the future, take an extra month or two to make a better game. Don't fall into the trap of creating sequels with less punch than the originals, which seems to be the pattern you've been following with the Surface games. I have faith in you!
April 12, 2014
Scratch the Surface--Not Reel Life
Agree with another reviewer too much like Final Cut. Not the best Surface and not the worst. At the risk of sounding redundant, isn't anyone else weary of playing the same games over and over by either the same or different Developers? At the movies, one sister is abducted--Jane. Mary was left behind. Guess he didn't want her too? Whatever. Run to her aid and encounter locks that need keys, two purses already that need opening and right away having to cut glass with a huge diamond found in a scene. Hmmm. Been there and done that a thousand times as a loyal BFG member. Feels like I am picking up my children's toys and clothes to put them back where they belong. Too much like a boring monotonous job than an exciting, mysterious and challenging game. Possibly the game gets better or just more of the same. Past experience tells me more of the same. Enjoy! -Mama Mia-
April 11, 2014
Surface is Showing Cracks
Your friends are watching a replay of a classic movie which stars one of your friends' deceased husband. Suddenly the "deceased" husband leaps through the screen, grabs his stunned wife and jumps back into the screen. Meanwhile all sorts of jungle plants and creatures invade the theater as well. Your remaining friend calls you for help while being chased by a tiger - which she inexplicably fails to mention. I played until the end of the demo, but I knew after the opening cut scene that this Reel belonged back in the closet. The story just doesn't cut it. On top of that, the cut scenes are of mediocre quality, as is the drawing. It is colorful, yes, but very flat and lacking in any texture. Voices were not convincing, but the dialog and story are so contrived that its hard to blame the actors as there is not much to work with. There are many short notes to read as well, one in just about every scene, but they tell you very little. Be prepared to use objects in illogical ways, not just once or twice but over and over. There were so many things that just made no sense that I lost count. One glaring error has a movie projector showing a movie though a glass window! Try that at home and see what happens. The hidden object scenes were pretty ordinary, with some just needing an inventory item to complete. The mini-games were probably the best feature in the game. They were fairly creative and clever. Unfortunately, the rest of the game play was so boring I had no patience to play them. Since it is a CE, there are some not-very-compelling collectible flowers. In fact, the whole game is not-very-compelling. However, if you love puzzles, and can put aside the inane play, I recommend waiting for the SE. When I exited the game and was asked "Are you sure?" I was never more so. This Reel belongs on the cutting room floor.
April 10, 2014
Slow, lackluster game
After seeing the early 5 star reviews, I'm wondering if I played the same game as everyone else. However, different strokes and all that. Here we have a concept of an actor stepping out of a movie and abducting his once girlfriend while she does nothing but swing her legs a few times. The mother is left in the movie theater, where everything (tigers, man--eating plants, etc) continue to come to life and jump out of the screen. I like the concept of this. However, the game, to be, was a complete failure. The entire game, including the beginning cut scene, was lackluster and missing something... pizzazz? I'm not quite sure. I played the entire demo and disliked every minute of it. The HOS were basically old school junk piles. The puzzles were very easy for me, which means they were elementary level. Voice overs were non-convincing and almost seemed contrived. All objects found were used very quickly in the general vicinity of where you found them. Even though there were bright plants, and lots of "stuff" around, the graphics were blurry and washed out looking. The game play was slow. The cut scenes for each poster were slow. Actions were slow. I finished the demo with time to spare and was at the end of chapter 3. Given that this has 7 chapter, it appears to be a very short game. It seems the team of pachyderms were on vacation when this was made. I do not recommend the game.
April 10, 2014
So disappointed!
Elephant, really, you are better than this. I so enjoyed the other Surface games and was thrilled to see another. This one seemed like a combination of Final Cut with Madame Fate thrown in for not-so-good measure. Not worth the CE price, IMO. Graphics are poor, I much preferred the real-life characters in the other installments. I couldn't seem to get invested in the plight of the characters at all. I normally enjoy collecting things, especially the flowers in Soaring City, as it allowed me to use my flowers to beautify the city...that was very rewarding to me. But this one...using your flowers to view a couple of rather inane film clips? Sorry, didn't care for that. We all know you guys are capable of making some extraordinary games...this one just didn't cut it for me. Better luck next time, Elephant.
April 13, 2014
Terrible, awful CE
The fourth game in the Surface series by Elephant Games ---------------------------------------------------------------------------------------- OK, when the intro was played, what was that about? All I know is that Surface is a great game series and this latest one seem like made by amateur story writer. I wonder why Elephant Games even made such a game that can ruin the whole series. There are 3 levels of difficulties. HO is the usual finding items on the list. Puzzles are simple mini games throughout. VO is rather corny, nothing with much expression and feeling. The game is like combination of the movie Ring, Twilight Phenomena game series by ERS, and Botanica by Boom Zap. Now if they are made into separate game that would probably be better, but this one is lousy, sorry, I am glad when the demo is over and can make a decision never to buy this game, even the SE. All bonus contents are the usual stuff, except Bonus Room which shows films collected from flowers in the game but again it's not that special. Overall, a terrible game. I will not recommend this to anyone except if you like Tarzan movie. Not impressed. I hope EG got their act together and improve.
June 22, 2014
A Reel Bottom
There seems to currently be a race to the bottom in graphics quality going on for most of the games on Big Fish these days. Even the larger developers such as Elephant Games (which is typically my favorite) is now going backwards in terms of quality of graphics. Elephant, please let this be a one time occurrence. Even the earliest releases from Elephant didn't have graphics this bad.
April 12, 2014
Awful
Based on the demo: This was truly awful. The cutscenes were painfully long and idiotic. I didn't feel that the graphics were very good. The entire game felt dumbed down. The previous versions had interesting play with a storyline which made sense and held up. Will not be purchasing.
April 15, 2014
I could not even start game something wrong..
I waited over five days for a good game. Childish to say the least. I don't like this at all. It takes forever to use by free games. I'm not going to pay for a damaged game to see if it plays right.
April 10, 2014
The Apple logo is a trademark of Apple Computer, Inc.