Cadenza: Music, Betrayal and Death Collector's Edition
Exclusive
Listen... for the sound of betrayal! You've returned from school to visit your father at his famous Jazz Pepper Club during Mardi Gras, but everyone is hypnotized. Have they heard the wrong note? Explore the musical mystery in Cadenza: Music, Betrayal and Death!

This is a special Collector's Edition release full of exclusive extras you won't find in the standard version. As a bonus, Collector's Edition purchases count toward three stamps on your Monthly Game Club Punch Card!

The Collector's Edition includes:
Uncover the villain's past in the bonus chapter
Unlockable achievements
Hunt for music notes and special collectibles
Soundtracks, wallpapers, screensavers and concept art
Integrated Strategy Guide
Game System Requirements:
OS:

Windows XP/Windows Vista/Windows 7/Windows 8

CPU:

2.0 GHz

RAM:

1024 MB

DirectX:

9.0

Hard Drive:

681 MB
Game Manager System Requirements:
Browser:

Internet Explorer 7 or later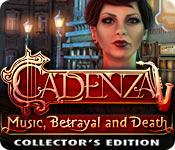 The Big Fish Guarantee:
Quality tested and virus free.
No ads, no adware, no spyware.

Reviews at a Glance

Cadenza: Music, Betrayal and Death Collector's Edition
0
out of
5 (
0
Reviews
Review
)
Customer Reviews
Cadenza: Music, Betrayal and Death Collector's Edition
204
204
Finally something Different and Engaging
Don't miss this one! It is worth five stars and getting the CE. The game was immersing from the get go and long enough to not feel cheated. The music was great. Only criticism is that some of the games were too easy or too finicky and confusing. Example the detectives key where everything seemed to move and nothing would stay where I put it so I ended up skipping which I loathe. I enjoyed the HOs which I almost never do. The whole game seemed fresh and creative unlike so many these days which just seem repetitive and dull.
June 15, 2014
Best game of the last two years
I LOVE everything about this game! The graphics are stunning, and I loved the jazz music. The story line is fun, and voice actors mostly sound authentic New Orleans in the main game (although not in the CE's bonus game). The HOGs are innovative and interactive. The puzzles are also innovative and challenging, although not really difficult. It's the best game I've played in the last couple of years, maybe more, and I play two or three games a month. You won't be disappointed!
May 5, 2014
This game should be called: Music, music and music!!
This is a real gem of a game! Cadenza: Music, betrayal and death is a very addictive game, from the sharp visuals, to the unpredictable story this is a game that will marvel you and sometimes challenge you in a very fair way! From the opening scene, you know that this is going to be a fun ride. The map is genius and you have to go through the city using a taxi! Btw... Nothing in this game is random! What I loved the most is the music!! With a couple of really really good songs and all that Jazzy feeling of the game that is ever present! The Saxophone happens to be one of my favorite musical instrument... The sound effects reminded me a lot of another great game I played recently (Nevertales: The beauty within) especially in HOS when you find an item but I think that it's the developer's signature. Speaking about HOS... There are plenty and can vary in nature. From the standard one, to the match a pair kind of HOS, this game has it all! When you complete the game, you get access to the bonus content, there is a large bonus content... There are hidden music notes to find in each scene, a morphing object in each HOS, achievements, wallpapers and concept art are among the standard ones with a couple of new ones. I was a bit surprised by the bonus gameplay as I did not expect it to be the way it turned out to be. But it was so fun I wish it was a little bit longer! All in all, it's a genuine, fun, ingenious, and totally new game with 5 difficulty options to choose your own way to play the game. I love it!!
May 1, 2014
Best Game Ever
This is definitely the best game I have ever played. Storyline is engaging, graphics are really clear and defined, music score is appropriate (jazz), personalities are realistic. But the best part are the puzzles - lots of variety not just HOS. Even the HOS have games within them and are varied as to how to solve them. Good length of game time. Map included which is really helpful if you can't figure out where to go next. The only fault I could find would be the level of challenge in the puzzles, I found them quite easy to solve.
November 19, 2014
Compelling, Clever and Utterly Engrossing
This is a cool game. This may be one of the best HOP/Adventure Games I've played in years. The art is gorgeous. Using New Orleans as a setting lets the developers play with characters and especially music in a way that is fresh and entertaining, and, to me, miles ahead of many other developers. Nothing about the game is so hard you can't figure it out without a hint. The objects aren't so small you need a microscope to see them (when you've got an 11" screen, that matters). The voice acting is excellent. I like their character interaction method, and the ability to make choices in the questions you ask (and the answers you receive). This one's really, really worth it. Nice job, Mad Head Games!
November 17, 2014
NEW ORLEANS JAZZ TWENTIES TO FIFTIES GOLDEN ERA
AMAZING GAME!! If you have a love for Jazz..a love for New Orleans... a love for any of these Decades in America.. twenties thirties or forties... You are likely to Love this game if you love all three you are likely to Really Love it.. What i look for in a Game and this Game has it ALL.. 1)Creative and Interesting STORY that draws me in and keeps me Engaged 2)Fantasy Atmosphere that makes me feel i am IN THE GAME... 3)NO HOS..i Loathe HOS in my Adventure Games.. However if the other elements are there i will be forgiving and IF ..like this game..the HOS are made bearable and even Enjoyable because they are different and interesting and dont make me feel like my Adventure is being continuously interrupted with something i hate and find Irrelevant to the gameplay..... then i am Very Pleased...and this game does just that.. 4)Beautiful Graphics Created by Sincere Talent 5)Beautiful Music that sets the Tone and prevents me from being able to escape the game world even with distractions from my RL environment... 6)and if i am lucky..a game that lingers within my consciousness..one that i think about daily for weeks to come..one that i randomly think about even years later.. one that i have to play again at least once a year because i Miss It...i want to experience it again.... 7)Story has elements that personally interest me.. in this case...American History from the golden era of Jazz.. which i guess ended in the thirties but lingered a bit into the forties and fifties... competing with big band to stay on top as pop and then rock n roll were making their way into the hearts of the youth my mums swiss french family is from New Orleans... my grandaddy spent over half his life in living in the heart of New Orleans...a Big Time City Boy.. i remember trips to New Orleans as a child while i know the Reality of New Orleans.. there is also the fantasy side when one is on holiday there it is Impossible to Recreate it.. Even Disney cannot recreate it without being IN New Orleans.. However the Developers have done a Fabulous Job of creating that feeling within the confines of what is possible The Musical Offerings in this game have a lot to do with it.. This is a game where i can tell a lot of Care Creativity.. Talent Imagination and Great Thought went into this project.. I can see the Developers wanted the Gamer to have a fulfilling experience and they SUCCEEDED... Games are like novels.. you cant whip them out in order to make a buck... you have to actually CREATE Something a bit Magical... and this is what Mad Head has done... And..What a CREATIVE Game it is.. A RADIO STATION ON A STEAMBOAT?! WOW ..BRILLIANT!! Mark Twain would LOVE IT!! Louis Armstrong played on the Mark Twain steamboat at Disneyland in 1962 Disneyland After Dark.. this was such a Brilliant and Creative Idea to present the radio station this way.. also Creative are the HOS... Made tolerable and even fun.. also RELEVANT to game play.. you wont have loads of inventory as many casual games which is another pet peeve of mine.. LOADS of Inventory and you having to run around Everywhere back and forth.. everytime i play a game like that i feel CHEATED.. as if they are simply trying to add Length to the game and the length is not QUALITY its simply me having to go back and forth all the while praying the game will END SOON..(a few popular developers come to mind) i want an ADVENTURE when i pay my hard earned money for some Entertainment.. is that too much to ask??? imo in a True Old School Adventure game .. the inventory is to be used pretty much immediately and this game fits the bill... I own all the Mad Head Games but this is the first time i have actually played one i have now made a note i am going to play the rest of them ASAP... Based on this game i have to say AAA+++ Developers!!! i know some ppl..esp Americans are having hard times atm its all good.. buy the SE or watch daily for BF CE sales... the Bonus Game is a lot of fun and the walkthru is convenient but if all you can afford is the SE buy it without hesitation later on you maybe can afford the CE.. the Bonus Game isnt needed in this case... However Majority of gamers will get More out of this experience than what they pay for in this CE... its Very Good and Many will Replay it ..I KNOW i WILL!! AND..if you are super into New Orleans aswell as Ghosts... i also Recommend Deadtime Stories...
October 1, 2014
Perfect game
I've just started playing but the graphics, story and music (of course) are extraordinary.
May 13, 2014
SUPERB!
Best game in ages, although the HOPs were a little mean! I loved the soundtracks, New Orleans jazz setting, game was excellent! SO many extras! Will play again. Loved it!
May 11, 2014
Refreshingly different and fun!
This is actually my first review of a game here. I just had to share my thoughts on this one. I loved everything about this game. The storyline was engrossing, and it was so different from what I have been playing--the New Orleans jazz angle. I LOVED the different styles of games and HO scenes. It was so much fun to play. Please make more like this!!
May 11, 2014
Really Good Game! But Some of that Shine is Missing...
BASED ON DEMO I've been waiting for this one for a while, and I've got to say... IT'S GREAT! Great gameplay, REALLY great story... who can resist? I think I see this game's SE with my name on it! The story was really, really exciting! It did take quite a while to get in to, but it was really good! A revived sprit returns with a vengeance, and he's after your dad! This is a great mix of murder mystery and fantasy, a game that I'm sure to enjoy. As I said, the story does take quite a while to get in to. There's the opening scene, about half an hour of nothing exciting, and then a great ending. It's good to see Mad Head is working on their stories a bit. I don't like stories that are all action, but I don't like ones that take a long time to get in to the action either. Perhaps if it was gotten in to a bit sooner, the story would have been perfect. In my opinion, there was one cutscene that didn't need to be there. It dragged out the story a bit and was actually quite annoying. The cutscene I'm referring to is the picture cutscene that had the main character narrating a scene where there was singing and music. This was not necessary to the story in my opinion and seemed to be there just to increase length. This is the only downside to an otherwise great story. It was really exciting and was full of wonderful twists and turns. I absolutely loved the story of the demo and I can't WAIT to see how it ends! The gameplay... oh my gosh, the gameplay! I've been crying out for new, fun things and this game did just that! NEW HOS! NEW Minigames! NEW gameplay! New everything! This developer really knows how to go above and beyond in the world of HOPA games! I'll start with the basics. The HOS: They were absolutely WONDERFUL! They were brand new and really fun to play! There were two HOS and two different types of HOS in the demo. In the first one, there was a little sidebar. You only had to find one object at a time. Sometimes it was only finding an object, sometimes it was adding part of an object to another one. The second scene involved finding matching pairs. This was also fun, but I preferred the first type. In both HOS, there were dots above the HOS item bar which told you how many objects you had left to find. This was a great addition. The puzzles were good too. Although not new, they were still very enjoyable. I found each puzzle to be rather easy. I could solve them all. They had very clear instructions, so I knew what to straight away. And of course, with a Mad Head game, we see the return of the minishows. These are a puzzle, a HOS and a story rolled in to one. There was 1 minishow in the demo and it was awesome. It involved finding objects in a scene and placing them somewhere to learn the next part of a story. This has been a great story addition in previous games and I know it will be here. This game also has + objects, which are items that need to be interacted with to complete. This is a nice feature, but is beginning to lose its shine, since it seems to be appearing in every game these days. I still enjoyed every time I had one in my inventory. One final feature of this game was the timer. This lets you know how long you've been playing the game and is excellent for those who like to time their gameplay. Other than that, this is your normal HOPA. Mad Head have done a great job with the gameplay as usual, but this game is not as fresh and new as other ones. There's no animal helper and no overly new features, just new HOS and Puzzles. Maybe a couple of extra features would've been nice. The graphics are great as usual. They are drawn in great detail, with every scene being exceptionally clear. The character designs were also good. My main problem (and my only problem) with this game is with the voice-overs and music. Multiple characters' voices in the game were very annoying. My least favourite of all was the main character. I found her voice to be breathy and she had a terrible accent. Another bad one for me was the voice of the woman who asked for the protection amulet. There was definitely some foreign accent in there, but the voice itself was really annoying. The third and final issue I have is with the voice of the taxi driver. It was really low and irritating. My issue with the music is a big one. I disliked the music in the game. The saxophone at the beginning was awful and hurt my ears. The music in general in the game was annoying and off-putting, so I had to switch it off. I've only had to do this a couple of times with games, and when I do, it's because I can't stand it anymore. Developers should realise that, sometimes, games can be ruined by poor voice-overs and music. Luckily for the developer and myself, this was not the case, because of the story and gameplay. FEATURES 4 modes of difficulty: Casual, Advanced, Hard and Custom. Differences are hint/skip times, sparkles, etc. Custom lets you set the game your way. I played Custom and set the hint to 30 seconds, skip to 45, and left everything ticked. Hint/Skip- the hint is helpful outside HOS. Diary- keeps track of events. No notes, just pictures. The notes in the diary are a good addition to the game and that was missing here. Map- the map is slightly different than usual and does take getting used to, but once you're used to it, it's a good help. The map is interactive and lets you know where a task is. + objects- These are objects that you have to interact with to complete. A nice addition to the game. Minishows- this is a story, puzzle and HOS all rolled in to one. There was only one in the demo, and judging by previous games, this will be rare. This is an awesome feature. Timer- lets you know how long you've been playing the game. CE EXCLUSIVES Achievements Built-in Strategy Guide- good for puzzles. Bonus Chapter- won't be needed Collectible notes (41)- There is one in every scene. Collectible morphing objects- one in every HOS. Instrument workshop- can be unlocked after finding a certain HOS. Connections- Bonus Chapter only Replay HOS & Puzzles Wallpapers Concept Art Music So, overall, this was a great game. It had new gameplay that I'd been dying for. However, I think Mad Head have taken a step back with new features and CE Extras. There weren't nearly as many CE Extras in the game as there were in others, and there weren't any new puzzles or fancy new features this time around either. I think I'll give this four and a half stars since it's not as good as other games. This still is a really great game, but some of the Mad Head Magic was missing on this one. The developers weren't as ?out there? as they were in previous games. I'm getting the SE this time because I don't think the CE is worth it.
April 13, 2014
The Apple logo is a trademark of Apple Computer, Inc.