Off the Record: The Italian Affair Collector's Edition
Exclusive
Enjoy a new episode in the Off the Record series! Are you willing to ditch your vacation plans to track down the most famous thief in Venice? He's a slippery suspect who has outwitted the best police minds in Italy. You'll soon discover that he won't be easy to find even with your crack detective skills – because they don't call him 'The Fox' for nothing…

This is a special Collector's Edition release full of exclusive extras you won't find in the standard version. As a bonus, Collector's Edition purchases count toward three stamps on your Monthly Game Club Punch Card!

The Collector's Edition includes:
Watch the behind the scenes video
Collect morphing animals and letters throughout the game
Earn special Achievements
Get soundtracks, wallpapers, screensavers, and concept art
Try the available Strategy Guide
Game System Requirements:
OS:

Windows XP/Windows Vista/Windows 7/Windows 8

CPU:

1.6 GHz

RAM:

1024 MB

DirectX:

9.0

Hard Drive:

1376 MB
Game Manager System Requirements:
Browser:

Internet Explorer 7 or later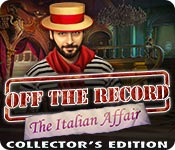 The Big Fish Guarantee:
Quality tested and virus free.
No ads, no adware, no spyware.

Reviews at a Glance

Off the Record: The Italian Affair Collector's Edition
0
out of
5 (
0
Reviews
Review
)
Customer Reviews
Off the Record: The Italian Affair Collector's Edition
53
53
Better Than The First In This Series - Review Of Completed Game
I liked this one more than the first in this series Linden Shades. I just thought that was OK and while this game does make a mention of Linden Shades in it well I still don't find it necessary to play that before playing this game. This stands alone on it's own and quite well. Two completely different stories. The graphics I thought beautifully done. I had no problem with them. I also really liked the music. The voices as much as I'd like to say a "well done" here however I was quite disappointed that I'm suppose to be in Italy, but the only person with an accent is the gondola driver These were quite atrocious. I definitely think this could of been worked on much more. This is why I rated you (developer) just OK on visual/sound quality. Otherwise I would of rated this at least good. A great big smile and wink to you here developer: Need to work on your Italian! The level of challenge for me was quite good. I played custom mode (thank you for providing this) so I had no sparkles, no gears or magnify glass "pop up" and very few black bar tips.I also didn't use any hints, skips, map or strategy guide. The game play emphasis is definitely on the HOS. There are A LOT especially more into the game and at times one right after the other.. While the progressive silhouette which that is mostly what this game is along with a few interactive word list have been done before many times however I found these were executed into the game a bit different than usual (most games). I quite enjoyed these. Most I found pretty easy but some were challenging for me. I'm a fan of these. The puzzles/mini games not much of a fan here however I found most pretty easy but a few required a little thought. I didn't skip anything. The "adventure" side pretty light especially compared to a true point/click adventure game but there was a part of me that felt at times I was playing an "adventure" game as I really had to click around in a few scenes to activate something. This is a good thing for me as I like clicking around to activate something in a scene instead of just being directed to it. Once I got the hang of how to use the camera taking pictures of things I liked this but this took a bit. Find the cassette tapes and listening to them was interesting. The story I found to be quite good. It has some twist and turns to it. The main game was 5 hours for me. As for the ending: If I wouldn't of played the bonus and just main game only it did end satisfactory for me however the bonus does continue the story and I found the true ending to be here. The bonus is also all new areas and the achievements, collectibles, morphs continue here as well and was 1 hour for me. The ending of this also comes to conclusion however seems to hint at another sequel for this series. Whether or not there will be one time will tell but that was the impression the ending of the bonus chapter left with me. The CE extras are achievements, quite a few collectibles, and morphs. Then there is the usual "fluff" screen savers, concept art, music, making of (behind the scenes), etc. There is a lot here to offer for someone who is a fan of this. I'm no longer a fan of this "fluff" I now purchase games mainly for story and game play. The pop up of achievements, collectibles, morphs I found a bit annoying/distracting in this game however I did find all the collectibles, morphs, earned some of the achievements. Overall 4 stars from me. Thanks Big Fish and Developer.
April 18, 2014
Oops - DON'T make my error
First, let me get this out of the way before I forget. This game has EVERYTHING! Morphing objects, letters of the alphabet (although not in A, B, C order that I could tell), diary pages, fox figurines (in every scene?) and the list goes on and on. Sometimes you just happen on to something and oh, fudge, I have to collect that too? TONS of fun. The hint button recharges quickly (now that I found it) and was very helpful. The storyline is that you are a journalistic investigating a story on Vol Volpe -- the Fox -- who seems to have come out of retirement and is on the prowl again. Or is he? Was that him you met and who hired you? Is Vol Volpe being framed? By whom? I got all these answers just in the free trial hour. So, what's left? Gotta play the game to find out. MY ERROR - sort of............Because I only get a shooort hour to play what looks like a great game I always play "custom" where available, and set the skip and hint button to about 15 seconds. Usually, that's all a person has to do. But, there were no sparkles, every time I hit the "hint" button I got a message "not just yet" so I'm thinking, hm....new twist - I have to find x# of fox symbols before the hint works ... uh, no. I was referring to the Strategy Guide a bit because there were times I just didn't get it. So, I went back to "Options" to check my difficulty level and said, self...let's just put it on Casual, and so I did - and a whole new world of magic appeared! ( well, that might be stretching it a bit). But things did become clearer. I spent so much time tip-toeing around and trying to figure out what to do next and who goes where and what the heck because I NEVER play on HARD because I'm just not quite there yet. I like to go Casual and eventually i'll play the next difficulty and so on until I am playing HARD. So, a lot of time was lost because I thought I was playing Casual. Here's the rub - every other game I've played that has a "Custom" setting, you basically only change the hint and skip buttons. Since all the other buttons were lit up like a Christmas tree I thought they were all copacetic to a Casual game. Perhaps someone wasn't doing their homework because it appears now that to get the Casual setting you had to UNDO the buttons? Weird but true. That was my error. I think I enjoyed the game but it's hard to say because of all the time I wasted so I am on the fence about purchasing the game, even with ALL the fun things you have to find (see first paragraph). Maybe if a reallllyyy good sale hits or 2 months from now when I have 2 credits. Sigh. Based on what/how I played, it seemed like fun, lots of stuff to collect, including achievements. I think people will like this game a lot but play it before you buy it and watch out for that Custom setting. Glam-ma says give it a whirl.
April 17, 2014
Solid 4.5 stars!
Hi all. Well, after yesterday's game, this one is a real find! The graphics and game play were very well done. Very nice clear and bright colors, along with a little bit of history as you move through the game. Nice music. There is a map, but I didn't use it, so not sure how well it works. The voice overs were very disappointing in that you are suppose to be in Italy, but the only person with an accent was the gondola driver! Sort of takes you out of the scene. Our "fox" definitely needed an accent and to be a bit more Italian, meaning dark and sexy (yes, I said it). He looks like the corner grocer. However, this game has some very nice HOPs...some are the same as usual, e.g. silhouettes and interactive, but they are a little different and fun. The puzzles were pretty easy so far. And, guess what?? You have a click penalty in this game! That's something we haven't seen in a very long time. SG is the same, except that I noted that it did not show the HOPs like all the others. The one thing I didn't care for was that the SG does not automatically go to the next chapter as you play. Very annoying. Hopefully it stays on the last page you played. There are a lot of achievements and even more collectibles. There are 52 fox figurines, which are not difficult to find, but you really have to look for them. The 10 travel pages and the 16 alphabet letters are a lot more difficult to see. They are small and well hidden, so look hard. There are also morphing objects to locate. I found three outside the HOP, so don't know if they're in them as well. I have to look closer. Even though I did not care for the first Off the Record, I do like this one. I was drawn in fairly quickly and disappointed when the demo ran out. I had actually just gotten to the 2nd chapter and only had one minute left of play. This is a definite buy for me, but I will wait for a good special. Just can't keep buying CEs every day. I think this game will appeal to all levels of players. As always, try it for yourself and see what you think. We all have different tastes in games and you may not care for this one at all. Thanks for the reviews.
April 17, 2014
Played it twice
I thought overall this game was terrific. The story line was interesting, though not full of twists and turns. I played it twice because there's so much to do and I'm a bit OCD when wanting to collect all the achievements..! The first time I didn't collect all the letters of the alphabet or all the "hidden" foxes... and I never seem to find all the morphing objects. What I enjoyed most was the bonus content; I liked being able to go through the puzzles again... and find where I missed the foxes, as well as finding the souvenirs. Music and graphics were impressive... I give the game an A-.
April 21, 2014
Off record; Im In
This was a beautiful ran game. Yet another runner up for game of the year. If it looses place only because lack of music changes and sounds. The Cinamaplays were great as were characters. Love the new way to do the HO's Lots of collectables has three different kind. Morphing, letters, and fox's. Puzzles were so far not too challenging. Hope it has some here and there a bit harder to do. Very nice game and add it to my to buy list.
April 19, 2014
Off the Record: Italian Affair
Great game play and educational as well. I enjoyed the story line and the challenge.
April 21, 2014
Fun, but story plot predictable
This was a fun HOG. Lots of hidden objects and not so much puzzles which I prefer. However, the puzzles were easy. The plot however, was very predictable, but this was still a good game to play.
July 21, 2014
Loved it
I really enjoyed this game. The storyline was engaging right to the very end, the VO's were great and there were a ton of things to do. Three different collectibles, morphing objects and lots and lots of locations. I absolutely love how detailed this dev is. If there were bridges in the background, there were people crossing them, light beams stream through the clouds and into windows, butterflies fly past, the occasional leaf falls to the ground, birds fly in the sky and on and on. It really gives the game that polished look and the sense that the developers really care about the finished product. really well done. There were plenty of extras and overall this had almost everything. So why no fifth star? Well for my one and only complaint.. the mini games were dead easy.. and I mean super simplistic. The only flaw in an other wise perfect game. But I say don't let that stop you. There is sooo much to enjoy here. Almost flawless. Really loved it.
May 10, 2014
Great New Ideas but Not the Best Graphics
I don't normally do reviews, but this really compelled me to. The game really brought a lot to the table. we've been asking for things we've never seen before and I really feel like the game did a lot of that. I just wish the graphics were a bit better. While it did bring the new stuff to the table, it didn't quite feel like a labor of love. It felt more like one of many being cranked out. I still recommend this game because it's fun! It just fell one star short.
May 4, 2014
With a little work could have been five stars not four
Despite the few glitches, people literally losing their heads while they're speaking, it was a good game.
June 5, 2014
The Apple logo is a trademark of Apple Computer, Inc.