The Secret Order: Ancient Times Collector's Edition
Exclusive
You have been summoned to the headquarters of the Order of the Griffin, but the place is in a state of chaos when you arrive. The artifacts you recovered in your last adventure have become unstable, breaking down reality and trapping your father! Now you must travel back in time to destroy the artifacts before the reaction destroys the world. Can you track down the mysterious kingdom where the artifacts were made and save the future from destruction? Hop aboard the Royal Griffin to find out in this thrilling Hidden Object Puzzle adventure game!

This is a special Collector's Edition release full of exclusive extras you won't find in the standard version. As a bonus, Collector's Edition purchases count toward three stamps on your Monthly Game Club Punch Card!

The Collector's Edition includes:
Save Aeronheart from a dangerous force in the bonus game!
Gorgeous wallpapers and concept art
Replayable puzzles and mini-games
An available Strategy Guide
Game System Requirements:
OS:

Windows XP/Windows Vista/Windows 7/Windows 8

CPU:

1.4 GHz

RAM:

1024 MB

DirectX:

9.0

Hard Drive:

1445 MB
Game Manager System Requirements:
Browser:

Internet Explorer 7 or later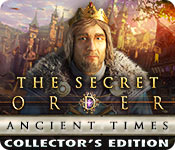 The Big Fish Guarantee:
Quality tested and virus free.
No ads, no adware, no spyware.

Reviews at a Glance

The Secret Order: Ancient Times Collector's Edition
0
out of
5 (
0
Reviews
Review
)
Customer Reviews
The Secret Order: Ancient Times Collector's Edition
35
35
Set Sail On The Royal Griffin Destination London 1800's
A few weeks ago (in virtual time A.K.A the last Secret Order) Sarah Pennington recovered a mask and scepter stolen by a rogue member sworn to protect the weak and innocent. Now Sarah is the Orders newest member and her father has called an emergency meeting at Headquarters. The mask and scepter are suddenly unstable, the museum itself is being obliterated and has Sarah's dad trapped. Sarah knows it's too late to save her father, she must board the Royal Griffin and travel back in time to stop King Amadon from forging the artifacts made of unearthly materials, thus saving the world! (Piece of cake) There are only a couple of complaints I have with this game. I love the continuing story that all three Order's have stuck with, the graphics are very well done for the most part which is a feature that has always drawn me into these games. With this game I kept noticing a scene here or there that seemed almost blurred, certainly not crystal clear like the rest of the game, and only in some of the zoomed in areas. It isn't something that's going to ruin the game I just had to wonder if it was a special effect or if the game was rushed? I wasn't exactly thrilled with the baby griffin that was hatched in Order to help with out of reach places. Why can't I have a majestic full sized Griffin, this little guy is cartoonish, clunky, awkward and has a beak larger than his head, it just seemed out of place. Those are my only two complaints, the rest I loved! There are achievements to earn and collectible Griffins, Turquoise Unicorns, and Golden Dragons. Each scene has plenty of active areas and gadgets to find to open up secret passages, there are even interactive games to play with some of the characters you come across like the gambling Captain who challenges you to a matching card game. The hidden object scenes are interactive list finds which have a mah-jongg tile game option. I loved the mini games, very entertaining and fun puzzles such as placing coins with different numbers of fleur de lis which had to add up to 12 horizontally, vertically and diagonally. My favorite one however was guiding laser beams of different colors with mirrors of different directions. The goal was to direct the beams to the color coded connector without overlapping beams of light. Some of the mirrors were broken and couldn't be moved, and some had to be repaired. This Collectors Edition comes with a built in strategy guide, wallpapers, concept art, music and of course a bonus game feature. Enjoy!
April 26, 2014
All-In-One Package!
BASED ON DEMO FIRST IMPRESSIONS Was never much keen on the first two of this series, the graphics in particular were just not me. But this one, wow! It?s got it all ? and actually makes it work! Present day sci-fi, time travel, dark and eerie, ominous atmosphere, with a cute companion and fantasy creatures. Yes, honestly, it does work! All together in an exciting adventure with challenging game play and excellent production qualities. SIGHTS & SOUNDS The artwork is wonderful. After the last two games in the series, I really didn?t expect to like this at all, but from the dramatic and engaging opening scenes, I was hooked. The graphics are beautiful (close ups have delightful artistic feel reminiscent of Boom Zap), the cut-scenes awesome in their quality, the music ominous and exciting by turns, with that chanting that so creeps me out. A bit repetitious though. The voiceovers are excellent and lip synched well, or you can mute them separately. And the special effects are... special! WHAT?S HAPPENING? The intro makes it clear there is a dense back story behind this one, and it certainly makes it appealing to check the others out, but I don?t think it is really necessary to have played them in order to enjoy this game. After saving the world twice in previous games, you deserve a rest. Not much chance of that though. Your Dad calls with the bad news that the ?artifacts? are behaving wrongly and something is definitely up, which is never good for the rest of the world. As members of The Secret Order Of Griffins, your oath to protect the powers of good demands you again travel back in time to right the past and save the present ? and your trapped father along with it! GAMEPLAY There is a challenging range of puzzles and mini-games in this game. They are twists on known ones, with additional difficulty built in, and some ingenious new ones. The HOPs are interactive lists, with some slightly skewed ideas at times, and occasional FROGs (fragmented objects). As an alternative, you can play a harder-than-most mahjong game. It is not always obvious what you need to be doing next, and the directional hint and interactive jump map help. The map is a bit awkward to use, as the symbols are not precisely on the location they indicate. The journal keeps your notes and task list. It is fun to need to find and activate the flower that is the directional hint. There is also a ?golem heart? to acquire, which can animate stone. And of course, where would a game be these days without a companion? In this case, we adopt a baby griffin, who doesn?t look nearly as gorgeous as I would have liked him to, but is helpful indeed. CE BLING! There are the usual gallery items, wallpapers, concept art, movies, music. Plus SG and bonus chapter. As well, there are mini-games and HOPs which can be replayed. As well, there are 3 types of achievement, separately displayed. There are performance-based trophies and story-based medals. And statues for 3 types of collectible ? gold dragons (12), amethyst griffins (12), and turquoise unicorns (12). Once you see one, it seems you would naturally have seen it easily, but in fact, many are quite easy to miss. Finally, there are 6 runes to find, and 5 achievements to unlock after you have played the main game. COMBINED IMPACT I really was taken aback by how impressed I was with this game. I will definitely be rethinking the earlier ones. Hey, maybe I?ll even be able to take advantage of the bundle sale, for the very first time!
April 26, 2014
Secret Order: Ancient Times CE: NO SECRET WHY this is a 5 STAR GAME!
Phenomenal is the first word I thought of as I played the demo of this, the latest edition of the sequel of The Secret Order games. One need not play the first of the series in order to become completed immersed and enthralled with this spectacular game... the cutscenes; graphics; voiceovers [yes! lip sync]; and amazing storyline combine to offer us an exciting adventure through time and space in an effort to continue the quest of survival of the secret order's mission to protect the innocent and defeat the dark forces of the dragon. There are plenty of 'extras' for those who enjoy the same [personally I rarely use strategy guides and don't particularly relish the collectibles], yet they are there if you do! : ) Oh, and there IS one 'cute' addition, yet my impression was that he was done in a tasteful and unobtrusive way so he was welcomed along on my gaming journey. It is a rare opportunity to be able to play a boxed-version quality pc game at a casual game price.... and an amazing game in every respect even at that. So give it a whirl; you will find yourself embarking on a fantasy endeavor which is eons beyond most of the shallow plots and cookie cutter graphics we are used to... this new epic opportunity is absolutely top notch and I hope you climb aboard by at least checking it out... if you enjoy games that are well detailed in every respect [ie. not overly embellished graphics with mindless, simplistic content], I am thus far convinced that The Secret Order: Ancient Times is going to evolve and continue to be quite an adventure... at any rate, I doubt it could disappoint any serious adventure/H0G game lover; this is TOP NOTCH casual gaming at it's best! <3 Enjoy and happy gaming! : )
April 26, 2014
A Sequel That Gets It Right - Excellent Game
The game starts off with a short recap of the previous game in the series and although it isn?t necessary to play the prior game, I would recommend that you do so if for no other reason than it was a very good game. You would also benefit from learning a bit more about the Secret Order and it would bring you nicely into the current game. The graphics were truly a mixed bag with some of them being extremely clear and others being gritty, grainy and misty in appearance. The closest parallel I can draw is to the graphics in the Empress of the Deep games. The characters in the game are also different at different times. Sometimes they are almost cartoonish and at others they are quite realistic. It is almost as if different parts of the game were parceled out to different artists and studios and were not cohesive or consistent. There are lip-synced voiceovers that are quite good and the lip-syncing just adds to my enjoyment of a game. The music and soundtrack is quite good and at the beginning is almost epic. I quite liked the soundtrack and it did make the game seem larger than life. We have the normal tools including a diary that contains a section for your objectives and another for your notes that will help you as you progress on your adventure. The map is a transporter type map that shows your objectives and areas where there are tasks available. We have a very, very cartoonish baby griffin that is our helper throughout the game and I have no idea why the developer included it as it just seems so out of character for the scope of the game. There was a time last year where there was a definite trend of having cute, fuzzy animal helpers in games but that soon became old. I think when the trend was ?in vogue? this game?s developer maybe felt that it was obligatory to include one in this game ? lol. For the most part the HOPs are list type with very simple interaction necessary to find some items. There are some other types included in the mix but the majority of HOPs are the list type. What I actually dislike about the list type HOPs in this game is that the developer used what is probably an 8 pt. font that is extremely difficult to see. Not only is the list difficult to read, some of the items are small enough that they are almost invisible. PLEASE DEVS USE LARGER FONTS. Where The Secret Order Ancient Times becomes quite excellent is in the puzzles that are actually a step up from some of the easier puzzles that many developers include in their games. I think many gamers who look forward to the challenge of playing puzzles that are a bit more difficult will enjoy this game. There are achievements that are earned as you progress through the game and thirty-six collectible objects to be found. The collectibles are three sets of twelve being unicorns, griffins, and dragons. We also have the normal obligatory CE content but nothing earthshaking. Even with the less than perfect graphics, the gameplay in The Secret Order Ancient Times is excellent and kept me on my toes. I like it when I encounter a game where I have to think instead of simply move through the adventure on auto-pilot. Now it is time to go hit the buy button and put on my thinking cap for a few hours of fun, time travel and world-saving adventure. As always, I recommend that you at least try the demo to see if this is a game you will like.
April 26, 2014
Loved this game
I loved everything about this game. It had dramatic opening and great story line that held true through out the game. The music is very nice and fits the story. Voice overs were very nice also. Graphics were sharp and clear, although I found some of the HOPS a little fuzzy and crowded, it did not take away from the game. The puzzles were not overly hard. I played the one hour demo and promptly bought the game.
April 27, 2014
More Secret Order!
The original Secret Order is nicely summarized at the beginning of this game to establish the setting and the premise, so even if you didn't play the original, it is OK. You are Sarah Pennington, and you and your father belong to the Order of the Griffin and you're summoned to headquarters to find your father and other members in danger, caused by ancient artifacts that come to life. You must travel back in time to 1896 to the London Griffin Museum before it is burned down by Master Blackfire. You must find King Amadan and his mysterious kingdom of Aeronheart to destroy the ancient artifacts. Got all that? What I enjoy about this game is the theming. You feel like you are in 19th century London - even though you arrived there by the Royal Griffin time travelling ship! The voice overs are British and you travel via horse and carriage over cobblestoned streets. You have to find and charge a "time stone" in order to use the ship. Of course you eventually meet up with your Pet Griffin, who helps you with those higher up areas. I need one of these in my house! The teleporting map is very nice, marking your activities available, in casual mode. There are three modes of play -- no custom, however. The HOS in the demo were all lists, with the exception of a very small assembly one. You can choose to play a Mahjong game instead. The minigames were fun -- particularly one in storybook form where you have to use items within the scene to eventually advance the knight to save the princess from the dragon. I also like the card matching one -- easy, but fits the story. There are 12 collectible golden dragons, 12 turquoise unicorns, and 12 amethyst griffins -- easy to spot because of color. There is a Bonus Chapter, a Strategy Guide - not needed if you use the map and Hint Flower Button. Also the normal CE Bling of wallpaper, art, sound, movies, and mini-games. And an achievement room with items pertinent to the game. While it doesn't have as much to do as other CEs, I purchased and enjoyed the previous Secret Order CE, so I trust this one will be a good buy as well. Try it and see!
April 26, 2014
Shhhhh! Secret Order (completed main game)
I have the previous game and this one picks up right after it is finished. I really liked playing the demo and was frustrated when it ended so I immediately purchased the game. Story Your father and another member of the order are trapped after an explosion and you must go back in time in order to prevent what might be the end of the world as the artifacts which created the explosion are becoming increasingly unstable. Good Stuff 1--Graphics are excellent and colorful as well as the cut scenes and the lip syching (sp?) is very well done 2--Sound effects are also very good 3--you have to earn your hint button and it does take a bit of time before it recharges 4--you also have to earn your map which lists areas where there are tasks to do as well as being a transporter (beam me up Scotty), this is helpful as there is a bit of going back and forth 5--along the way you collect 12 each of purple Griffiths; blue unicorns and gold dragons 6--HOS scenes range from fractured to list which some items are interactive; some of which are hard to find, you can switch to marjhong (sp?) which is a bit difficult 7--puzzles range from easy to difficult 8--a helper which is a baby Griffith (and no you do not get to name him) 9--achievements to earn 10--different modes of game play I played casual 11--8 chapters for the main game and 2 for the bonus Not so Good 1--the instructions for the puzzles should have been a bit clearer, sometimes I had to do a bit of clicking before I got anything going and others I had to skip 2--as mentioned above some of the items in the HOS were difficult to spot so I switched to marjhong (sp?) All in all I really enjoyed the game and played for several hours until I completed the main game. I do recommend this game and took advantage of the sale this weekend. That said some may like it and some may not so I do recommend that you try before you buy and if it tempts you; you too should take advantage of this weekend's sale.
April 27, 2014
One of my personal bests
The Secret Order: Ancient times game will be one of my all time favorites. Why? Because the game was carefully crafted; the music changed with the location, the character voices were believable and the quests were fun and interesting. I loved having both Griffins involved as my partner in solving puzzles and my travel companion. The bonus chapter was as well done as the main game which I appreciated. Congrats to all involved--beautiful game overall.
April 30, 2014
The Secret Order-Quality Gaming Not So Secret
Big fan of The Secret Order sequels. Lush and vibrant artwork captivates along with gamer knowing directly where to go is a winning combination. No getting lost and wandering needlessly about. You are playing as Sara, the daughter of a prominent member of The Secret Order derived from long ago ancient times that protects the world from evil forces. Something has gone awry and you are called upon to, again, travel back in time and set things right. There is a cute yet unobtrusive helper and we don't have to, thankfully give it a pet name. Collectibles, achievements, map, creative puzzles, etc. makes this game a welcome addition to any BFG gamer, especially collectors! A big thanks to BFG and to the Developers who have produced this 3rd Secret Order game. I definitely appreciate your style! Enjoy! -Mama Mia-
April 29, 2014
You are in for a treat
I tested this game months ago and have been waiting for the full version to come out. It is a truly great game,far superior to many HOGs and with really interesting variations on the usual formats. Graphics superb, story grabs straight away. Hope you all enjoy it. I know I am going to!
April 26, 2014
The Apple logo is a trademark of Apple Computer, Inc.